The Elite team recently completed a kitchen and dining room remodel for a Wyomissing client. The end result? We gave a kitchen built in 1953 an entire upgraded look, including new windows, a new door at a new location, and a re-imagined open floor plan. "It's a completely different house! I love it. It's what I always wanted since the day we moved in," exclaimed our client, Penny, when we stopped by to visit after they were settled in with their new furniture.
Josh, the Superintendent on the job said his favorite part of this project was "developing a new open floor plan while still keeping true to the 1950s architecture by keeping the curved opening of the doorway. Penny and her daughter's favorite part of their new kitchen was making the switch from an electric stove to gas because it has made cooking easier. (Bonus: There is even an air fryer in the oven!) They also love the peninsula in the new space.
A Look At The Transformation:
Here's some before and after photos of the space: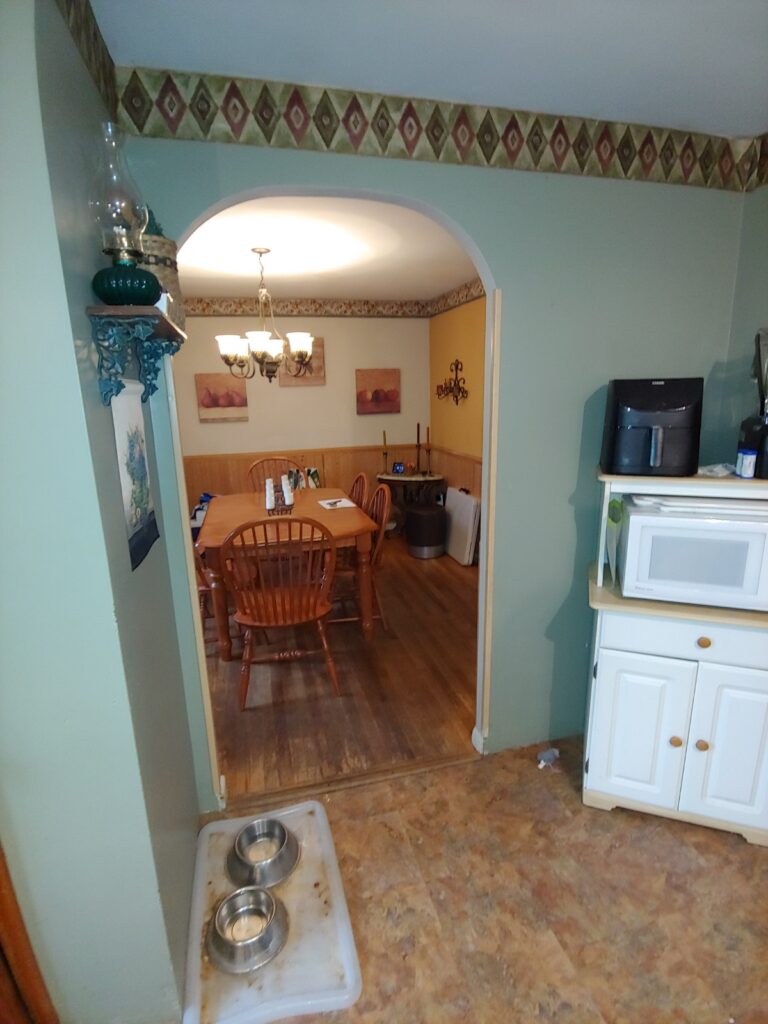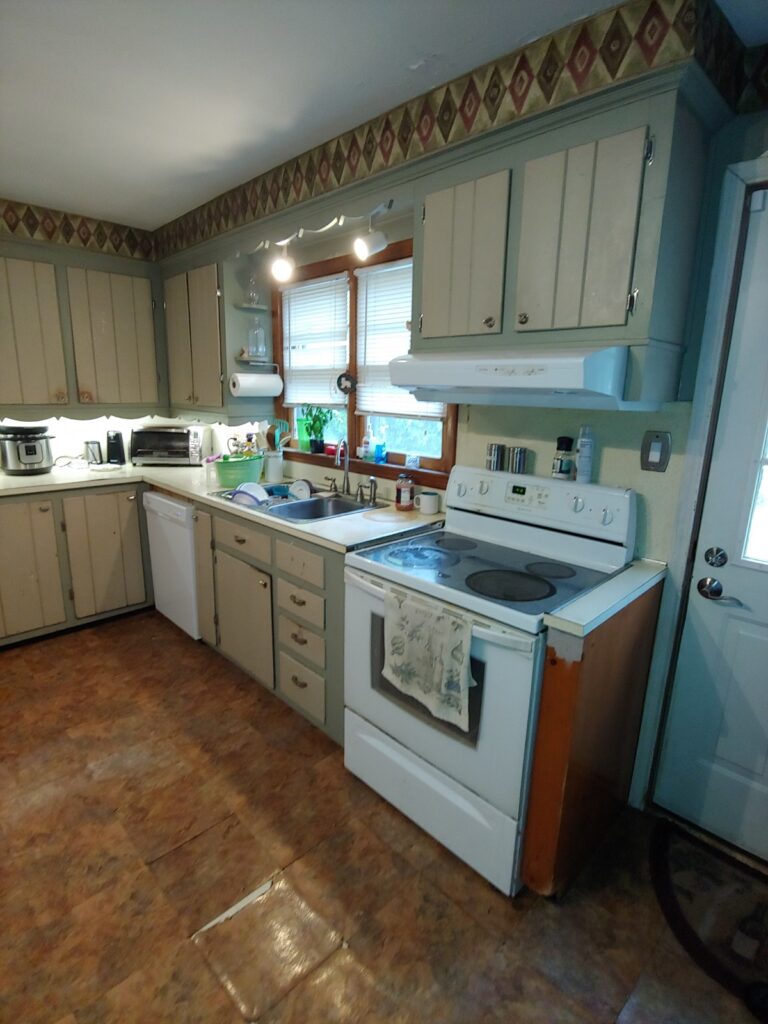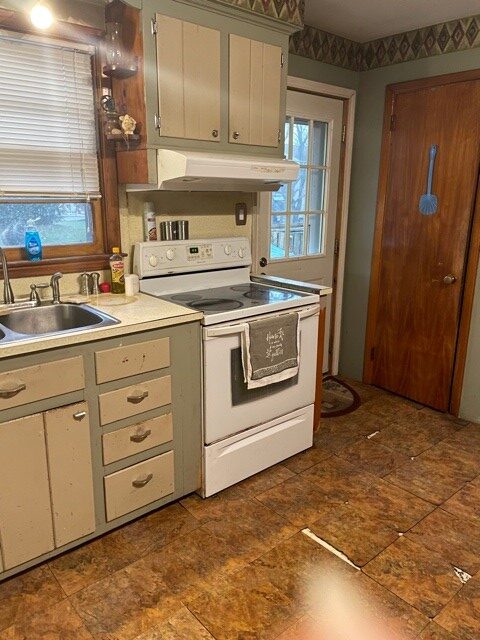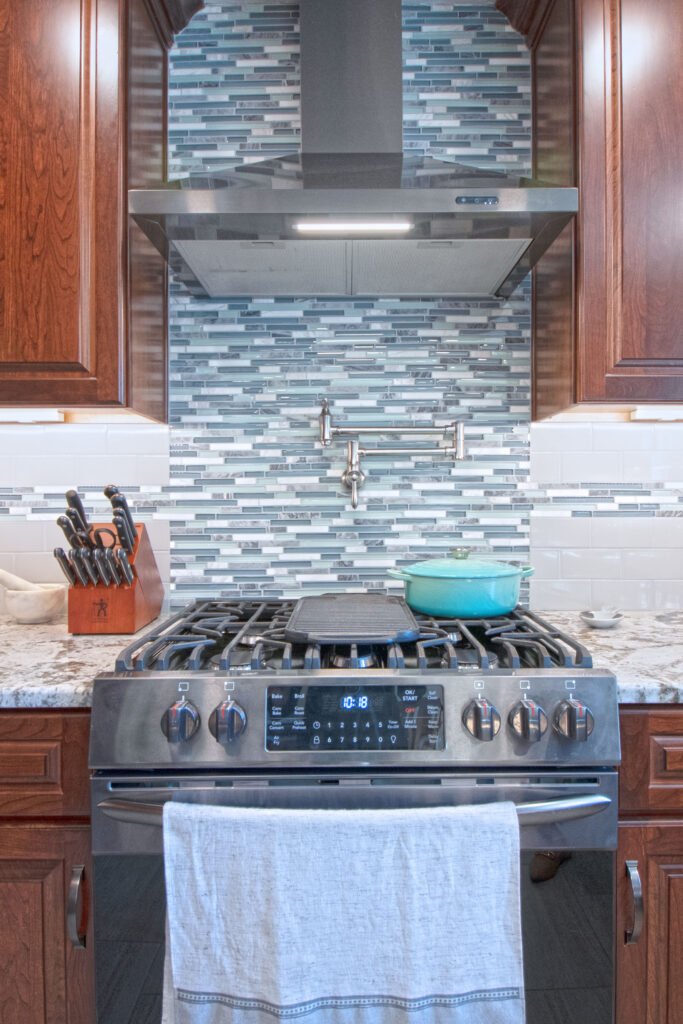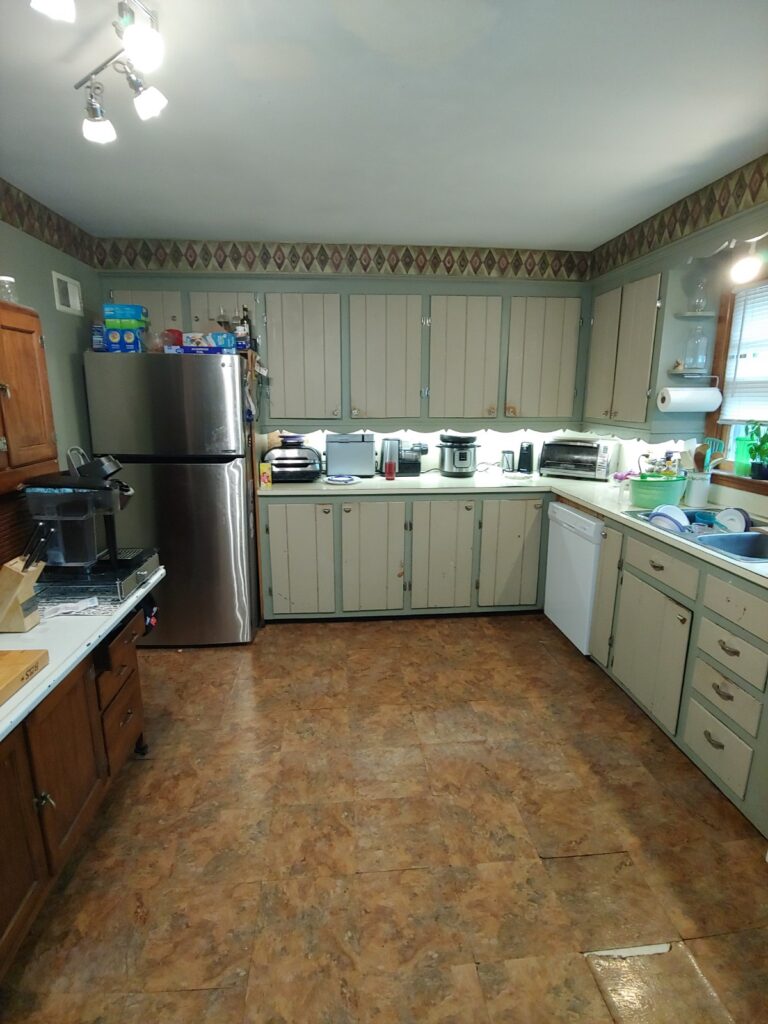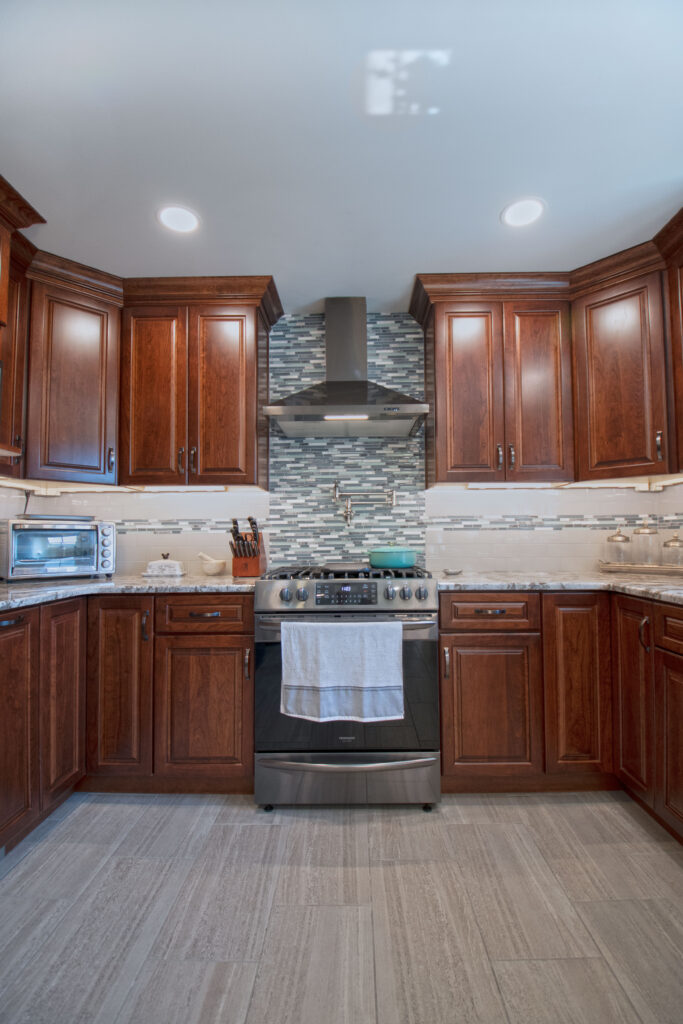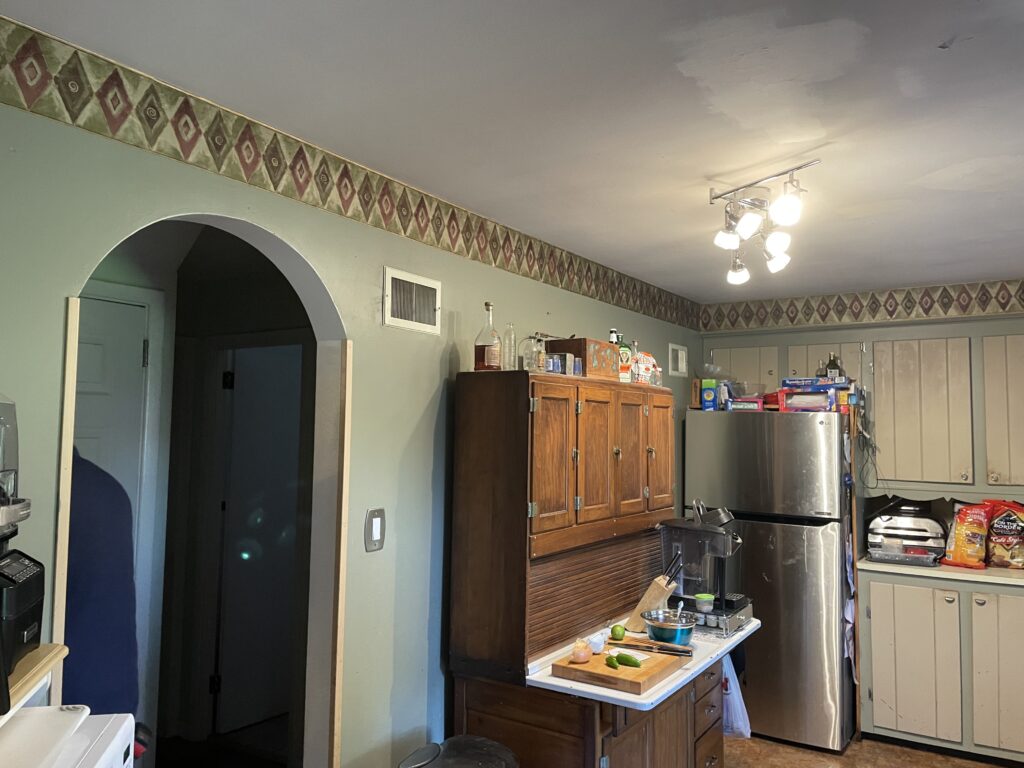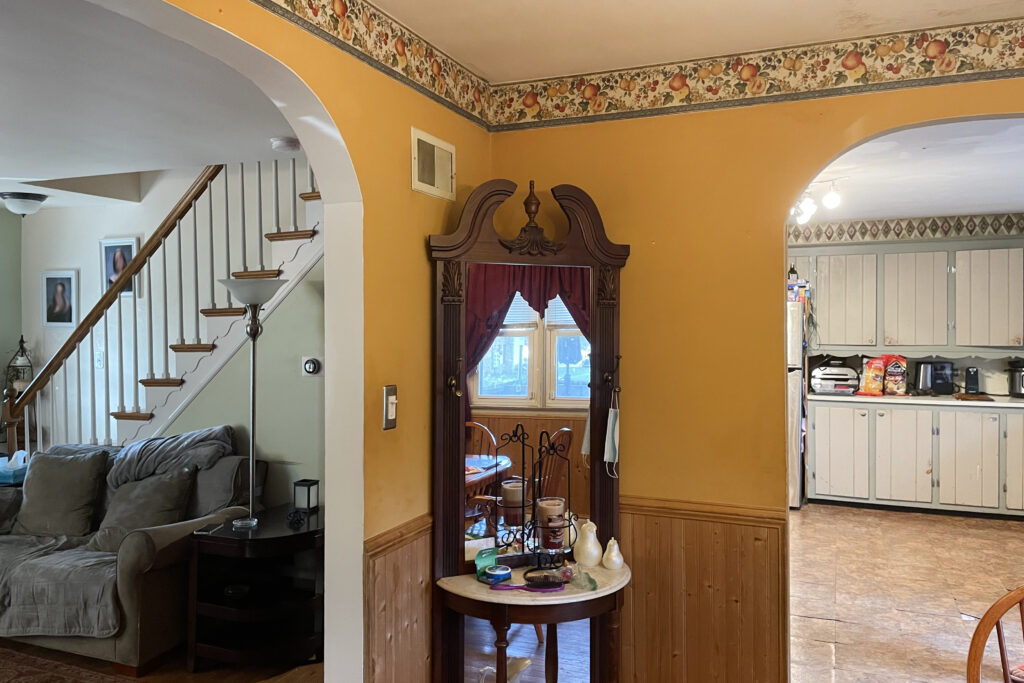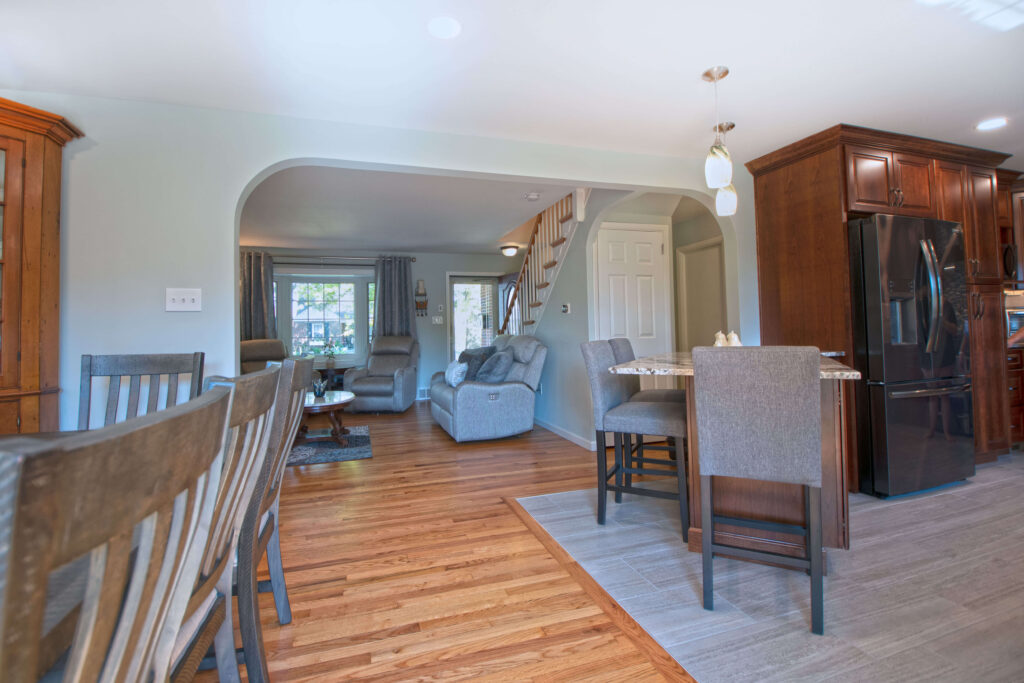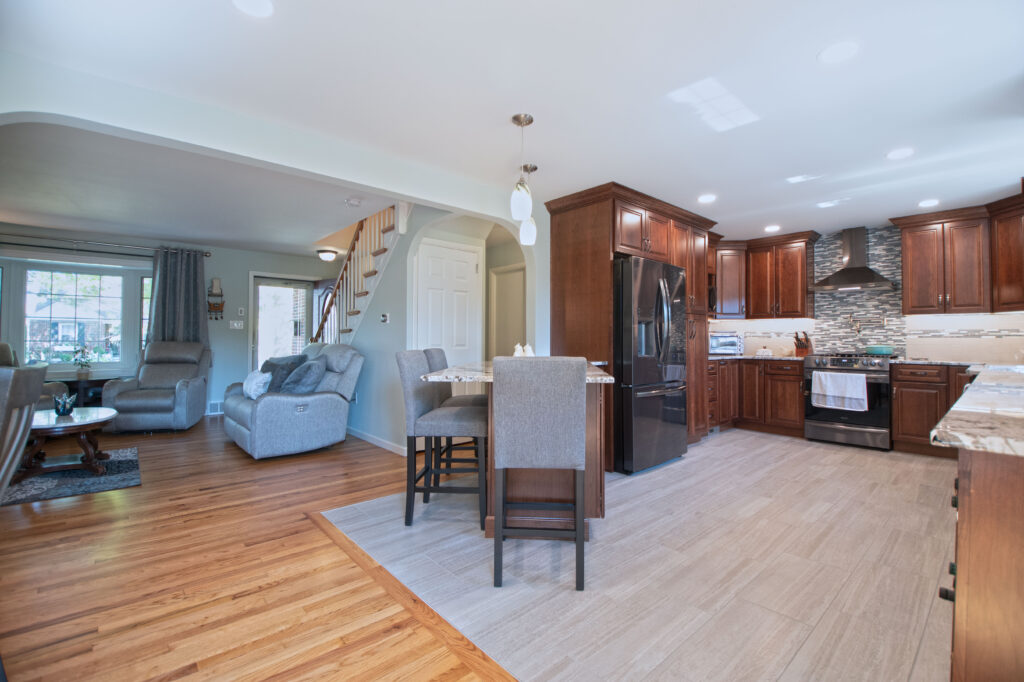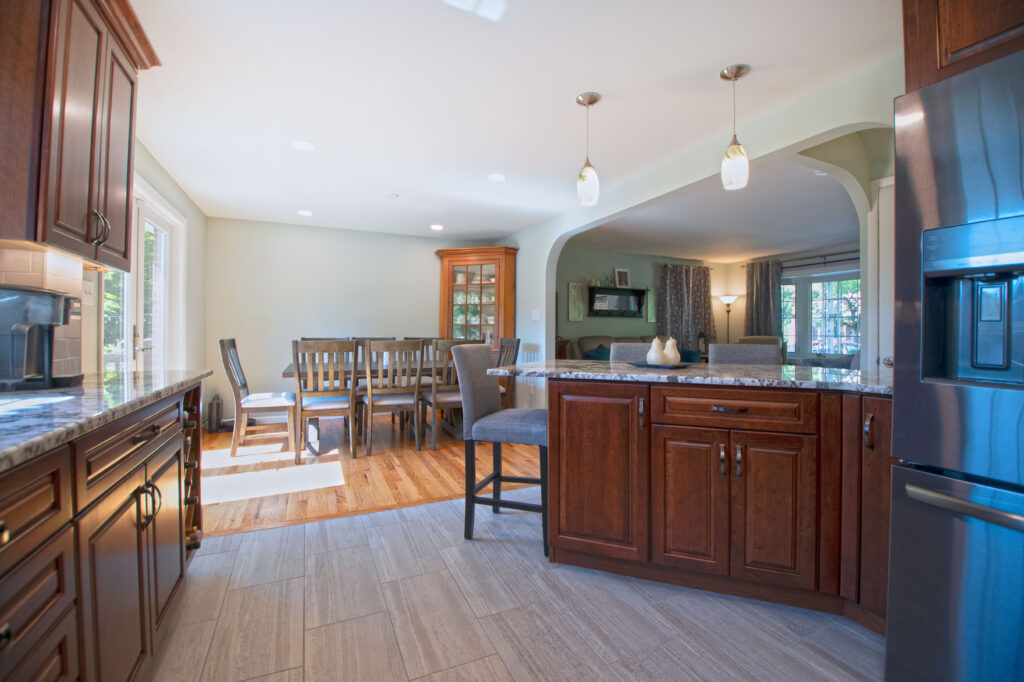 Our team opened up the dining room, living room, and kitchen area to create a more open space.
The Construction Process:
Penny and her family enjoyed watching the construction process and said that our team and Trade Partners were "nice and respectful, especially when it came to having to walk through the kitchen throughout construction." The on-site construction team would always move the plastic barriers whenever the family wanted or needed to walk through. "They were so courteous that they avoided cutting any wood, etc. and waited until we were done making our food," Penny's daughter reflects.
Our clients relied on microwave cooking and cooking on the grill throughout the course of construction. In fact, having to walk all the way around the house to get to the grill is what inspired the family to start dreaming up their next home renovation – an outdoor living project that they hope to begin with our team in Spring of 2023.
As the homeowner, Penny also appreciated how our team would always "go to bat for her to get her what they needed." That's the D&B Elite difference.
Now Get The Look:
Here's a look at some of our trusted Trade Partners who helped bring this vision to life: Flooring and tile backsplash from About All Floors, Granite Countertops from AAA Hellenic Marble, cabinetry was completed by Swartz Kitchens & Baths, and plumbing fixtures from Weinstein Reading.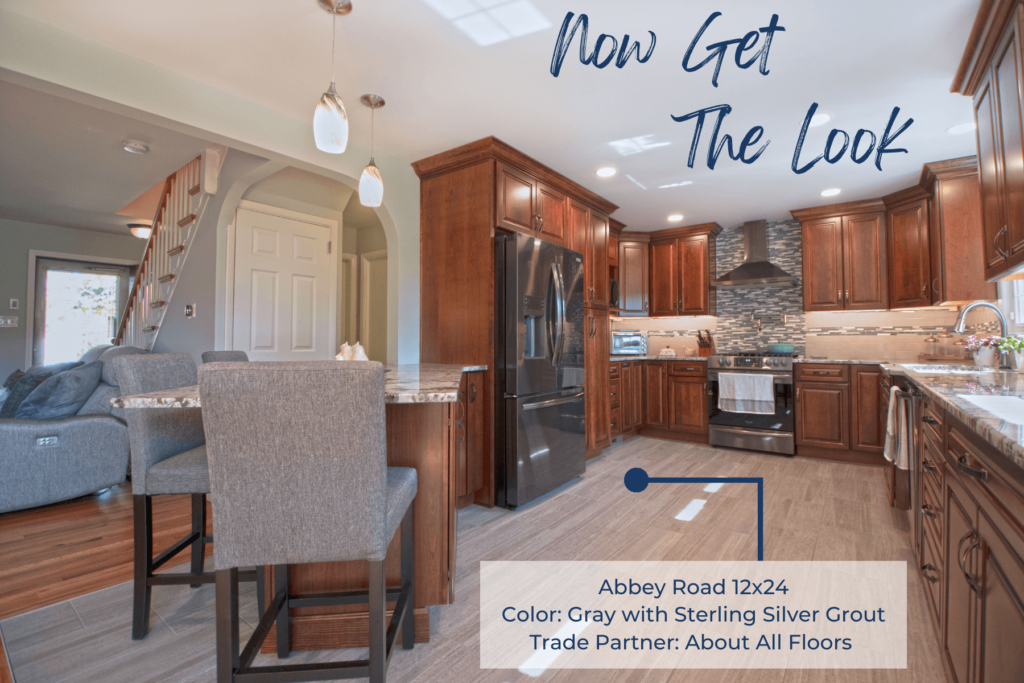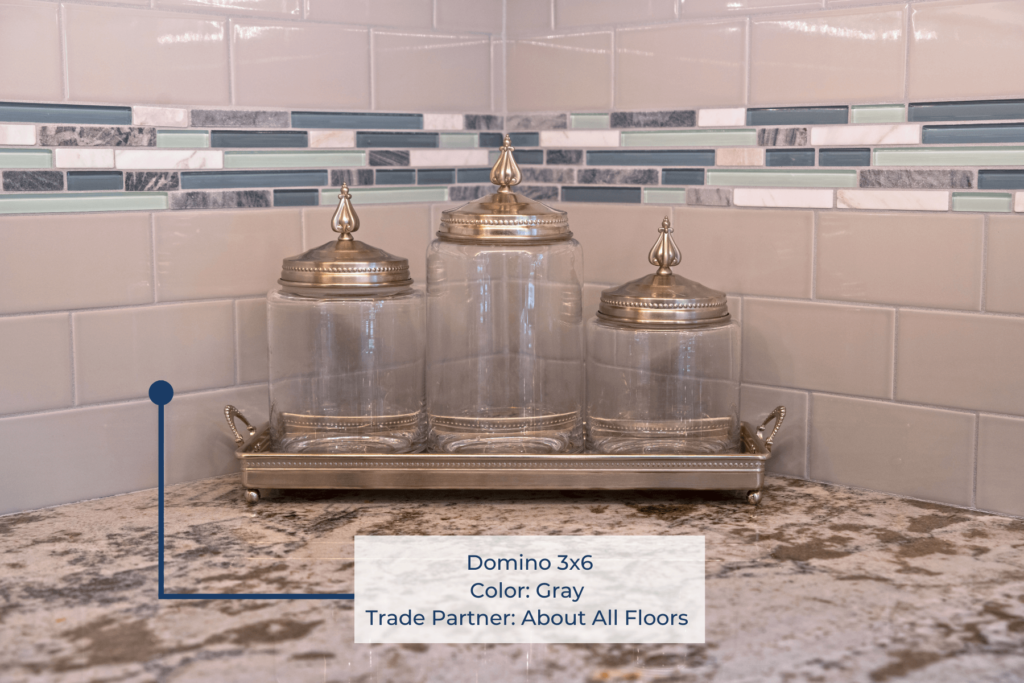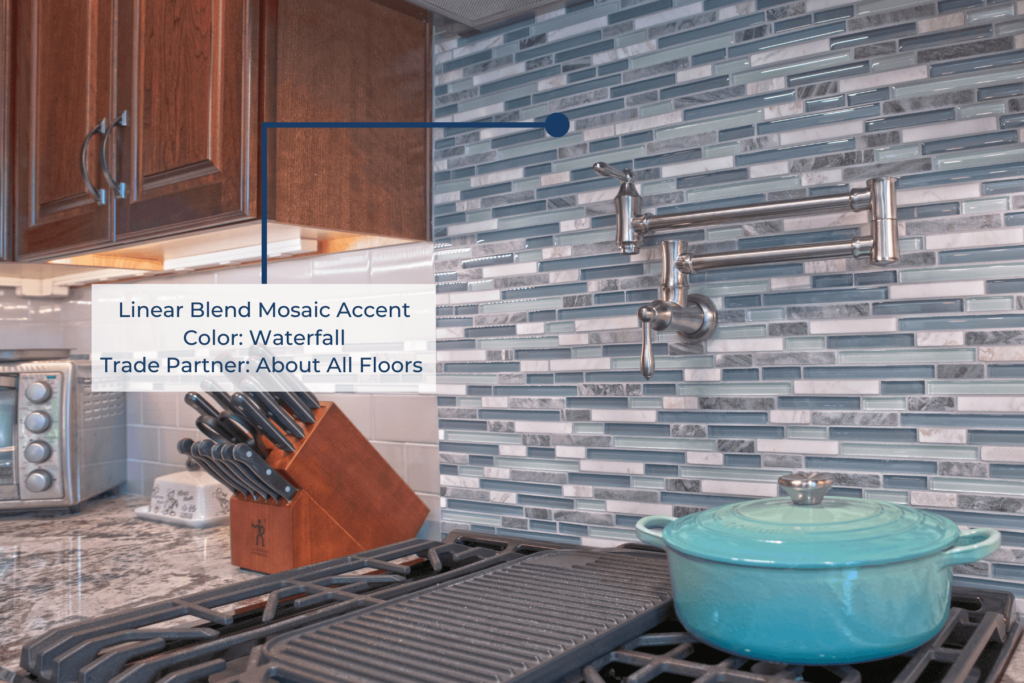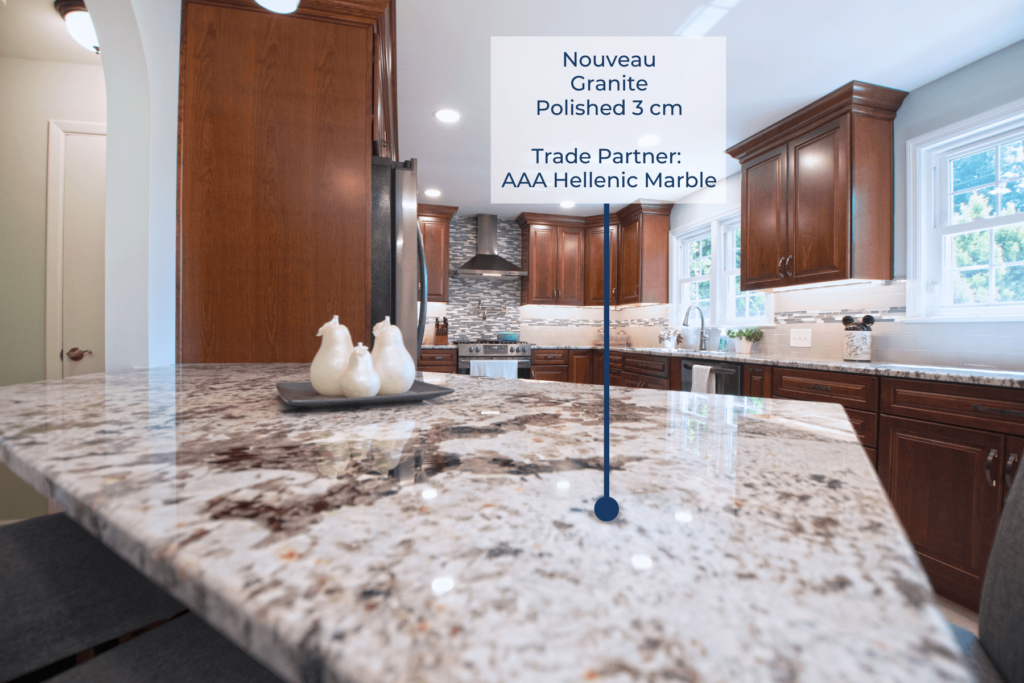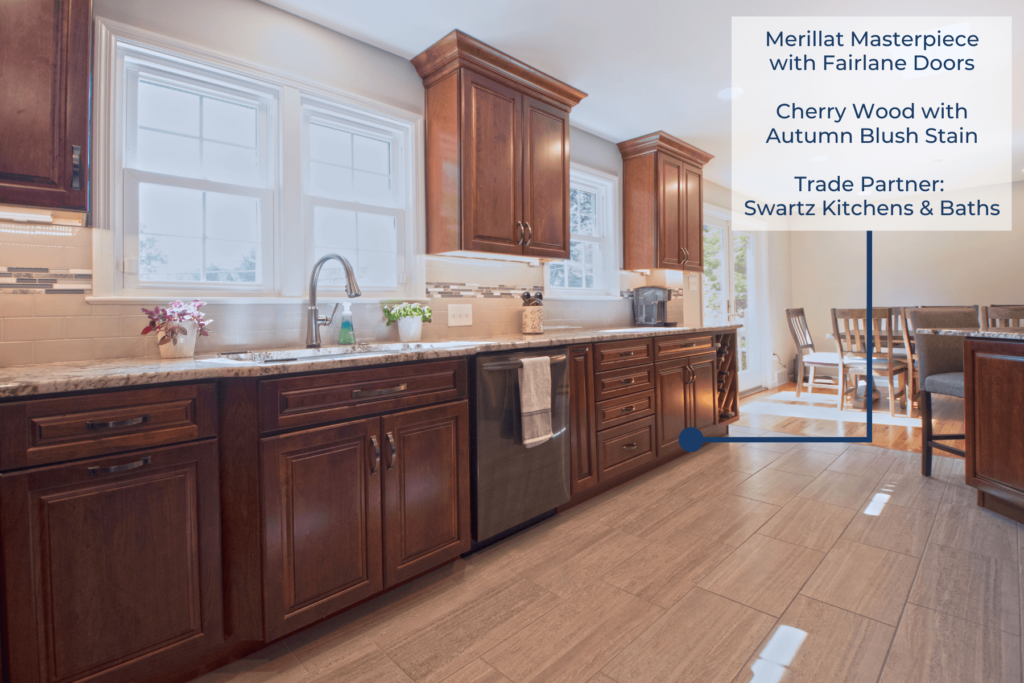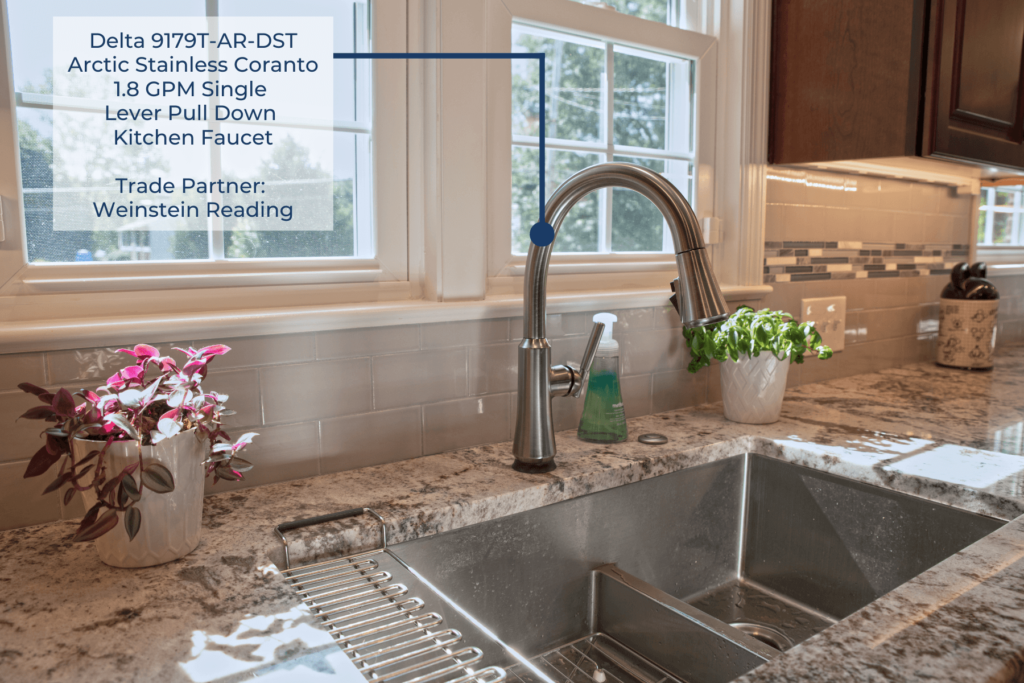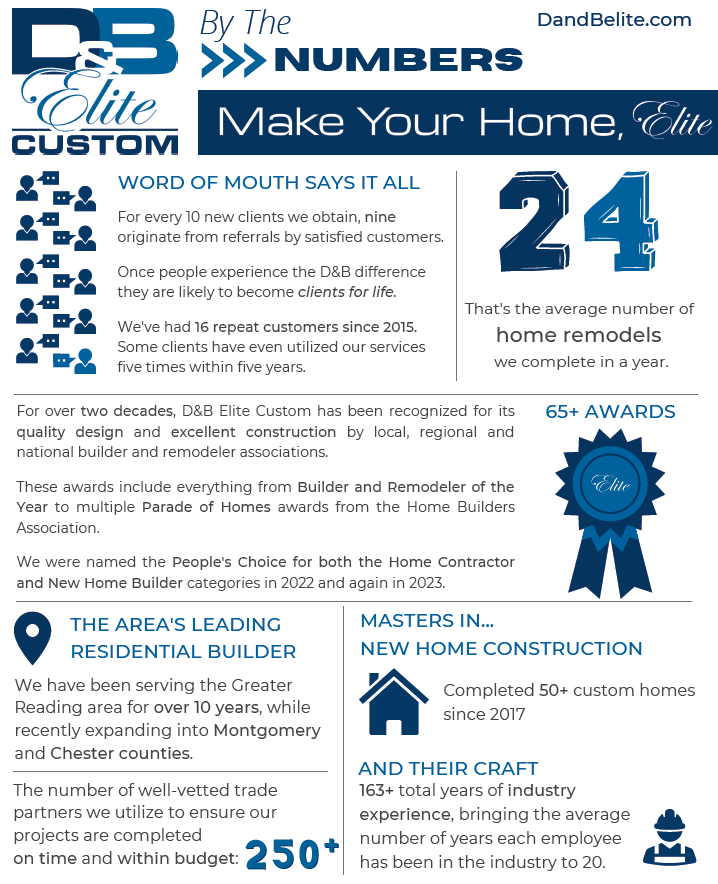 We'd be remiss to not recognize World Architecture Day, which is always celebrated on the first Monday of October. While architecture exists to create the physical environment we live in, it is so much more than that. It is a huge part of our culture, and it greatly impacts our society. Two architects that have wholeheartedly impacted two recent clients of ours are Watkins Architect (based out of Fleetwood, PA) and Olsen Design Group Architects (based out of Reading, PA).
At D&B Elite Custom, we are grateful that we were able to work with both of these architect firms as they enriched our clients' lives. Learn more about both below:
Revitalizing A Home In Spring Township:
In December of 2019, a Berks County family endured a fire at their home that left just part of the foundation. Thankfully, they were in good hands with one of their friends, Lee Olsen, who conveniently also happens to be the President and CEO of Olsen Design Group Architects. He referred the family to our Elite team, and the rest was history. Despite the pandemic putting a brief pause on the design process, the design phase was restarted in May of 2020 and demolition took place in October of 2020.
The family turned the loss of their old home into an opportunity to build a home guided by form and function. The end result was a home "more suitable for senior citizens" with everything they need all on one floor as they enter the next season of their life. Every detail of the home, from the breathtaking timber beams right down to the paint color in each room, was carefully selected with a purpose. The couple wanted a rustic, comforting style that paid homage to their travels in the Alps. Influence came from a blueprint they obtained in Zermatt, Switzerland, as well as from the architecture of northern Italy, southern Austria, and Bavaria, Germany.
From there, Lee and his talented team got the job done. According to the Olsen team, this project was "the most emotionally fulfilling project, as we took a burned-out home, and keeping only the basement, created a new and vibrant homestead for the family. Now all of their children and grandchildren have a new home to come to at holiday time, the owners have their own Grande Suite, and a full music recording studio on the same site where they have lived since they were married."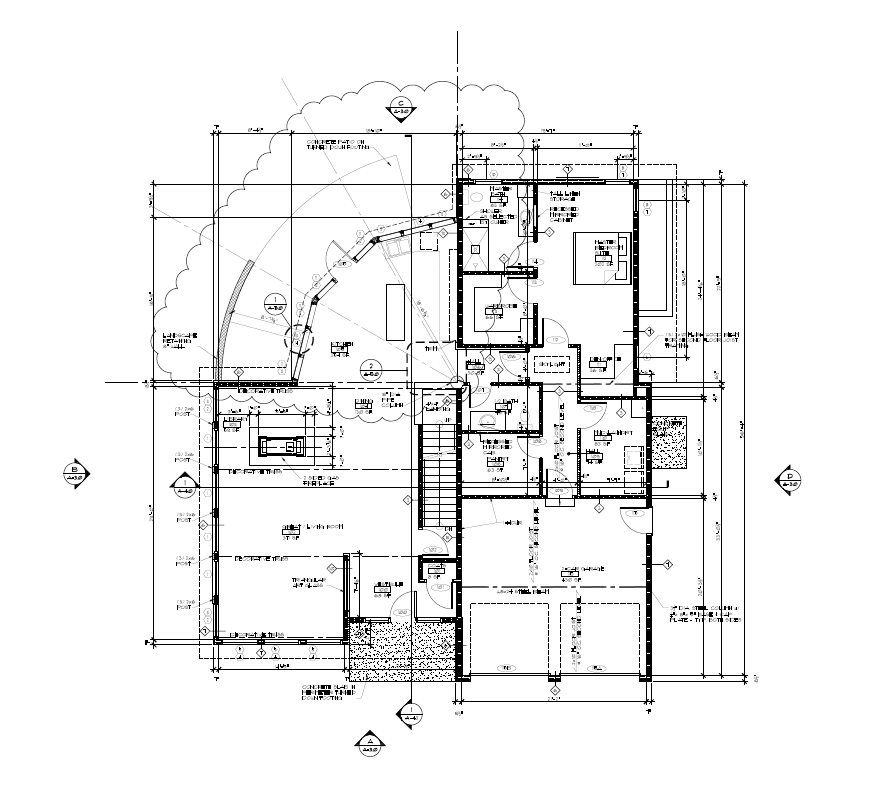 Blueprints of the home from Olsen Design Group Architects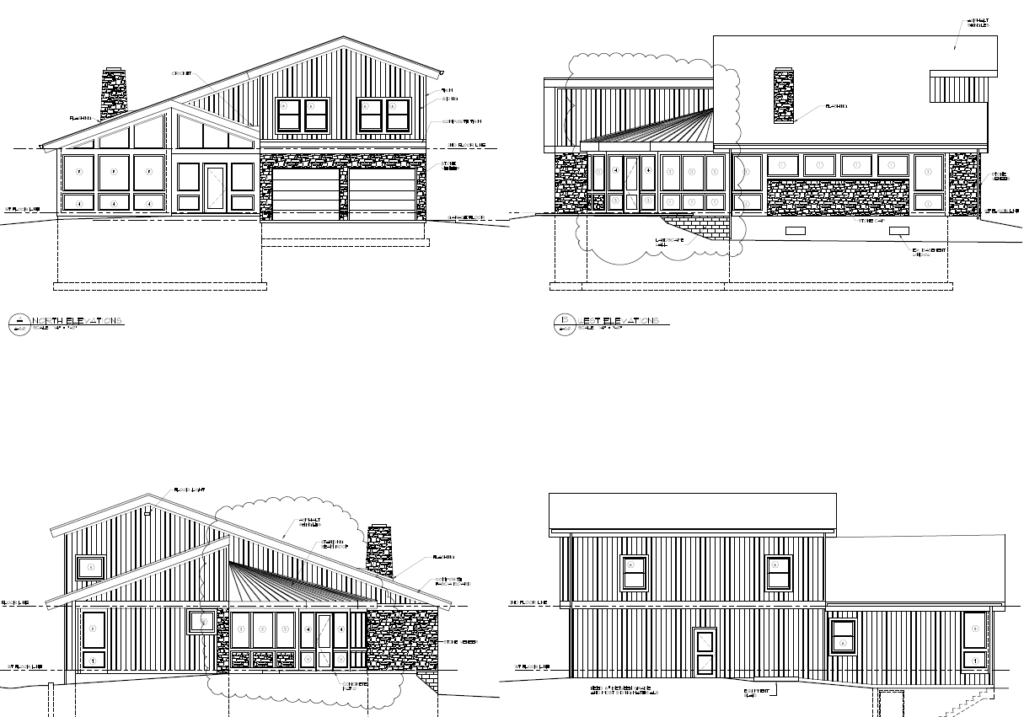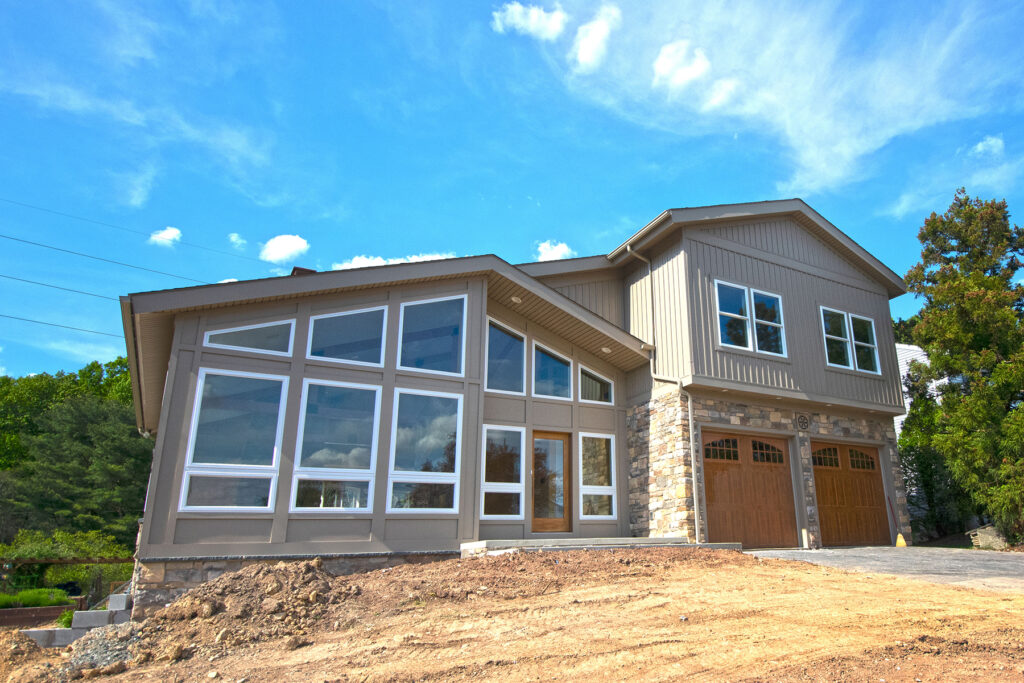 The exterior of the finished home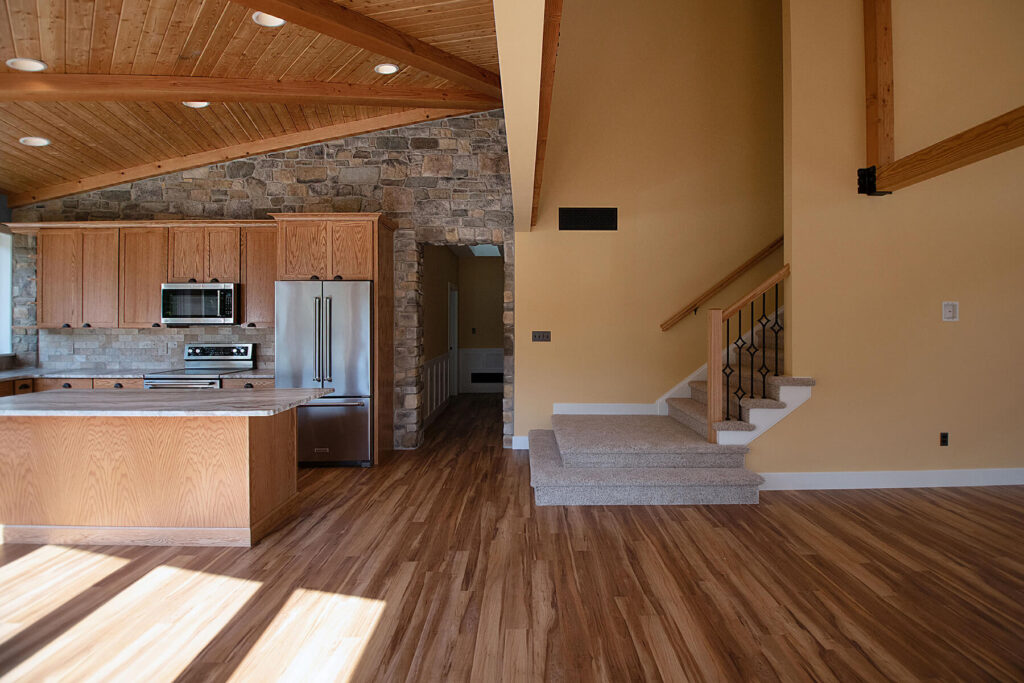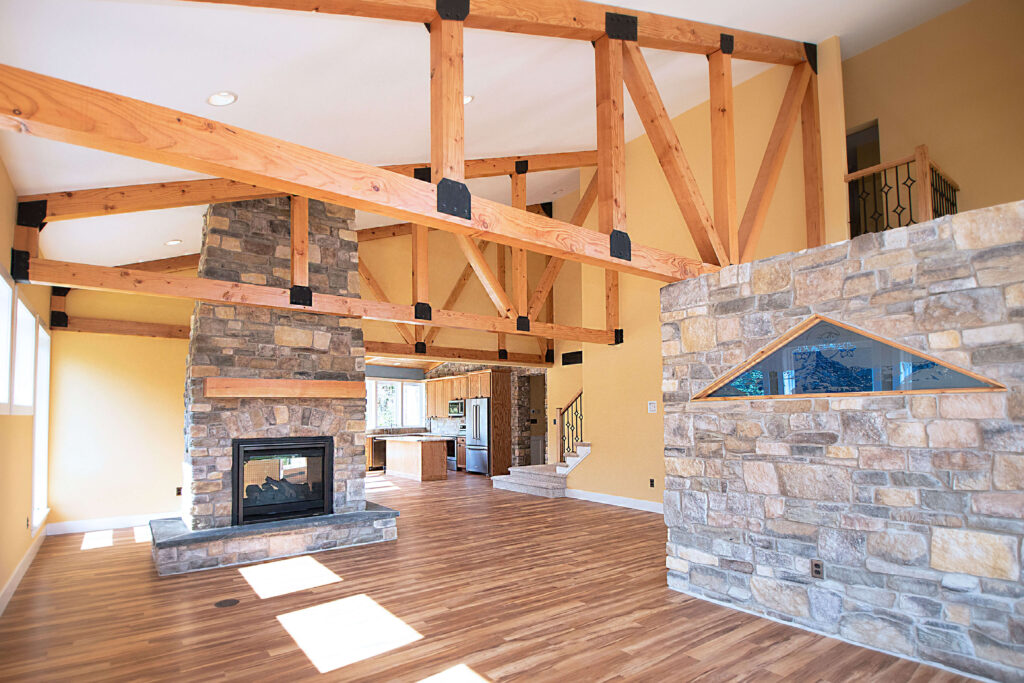 The first floor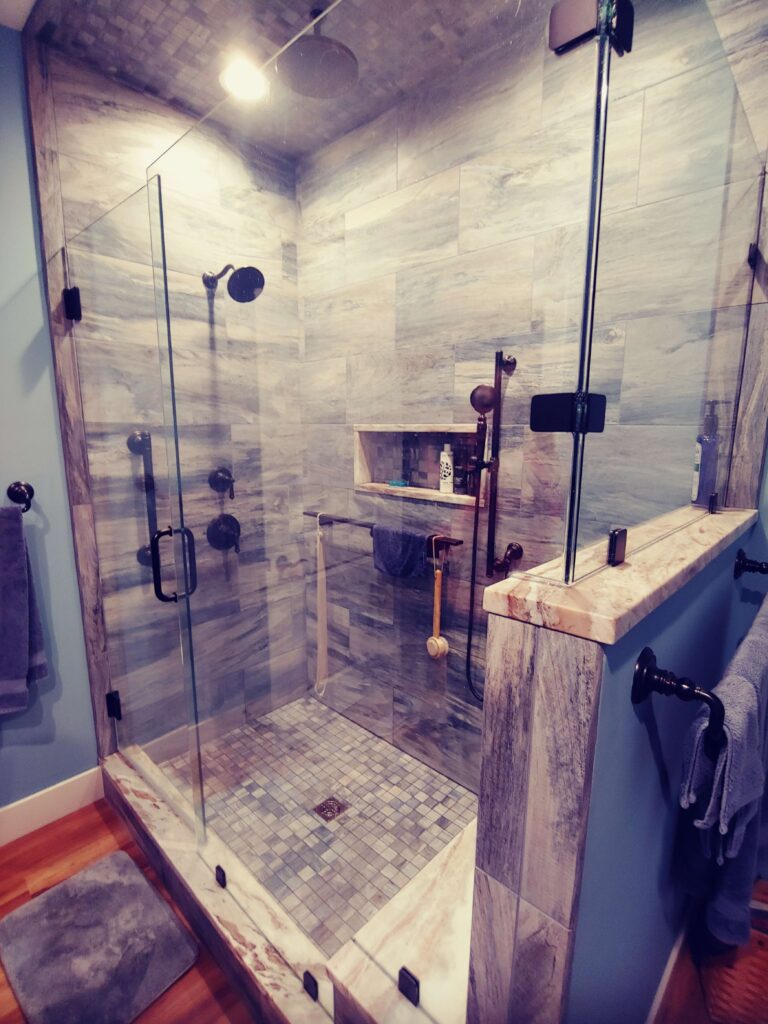 The Master Bath
Accessible Home Addition Leads To Independence:
In Lebanon County you'll find another client of D&B Elite Custom's who recently received assistance in helping their 11-year-old son, Ryan, achieve a more independent lifestyle. Ryan has Spina Bifida, a birth defect that occurs when the spine and spinal cord don't form properly. Although he uses a wheelchair and crutches in his everyday life, Ryan enjoys an active lifestyle filled with sporting events, playing instruments, and more. "We wanted to add an addition that allows him to move freely whether he is on crutches or using a wheelchair. It is important to us to help Ryan grow as independent as possible," explain Ryan's parents. Prior to this home addition, Ryan was limited to a small bedroom with a hall bathroom that was clearly too small as he continues to grow. Here's a view of the spaces he used prior to completing this home addition project: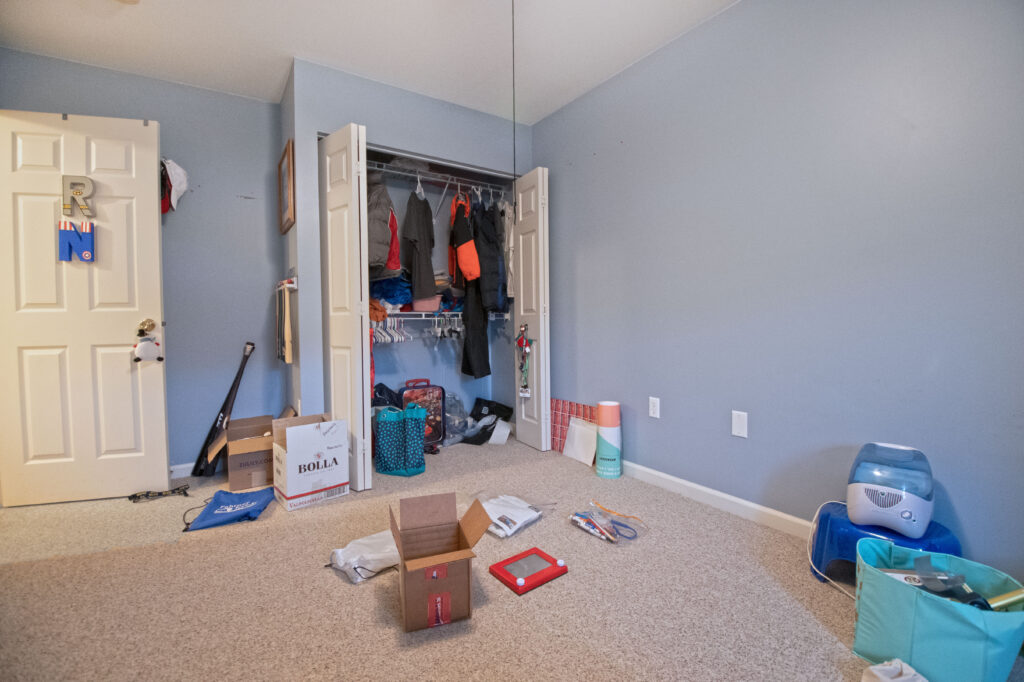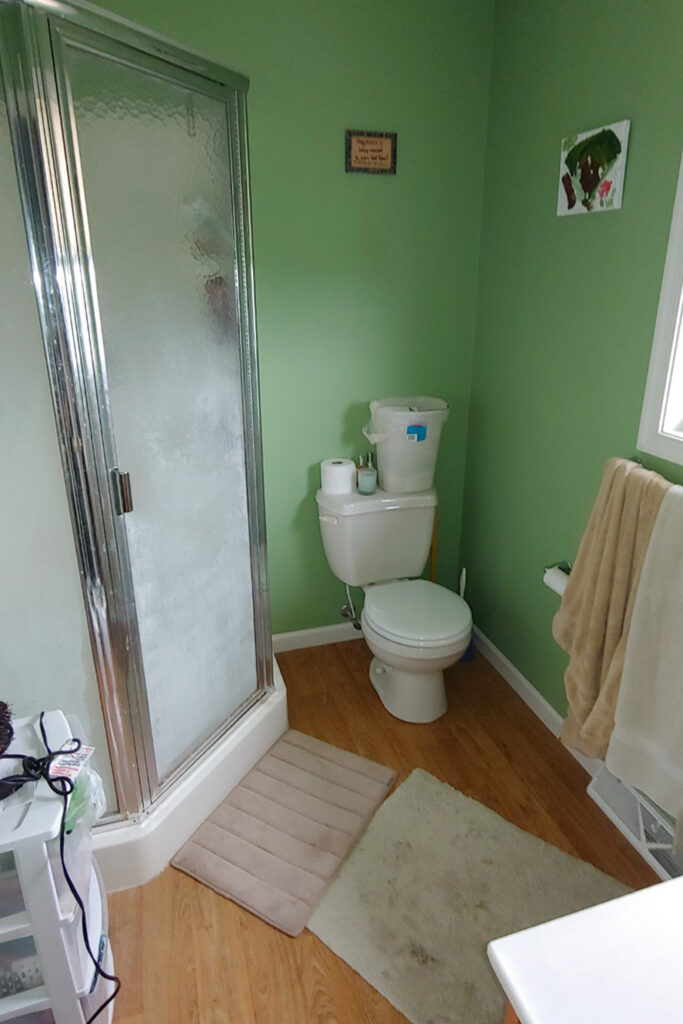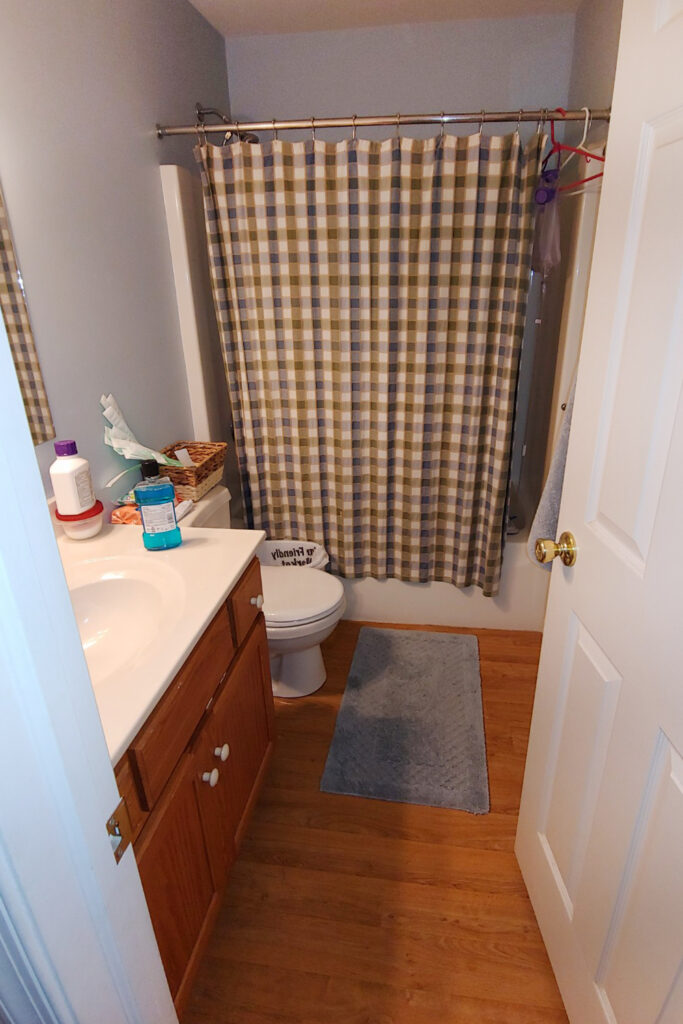 This 440 SF addition was designed to have a functional bedroom, bathroom and closet that extends off of the living room. The process took seven different revisions to find the design that flowed best with Ryan's needs.

John Watkins of Watkins Architect spoke with our client about the importance of having an architect to make sure everything that needs to be complete is finished. He reached out directly to D&B Elite Custom last April with the plan that needed to be done. "Watkins was a huge component of planning this process because once D&B Elite Custom got involved everything was ready to go. Larry was very confident that Watkin's plans could be done. It allowed us to be very confident. It was important for us to develop a relationship where we felt confident that they were going to have everything that we needed," explains the client.
Although this project was not fully ADA compliant, it encompasses a multitude of ADA features that were designed with Ryan's needs in mind. For example, ADA requires three different hand rails around the toilet, but ultimately Ryan did not need that, so only one hand rail was installed.
"The goal for Ryan was to be able to be more independent as he continues to grow. The addition did just that, allowing him to become independent for all of his daily needs without his parents," explain Ryan's parents as they reflect on the positive impact that this project had on him.
Check out the addition below: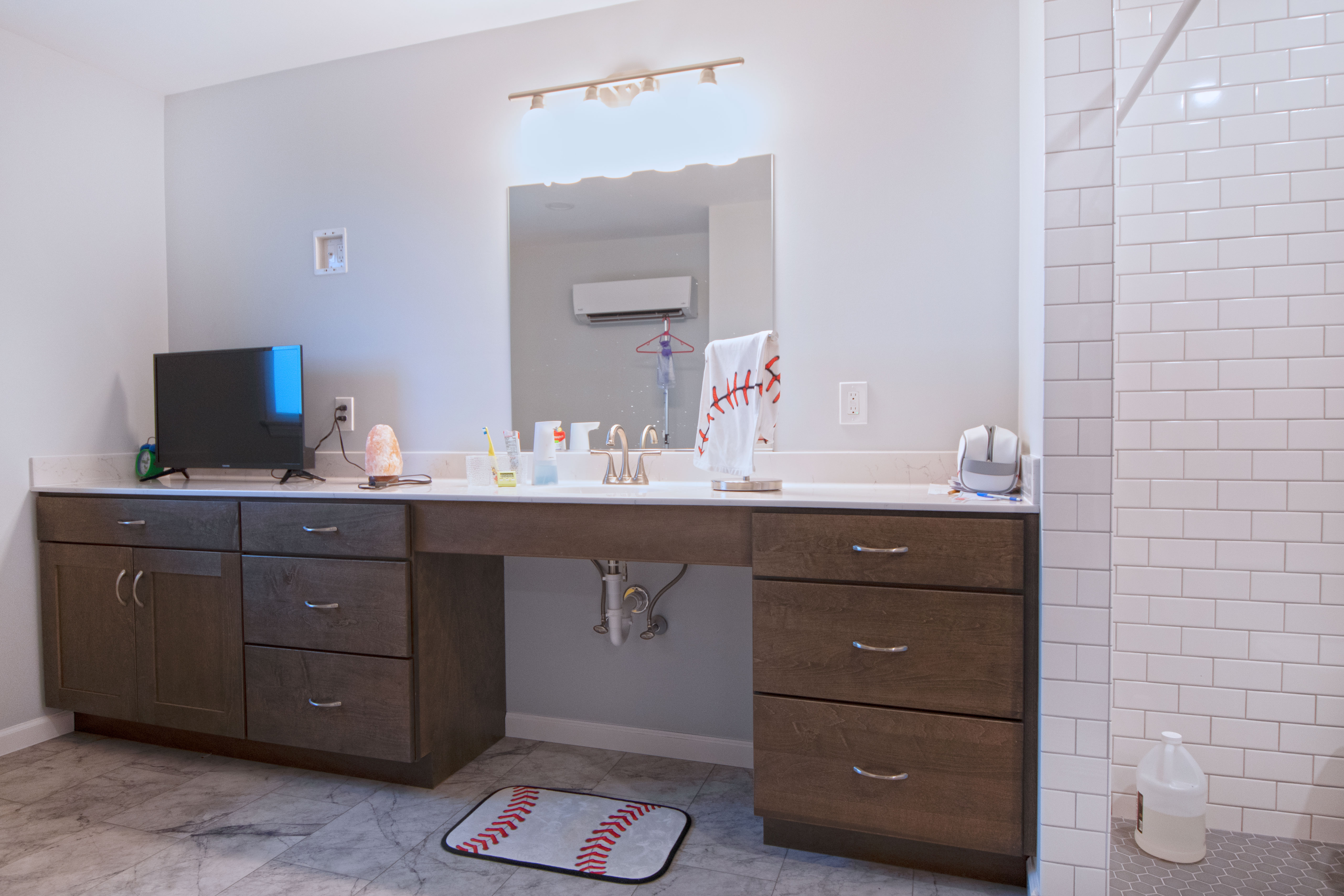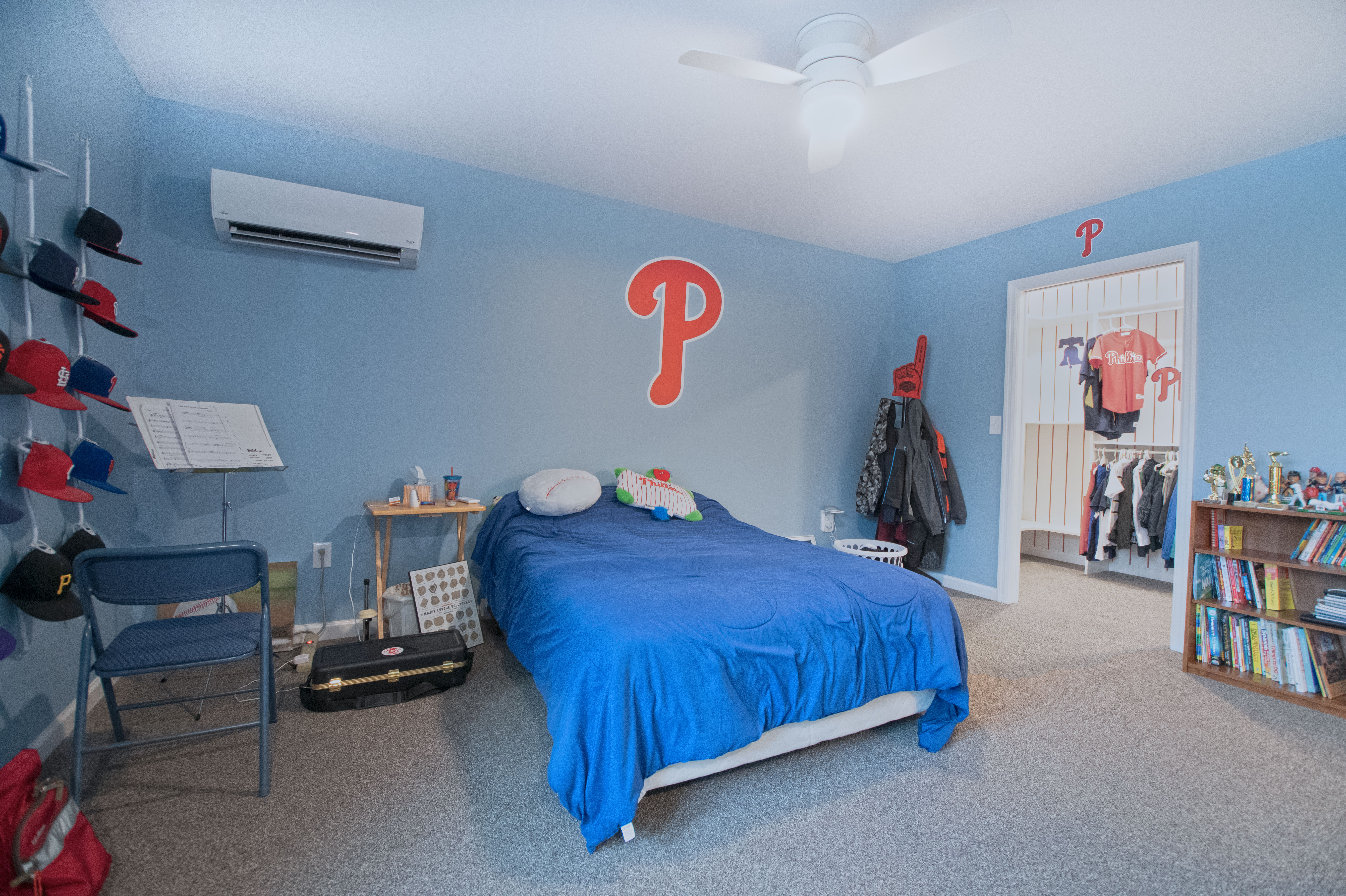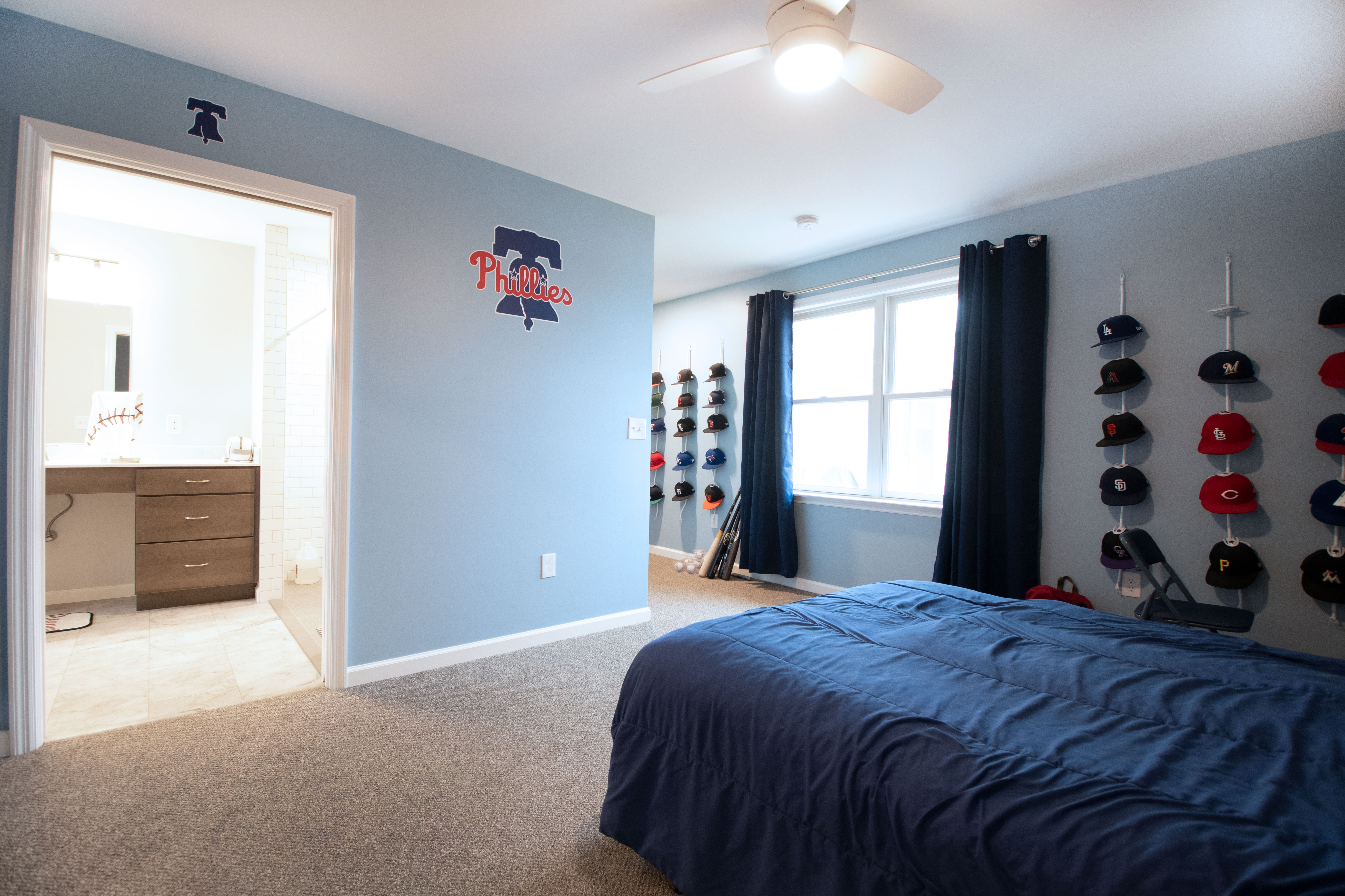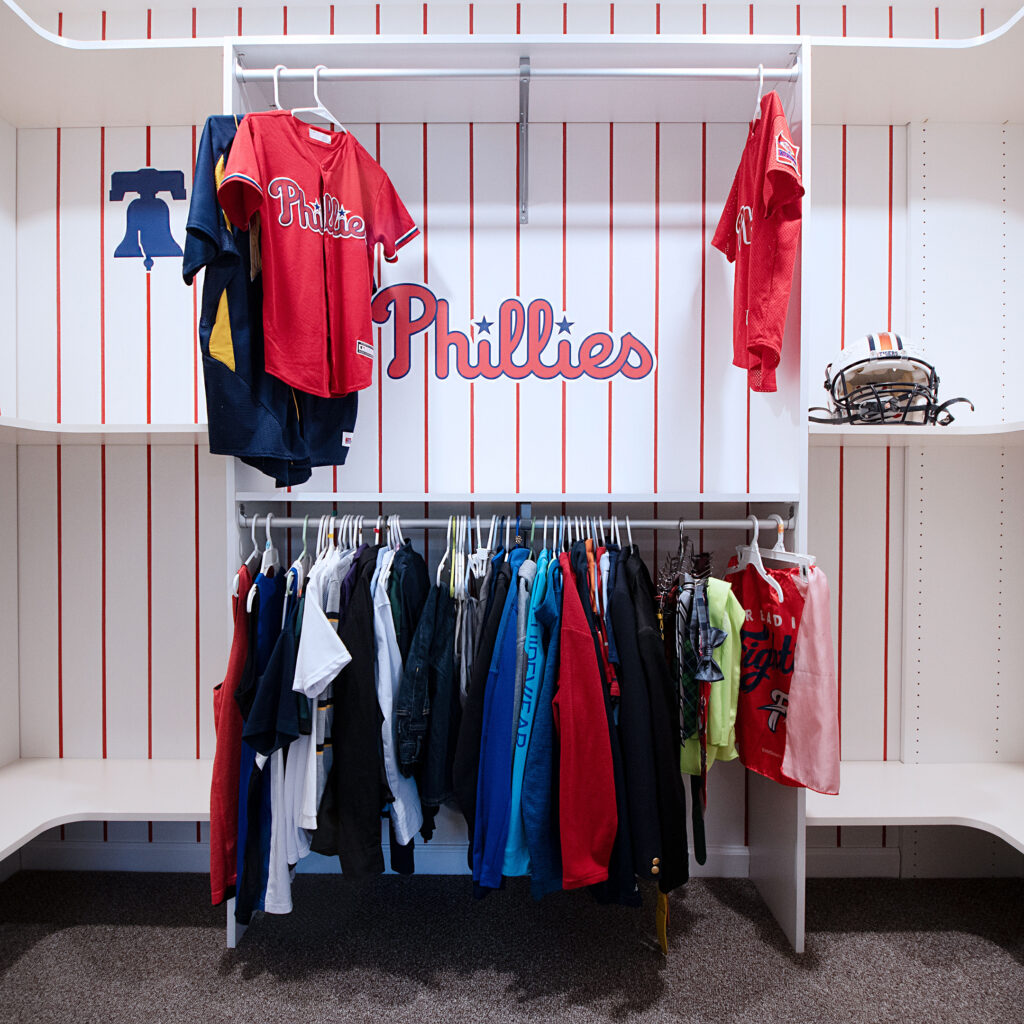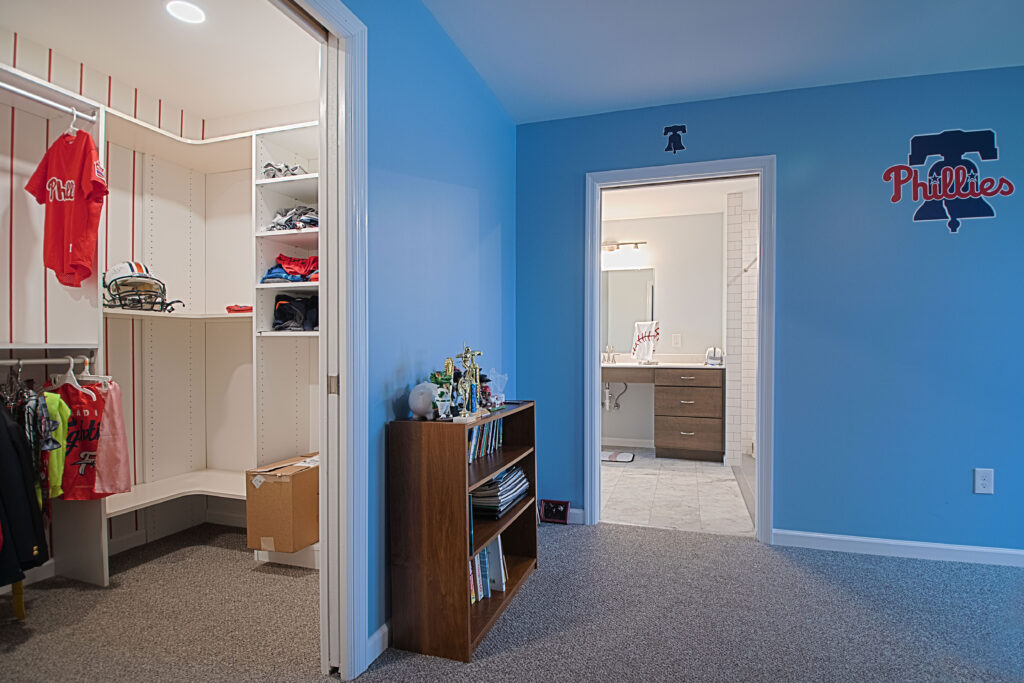 All in all, none of these projects would have been possible without the help of of these two outstanding local architects – Watkins Architect and Olsen Design Group Architects. We are grateful for their partnership day in and day out.
Many studies over the last several decades have shown that most seniors (ages 65+) prefer the idea of aging in their own home – or aging in place – rather than moving into a nursing home. Research indicates that the majority of seniors (about 94%) still wish to stay in their home as long as they are able. It's no secret that Covid-19 has likely strengthened the desire seniors have to age in place. With the change in "life as we knew it" since March of 2020, we couldn't help but wonder how Covid-19 may have affected the elderly's living landscape now and into the future.
This was the case for D&B Elite Custom clients, Janet and John, whose parents/in-laws decided to age in place by adding an addition to the couple's home. "We sat down with my father David to talk about options since the current plan of just taking care of Mom himself at their own home was no longer adequate," reflects Janet. Although Janet's father had been leaning towards moving into a senior living facility, his mind was swayed after the pandemic hit.
Janet reflected on the positive impact that aging in place had on her father: "It gave him a sense of ownership and privacy. He knows his money paid for the addition. For him that was a plus. My Dad made a business decision to sell his home and build something smaller onto our house. He knew he came out ahead financially, which gave him a sense of ownership and a boost." Hear more from the family about their experience adding an addition here!
In a senior living facility, you're not gaining a sense of ownership. Meanwhile, the way the addition was constructed allows Janet's father to feel that he still has his own home. He can come and go using his own walkway, and he can sit outside on his own porch with his wife. All of these actions give him a sense of privacy and strong sense of identity, allowing the couple to be who they are while still having the overall safety needed.
According to a Pew Research study, "living with an extended circle of relatives is the most common type of household arrangement for older people around the world. But in the United States, older people are far less likely to live this way – and far more likely to live alone or with only a spouse or partner." However, the pandemic may be changing these views in the United States. More families may be inclined to take in their seniors rather than putting them in senior facility homes. According to a Forbes article, students in a School of Aging Studies class at the University of Maryland Baltimore County gave their opinions on what they would do with their families' living situation in the future based on Covid-19: "More families will think about adapting their houses and lifestyle to accommodate older people living with them because living in those nursing facilities is risky." There are a scattering amount of home improvements that prove to be worth adding to your home to accommodate seniors. Improvements are not only for your parents, but are for yourself as you continue to age. Instead of looking into a retirement community or nursing home, consider making your home suitable for the needs that one develops as they age.
Ways to Accommodate Your Home to be Forever not Just Temporary:
– Install electronic stair lifts if you have more than one floor or a basement
– Improve sidewalks and pathways to ensure they are flat and have a ramp if needed for wheelchair accessibility
– Update your floor
Replace carpet with hardwood floor to make it easier to move around with a wheelchair
Widening your doorways for wheelchair and walker access
Putting all essential rooms on the first floor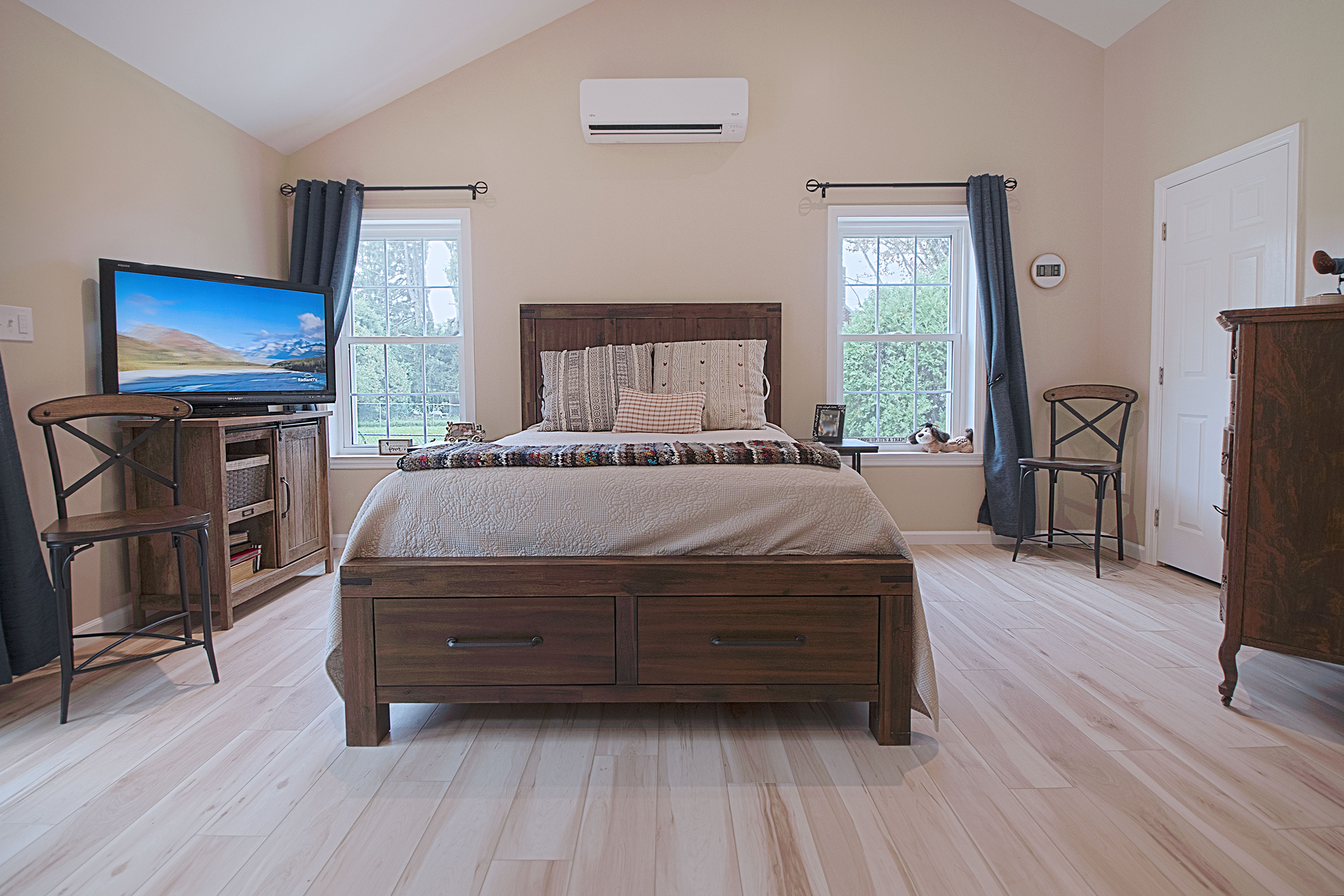 – Replace toilet
A raised toilet seat alleviates pain and makes it easier for aging adults
– Replace bathtub with walk-in shower to provide an easier and safer entry and exit
Add grab bars (horizontal and even small vertical ones)
Add shower chairs
Extendable shower head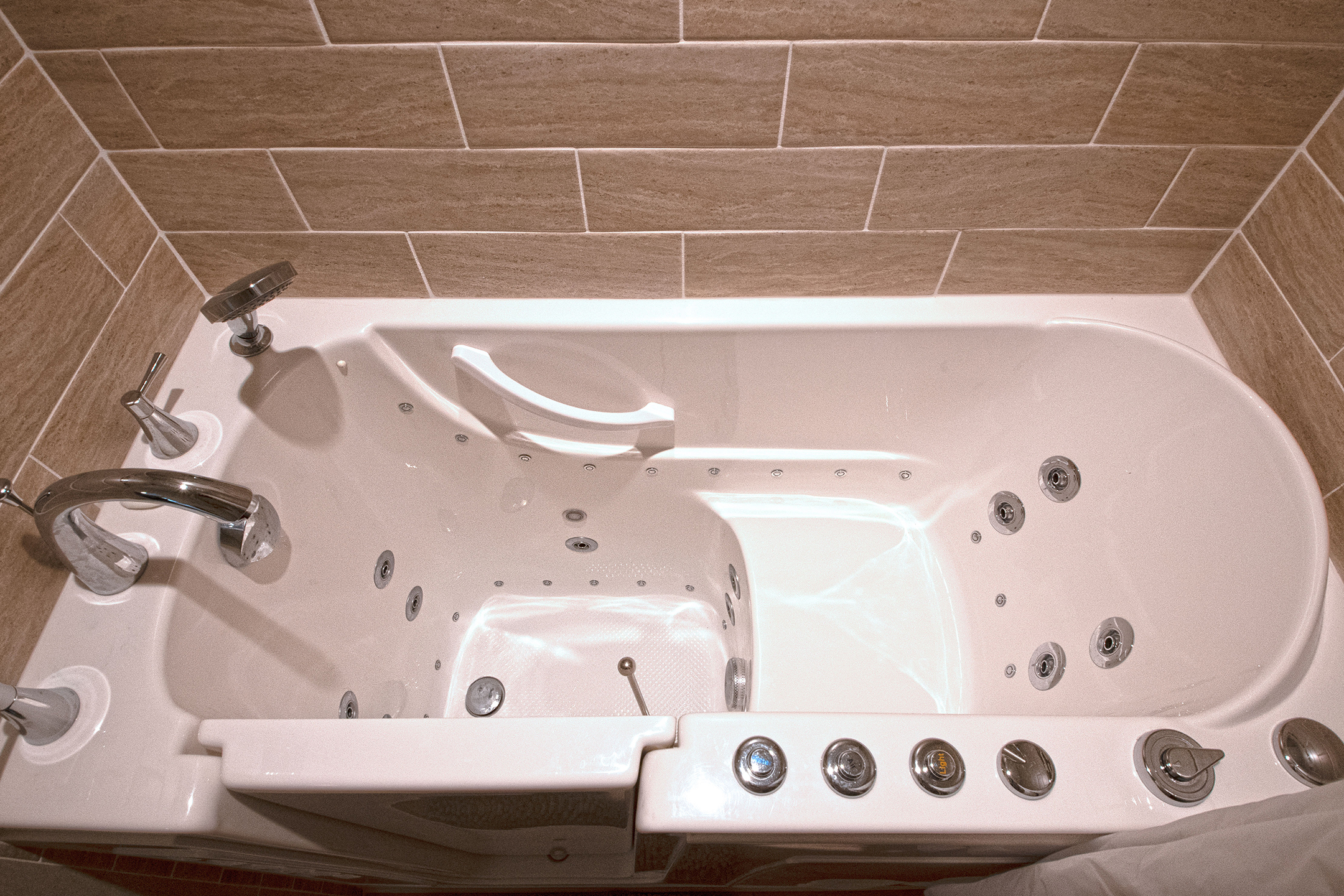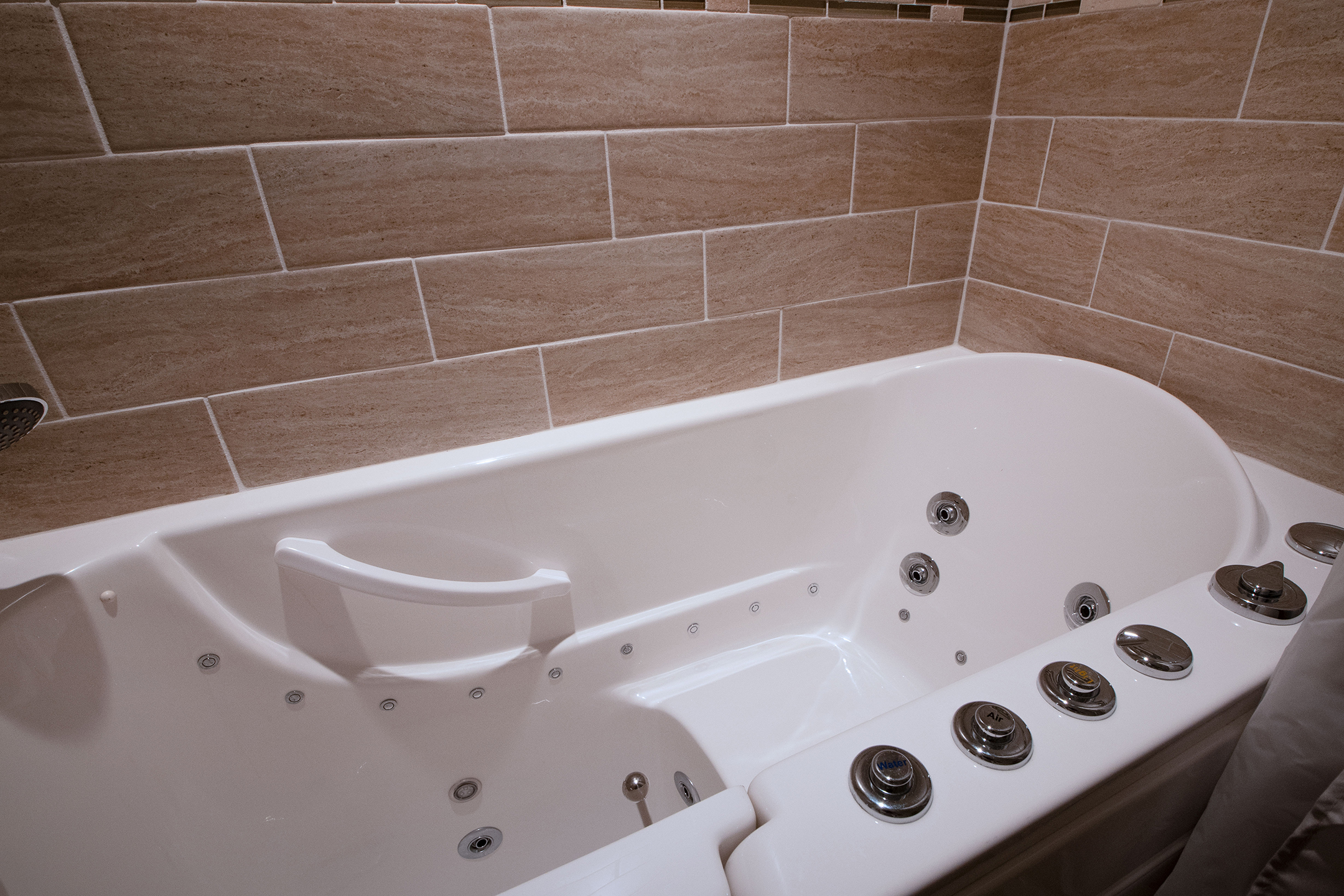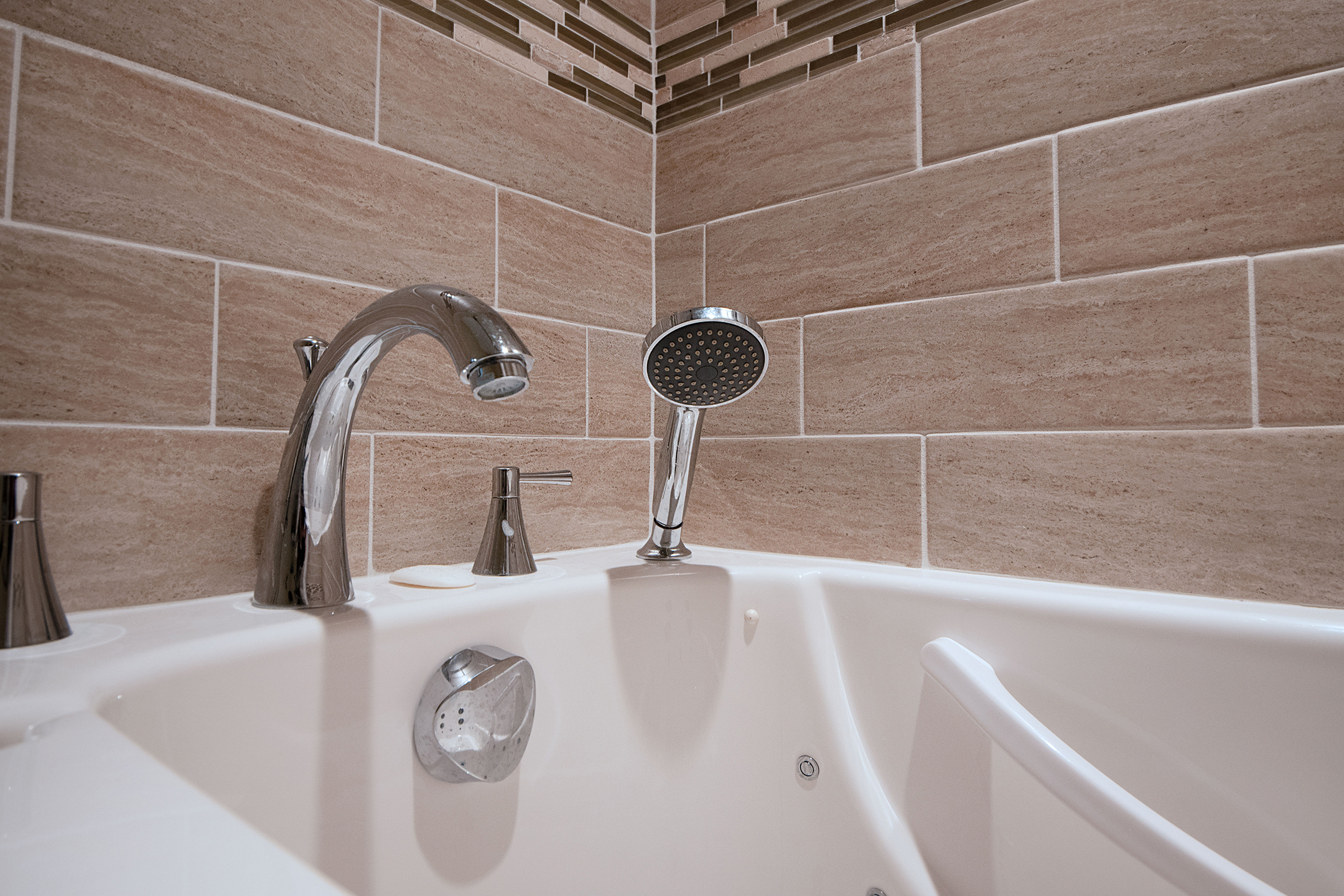 – Remote control lighting
This keeps areas accessible with easy access
– Easy thresholds and transitions
Increases safety for those with difficulty walking, walkers or wheelchairs
– Open floorplan
Easy to get around, especially if wheelchairs are needed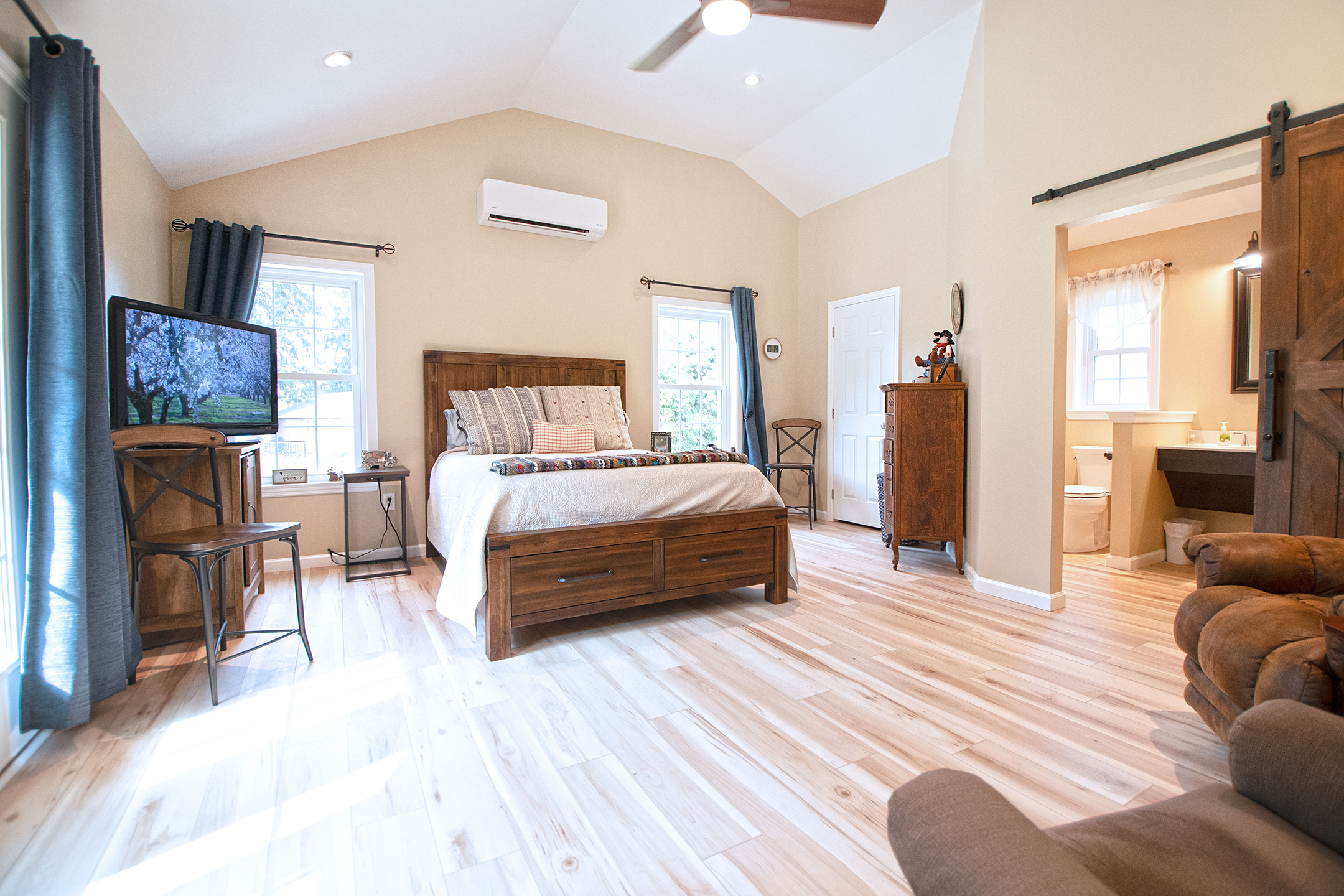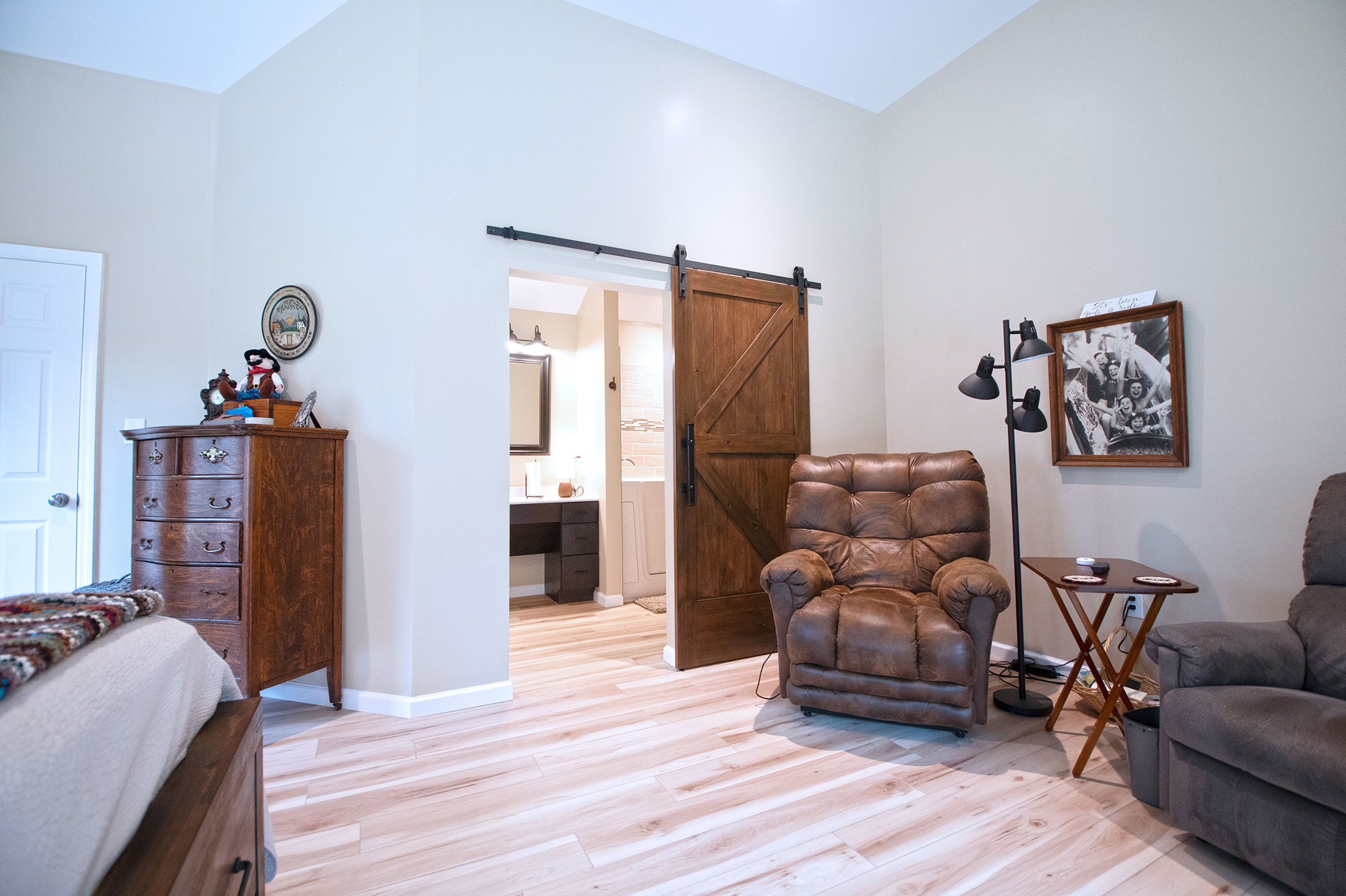 – Install a main floor drain and no-slip materials on floor
– Make simple purchases to enhance safety around your home
Our client purchased a safety mat so they can receive an alert every time their elders go in and out of the door. The mat includes a cordless alarm so they can know when they are entering and exiting without being in their personal space.
Always consider lighting. Adding nightlights to areas such as the bathroom, bedroom, and hallway are an easy way to ensure safety when moving around at night.
As a result of the pandemic, many families are more cautious when it comes to housing their elderly loved ones in a nursing home. The fear of them becoming ill couples with the fear of possibly not being able to see their loved ones if quarantining is needed. According to Home Advisor's True Cost Guide, "it is typically cheaper to build an addition than to buy or build a new home." John explained that for his family it was cheaper to add an addition instead of building another home close to them. Hear from John and Janet on what their experience was like working with the Elite team here!
Learn more about additions here on our website. With five currently in the works for this year, we have a handful of tips to offer, so reach out today for your free consultation!
Construction on your home is an inconvenience – we get that. Unforeseen issues will inevitably arise. As our Vice President of Residential Construction, Larry Adam, says, "A project well planned is a project half complete." Here's five tips on how to streamline your home remodel project:
Timing is everything!
Plan ahead (especially with current extended lead times, supply chain difficulties, and wait on inventory). If you want to enjoy a new outdoor living space by next Summer, you should really be starting today.
Be prepared with an idea board.
Houzz and Pinterest are great places to gather inspiration of the style, look, and feel you are going for.
Look for a general contractor that follows a pre-construction process focused on value engineering.
This will get you quality work on time and within budget. A builder that is willing to start active construction right away without ensuring every little detail of your project is thought of may be a red flag. They should be completing a pre-construction walk through to review points of access, location of dust protection and more to ease the process.
Be realistic when it comes to financials (unlike the budgets you see on HGTV!)
A good construction partner will advise you on where you can adjust specifications to save money. They will help you come up with a plan that gets the look you desire to fit within a reasonable budget.
Ask how involved all vendors and trades will be in your project.
Your general contractor should be making them a key part of the process. They should have an intimate knowledge of your project before they meet you. This makes all the difference.
Meeting selection deadlines will make a project run smoothly without delays.
Look for a construction partner that makes a point to clearly communicate and invests in construction management software to help manage project selections and deadlines.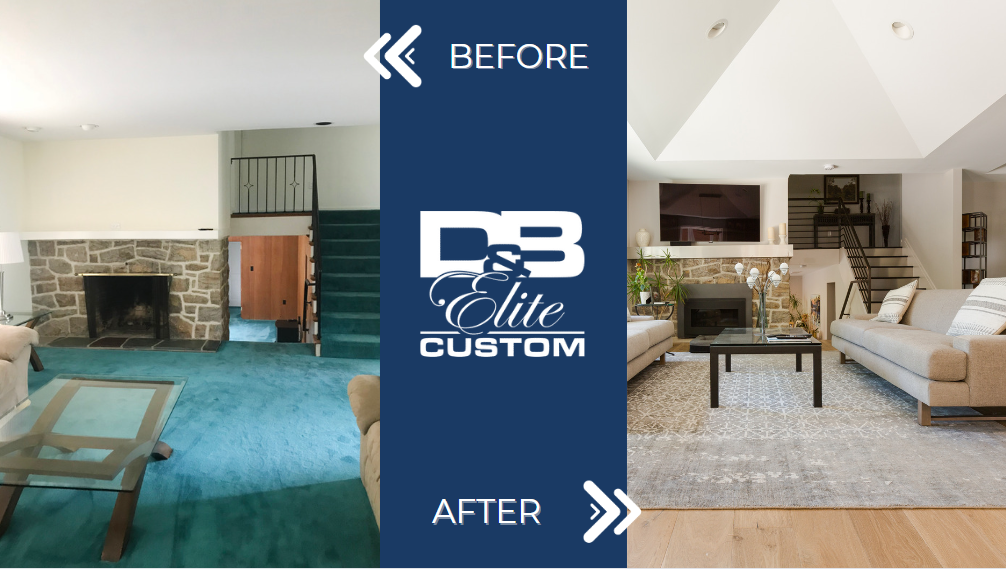 Learn more about floor plan remodels here!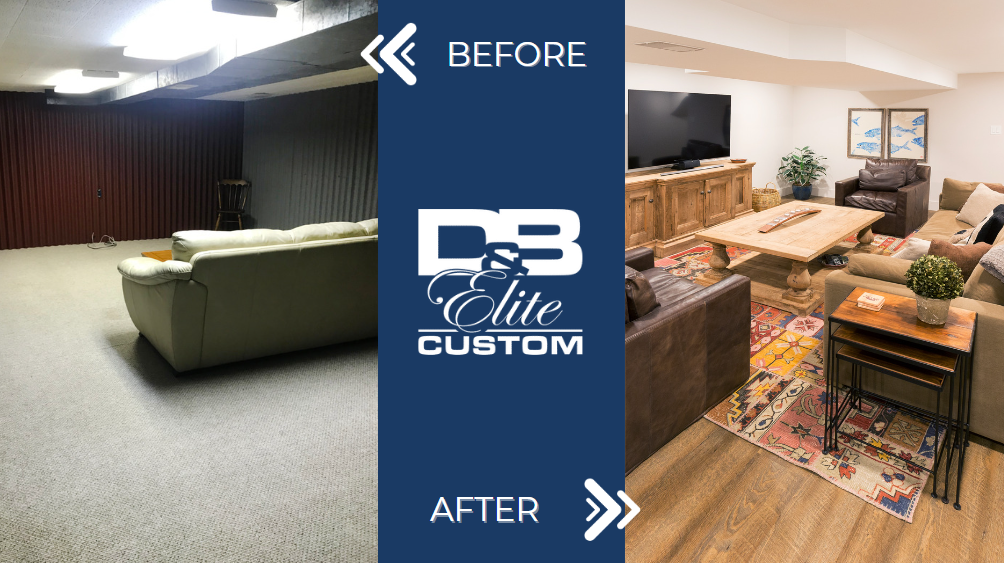 Learn more about Basement renovations here!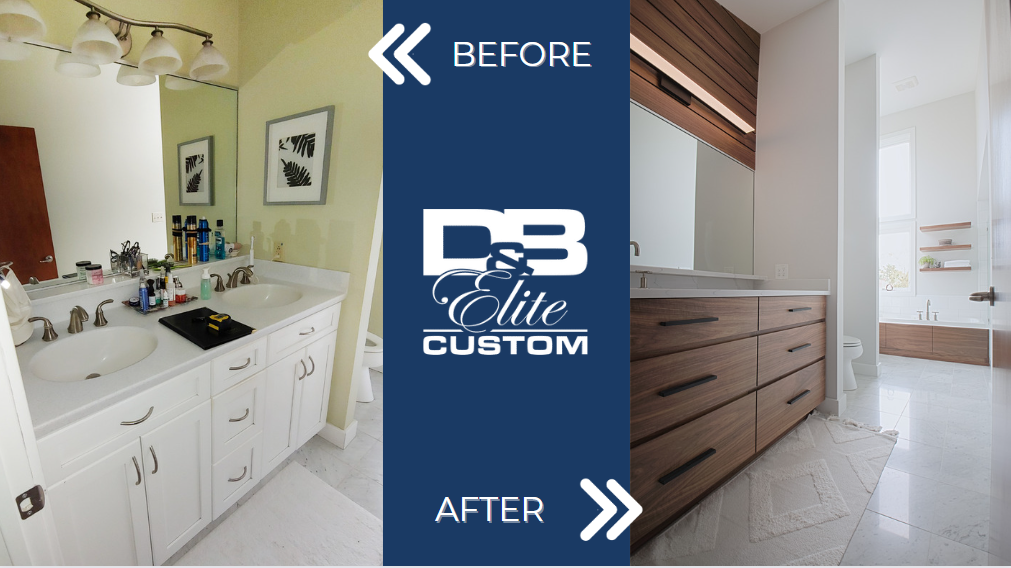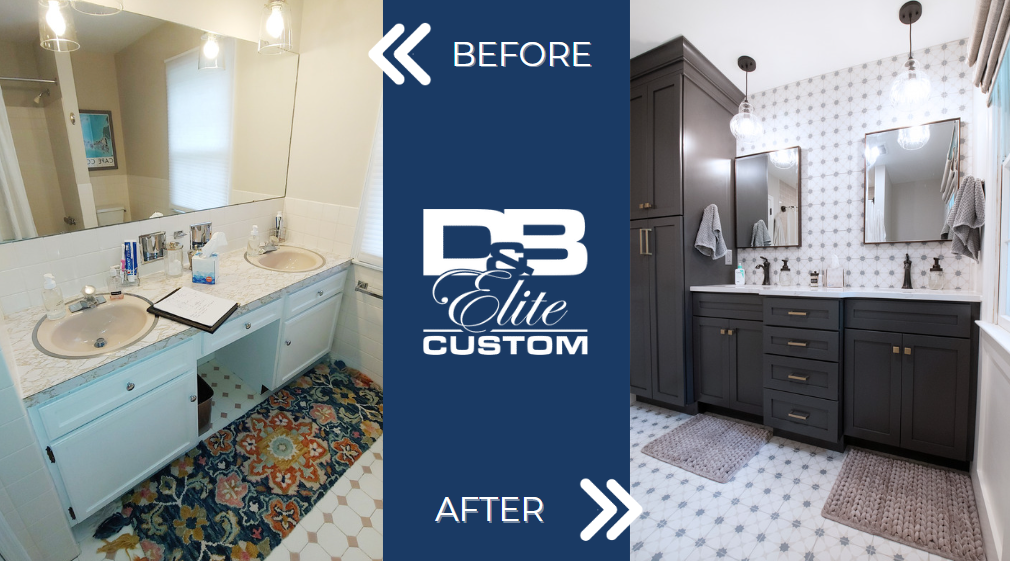 Learn more about Bathroom renovations here!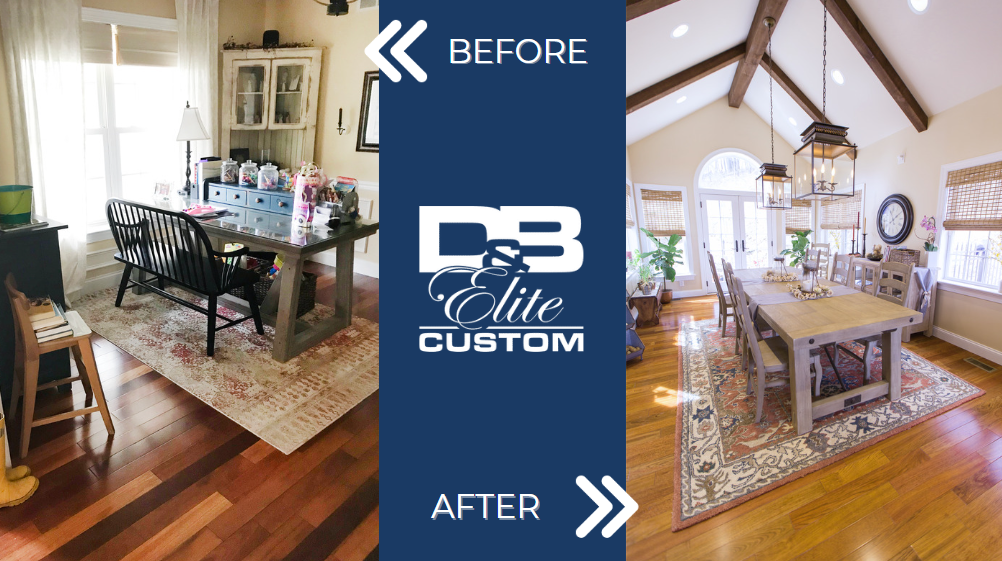 Learn more about Kitchen renovations here!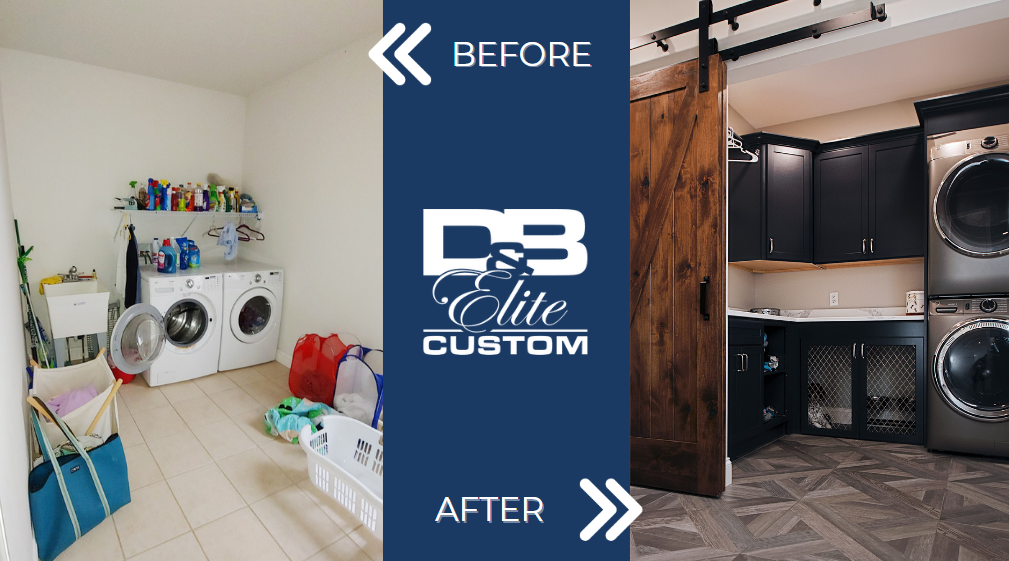 Learn about other specialty areas of the home here!
Contact D&B Elite Custom for your free consultation today! See why we were named 2022 People's Choice in Home Contractor and New Home Builder.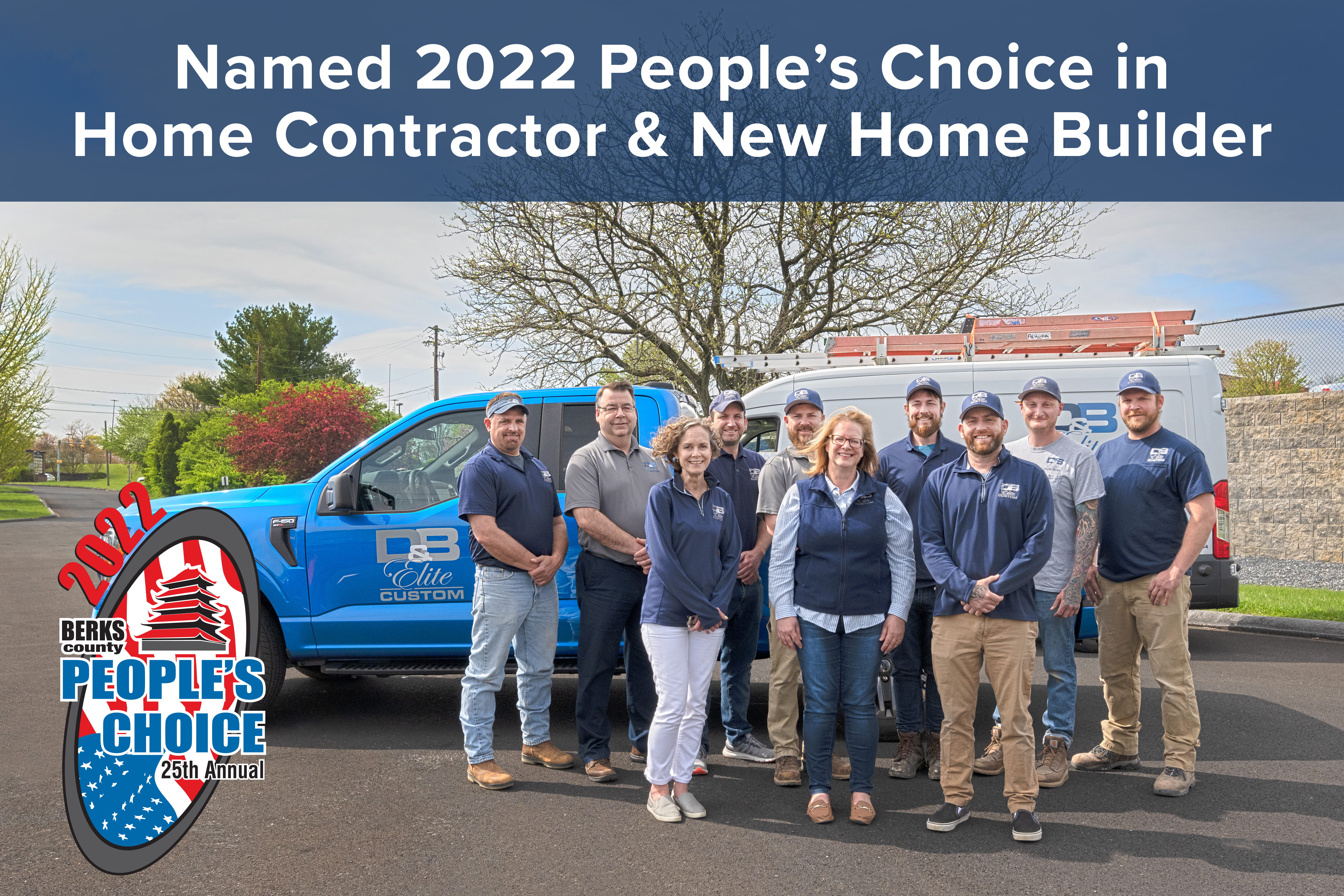 Color, pattern and texture – oh my! The versatility of wallpaper makes it easy to find a design that complements the room in your house, no matter what style you are looking for.
Did you know wallpaper is a key trend this year? Hand-painted wallpapers are very much "on trend" and growing in popularity. Wallpaper helps us to individualize our rooms and make them cozier, which makes sense after staring at the same four walls for quite some time throughout the pandemic.
Although wallpaper has tended to be more common in living spaces and bedrooms in the past, today's technological advances have allowed for the creation of many designs able to tolerate humid conditions. As a result, there are many suitable options for kitchens and bathrooms.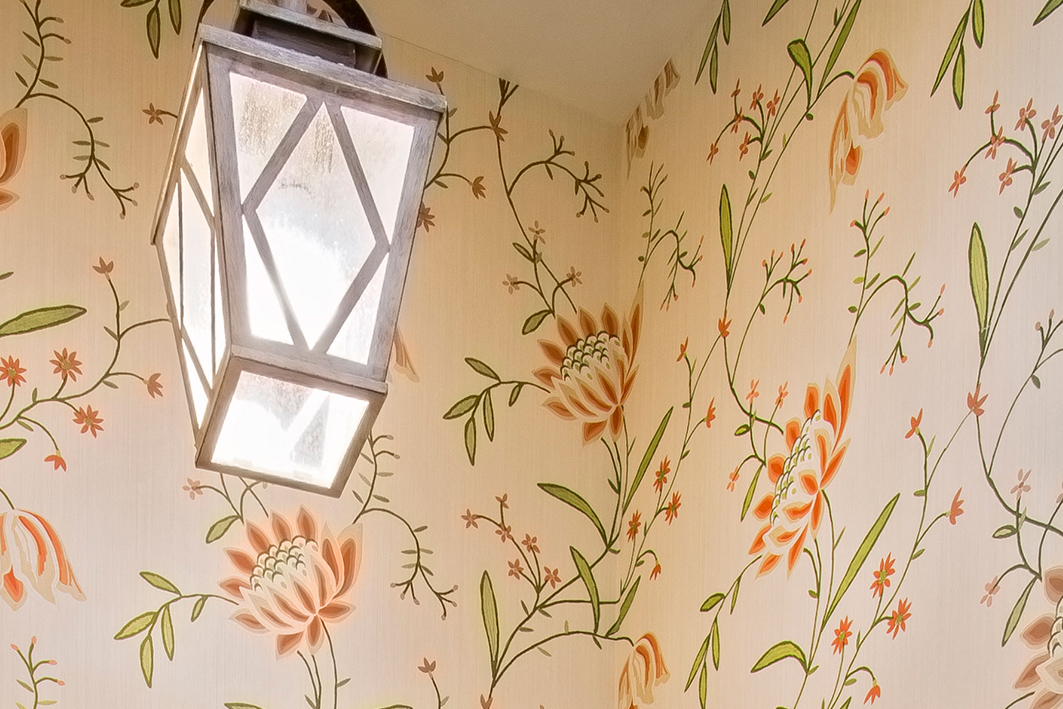 Ten Creative Wallpaper Ideas:
Double Trouble: Who said you can't use the same design in two different colors? Not us! In fact, we encourage you to give it a go. When you use the same print in two contrasting colors, it really adds design detail and maximizes the magic of one's wallpaper. Try this for the perfect way to give some edge to your space in need of a renovation.
Spruce Up Your Entryway: The entryway of your home is your first opportunity to set the tone and style of your home, so be sure to not overlook this space and give it the personality it deserves. Wallpaper is a fun, easy, and relatively inexpensive way to brighten things up when you first step into your home! Entryways are often a narrower space that sometimes get overlooked, so it may be worth considering embracing the fun patterns and color that wallpaper has to offer in this space. A repetitive pattern will create a rhythmic motif that helps to widen and elongate the smaller space typically found in an entryway. Consider wallpaper that features a good stripe; the linear quality will help add character to your entryway. This design also helps to add height if the lines are vertical or space if the lines are horizontally placed.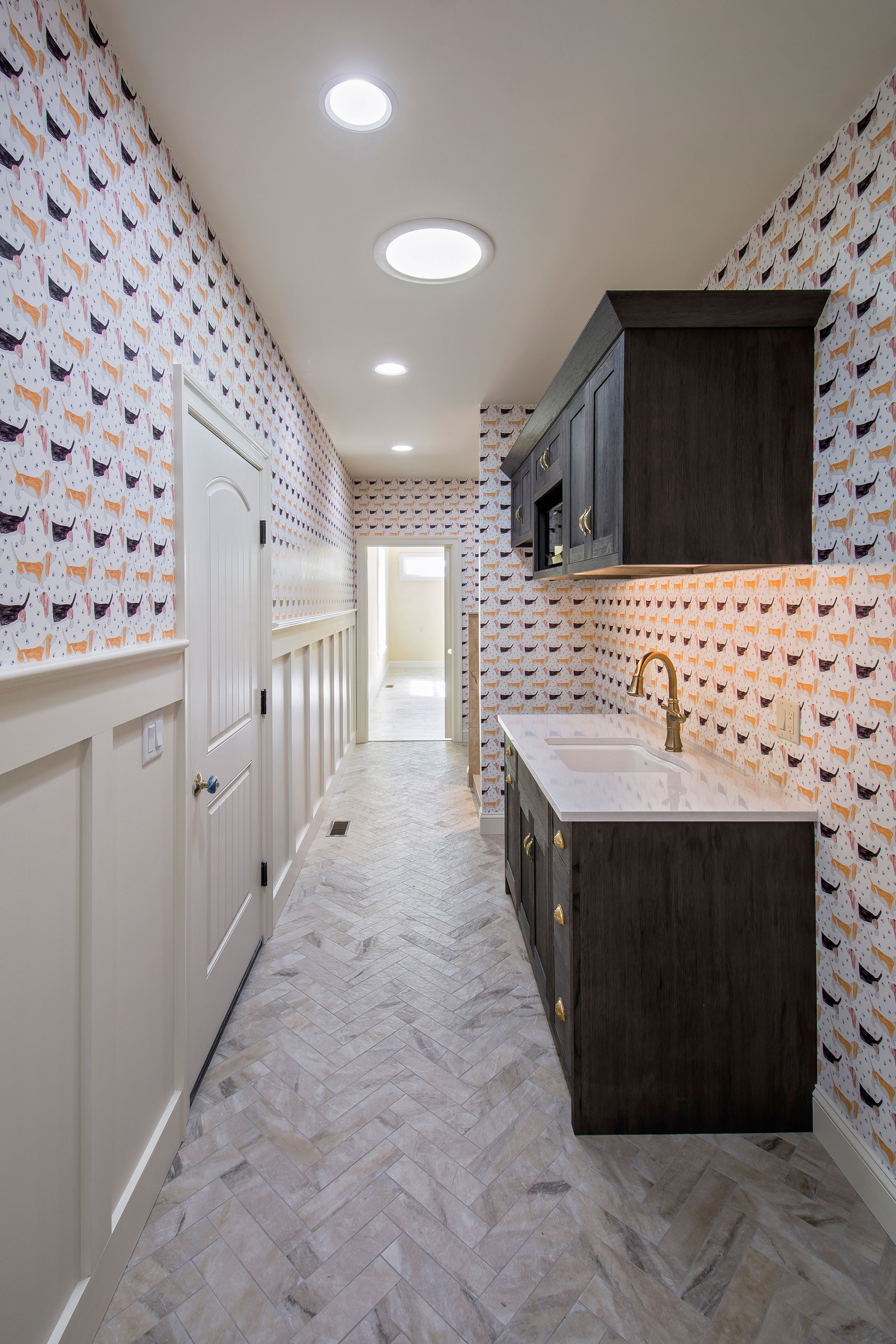 How to Soften Busy Wallpaper: There's nothing wrong with being bold and featuring "busy" wallpaper, however many get nervous at the thought. A simple way to break it up? Consider painting the woodwork surrounding the "busy" wallpaper in a color that matches the wallpaper design. Don't forget: It is best to stay away from oversized prints in rooms where windows, mirrors and pictures are frequent. Choosing smaller repeat pattern in an area where such items are breaking up the design is best.
The Perfect Way to Add Personality to Your Home Office: Re-imaging the walls of the office at your 9 to 5 job may not be on the table, but the possibilities are seemingly endless when it comes to your own home office! Busy, patterned wallpaper may be too distracting in a home office where you are likely wanting to concentrate. Opt for gentle, impressionist-style wallpaper to add interest to your space while creating a feeling of Zen.
Use the Same Print on An Accent Wall and Piece of Furniture: A simple concept that can leave a big impact! It's as easy as getting an armchair upholstered in the same print as the wallpaper you are using on an accent wall near the furniture piece. Using only an accent wall instead of every wall in the room will keep you from overdoing it with the same design and really leaves a WOW factor.
Make Various Shades Your Friend: Consider using one color across three individual pieces through different shades. Doing this adds depth while also creating harmony and cohesion through all individual elements.
Don't Forget the Ceiling: Sometimes it's as simple as looking up! There's no rules when it comes to wallpaper. Who says you can't wallpaper the ceiling?! Whether this means including the ceiling as you wallpaper the four surrounding walls or only wallpapering the ceiling to really make a dramatic pop, you've done it right.
Wallpaper Things You Normally Wouldn't: No rules apply here; think outside the box! From wallpapering your staircases to your headboard, the possibilities are endless. Such spaces are great opportunities to finally put wallpaper scraps that may be laying around to good use. Interior doors and closets are another great place to try. Coating your closet doors with the same wallpaper as the walls of the room can trick your eye into making the closet disappear and essentially opening up the room.
Experiment With Your Powder Room: Small rooms, such as your powder room, are great places to start with a bold, fun wallpaper. Why? If your taste changes down the road, it isn't the most expensive area to redecorate given the small space of a powder room. Pro Tip: Go for bold large-scale prints in these small spaces. Don't be afraid to choose something dramatic that you absolutely love but know you couldn't live with forever in a well-trafficked hub like the living room.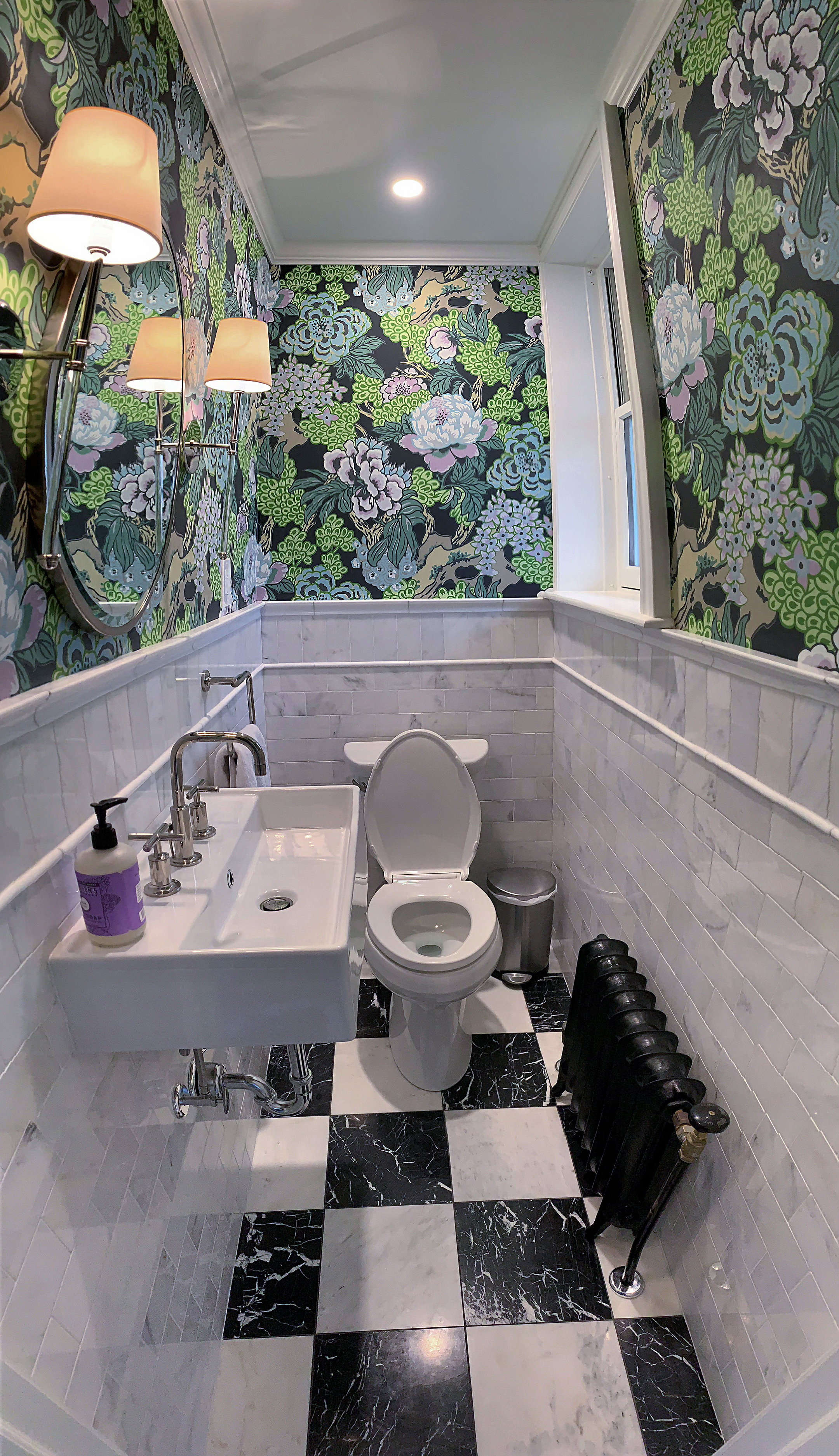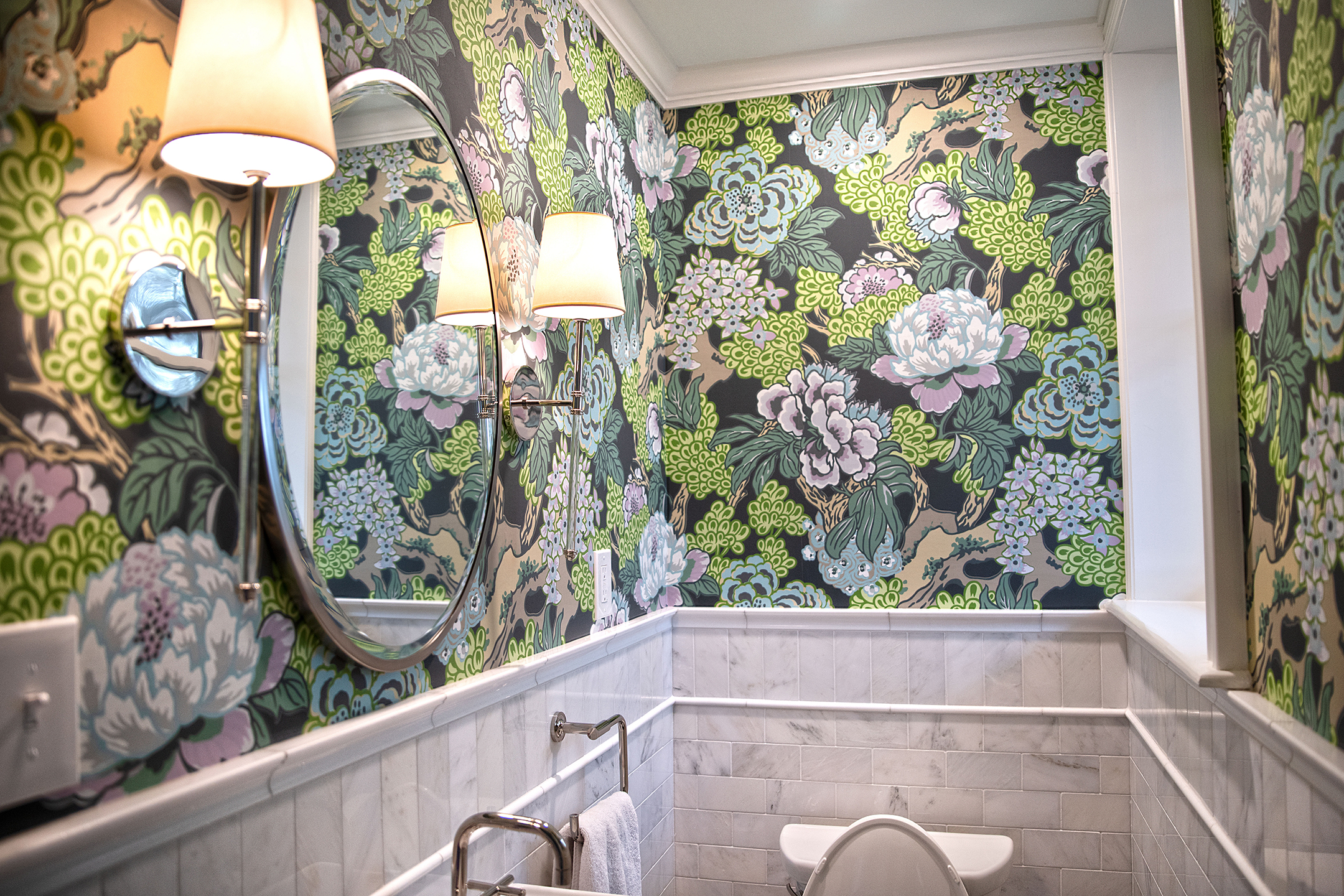 The 411 on Relaxing Wallpaper: If you are looking for the most relaxing options, try wallpaper with a fabric-look! These create a feeling of enclosed comfort. Textured wallpapers like cork, grasscloth, or paper backed silks add depth, along with a touch of luxury. You can never go wrong with pastel and neutral shades for the ultimate relaxation. Stay trendy with walls that embrace floral and foliage prints. Wallpaper with vivid colors like reds and yellows may be too stimulating to promote rest.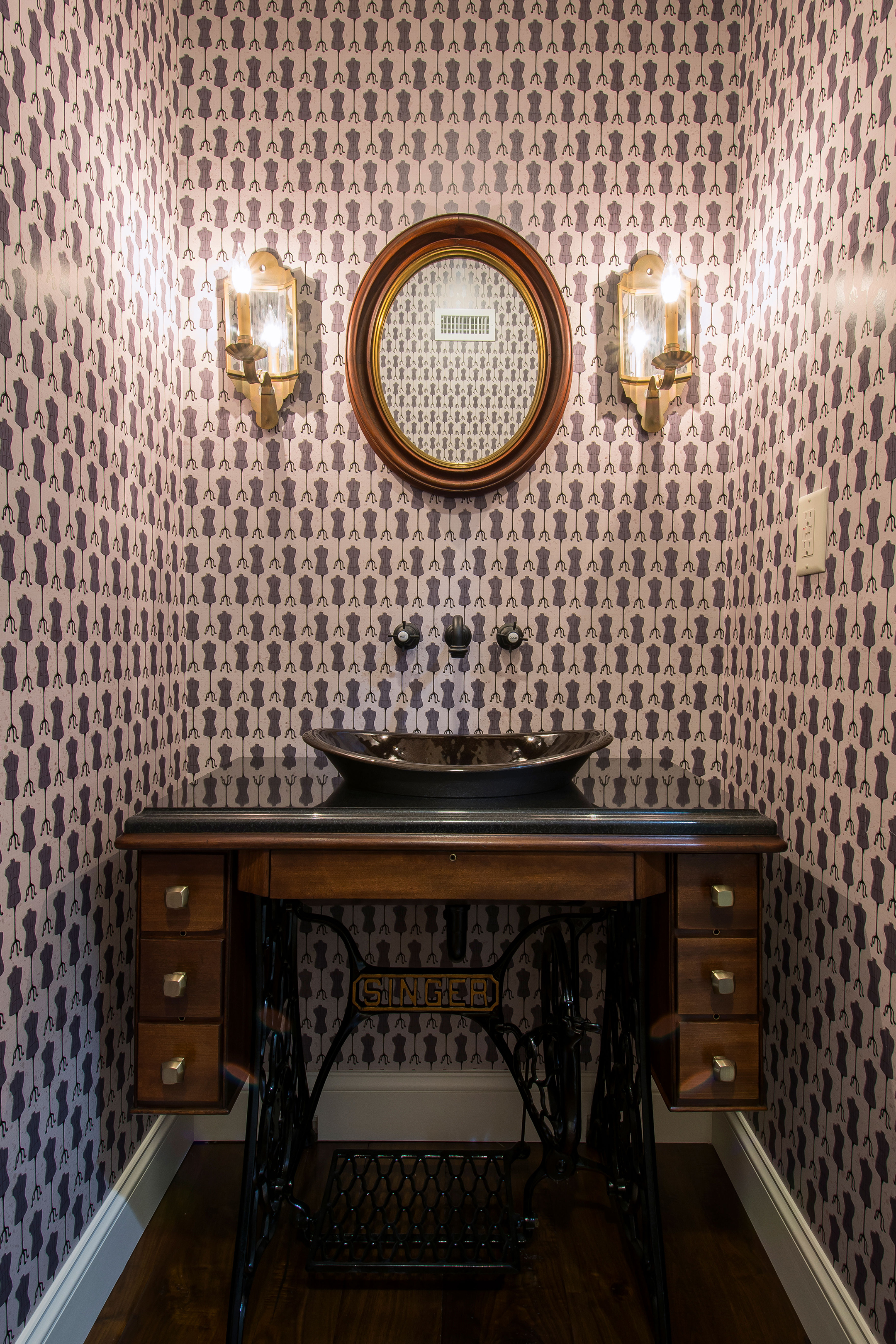 The History of Wallpaper:
Wallpaper has been elevating rooms as early as 200 B.C., where it is believed Ancient Chinese would glue rice paper onto their walls. Egyptian papyrus, the earliest known for of "paper," was first introduced around 4000 B.C. in China.
By the 10th century, Arabians were creating a finer sheet of paper through higher quality materials like bamboo and wood, and during the 12th century papermaking spread throughout Europe.
A French engraver by the name of Jean-Michael Papillon is credited with inventing wallpaper as we know it today in 1675 when he started making block designs in a matching, continuous pattern. It wasn't until 1739 that wallpaper made its way to America when Plunket Fleeson started printing wallpaper in Philadelphia, PA.
In the roaring '20s wallpaper took the spotlight with some 400 million rolls being sold during this period, which became known as "the Golden Age of Wallpaper." After World War II, plastic resins revolutionized the industry, offering stain resistance, washability, durability, and strength.
Today, advances in digital, photo and printing technologies make wallcoverings much more affordable, and it is easier for companies to replicate wallpaper styles from any period of history.
Nearly one year after we began this couple's full remodel of their 1970's home, we reconnected to see how they were enjoying their new space after living in their newly remodeled home for approximately three months now.
Looking back, they described living in a temporary apartment last year as a "time of upheaval," but one that went by relatively quickly. They enjoyed living in a different part of town and experiencing what the neighborhood they stayed in had to offer — especially their beloved dog Hachi, who loved going for walks and enjoying the dog-friendly atmosphere!
They think it helped that they lived on this property since 2010 before completing their renovation. Lori described it as "an advantage because we had clarity on what we wanted and didn't want going into this project."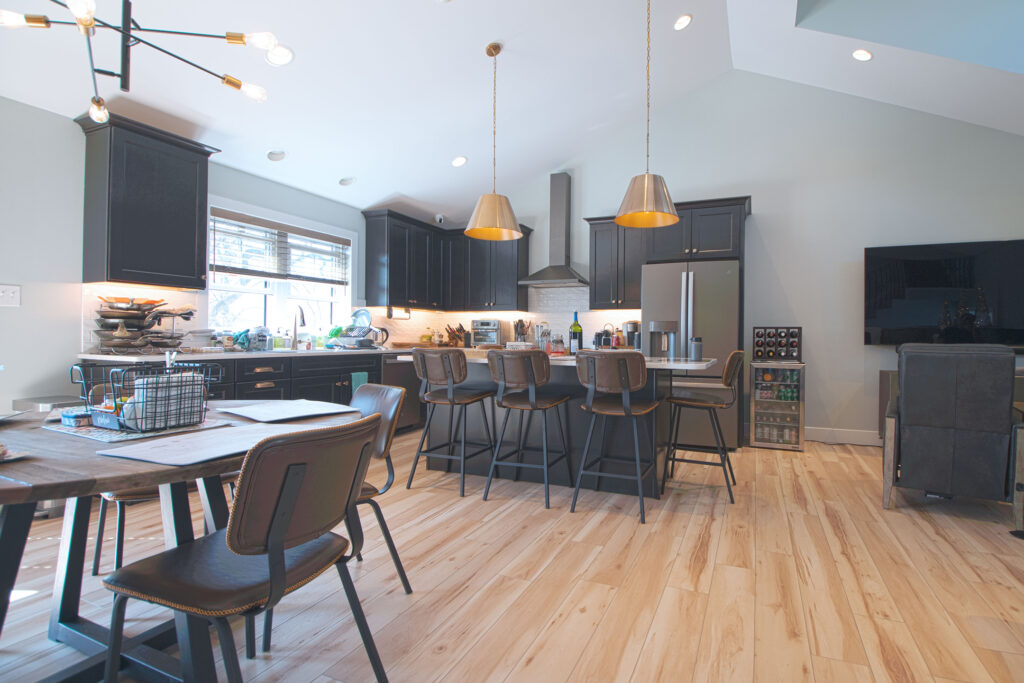 In case you missed our first blog on this project last July, here's a quick summary of the history of the home: The house, which was built by the homeowner's father, would have turned 50 years old this year. The family decided now was the best time to renovate and celebrate new beginnings. An unfortunate accident that left Av with a disability also increased the need for a home renovation, as the ADA compliant open concept layout of the first floor allows him to better navigate their home. You'll find wider hallways and hardwood floors throughout the home, as well as a larger shower with a flip-up seat.
Another selling point of their home reno? "The new layout is much more efficient and makes it easier to host guests," explains Av. Prior to their home renovation, they never felt fully comfortable having a number of people over before, but now there is definitive space for guests, such as their extended family in western PA, NJ, and DE who have already come to visit.
Despite the challenges that naturally come with a home renovation of this size, the family had a great experience overall, especially with our Trade Partner, Kyle of Elements Integration, who handled installation of security cameras throughout the property, mounting TVs, the Internet, and all of the wired electronics throughout the house. "Kyle was excellent to work with because his knowledge is top notch and he is so friendly. He never condescended and always explained everything," explains Av.
Designing Their New Home With Blue House Designs LLC:
A reflective Lori and Av recall that they "knew nothing about the design process" when they first began working with the D&B Elite team and Kylene Baney of Blue House Designs LLC, who has been an Architectural Designer for 20 years and owned her business for seven years now. "When I first started working with the family they had project boards with magazine clippings and items printed from online, including exterior and interior designs. Every time they saw something they liked they added it to the board. There was a mixture of modern, farmhouse style, and traditional, so in order to narrow down what they really wanted we started with the design of the exterior of the home," explains Kylene.
Below are some of the options that the family was given in each style. "This helped them realize that they liked the farmhouse style most," recalls Kylene. Another realization that Lori and Av made during the design process? "At first we thought we'd keep the exterior of the whole house and go from there, but we ultimately ended up deciding we wanted another house since keeping the same exterior would be like upgrading from Web 1.0 to 1.5. That makes no sense. We wanted to get to Web 2.0."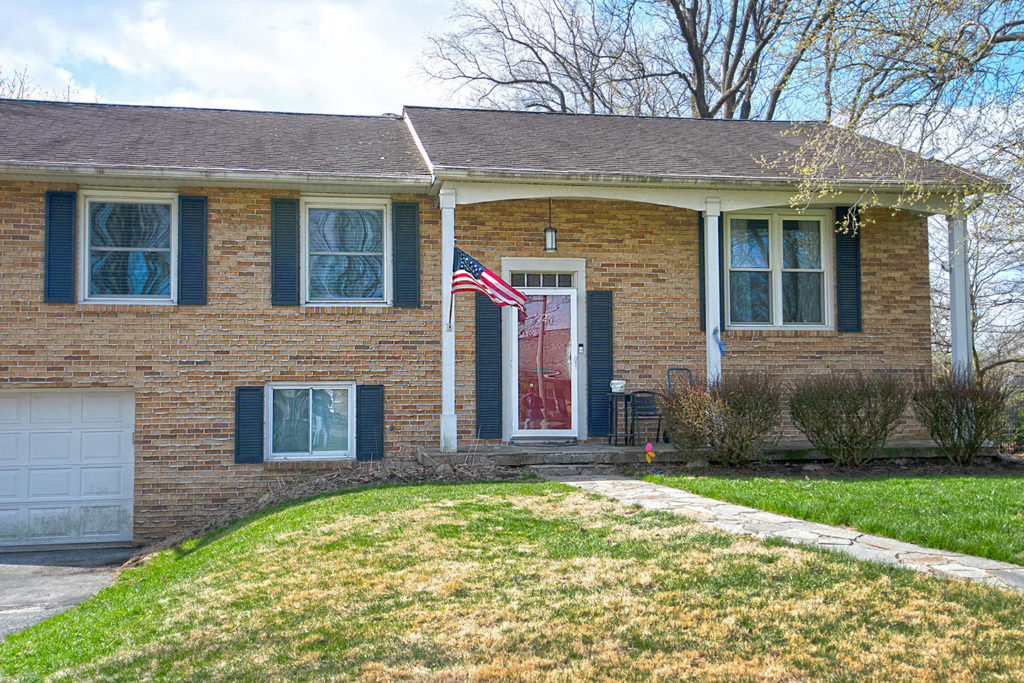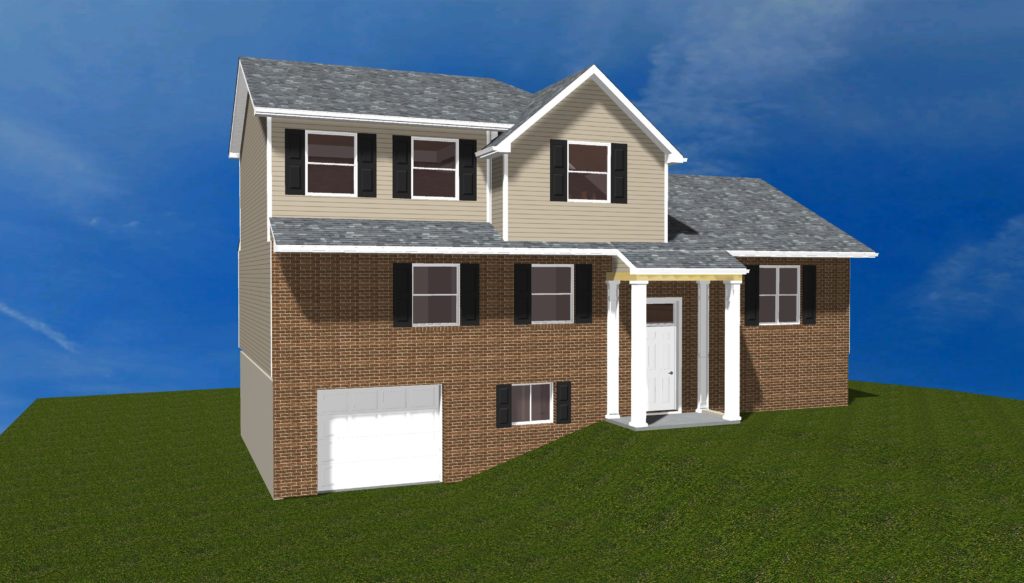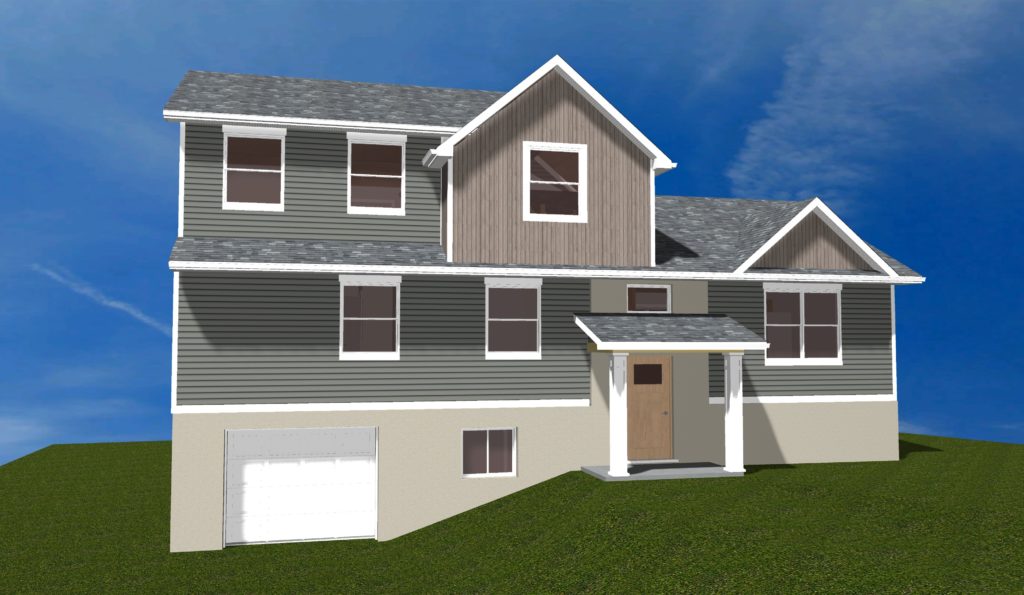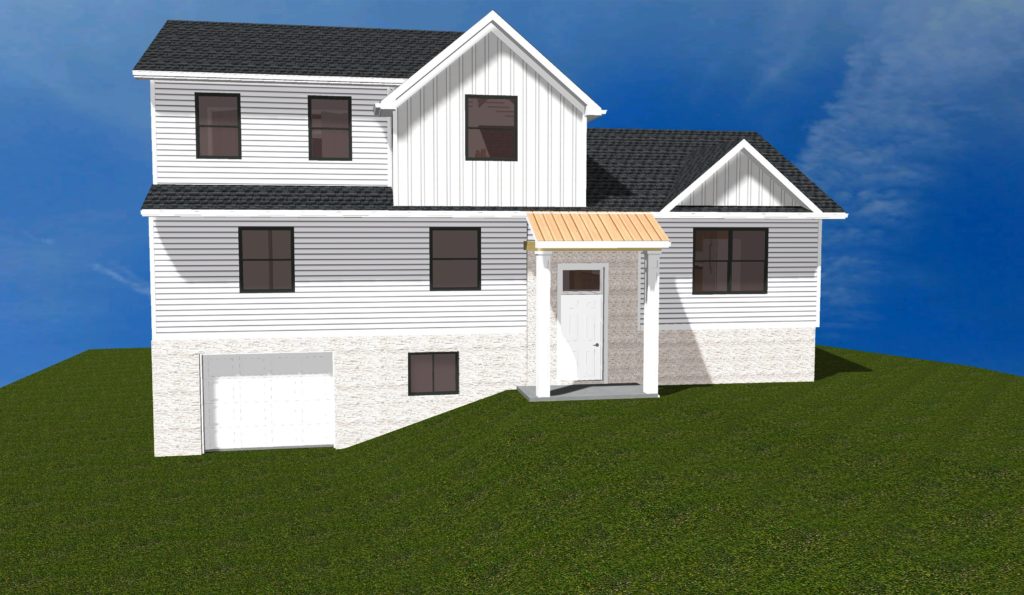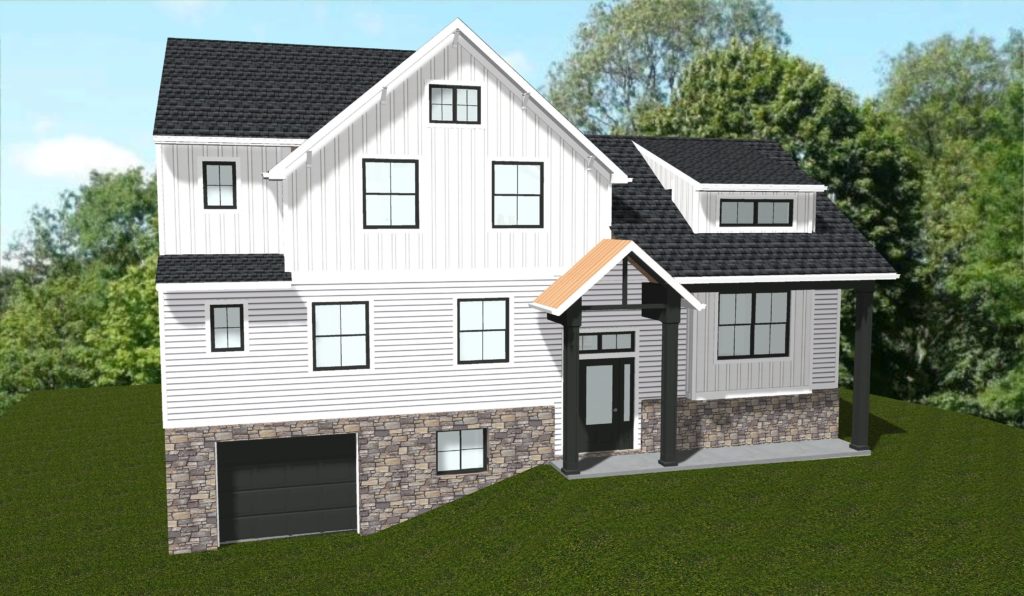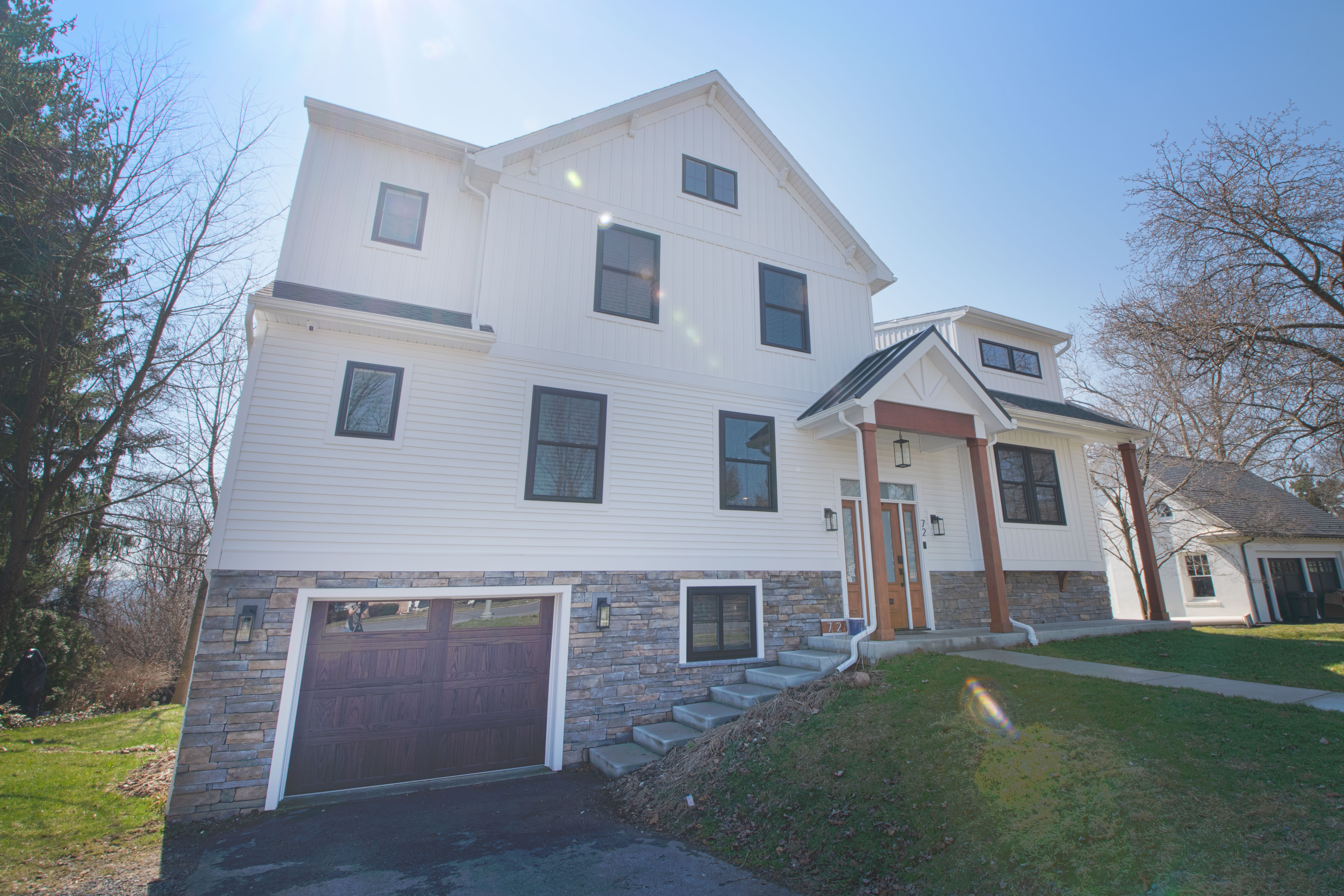 A Q&A With The Designer, Kylene Baney:
Q: How did you get started in this industry?
A: "Designing has always been my passion. It's what makes me tick. I had a high school teacher who noticed my talents, and I always liked working with people. I knew I wanted to help people bring their home dreams to fruition."
Q: Walk us through the process of what it's like helping clients reach their final decision on design?
A: "It is normal for me to assist clients with narrowing down to their final choices, but at the same time some clients will have a set design they absolutely love. If they allow my input, I will show them other options that would also work. Many times the client never thought of other options, and then I will work with them to design their needs."
Q: What programs do you use to design?
A: "I draw with SoftPlan 2022 Program, which allows me to design the exterior and / or interior of the home. I enjoy renovating existing homes that will improve the client's space."
View the SoftPlan web 3D model for the Rochino house here, and complete your own walk through!
Q: What is the most challenging aspect of your job?
A: "The most challenging aspect of any project is making sure I incorporate everything the customer wants or needs into the space allowed. I also find this part of the job to be the most fun! It's like putting a puzzle together; everything must fit perfectly. Another challenge is how hard it has been to get to where I am. Drafting is not a woman's field. Don't get me wrong, I work with a lot of men who appreciate my work, but growing up I had a lot of hurdles. I wish I saw more women or girls taking an interest in what I do."
Did you know: According to the American Institute of Architects, only 17% of registered architects in the United States are women?!
Q: What is your favorite aspect of this particular home design and why?
A: "I enjoy getting to know the family and making their living space easier and more useful for their needs. The challenge is taking the families' ideas and incorporating them to meet their needs. It is truly rewarding to see my design project transform into reality. Seeing how the design changes improved the clients' lives is the best and gives me a great sense of accomplishment."
Q: What is it like watching your drawings transform from rendering to reality?
A: "I feel a lot of pride and honor when families trust me to design a space or entire home that fits their needs. I think that takes a lot of courage on the homeowner's part to let someone they don't know have so much responsibility. Knowing that in the end they liked my design so much that they built it is my favorite part of the job."
Q: How long have you been working with D&B Elite Custom?
A: "I'm pleased to have been working with D&B Elite Custom since 2018. Our relationship started from an email I sent to local builders making them aware that I was looking for work. This relationship became mutually successful, as I have since completed over 40 projects with D&B Elite Custom to date."