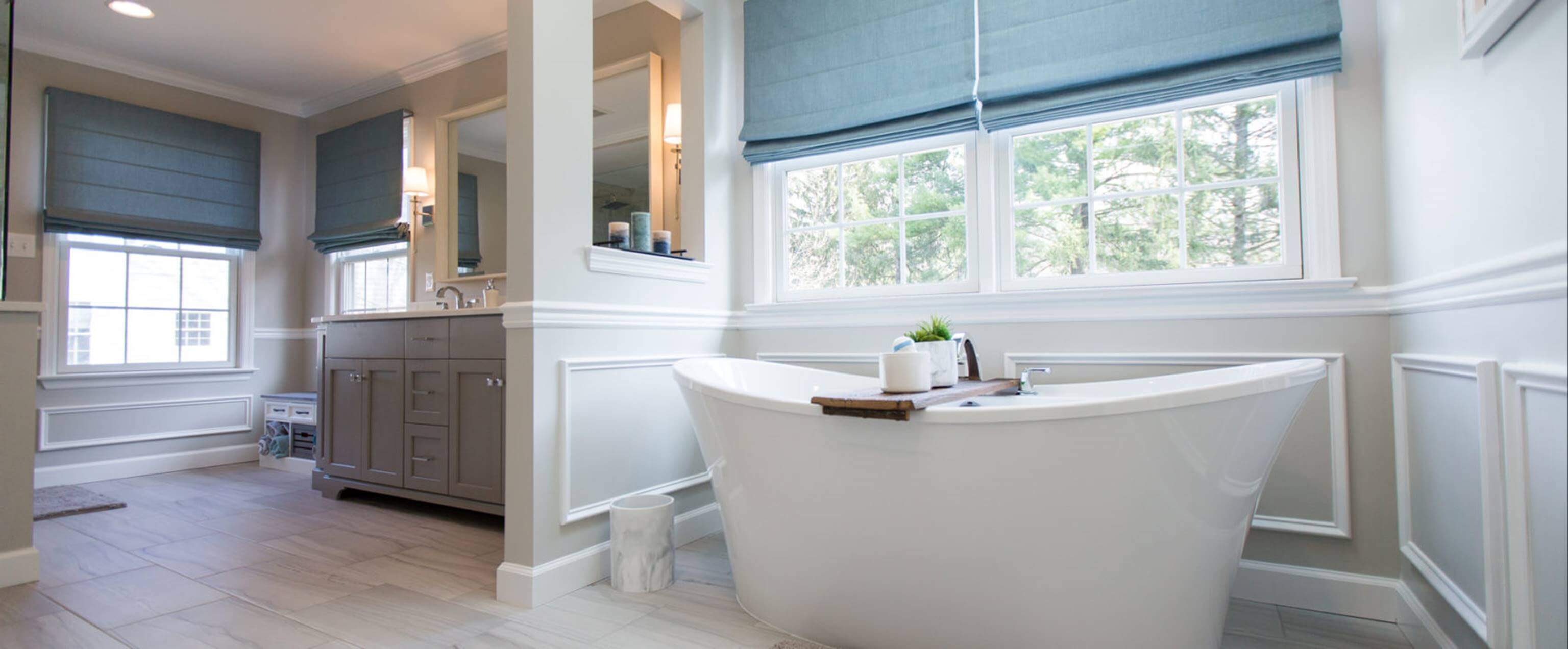 In the world of home improvement, a trend that's gaining immense popularity is the art of transforming mundane bathrooms into luxurious spa-like retreats. Gone are the days when bathrooms were mere functional spaces. Today, homeowners are embracing the concept of turning their bathrooms into havens of relaxation and rejuvenation. in this article we dive into the captivating trend of luxurious bathroom remodeling, where walk-in showers, soaking tubs, heated floors, and high-end fixtures are the stars of the show.
Spa-Inspired Serenity

Modern life's hustle and bustle often leaves us yearning for relaxation. Luxurious bathroom remodeling brings the tranquility of a spa right into your home. With carefully selected features, you can create an ambiance that soothes the senses and provides a much-needed escape.

Walk-In Showers: A Touch of Opulence

Say goodbye to cramped shower stalls and hello to spacious walk-in showers. These grand installations offer the freedom to indulge in a showering experience like no other. Rainfall showerheads, built-in benches, and seamless glass enclosures make your daily routine a luxurious ritual.

Soaking Tubs: Indulgence Redefined

Transform your bathroom into a sanctuary of relaxation with a soaking tub. These elegant tubs invite you to unwind in style, enveloping you in comfort and luxury. Choose from various designs, such as freestanding, corner, or sunken tubs, to make a statement in your remodeled bathroom.

Heated Floors: Embrace Warmth

Bid farewell to cold tiles underfoot by incorporating heated floors into your bathroom remodeling project. These radiant heating systems provide a touch of luxury while keeping you warm during colder months. Stepping onto a heated floor is the transition to start your morning off right.

High-End Fixtures: The Devil in the Details

Luxury lies in the details, and high-end fixtures are the epitome of this principle. From intricately designed faucets to gleaming hardware, these elements elevate the overall aesthetic of your bathroom. The gleam of polished metal adds an unmistakable touch of sophistication.

Lighting Matters

Proper lighting can make or break the ambiance of any space, and bathrooms are no exception. Incorporating soft, flattering lighting enhances the spa-like atmosphere. Consider pendant lights, backlit mirrors, under-lit cabinets, and dimmer switches to create a customizable and luxurious glow.

Seamless Design & Clean Lines

Minimalistic and streamlined designs are the hallmark of luxurious bathroom remodeling. Embrace clean lines, neutral color palettes, and cohesive textures to achieve an elegant, unified look that echoes high-end spa resorts.

Ample Storage Solutions

Luxurious bathrooms are clutter-free havens. Integrate innovative storage solutions like built-in shelves, hidden cabinets, vanities with soft-close doors and drawers to keep your space organized and pristine, enhancing the overall luxurious feel.

Smart Technology Integration

Stay ahead of the curve by integrating smart technology into your bathroom remodel. Programmable showers, voice-activated lighting, and temperature-controlled features contribute to an ultra-modern, luxurious experience.

Eco-Friendly Luxury

Luxury doesn't have to come at the expense of the environment. Choose sustainable materials like bamboo, recycled glass, or low-flow fixtures to create an eco-friendly yet lavish bathroom space that aligns with your values.

Personalized Touches

Infuse your personality into your bathroom oasis with personalized touches. Artwork, plants, scented candles, and plush textiles can all contribute to the cozy, spa-like atmosphere you're striving to achieve.

Return on Investment

Lastly, consider the substantial return on investment that luxurious bathroom remodeling can bring. Not only does it enhance your daily life, but it also adds significant value to your home. Potential buyers will be captivated by the allure of a spa-like retreat within the confines of their future home.
Luxurious bathroom remodeling is more than just a trend—it's a lifestyle upgrade. With walk-in showers, soaking tubs, heated floors, and high-end fixtures, you have the power to transform your bathroom into a sanctuary of relaxation and indulgence. Embrace the possibilities and let your imagination run wild as you embark on this journey to create your very own spa-like retreat. Your bathroom will no longer be just a functional space; it will be a haven of opulence and tranquility.
Discover the possibilities of transforming your bathroom into a spa-like retreat with a complimentary consultation from one of our remodeling experts.  At D&B Elite Custom, we don't just renovate spaces – we create timeless sanctuaries.
Make your home, Elite.