Outdoor living spaces are a great addition to your family's home for more reasons than just aesthetics. It should come as no surprise that your mental and physical health can also benefit from spending more time outside. Sometimes what the doctor orders is a simple prescription to nature.
As Jamie Ducharme explains in an article, "Spending time outdoors, especially in green spaces, is one of the fastest ways to improve your health and happiness. It's been shown to lower stress, blood pressure and heart rate, while encouraging physical activity and buoying mood and mental health."
Speaker and Forbes contributor, Luke Fitzpatrick, explains that "Outdoor spaces are therapeutic simply because being outdoors in nature reduces stress levels, making us feel more relaxed. The time spent outside contributes to reducing depression & anxiety, improving your immune system, promoting good vision, and acts as a sanctuary to get away from everyday life and work stressors." Spending time outside can even prevent nearsightedness, improve your memory, and reduce inflammation.
Despite these many known ways that nature boosts your health, it is estimated by the Environmental Protection Agency that Americans spend an average of 90% of their time indoors. As Winter nears and the number of hours of daylight shortens but our number of hours in the office stays the same, there is only a small amount of time left to enjoy the benefits of sunshine. The cure? An outdoor living space.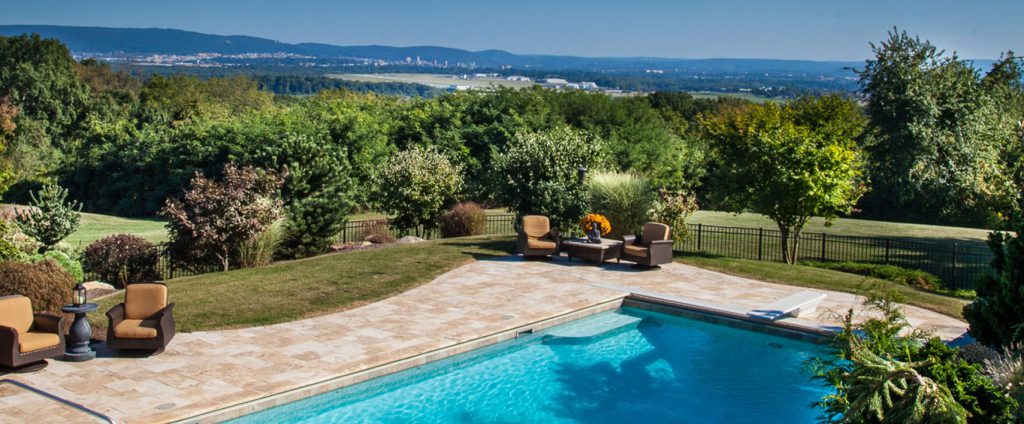 An outdoor oasis creates the ultimate addition for your home. Design a retreat in your very own home to look out for your overall wellbeing. Outdoor living spaces also supply a location to entertain guests and give your family a spot to relax outside in the comfort of their own space.
Aside from these health benefits, did you know that outdoor living also benefits your home's bottom line? Our Director of Residential Construction, Larry, explains that outdoor living is one of the biggest returns for your dollar, with about 70 to 80% return.
Penn Stone is a Trade Partner of D&B Elite Custom who has been in business since 1914 and provides our stone and flagstone. John McGrann, Owner/President of this family-owned company located in Lancaster, agrees with Larry about how much outdoor living spaces increase a home's value. He explains that "a survey of industry professionals, including realtors, interior designers, landscape architects and garden designers found the following: 90% of industry professionals agree that having a well-designed outdoor living space differentiates one home from another for resale, 60% say an outdoor living space adds a great deal/considerable value to a home, and 60% say an outdoor living space should represent approximately 10% to 30% of the value of a home."
There are many features of outdoor living that can increase a home's value. Outdoor renovations include everything from patios, outdoor kitchens, fire pits, swimming pools, outdoor sound systems and WIFI, to name a few. All of these features help magnify the up sale of your home. Here's how:
Patios and Decks
Patios are a desired amenity for most homes. John at Penn Stone explains that even a modest patio can expand the living area of your home without incurring the expense of an addition.
"If the project looks like you skimped on quality to get it done, you'll lose big time. But if you spend the time and money to make it a feature of the home, you could potentially add 8% to 12% of value to the home and an ROI of over 80% or more for you," explains Heather Skyler, a writer for supermoney. One way in particular to increase your ROI is by looking into outdoor A/V systems, WIFI, surveillance, and lighting control.
Kyle Angstadt, owner of Elements Integration System out of Leesport, PA, has worked in the industry for 21 years and is a trusted Trade Partner of D&B Elite Custom. His company offers installation of many types of home systems for both indoor and outdoor use, ranging from simple TV installs to entire home theaters and audio systems. Kyle installs "approximately four large projects per year that involve outdoor A/V and usually around 12 other installs that involve adding a TV to the porch or some speakers to a deck." Although installing outdoor speakers is a more common project for him, he notes that outdoor TVs are slowly becoming more common. "With the price of outdoor TVs dropping and the 'wow' factor of having a TV that can be next to your pool patio with no roof, it is greatly appealing to more clients," he explains. Another common project that Kyle completes is adding WIFI access points to expand WIFI to the outdoors. He most enjoys installing systems that make it easy to entertain outdoors.
"I can say from experience even with my own home that by having quality outdoor A/V you can increase the use of your deck or patio," Kyle explains. "My outdoor speakers are some of the most used speakers at my home from May to September. For many jobs I complete, having speakers outside is not just for parties, but it provides the ability to block out background noise from things like a nearby highway or city noise.  Having music playing softly can also set the mood for you to relax and enjoy your backyard."
Kyle's tips for someone thinking about getting outdoor A/V added to their outdoor living space? "The tip that is most important is to plan for wiring.  So many clients think that it can all be done with wireless equipment. Which in some cases is possible, but wired equipment can cost less and will provide for better quality of sound and picture."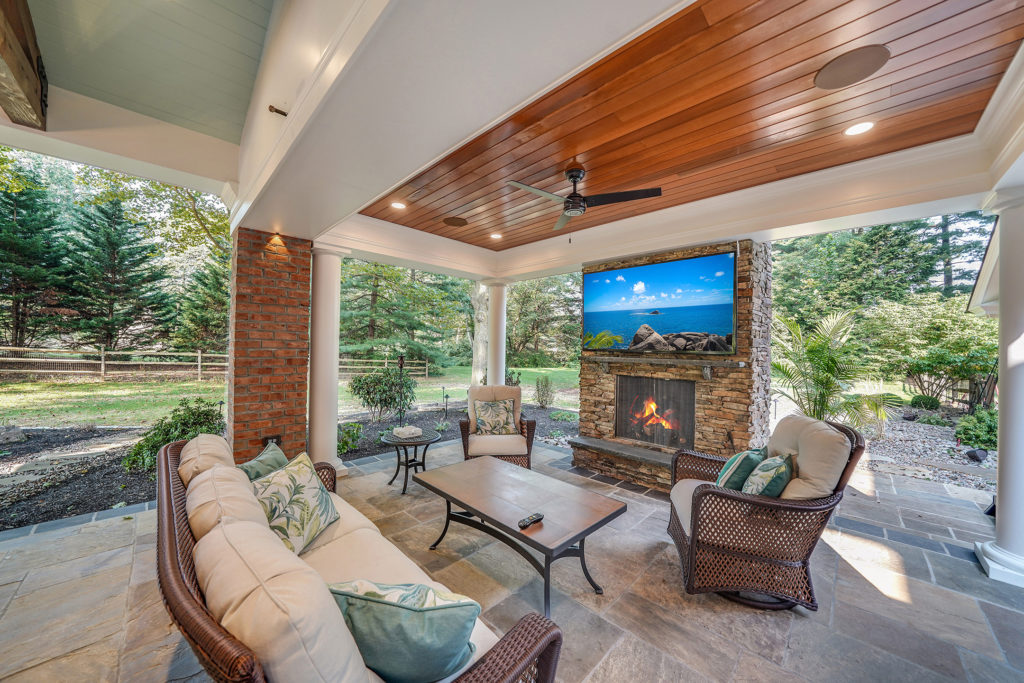 Outdoor Kitchens
President of Penn Stone, John, explains that "an expansive outdoor kitchen project can feel like an entire new wing, with designated areas for cooking, dining, and entertaining." Best of all, it is estimated that homeowners who invest in kitchens throughout their outdoor living spaces will break even on the investment when they sell their home. It is even possible to see an ROI between as much as 100% to even 200%, although keep in mind that higher return is likely to be found in homes in warmer climates where outdoor kitchens can be used more often.
Mike Burkholder, the Sales Manager for Martin Appliance's Reading location (another one of Elite's trusted Trade Partners), agrees with the above statement. "We are in a unique area of the country only because of our weather," he says. "The southern climates often get a little more return/usage from their outdoor living spaces."
Mike, who has been in the business for 18 years, explains that outdoor living spaces have become much more popular in our area over the last two seasons "due to people spending more time at home and enjoying the extended living space." He explains that having an outdoor space, such as with a kitchen, can make it possible to host a party that may be impossible otherwise. "It is a great way to gain that space without a much greater investment of actually adding to the house," Mike says.
For those thinking about adding an outdoor kitchen space, Mike offers the following advice: "I would recommend a partially covered space, first of all. I also always ask how close the space is to an interior storage area. Outdoor dry storage cabinets are an option and a great plan for paperware, utensils and spices if you are not located right off your kitchen. The other item that tends to be overlooked is an enclosed trash bin."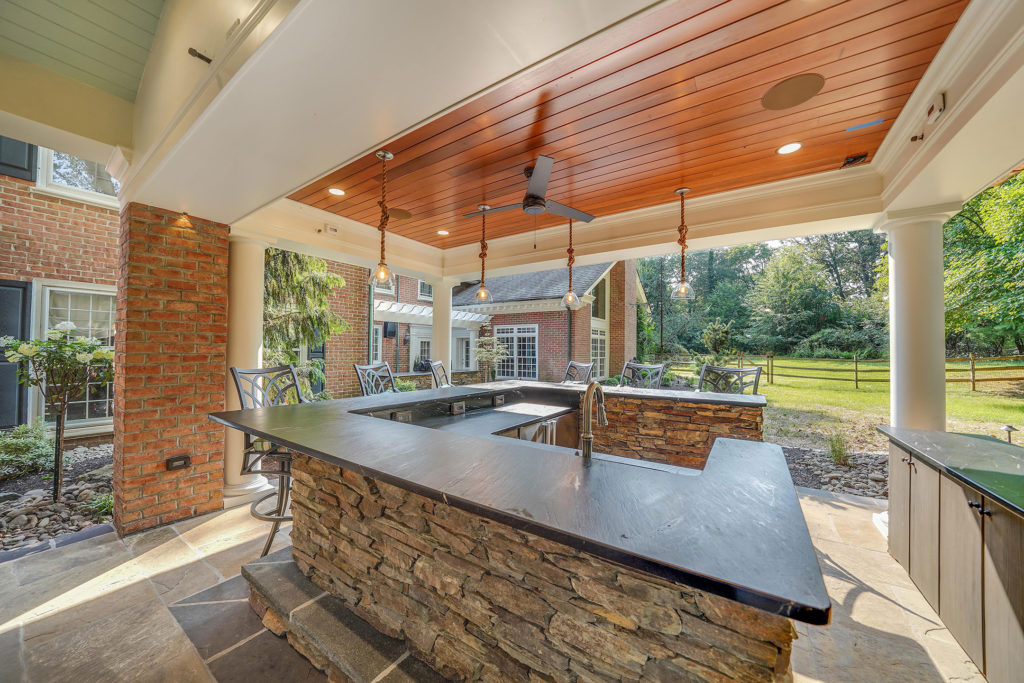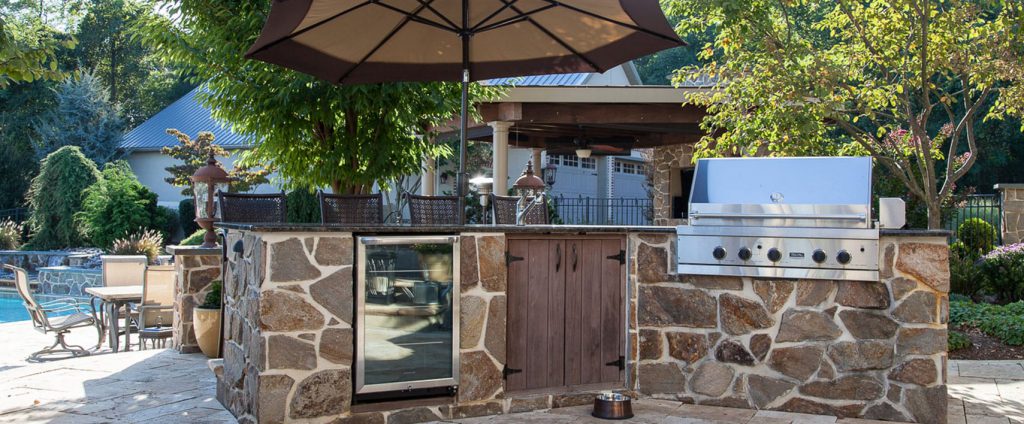 Our trusted crew at Penn Stone also recommends planning for sufficient storage and countertop space. "The more storage you can accommodate in your outdoor kitchen, the fewer trips you'll have to make indoors. And, when you're transporting food, drinks, dinnerware and other items outdoors, having ample counter space will allow you to relax while you cook and entertain without having to frequently shuffle items around." When considering what appliances to get, John recommends thinking carefully about what items you'll really use. "A grill is essential of course. Other outdoor appliances such as refrigerators, side burners, and sinks might sound enticing, but sometimes go unused. But do add a pull-out trash drawer – this is an easily overlooked amenity that you'll be glad you included in your outdoor space."
Of course, one of the big decisions when completing an outdoor kitchen is selecting what appliances to use. So are there any specific brands that are recommended more than others for outdoor kitchen projects? Mike says that Martin Appliance works a lot with Wolf and Lynx. "I also will always recommend a USA built product since many of the drills on the market use inferior stainless steel that will eventually lead to rusting. Another concern is having an item that will be able to be serviced in the future," he explains.
Penn Stone has explored many options for outdoor kitchen cabinetry, and they recommend using cabinets from Challenger Designs. "In our opinion, they offer the best combination of quality, design flexibility, functionality and price. Some other brands may offer fancier door styles, or a wider range of finish colors, or a vast library of down-to-the-inch cabinet sizes, but Challenger's product line is simple, durable, and provides enough flexibility for any project. Plus, Challenger has an excellent support team and their layouts and renderings make it very straightforward for our customers to clearly see and approve their cabinetry design."
Fire Pits and Other Stone Work 
One of the easiest ways to increase your home's resale value outdoors is by adding a fire pit. The National Association of Realtors estimates that homeowners recoup about 78% of the costs associated with building a fire pit, especially one that has natural gas running to it.
Sounds easy right? Until you get to choosing what stone to use. Penn Stone gives the following advice: "Use the best natural stone veneer that fits the budget. When selecting stone for an outdoor living project, it's important to recognize how this is different from selecting stone for a new home project. When you're selecting stone for a new home, it's important for the stone to be beautiful, distinctive, and something you're proud of, but mostly, you're viewing that stone from a distance, and often only briefly as you enter and leave your home. With outdoor living projects, there are two important differences: you will spend time in much closer proximity to the stone, and you'll spend a lot more time in the outdoor living environment. Because of this, you want to choose a stone that you really love. Furthermore, the square footage of stone required for outdoor projects is usually not significant, so upgrading to a more expensive stone may only add hundreds of dollars to the total cost of the project."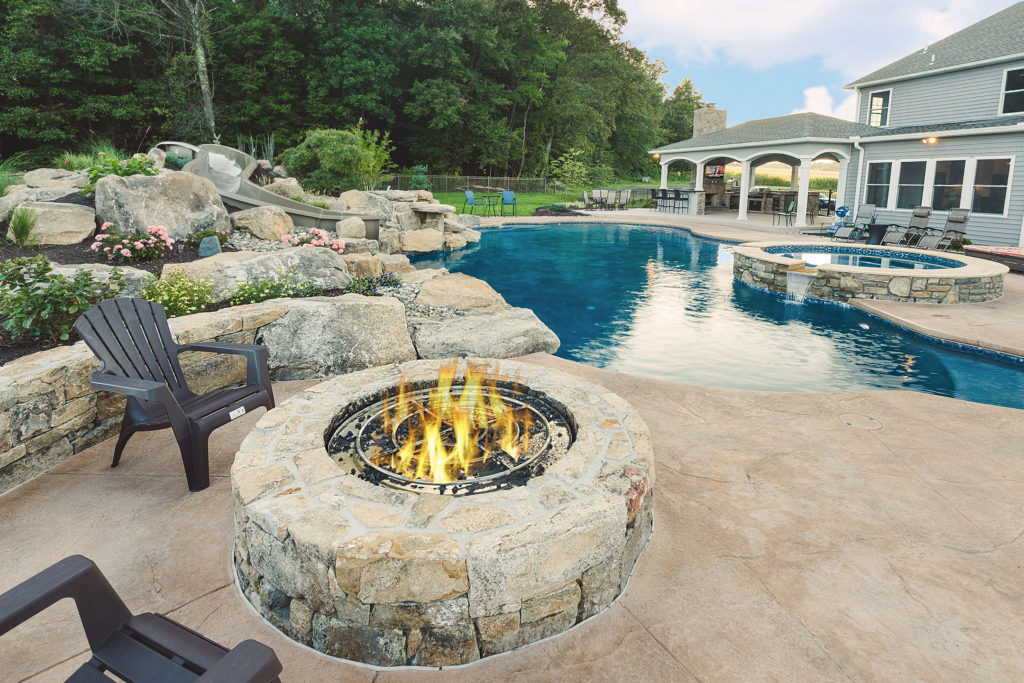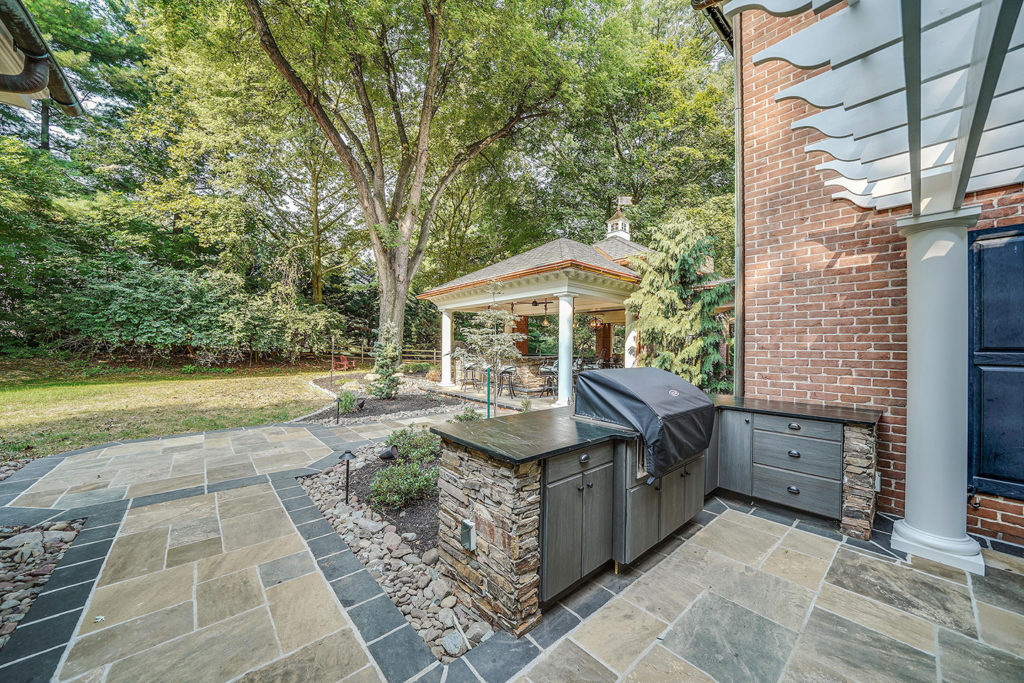 Remember: Other Factors Affect Your Project
Before you start excavating your backyard, be sure to do your research! City ordinances are a big factor that can get in the way. Depending on where you live, you may not be able to build certain structures or add specific features you want without permits and permissions. For example, a pavilion will have a different number of setbacks when connected to the house as an addition than when it is separate from the house. Our Director of Residential Construction, Larry, explains more about this here on our first blog in the series.
Amy Bitar, Penn Stone's Design Advisor, works closely with our clients in Penn Stone's outdoor and indoor showrooms. She is currently working on two outdoor kitchen projects with D&B Elite Custom's team, and she emphasizes the importance of thoroughly planning your outdoor living space at the inception of the project. "Surprisingly, this doesn't happen enough! However, D&B clients come into the selection process having already been well-informed by the team at D&B. This is evidenced by their knowledge of what materials are going to 'fit' their project in terms of budget and feasibility. It makes my job of assisting with aesthetic decisions all the more fluid and effective. Everyone at D&B is communicative and thorough, and we operate as a team to come up with the best selections and solutions."