You've seen it time and time again on your favorite HGTV renovation shows. A family obtains their dream outdoor living space in a mere hour or 30 minutes (and even less time when you don't include all of the commercials). It's shows like these that can sway our expectations when it comes time to actually endure construction in real life. That's when you see the not so glamorous side of it all, like the weather delays (we're looking at you Hurricane Ida) and even shortages on material that the industry has been facing as of late.
Our Director of Residential Construction, Larry Adam, explains that "it typically takes seven to eight weeks to complete projects that you see in 30 minutes on a show." He further explains that with outdoor living projects "it can take three to four weeks to get the structure up before starting finishes."
Despite this reality check, which may come as a shock to many, an outdoor living space adds value to your house, in addition to positively impacting your family's health (more on that in our next blog post). If you are looking for ways to improve the resale value of your home –especially right now in what is already a seller's market – outdoor living may be the way to go. "It is one of the biggest returns for your dollar, with about 70 to 80% return," explains Larry.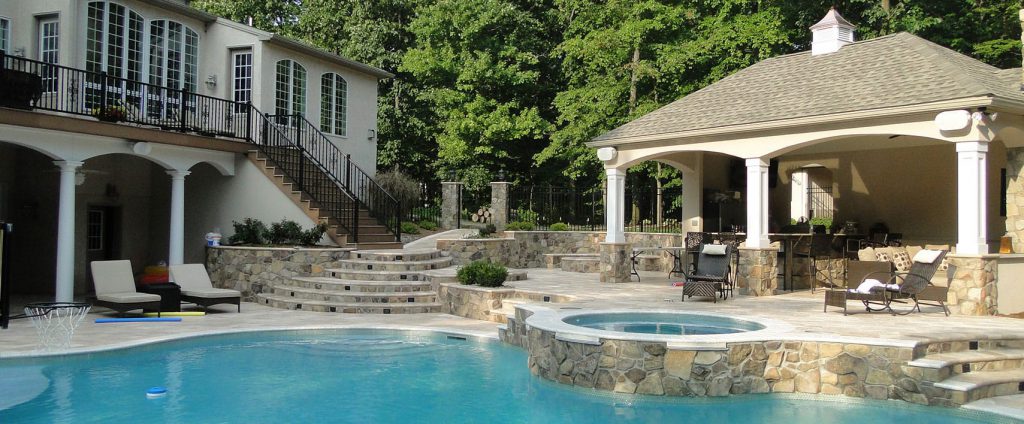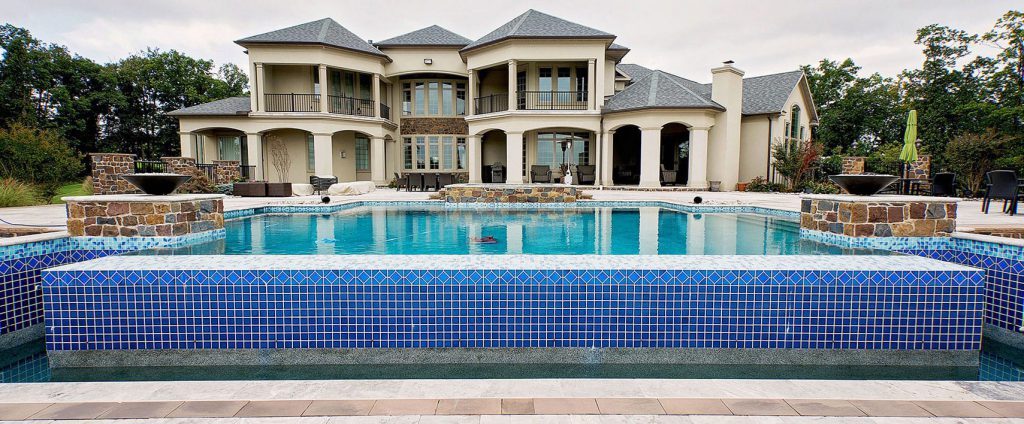 Outdoor living enhancements like patios, outdoor kitchens, fire pits, swimming pools, pergolas, and wooden decks can provide better returns for homeowners. For example, patios can add 8 to 10% to your home's value while also earning you an ROI of over 80%, and homeowners with outdoor kitchens are estimated to break even on their investment after selling their home.
If some of these stats have you thinking you should dust off your saved pins on your outdoor living idea board, keep reading for some tips and tricks! We compiled this Q&A with D&B Elite team members, Larry, and our Project Coordinator, Beth to help prepare you on what to expect when designing and constructing your dream outdoor oasis.
Q: Why is this time of year the best to reach out regarding an Outdoor Living project? Is there a reason why you recommend so far in advance?
A: If you want to be able to fully enjoy your new outdoor living space for the entire duration of Summer next year, we recommend reaching out for your free consultation around the end of Summer a year before you would want your outdoor living space. This allows plenty of time to properly plan and execute your project. Life will happen and there will be days when the weather doesn't cooperate. By getting ahead of the game, these nearly inevitable disruptions of construction won't interfere with your R&R come next Summer.
Q: If I reach out for a free consultation now, when would we actually break ground on my outdoor living construction project?
A: We would likely break ground sometime in the Spring. This way masonry work, etc. will not be held up by cold weather. Trying to do finishes in inclement weather doesn't always work, and weather conditions are by far the most difficult aspect of completing outdoor living work. We would use the colder, winter months that we tend to see in Pennsylvania to design and complete the selections process.
Typically, the selections process will take our clients around four weeks to complete. For outdoor living, you are usually looking at selecting cabinetry, countertops, appliances, and perhaps stone depending on what is being done. At D&B Elite Custom, we have around 100 reputable vendors that we work with and can recommend to our clients. We will guide you to who we think best fits your project right off the bat to save time. From there, the client would make an appointment to meet with the necessary vendors, wait to receive a quote, and then have time to think over their options and make the right decision for you. Here's a timeline illustrating the process:

Q: I'm interested in creating / enhancing my outdoor living space, but I have no idea where to start. What should I do?!
A: This is more common than you think. The best place to start is to contact us for a free consultation. A lot of people come to us because they just can't picture their completed outdoor living space. We will help guide you throughout the process to make it easier. Our team encourages you to come with ideas of what you may want your project to look like. Pinterest and Houzz are great places to start.
Q: What kind of questions will I be asked during my free consultation?
A: To get an idea of what you are looking for, we will ask you questions like "How do you want to use your backyard / outdoor living space?" and "What are you looking to do with the space?" It really starts with what you want to do. Although these seem like simple questions, getting the client thinking about all of this is a great help. Some people just want a big open space with a firepit, while others are more focused on an outdoor kitchen with a TV out there.
Once we know the answers to these questions, we will move on to "What do you want it to look like?" and start discussing form and texture. People who come to us with a vision for their outdoor living space usually have a good idea of what they want, but they need to get it functioning properly for them. These questions help resolve these potential issues.
Q: What are common misconceptions that you see when people reach out for a free consultation?
A: Overall cost. Things typically cost more than what you see on HGTV. Although The New Yorker reports that HGTV has been ranked as a top-five cable network since 2015, it is important to take what you see on this network with a grain of salt. Shows on HGTV will show discounted goods and services, price breaks, and even free labor – all while not making this clear to the viewer. The renovations you are seeing on these shows likely cost more than the show is indicating. Don't use HGTV as your main reference point for pricing out your dream home renovation project, as you may be underestimating the actual costs. Although HGTV shows use the real money of homeowners to cover renovation costs, HGTV producers have openly acknowledge that people who participate in these shows are "getting more for their buck than they should." Even the complete furnished space you fall in love with at the end of your favorite home renovation show is staged with almost nothing that belongs to the homeowners.
Q: What is a major part of construction an outdoor living space project that people may not consider?
A: What space is actually available in your backyard. A lot of people tend to forget about municipality and zoning code setbacks. You need to think if you truly have the space to build what you are looking for. Our Director of Residential Construction further explains: "Codes are strange. Here's an example: A pavilion is viewed differently as an addition. If I connect something to the house to make it an addition, it is part of the house and therefore subject to setbacks to the main structure. If that same pavilion structure is separate from the house and not at all connected it is then considered an accessory building and may have a different set of setbacks. This is big in the Wyomissing Borough especially. There is a lot of leeway there."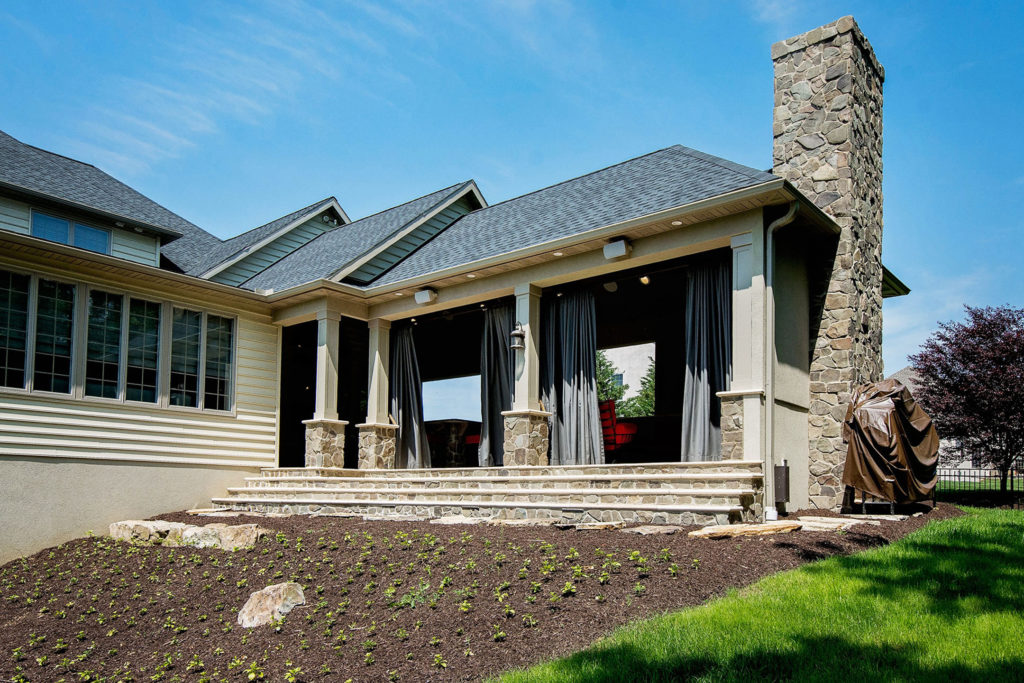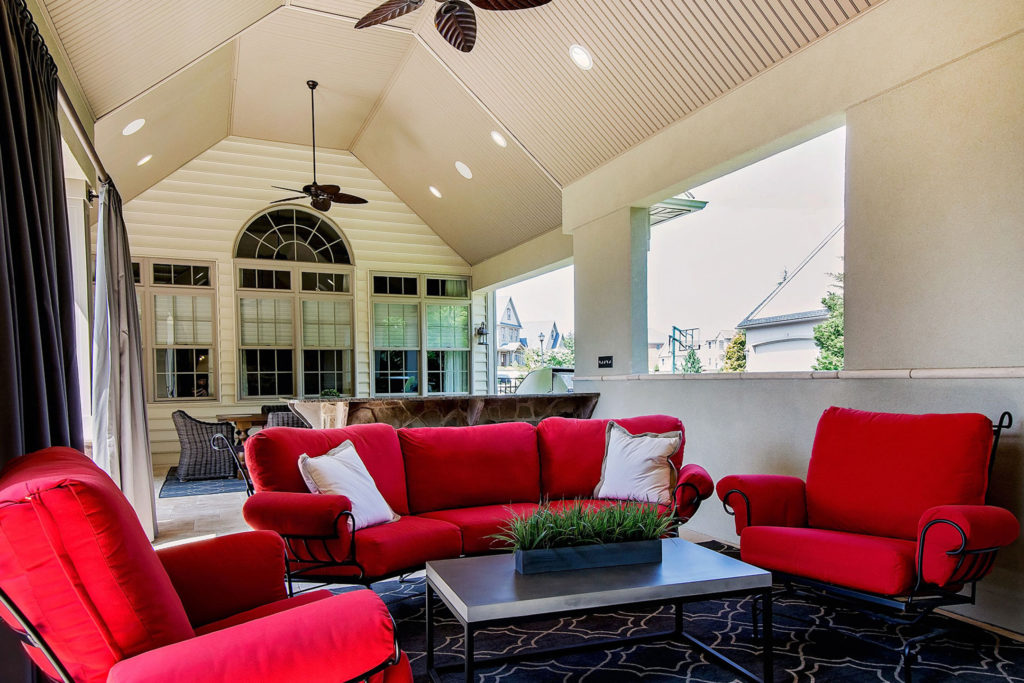 Q: How can I best prepare for construction of my outdoor living space so I can eliminate as much unnecessary stress as possible?
A: Planning. Plain and simple. Visualize how you want to use the space and live in the space. Think of proximity to existing space. An example of this may be if you plan to add a grill to your new outdoor living space. You will want to think of how close your outdoor grill is to your kitchen. What is the path you would have to travel to get from your kitchen to the grill? Is it a long, rough path that may end up being a pain for you the first time you head inside to grab burgers from the fridge to grill outside? These are all questions you may not have top of mind, but we will help you consider them all prior to starting construction. It's much better to think of all of these possible issues so they can be resolved in the planning process rather than realizing it once all is said and done.
Q: What materials do you recommend people use for their outdoor living space?
A: We typically use concrete block and stone with granite countertops for outdoor cooking spaces. This is a longevity choice. Stone is pretty much indestructible and same with granite.
Have any additional questions about creating your ideal outdoor living space? Drop them in the comments below! If you are really considering a new outdoor oasis in time for Summer 2022, don't wait and reach out today.