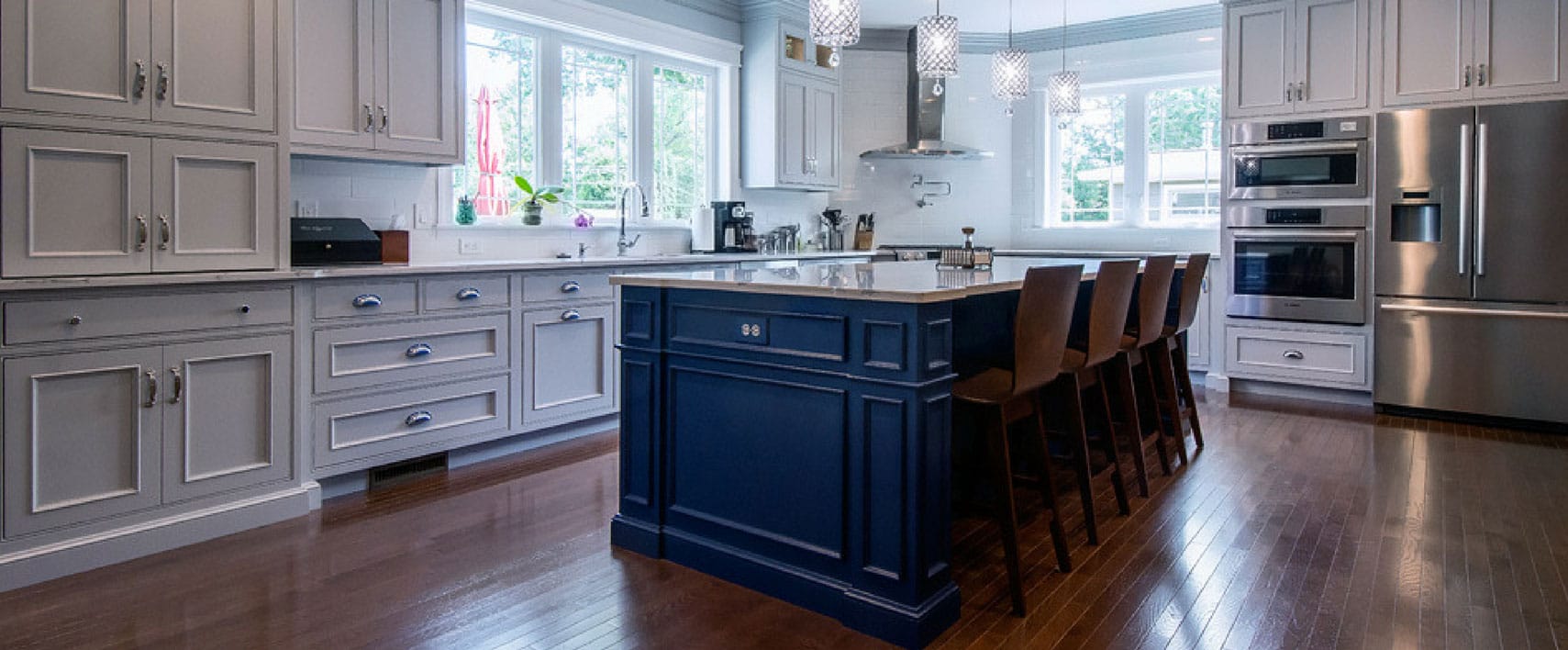 As the heart of the home, the kitchen deserves special attention when it comes to remodeling. In recent years, several captivating styles have gained popularity, transforming kitchens into stunning spaces that combine functionality with aesthetic appeal. In this article, we will explore four of the most trending styles in kitchen remodeling: Modern Rustic, Elegant Farmhouse, Warm & Soft Color Palettes, and Natural Materials. Get ready to be inspired by these contemporary design choices that can elevate your kitchen to a whole new level.
Modern Rustic:

Modern Rustic is a style that blends the warmth and charm of rustic elements with the clean lines and sleek finishes of modern design. Exposed wooden beams, reclaimed materials, and earthy color palettes define this style. Incorporating vintage-inspired fixtures and industrial accents can add character to your kitchen while maintaining a contemporary feel.

Elegant Farmhouse:

Elegant Farmhouse style infuses classic farmhouse elements with refined touches, creating a sophisticated and inviting ambiance. Combining natural textures like shiplap walls and reclaimed wood with elegant details such as crystal chandeliers or marble countertops can strike a perfect balance between rustic charm and timeless elegance.

Warm & Soft Color Palettes:

Gone are the days of stark white kitchens; warm and soft color palettes are taking center stage in the realm of kitchen design. Shades of creamy whites, pale greys, and muted pastels create a calming and welcoming atmosphere. These colors can be incorporated into cabinetry, backsplashes, and walls, allowing for versatility in personalizing your kitchen's aesthetic.

Natural Materials:

The use of natural materials in kitchen remodeling has gained significant momentum. From countertops made of granite or marble to wooden cabinetry, natural materials bring a touch of authenticity and warmth to any kitchen. Additionally, integrating natural light through large windows or skylights can further enhance the natural aesthetic and create an airy ambiance.

Open Shelving & Statement Range Hoods:

Modern kitchen remodels often feature open shelving as a design choice, allowing for both functionality and a chance to display decorative items and cherished kitchenware. Pairing open shelving with statement range hoods, such as copper or brushed brass, adds a touch of luxury and focal point to the kitchen space.

Minimalist & Streamlined Design:

In the age of simplicity, minimalist and streamlined design approaches are gaining traction. Clean lines, handle-less cabinetry, and concealed appliances contribute to a sleek and clutter-free kitchen. This style not only exudes a contemporary look but also maximizes space efficiency, making it ideal for smaller kitchens.

Bold Backsplashes:

One way to inject personality and visual interest into your kitchen is through bold backsplashes. Vibrant tiles, geometric patterns, or even textured materials like brick or stone can transform a simple kitchen into a statement-making space. Experimenting with contrasting colors and unique materials allows you to add an element of surprise to your kitchen design.

Smart Technology Integration:

In the digital age, incorporating smart technology into kitchen remodeling is a growing trend. From touchless faucets to voice-controlled appliances, the possibilities are endless. Smart technology not only enhances convenience but also contributes to an overall modern and futuristic ambiance.

Mixed Metal Accents:

Gone are the days of matching all the metals in your kitchen. Mixing metals such as copper, brass, and matte black adds visual interest and creates a unique and dynamic look. Whether it's through faucets, hardware, or lighting fixtures, experimenting with mixed metal accents can elevate your kitchen's style quotient.

Statement Lighting:

Lighting serves as both a functional and decorative element in the kitchen. Incorporating statement lighting fixtures, such as oversized pendant lights or dramatic chandeliers, can become a focal point while adding an element of luxury and glamour. Moreover, carefully placed task lighting enhances functionality in work areas.

Sustainable & Eco-Friendly Materials:

In an era of increased environmental consciousness, incorporating sustainable and eco-friendly materials in kitchen remodeling has become essential. Opt for renewable materials like bamboo or cork flooring, recycled glass countertops, and low-VOC paints to create a greener kitchen that contributes positively to the planet.

Personalized Touches:

No matter which trending style you choose for your kitchen remodel, adding personalized touches is the key to making it truly yours. Display cherished artwork, incorporate family heirlooms, or create a dedicated space for showcasing your culinary adventures. Infusing your kitchen with personal elements will make it a space that truly reflects your style and taste.
With the Modern Rustic, Elegant Farmhouse, Warm & Soft Color Palettes, and Natural Materials styles leading the way, kitchen remodeling is experiencing a renaissance. From the fusion of rustic and modern elements to the embrace of eco-friendly materials, these trends offer an array of options to transform your kitchen into a visually stunning and functional space. Embrace these styles, unleash your creativity, and enjoy a kitchen that perfectly aligns with your taste and lifestyle.
D&B Elite Custom is here to bring your dream kitchen to life. Don't wait any longer; contact us today for all your kitchen renovation, remodel, or any other home renovation needs. Let our team of experts guide you through the process and create a space that exceeds your expectations.  Make your home, Elite.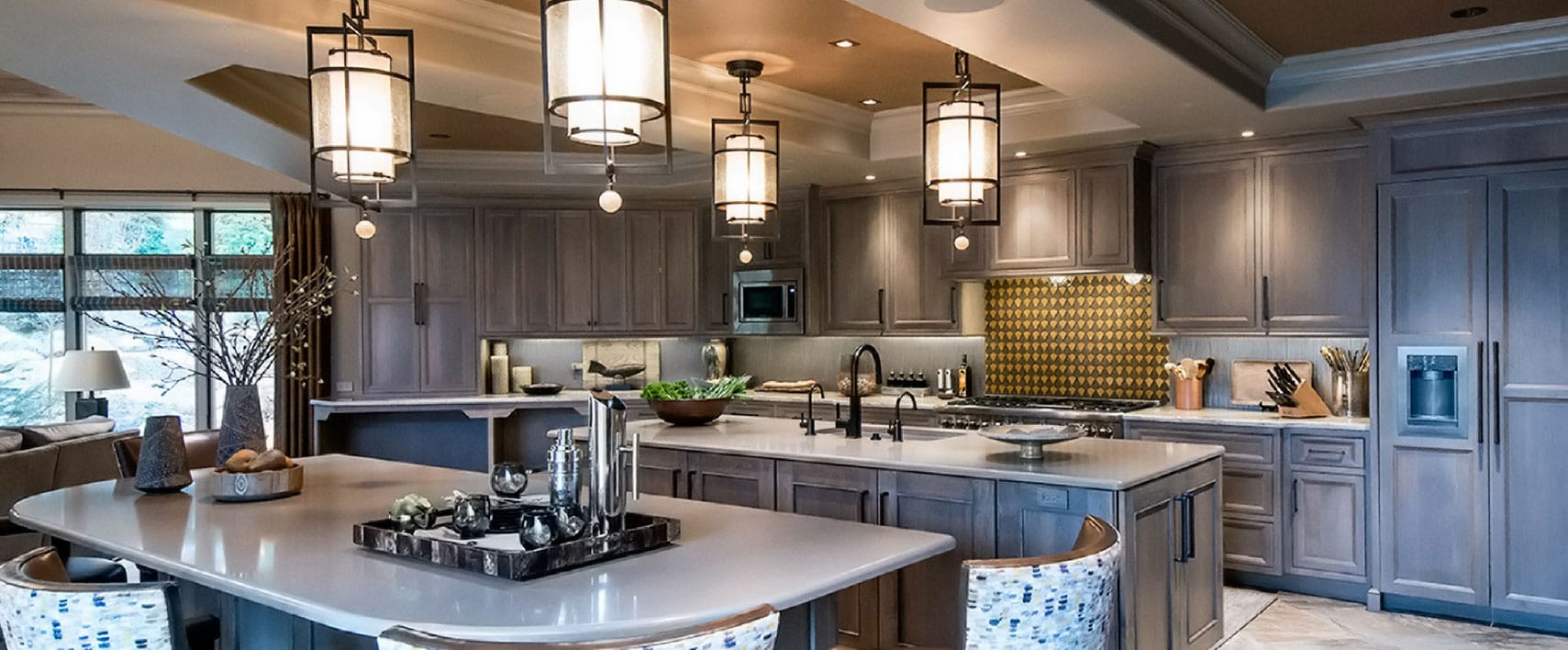 The end of another year has quickly approached! Our Elite team completed just over 20 projects this year. Here's a look at our end of year superlatives as we look at our year in review:
Best Overall Transformation:
We'd be remiss to not award this category to a Wyomissing home that transformed their 1950's kitchen and dining room into a new space. The project included new windows, a door at a new location, and a completely re-imagined open floor plan. Once complete, our client Penny described her home as a "completely different house," exclaiming her love for it and how it is what she "always wanted" since the day they moved in.
Josh, the Superintendent on the job said his favorite part of this project was "developing a new open floor plan while still keeping true to the 1950s architecture by keeping the curved opening of the doorway. Penny and her daughter's favorite part of their new kitchen was making the switch from an electric stove to gas because it has made cooking easier. (Bonus: There is even an air fryer in the oven!) They also love the peninsula in the new space.
Here's some before and after photos: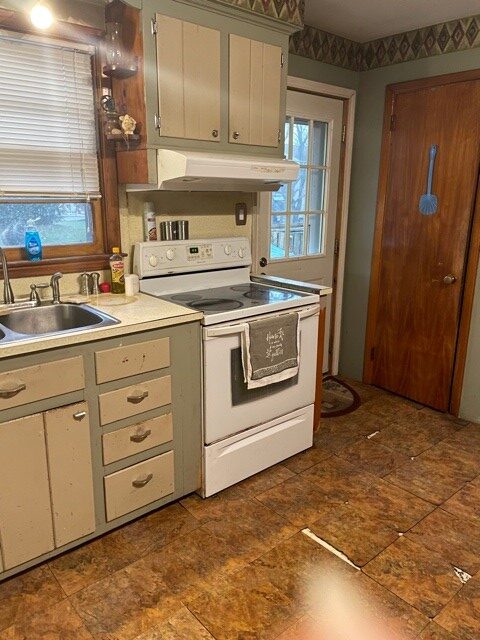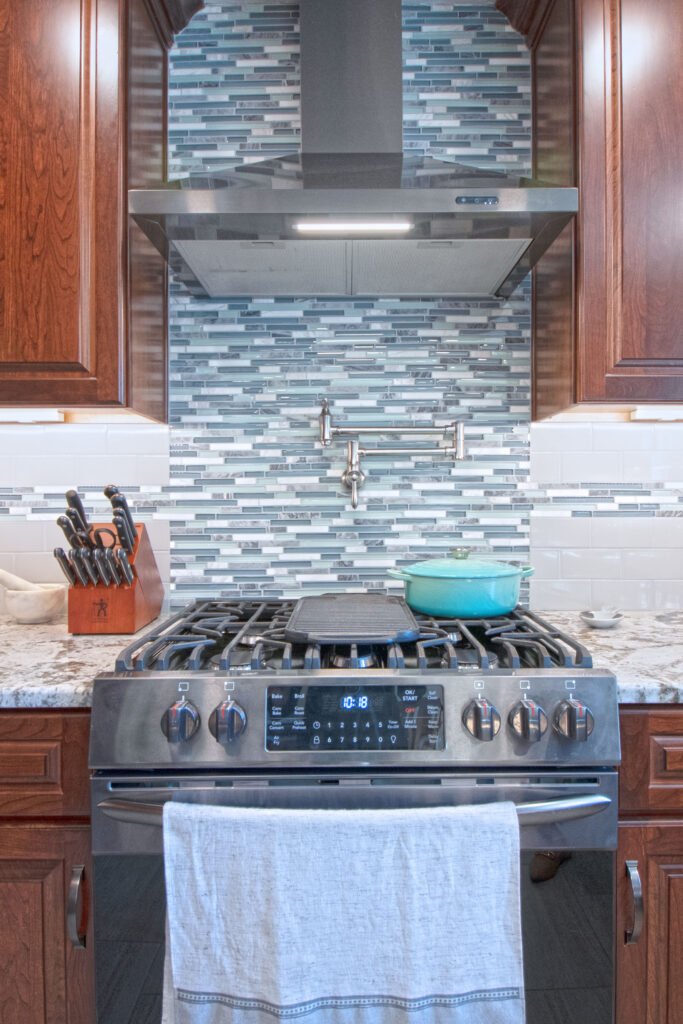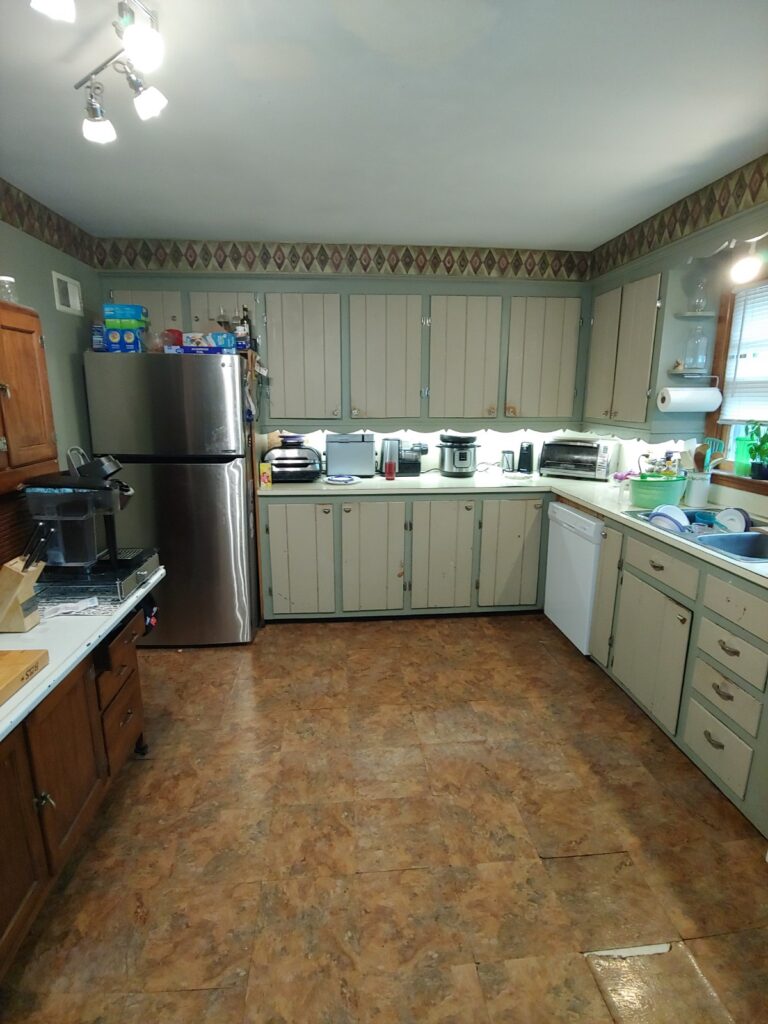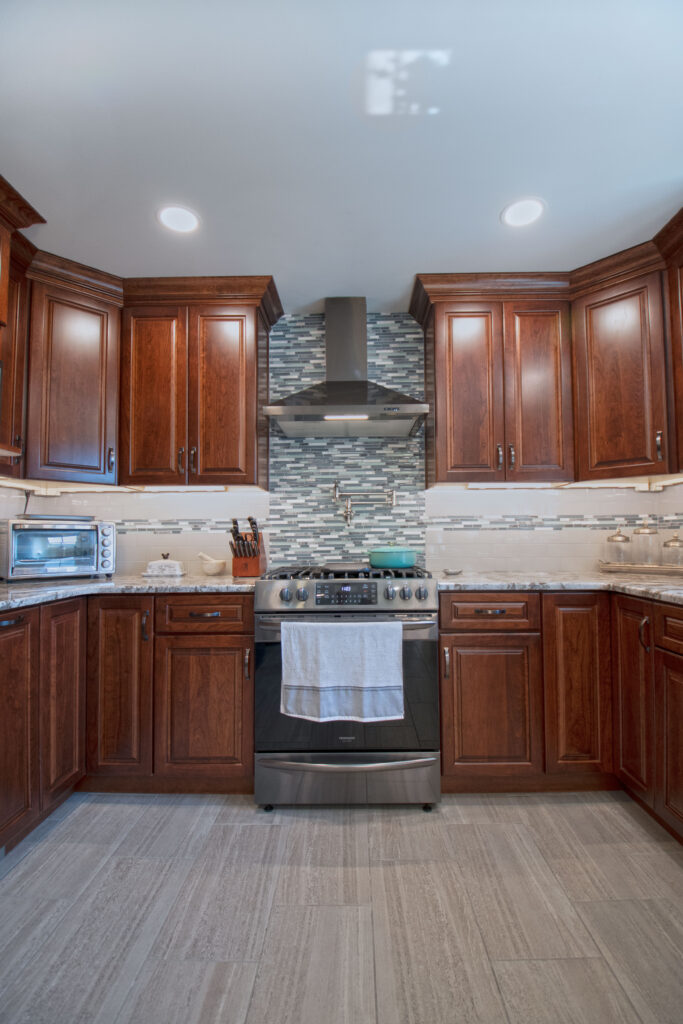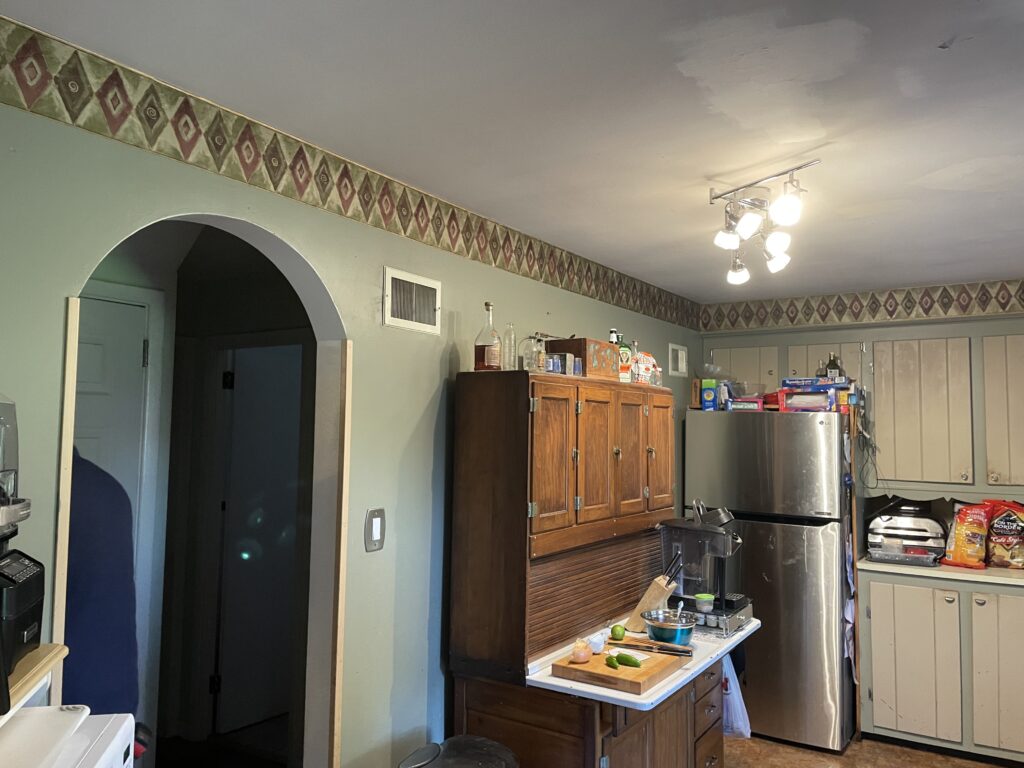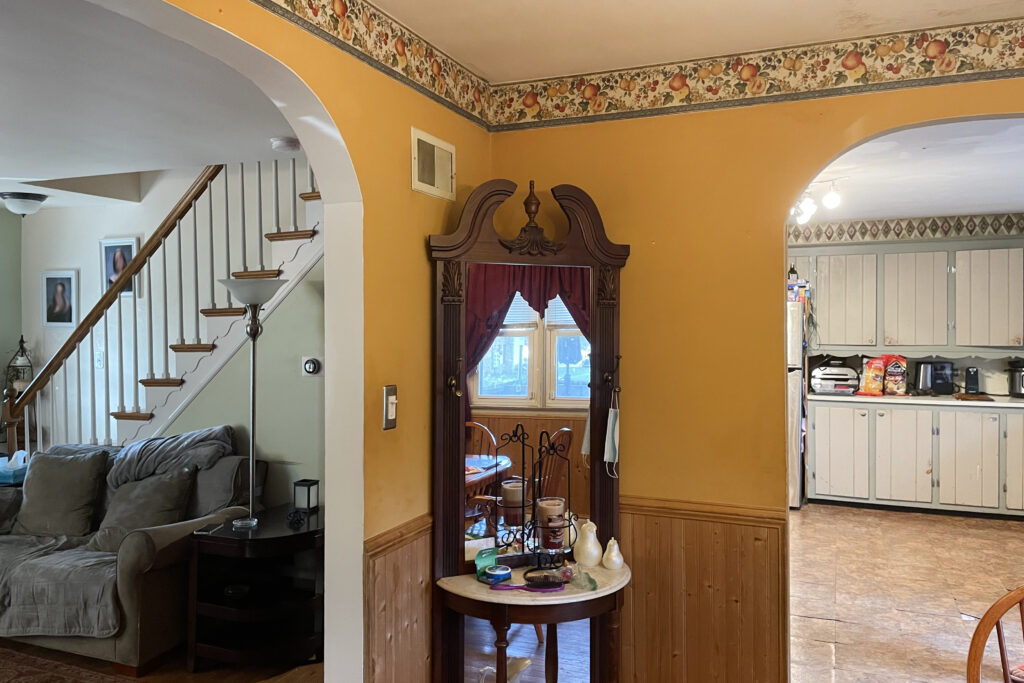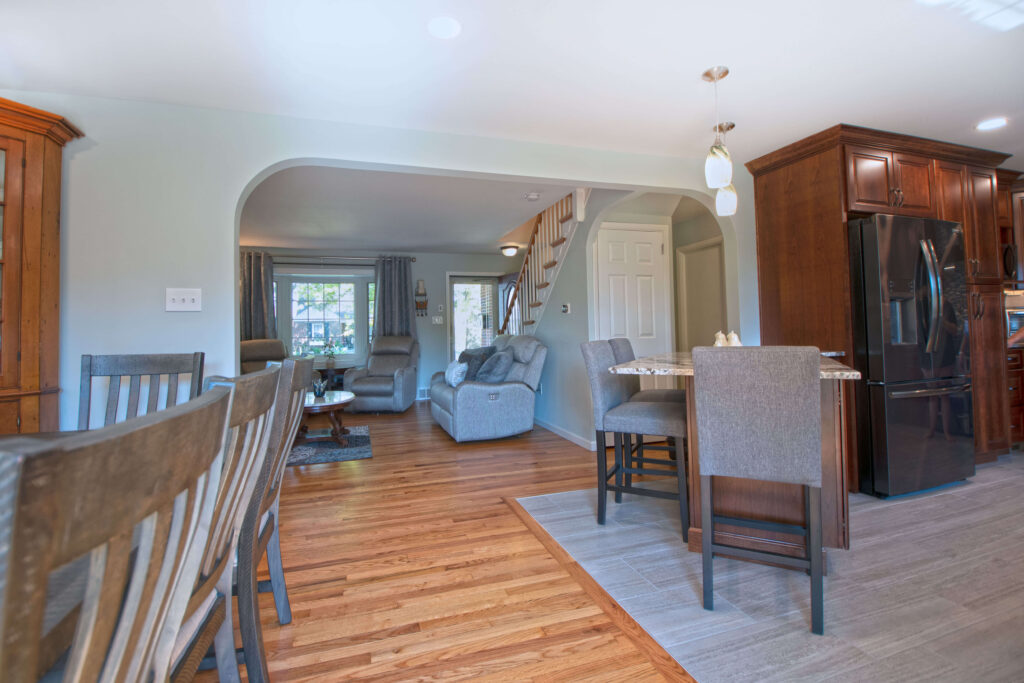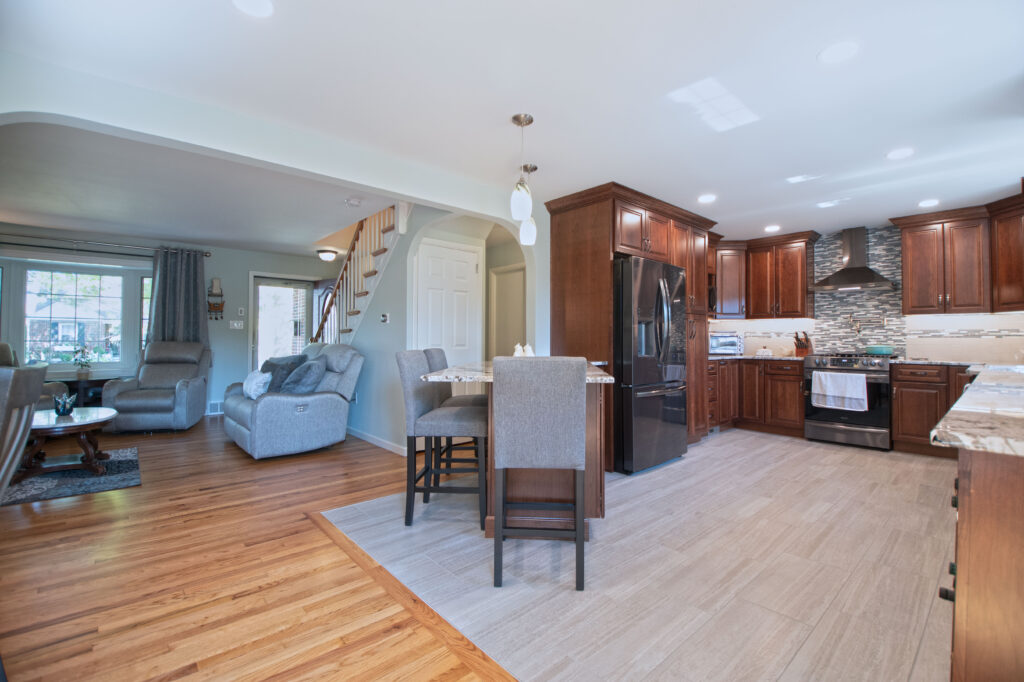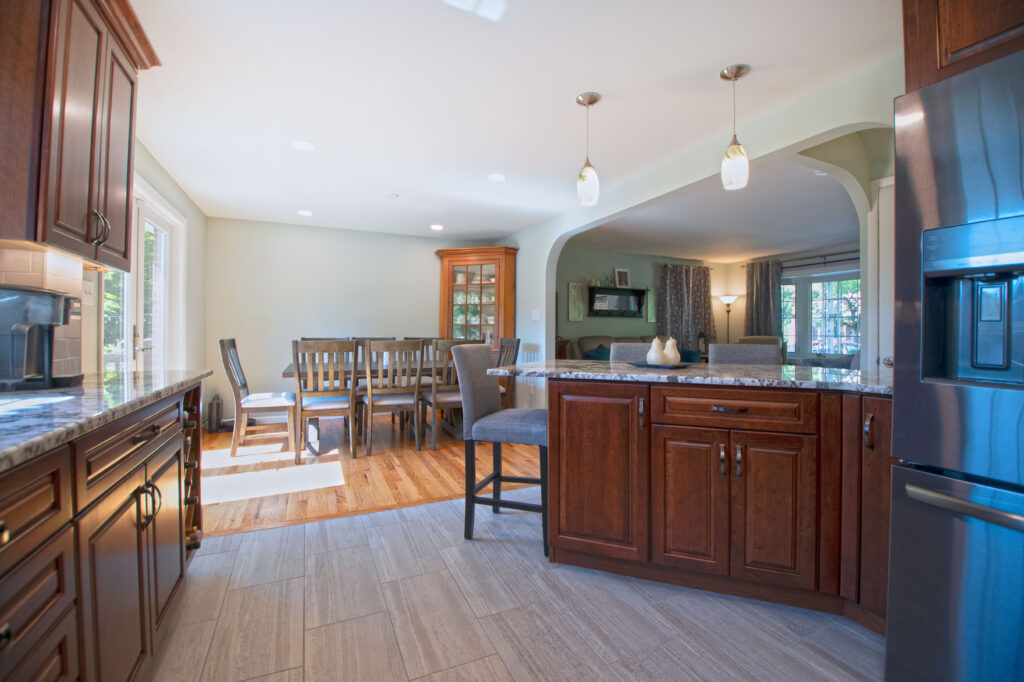 Best House To Host A Party:
This project involved a first and second floor addition that was roughly 1,400 SF, a complete kitchen remodel, master bath remodel, re-imagined mudroom, and a stunning new outdoor entertaining area featuring a built-in kitchen to top it all off. Our clients put A LOT of thought into making this the ideal space in terms of flow and usability. Although we originally started discussing this project with our client in 2019, a pregnancy and COVID-19 led us to start construction in April of this year.
Our Elite team unanimously agreed that the spacious, open concept of this first floor, combined with the perfect outdoor entertainment area, make this property an easy win for "Best House To Host A Party," but we'll let you be the judge: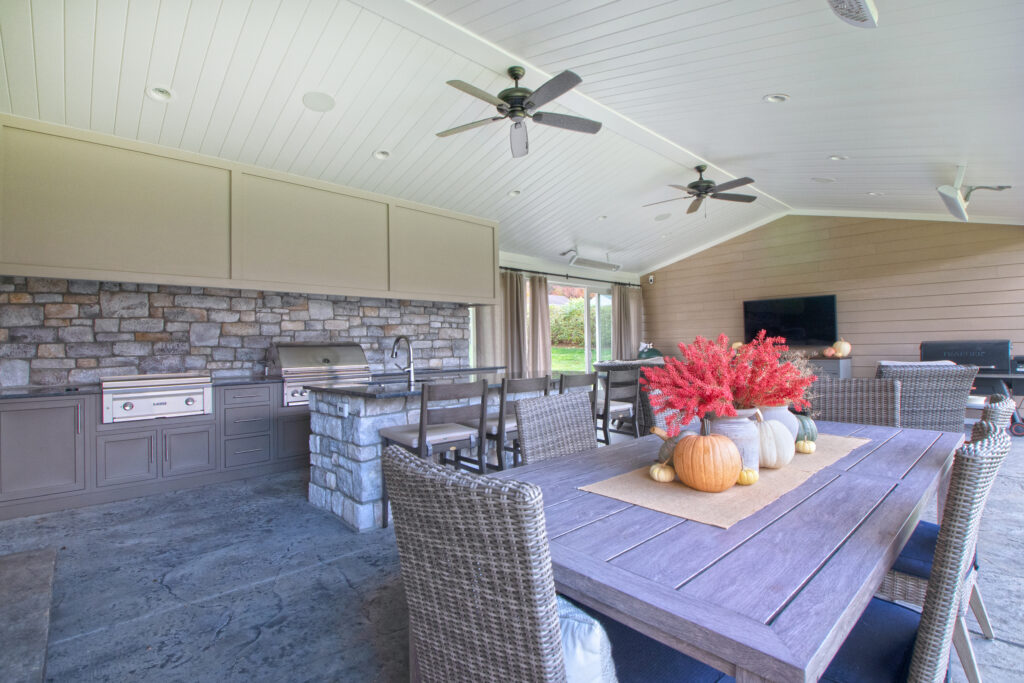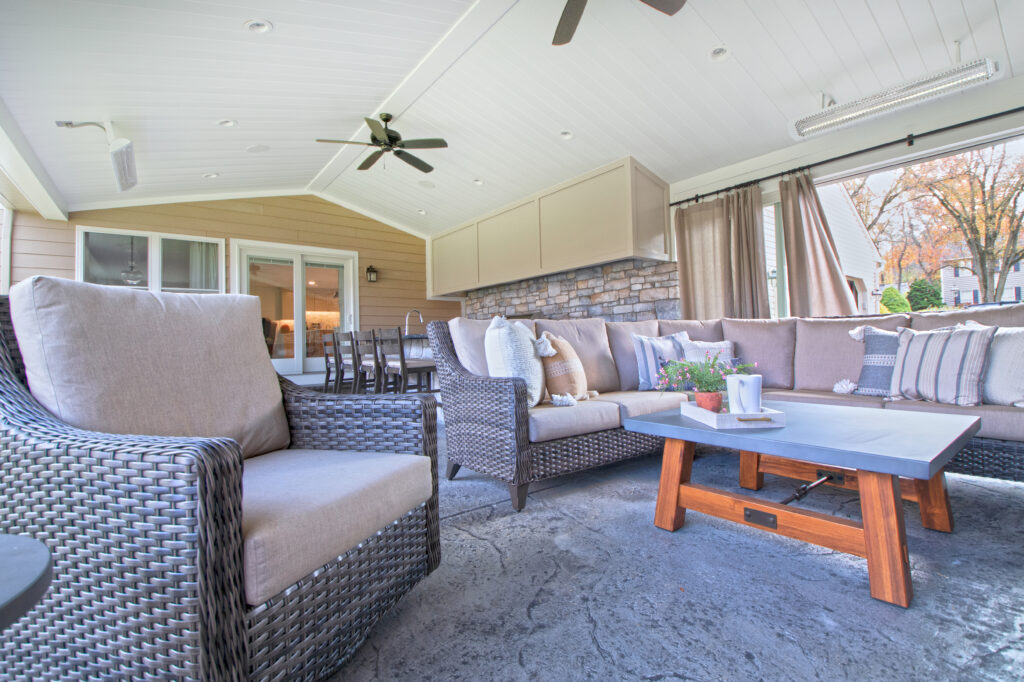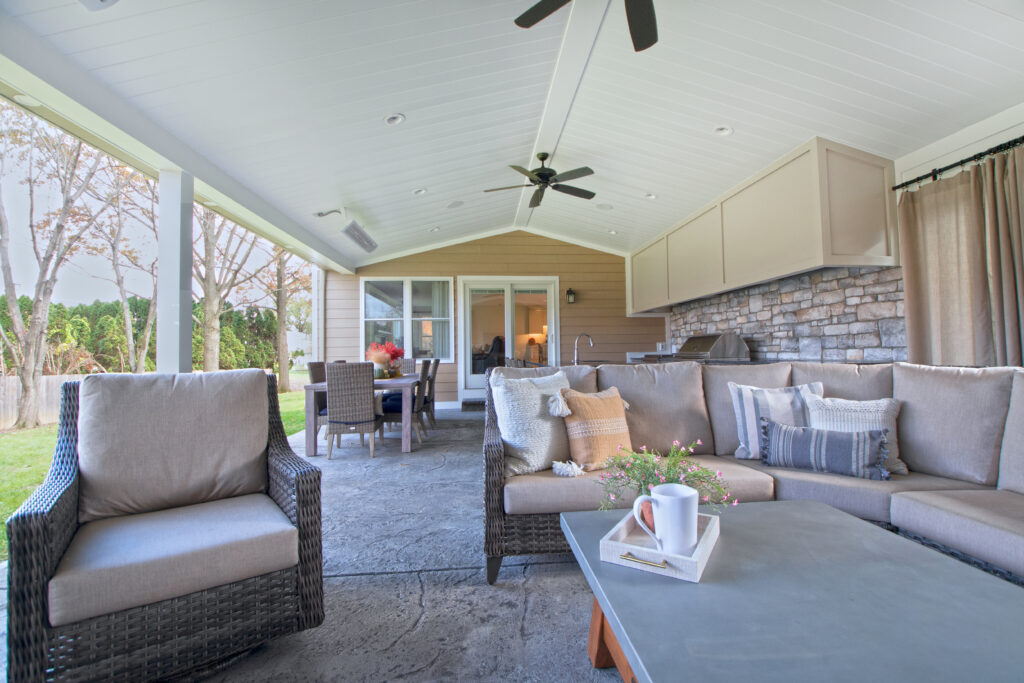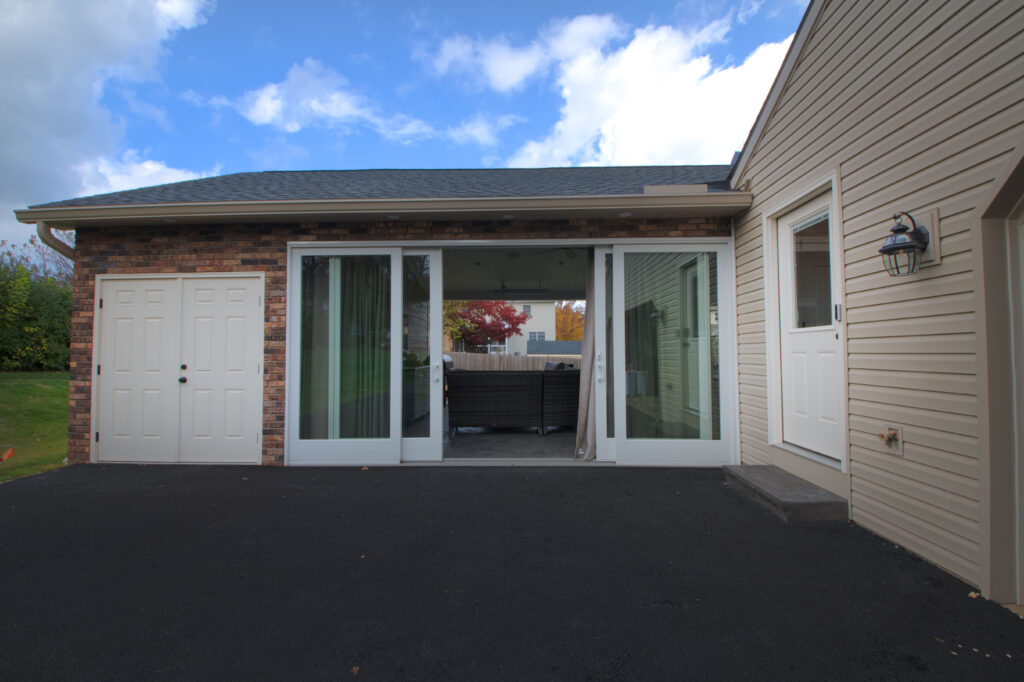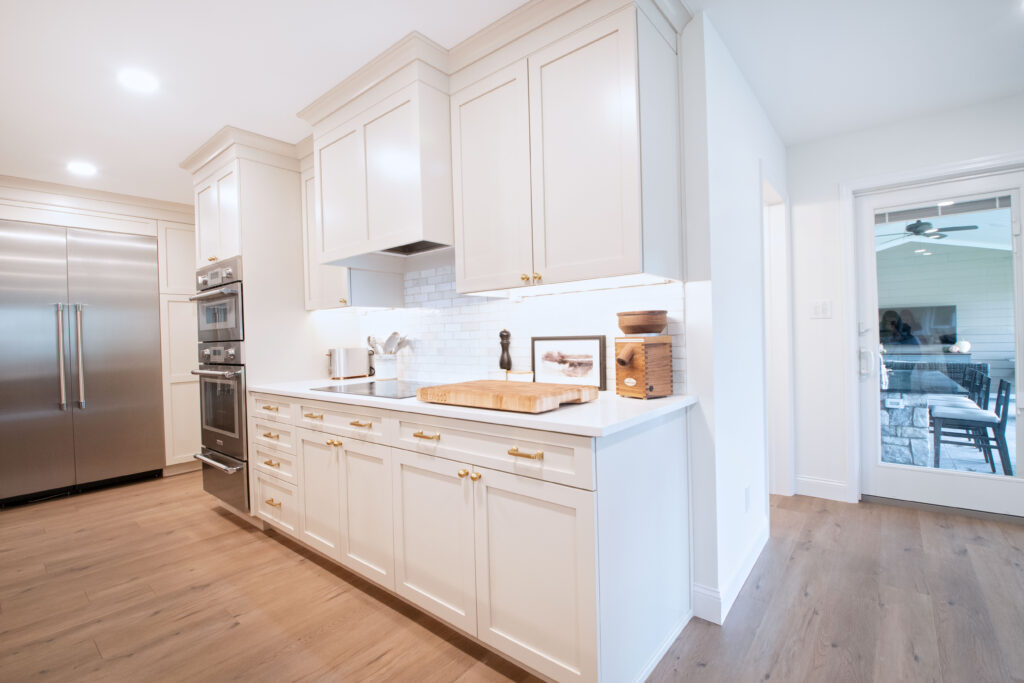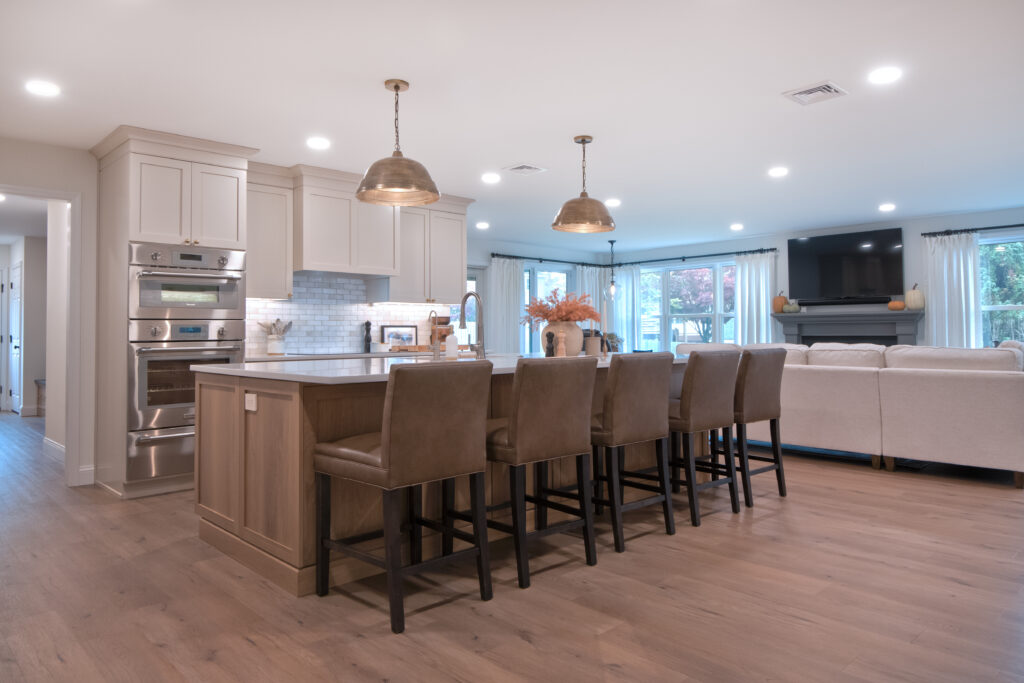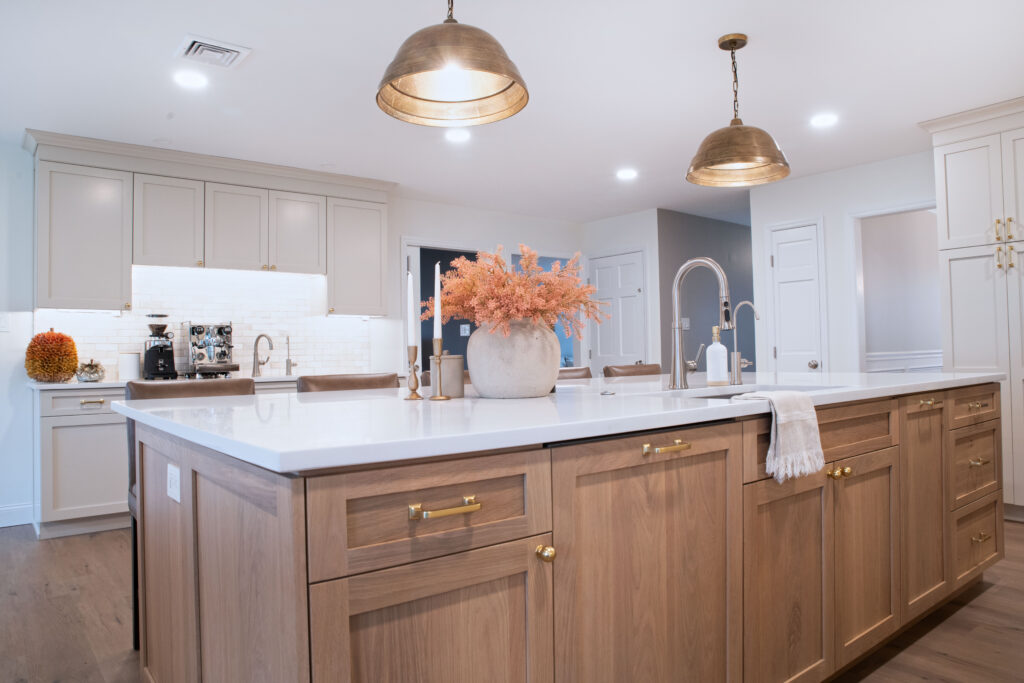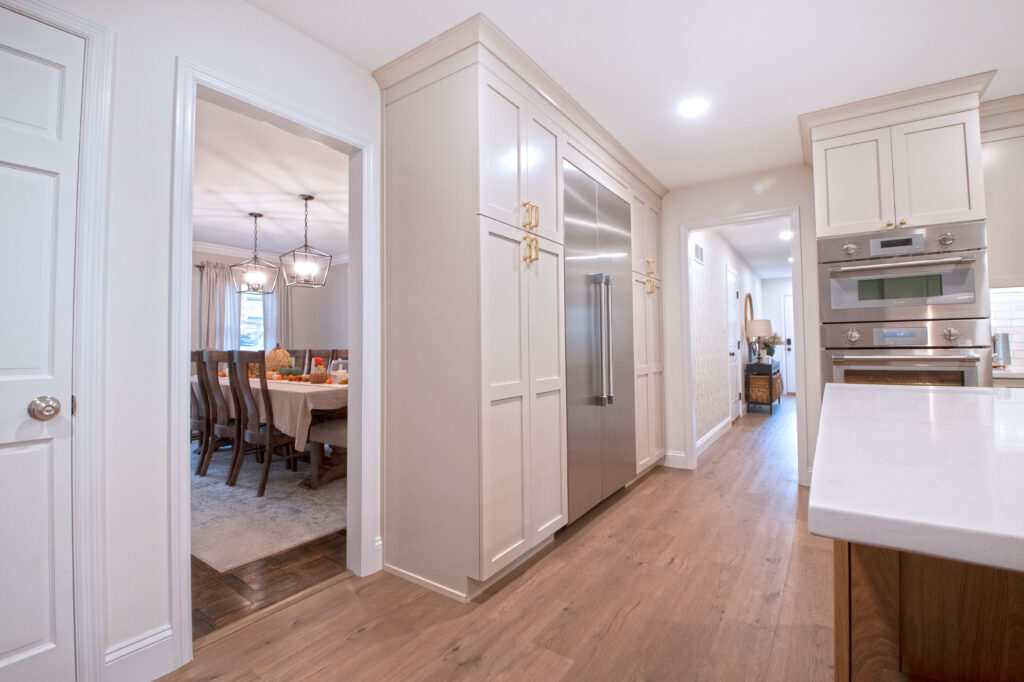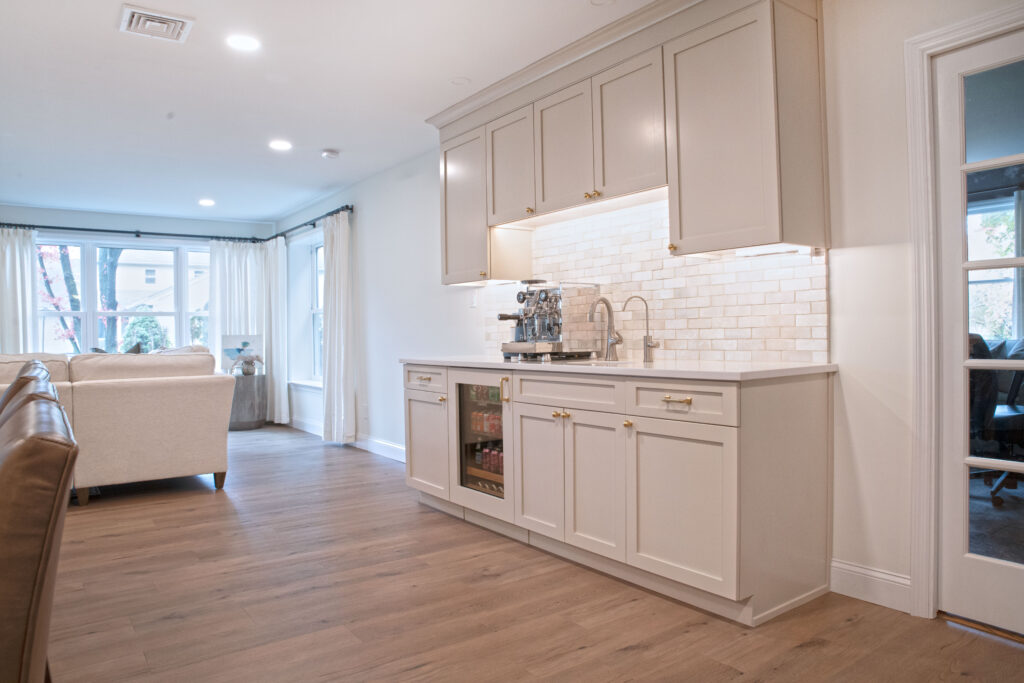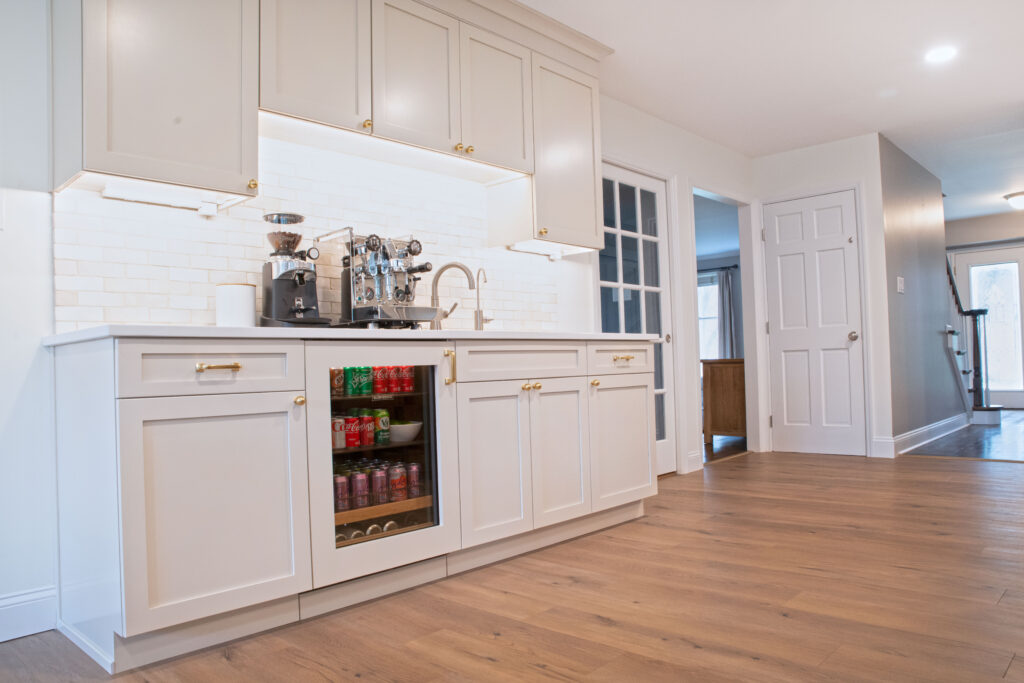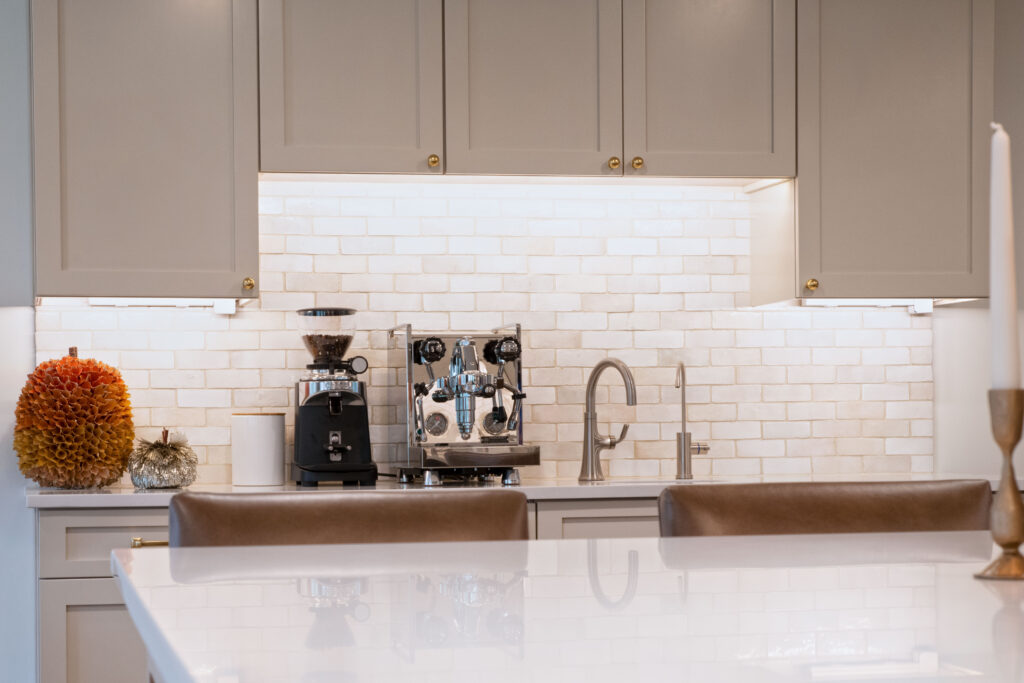 Best Bathroom Transformation:
Our Elite team took an ordinary bathroom in Mohnton and transformed it into nothing short of an in-home spa fit for a king and queen – right down to the matching "His" and "Hers" robes. We'll let the before and after photos do the speaking:
– Before –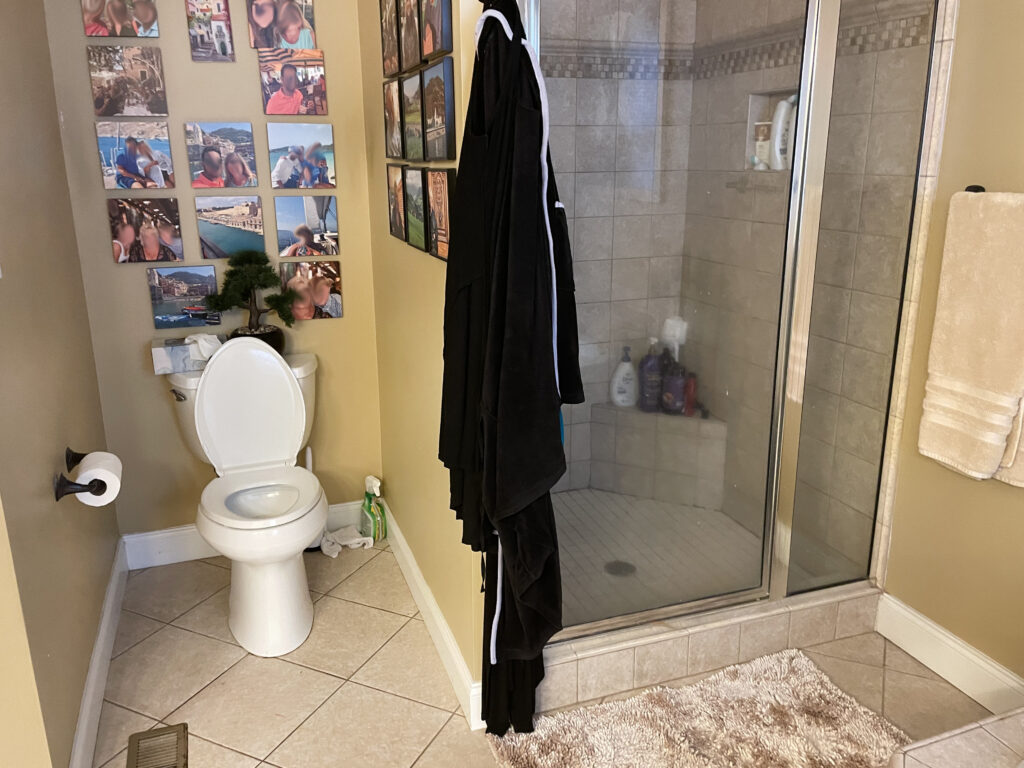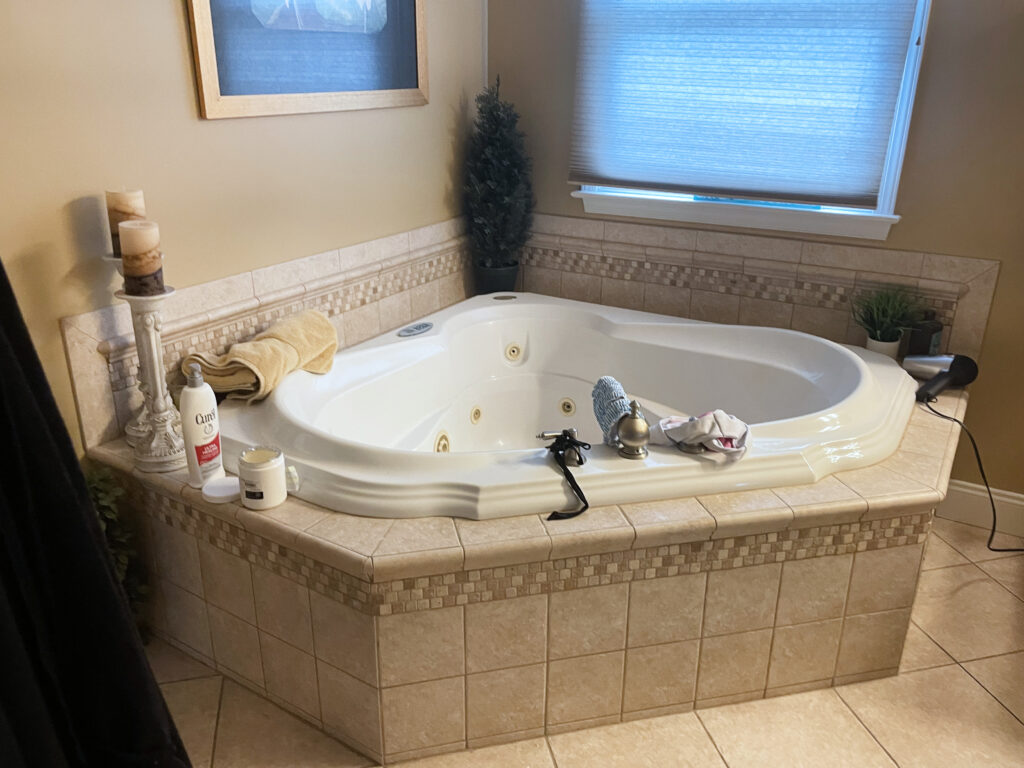 – After –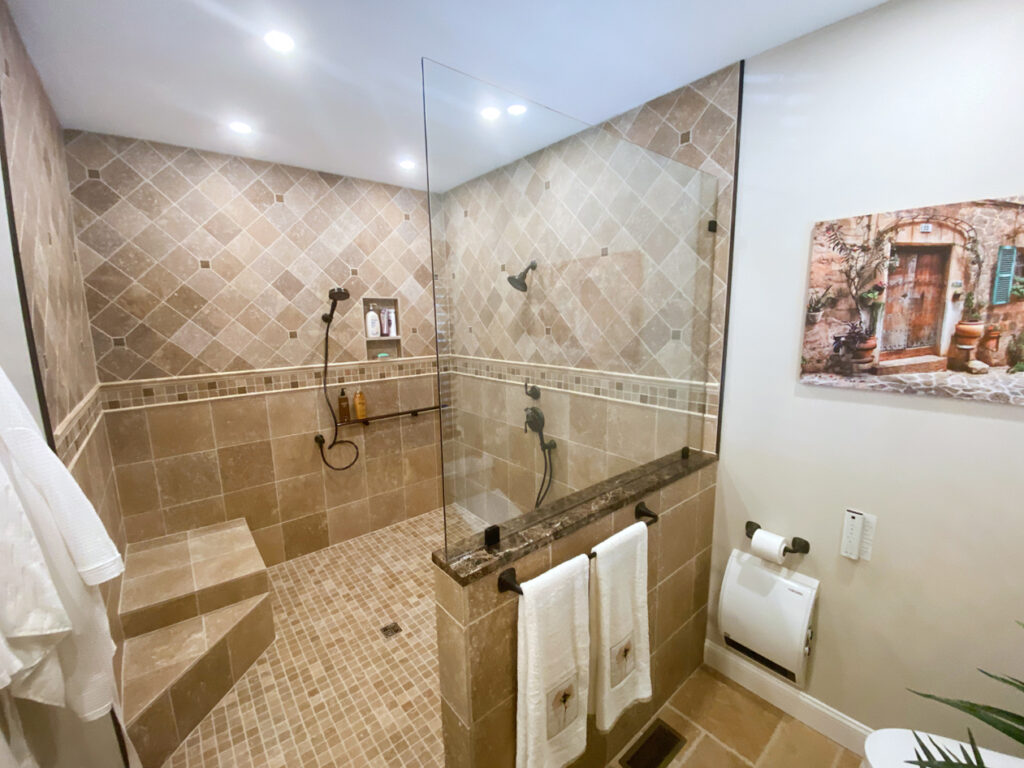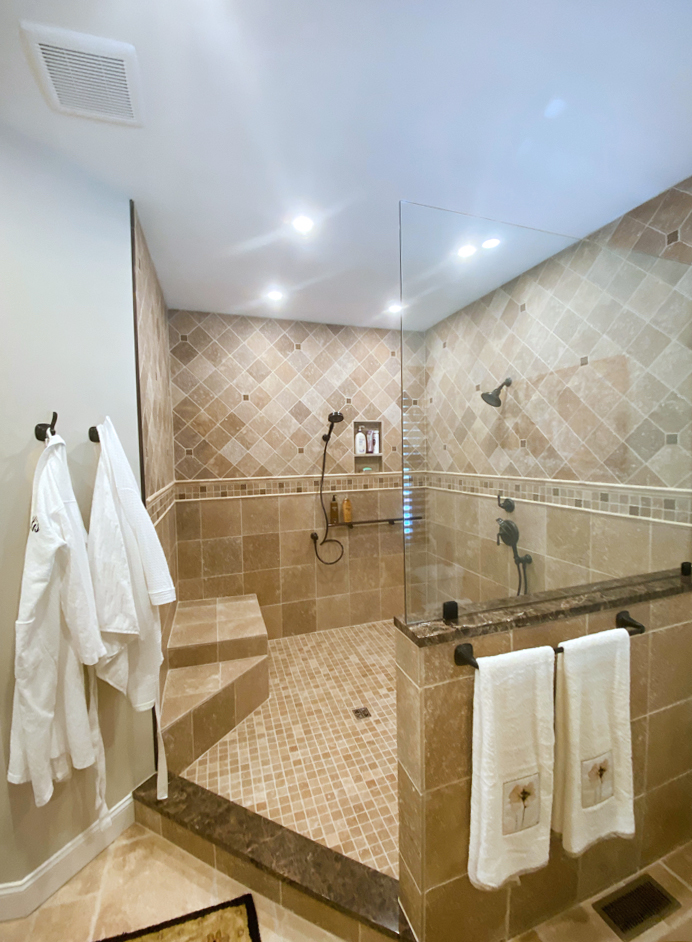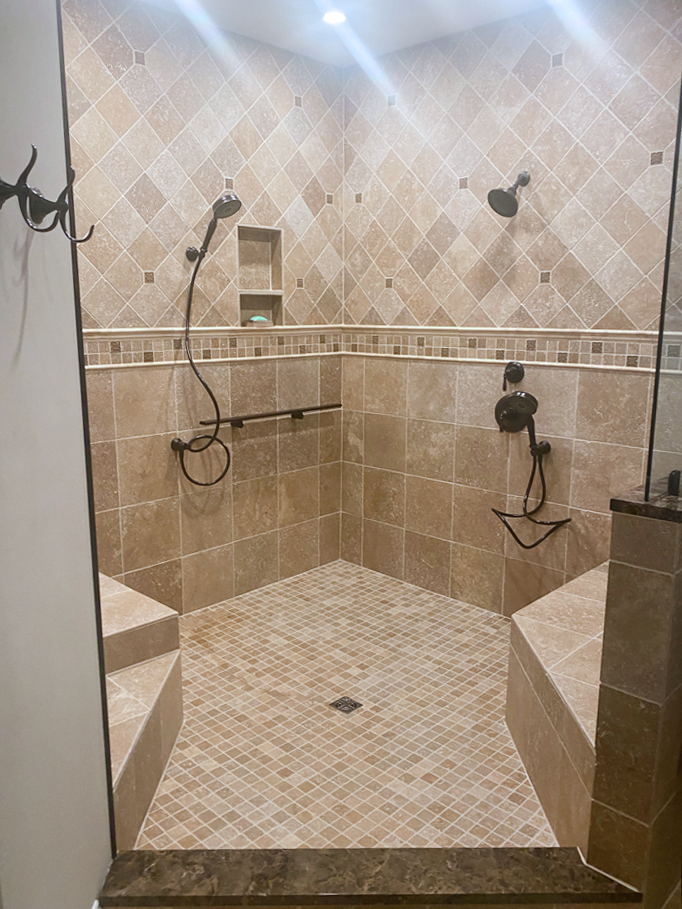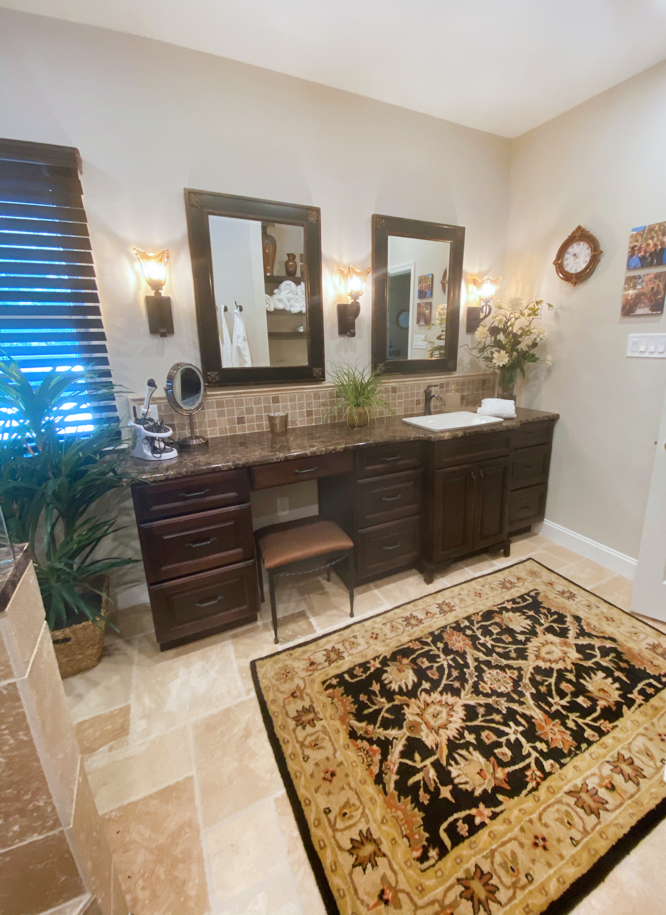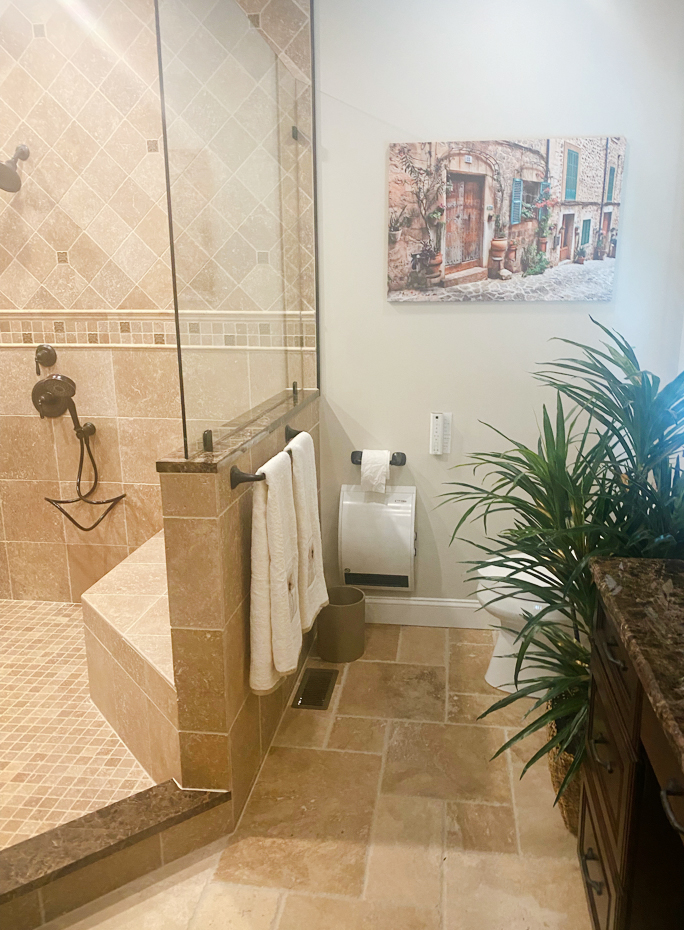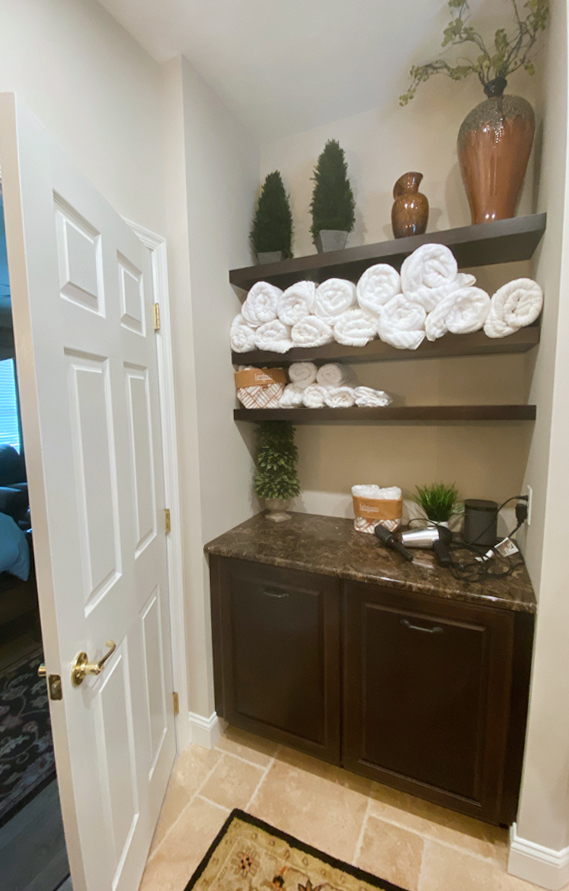 Best Curb Appeal:
This exterior transformation will make you stop and stare! A past customer reached out to make their home Elite once more. This time, we added a new roof and completed some exterior renovations to completely revamp the outside of their home. Our Superintendent Josh loves how "the vibrant blue hardie board siding really pops with the white trim, especially since the exterior of most other houses on their street is either brick or vinyl." What do you think?
– Before –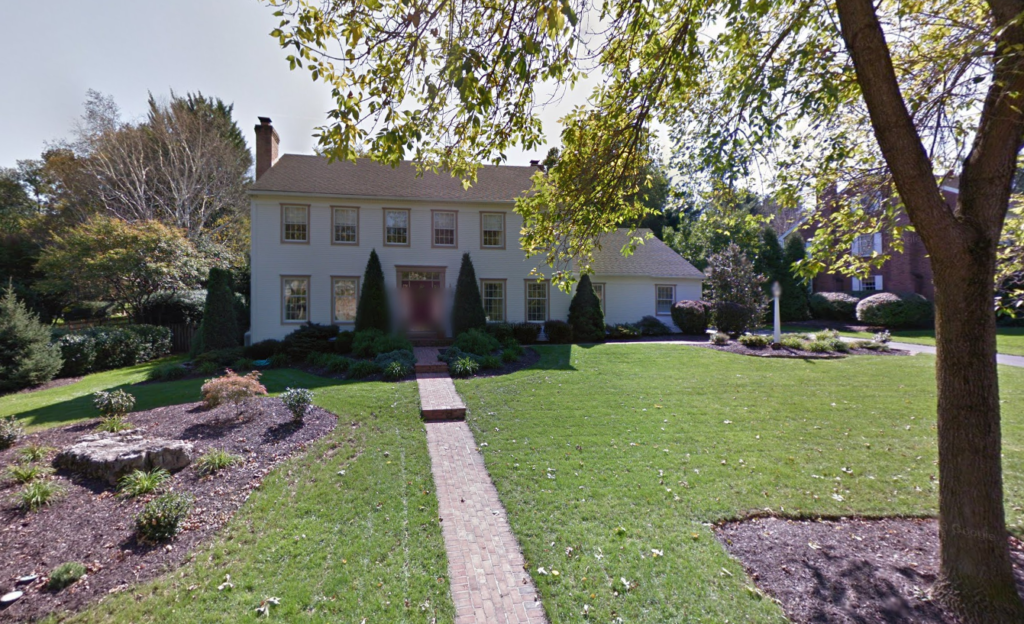 – After –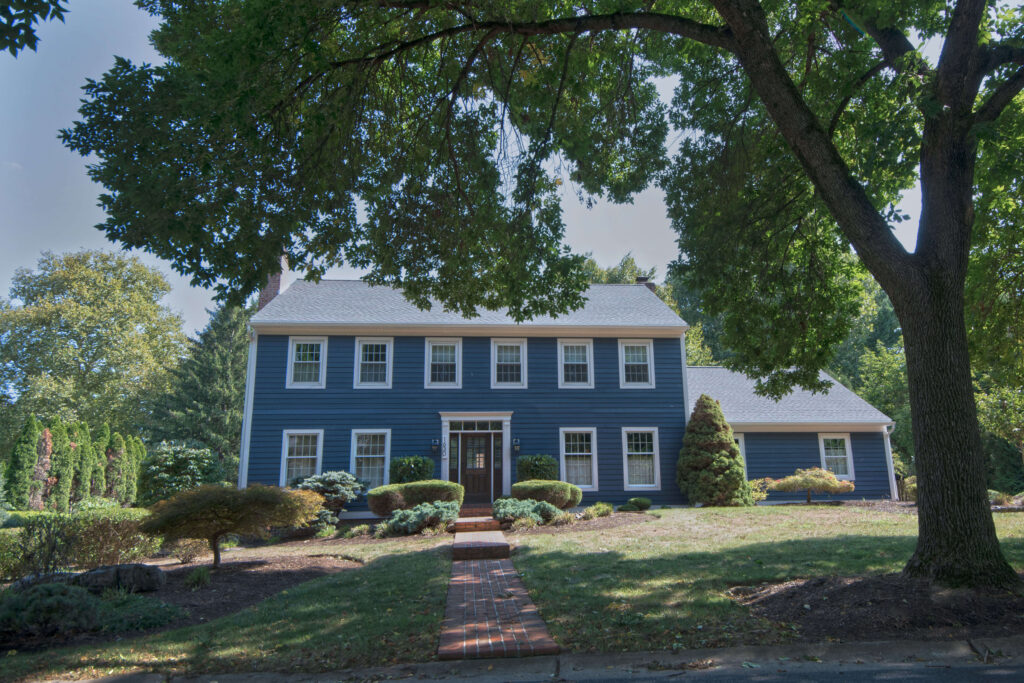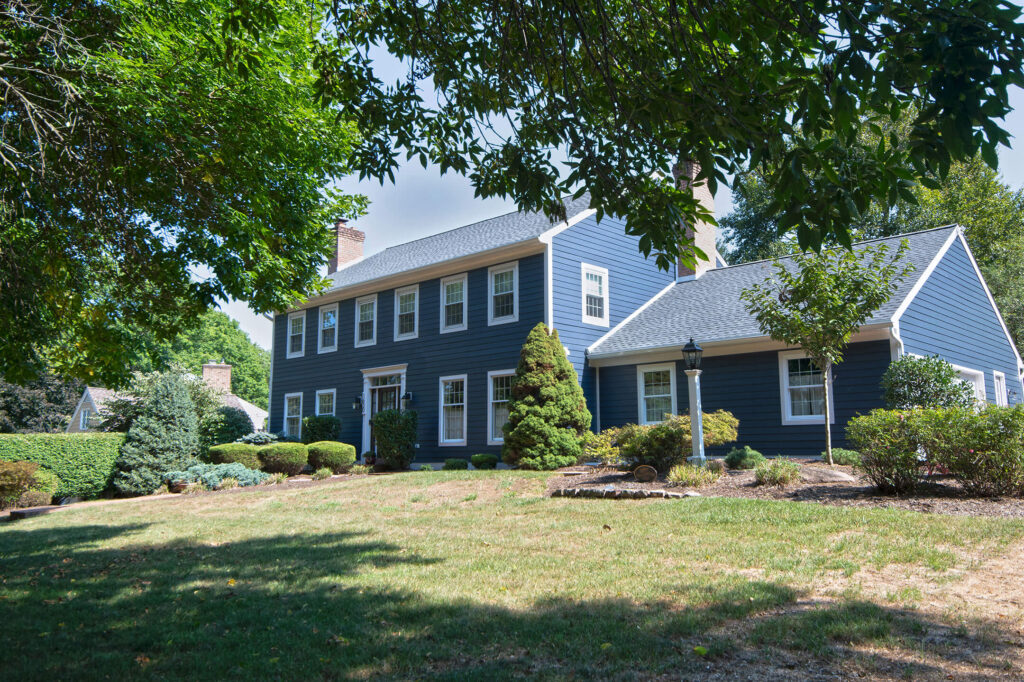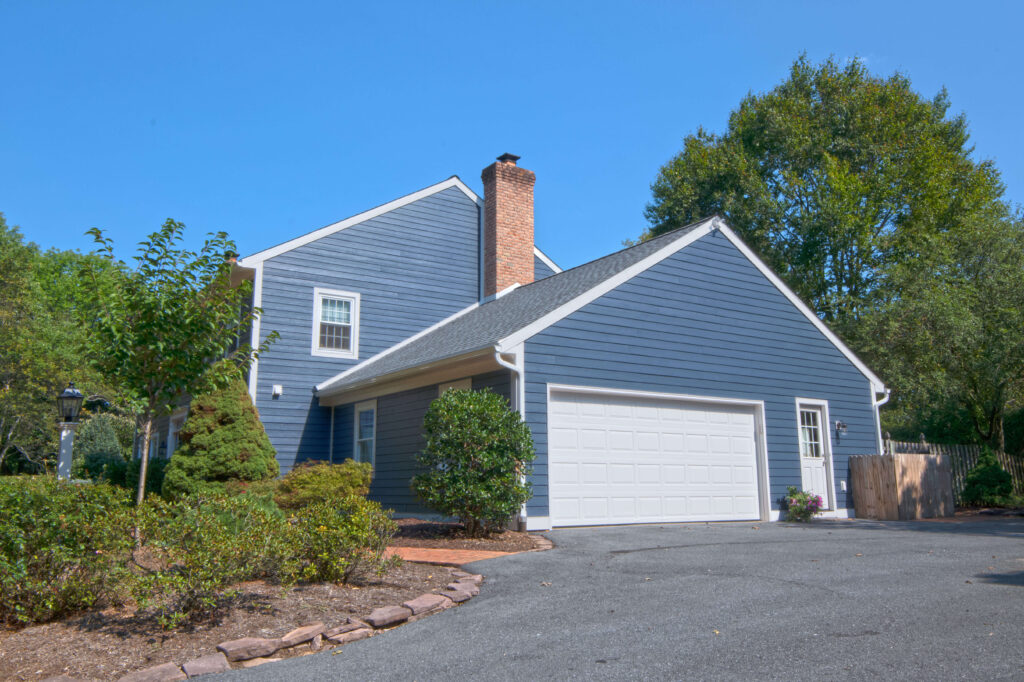 Most Impactful:
Perhaps the most rewarding project for our Elite team this year was a home addition that was completed for the clients' 11-year old son, Ryan, who has Spina Bifida. Although he uses a wheelchair and crutches in his everyday life, Ryan enjoys an active lifestyle filled with sporting events, playing instruments, and more. D&B Elite Custom was able to assist in helping him achieve an even more independent lifestyle. "We wanted to add an addition that allows him to move freely whether he is on crutches or using a wheelchair. It is important to us to help Ryan grow as independent as possible," explain Ryan's parents. Prior to this home addition, Ryan was limited to a small bedroom with a hall bathroom that would not properly accommodate him as he continues to grow.
John Watkins of Watkins Architect reached out directly to D&B Elite Custom with the plan. "Watkins was a huge component of planning this process because once D&B Elite Custom got involved everything was ready to go," explains Melissa. Larry Adam, Vice President of Residential Construction for D&B Elite Custom, met with David and Melissa for their consultation. "Larry was very confident that Watkin's plans could be done. It allowed us to be very confident. It was important for us to develop a relationship where we felt confident that they were going to have everything that we needed." Since Watkins Architect and D&B Elite Custom work together on a regular basis, this partnership made all the difference.
This 440 SF addition was designed to have a functional bedroom, bathroom and closet that extends off of the living room. The process took seven different revisions to find the design that flowed best with Ryan's needs. Ryan was a part of the design process and told us he worked with Beth, D&B Elite's Project Coordinator, to find features and designs that he liked best – such as vinyl flooring and slip-free flooring for the shower.
Although this project was not fully ADA compliant, it encompasses a multitude of ADA features that were designed with Ryan's needs in mind. "ADA requires three different hand rails around the toilet, but ultimately Ryan did not need that, so we only installed one hand rail," explains Ryan's father, David. In addition, Ryan does not have any doors in his room because it is his own private living space. According to Ryan's mother, Melissa, swinging doors can sometimes be a problem with his wheelchair. "This addition has the space to allow Ryan to move freely and spin around in a wheelchair, the doors are larger, and the bathroom was constructed in a way that allows him to do everything independently. D&B Elite Custom did a really good job of not just doing things by the book but instead making it functional for us and for Ryan's needs. The ADA compliant wasn't exactly what Ryan needed."
"The goal for Ryan was to be able to be more independent as he continues to grow. The addition did just that, allowing him to become independent for all of his daily needs without his parents," explain David and Melissa as they reflect on the positive impact that this project had on Ryan. When you ask Ryan, he'll tell you that he most enjoys the fact that he can control his fan and the temperature of his bedroom and bathroom via a remote control. In fact, Ryan loves his new space so much that he let his parents know that he plans to never leave, joking that his future wife will one day move in with them.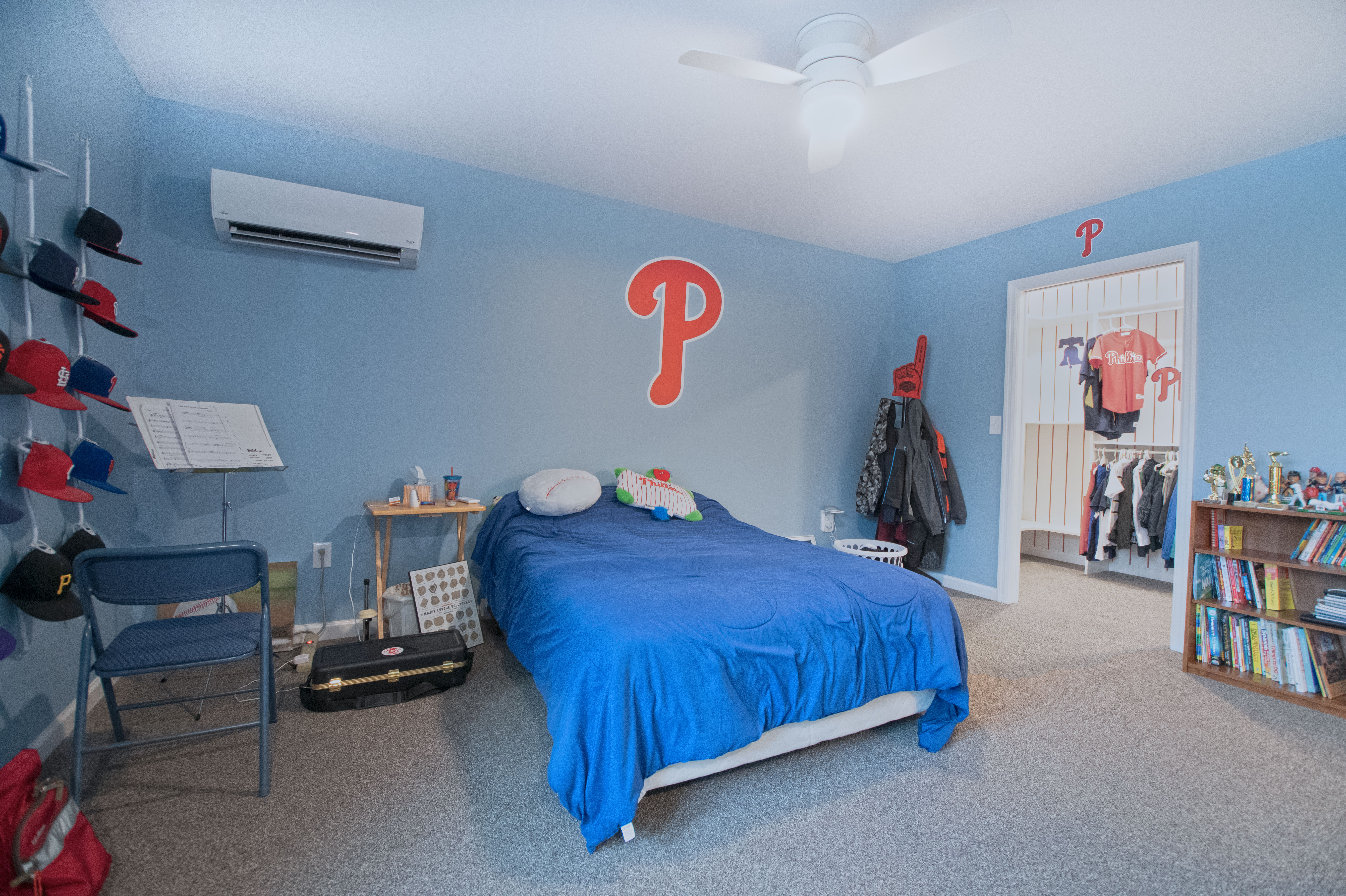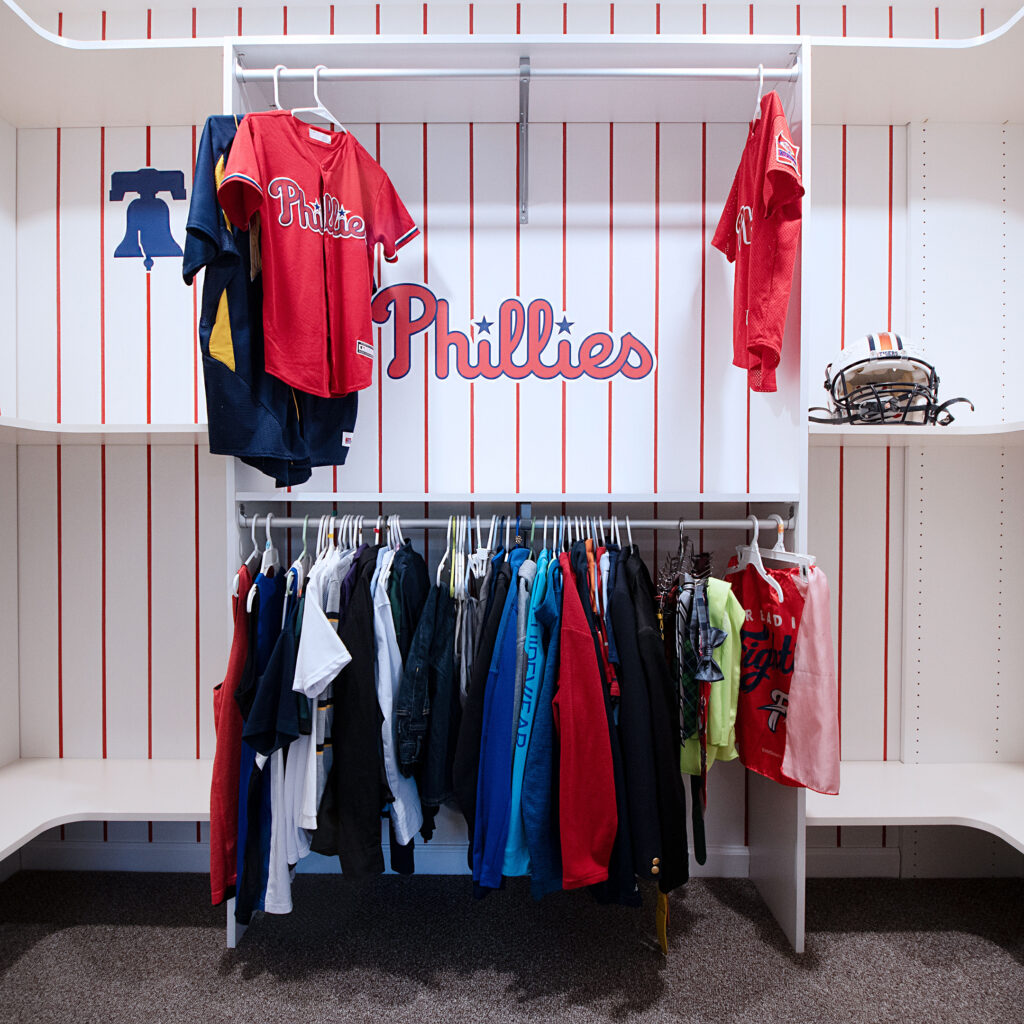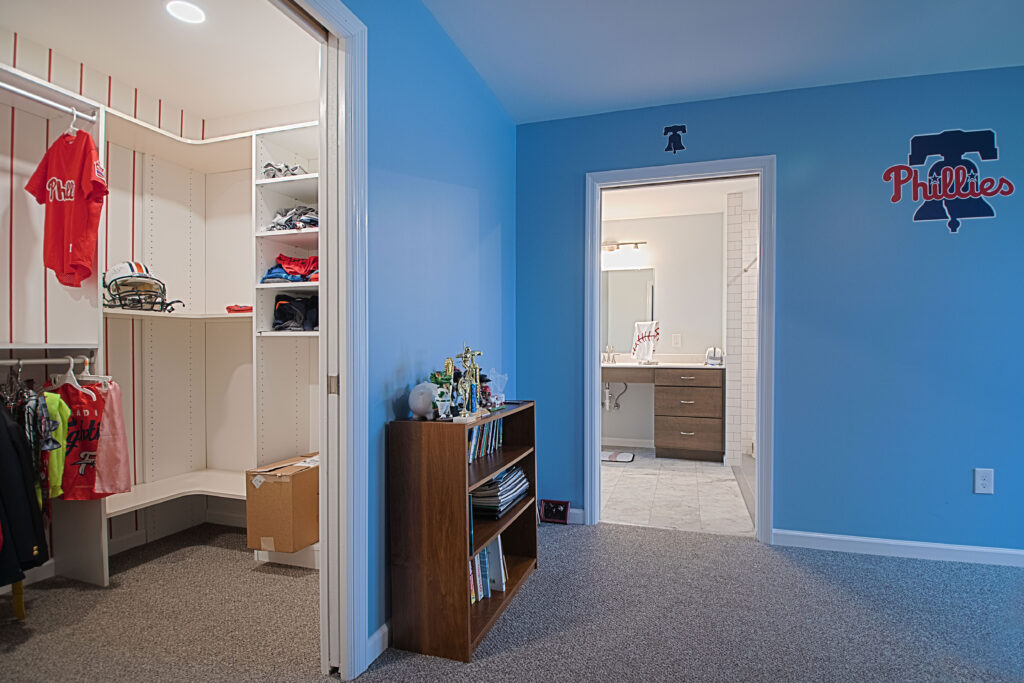 Best Space To Watch The Game:
From the bar to the dual televisions, you'll want to watch all your favorite sports in this spacious basement we remodeled in Exeter Township! (Bonus Points if you are a Philadelphia Sports fan, as the walls of this freshly renovated space are decked out in all things Philly!) After your favorite team wins, burn off your energy in the renovated gym – complete with gorgeous barn doors.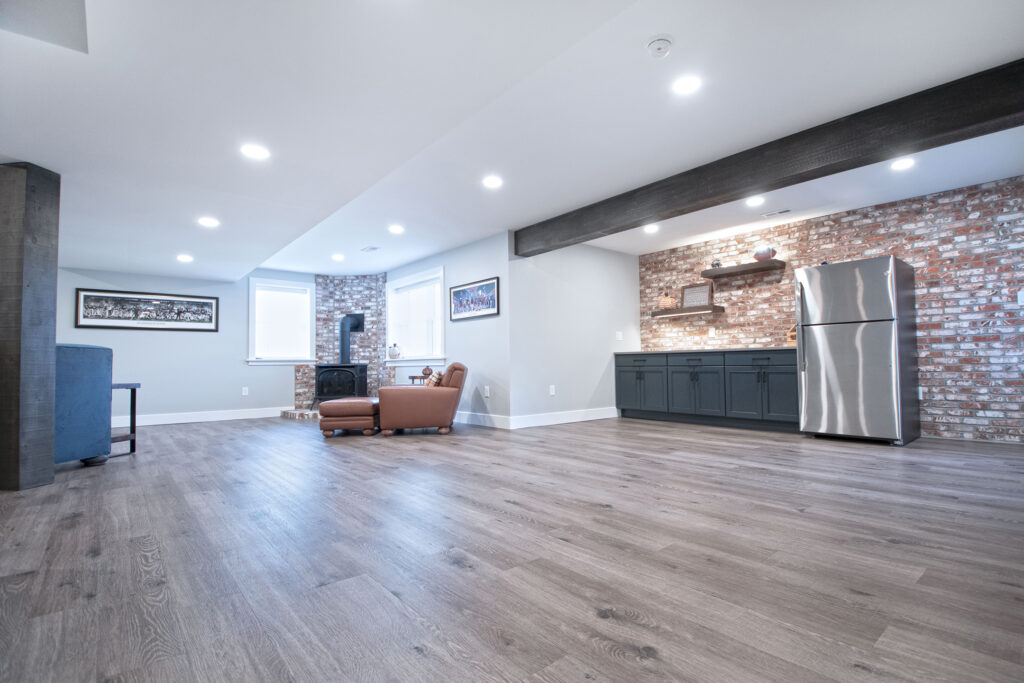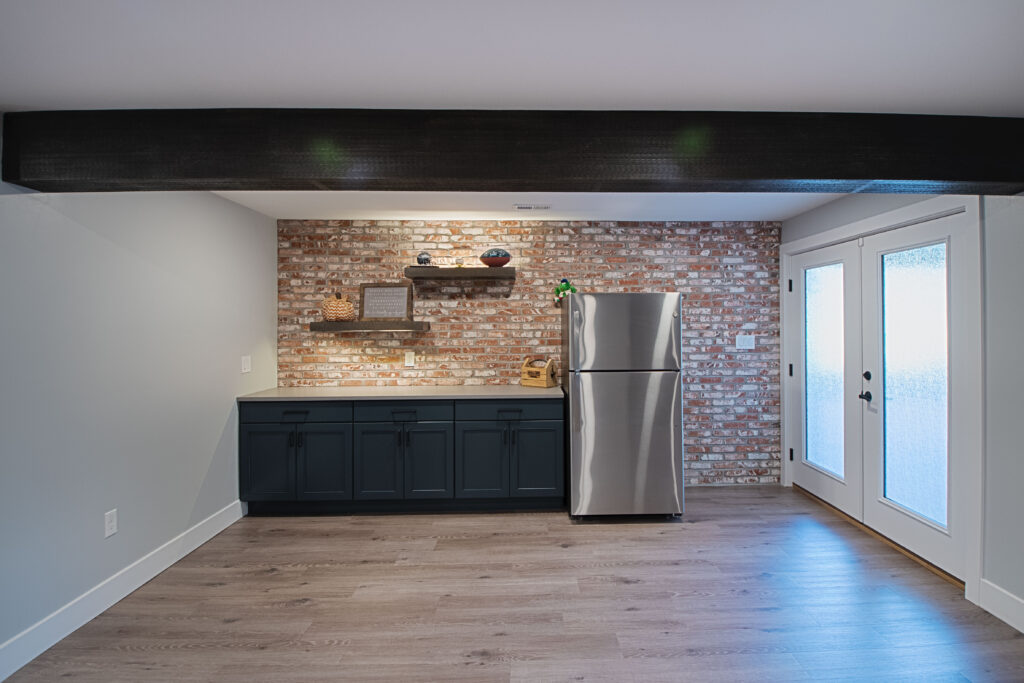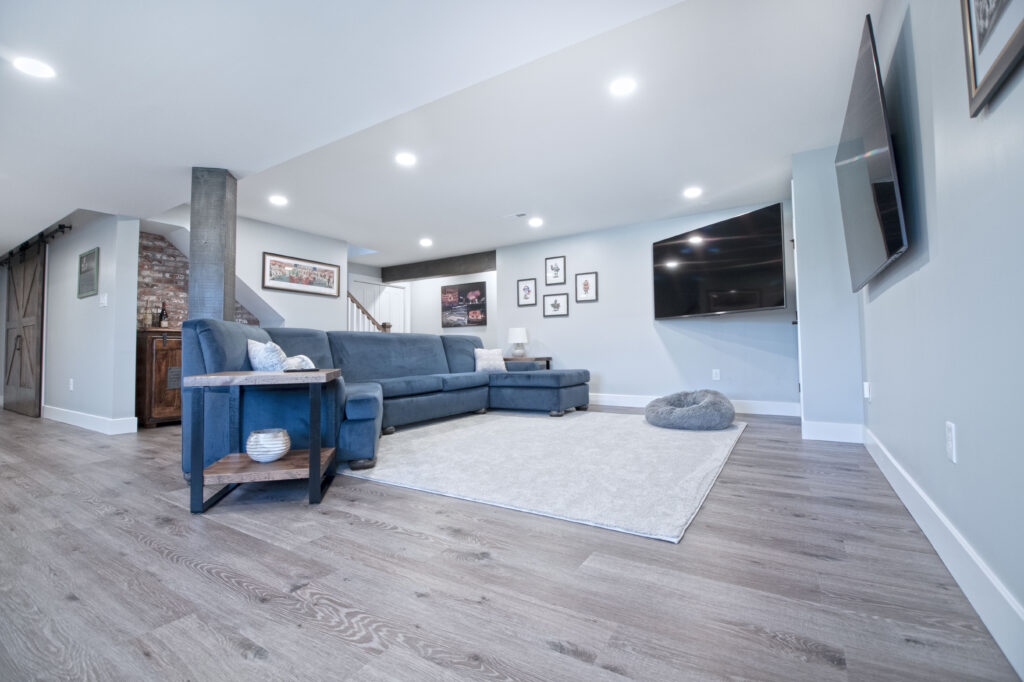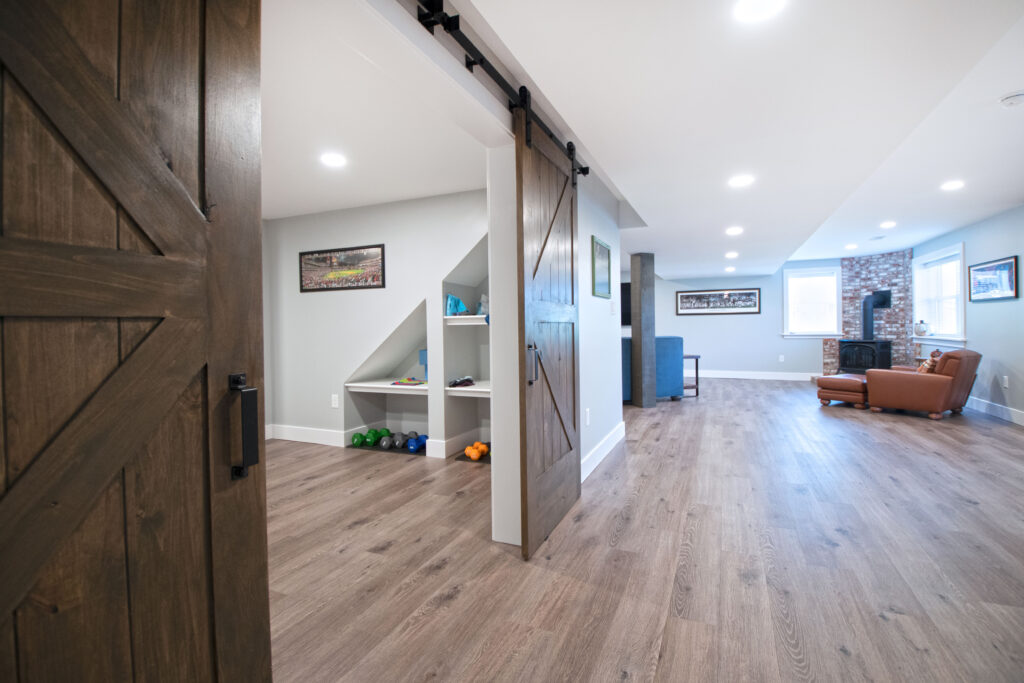 Place You're Most Likely To Find Us Curled Up With A Good Book:
Catch us here all Winter with the fireplace blazing!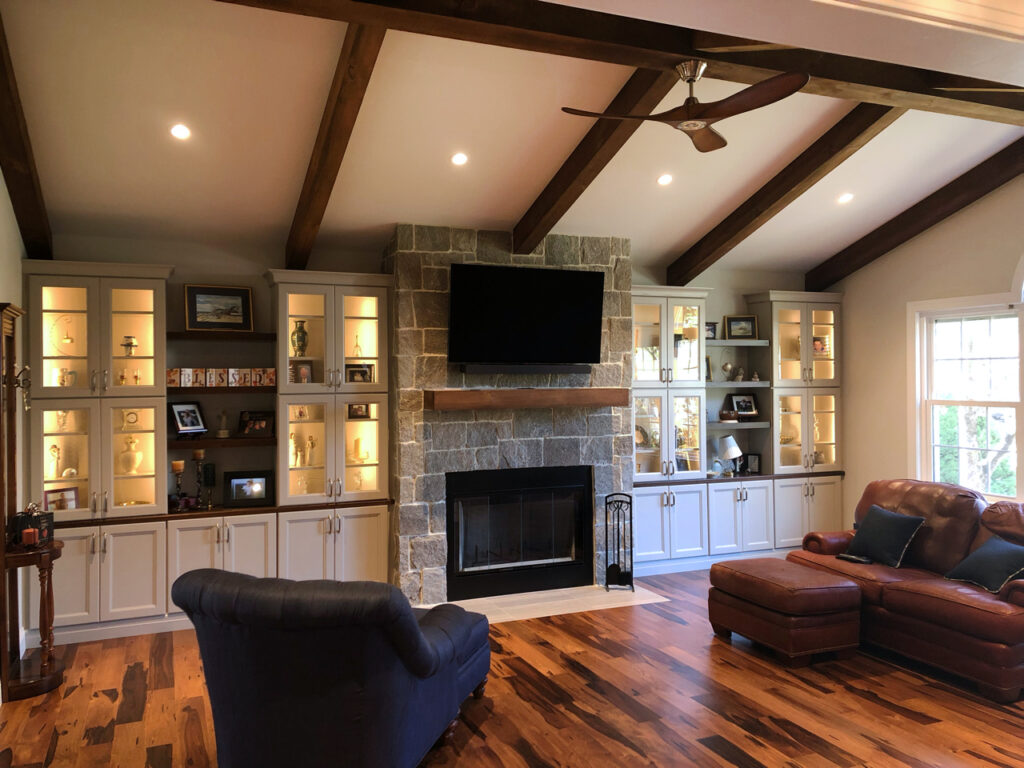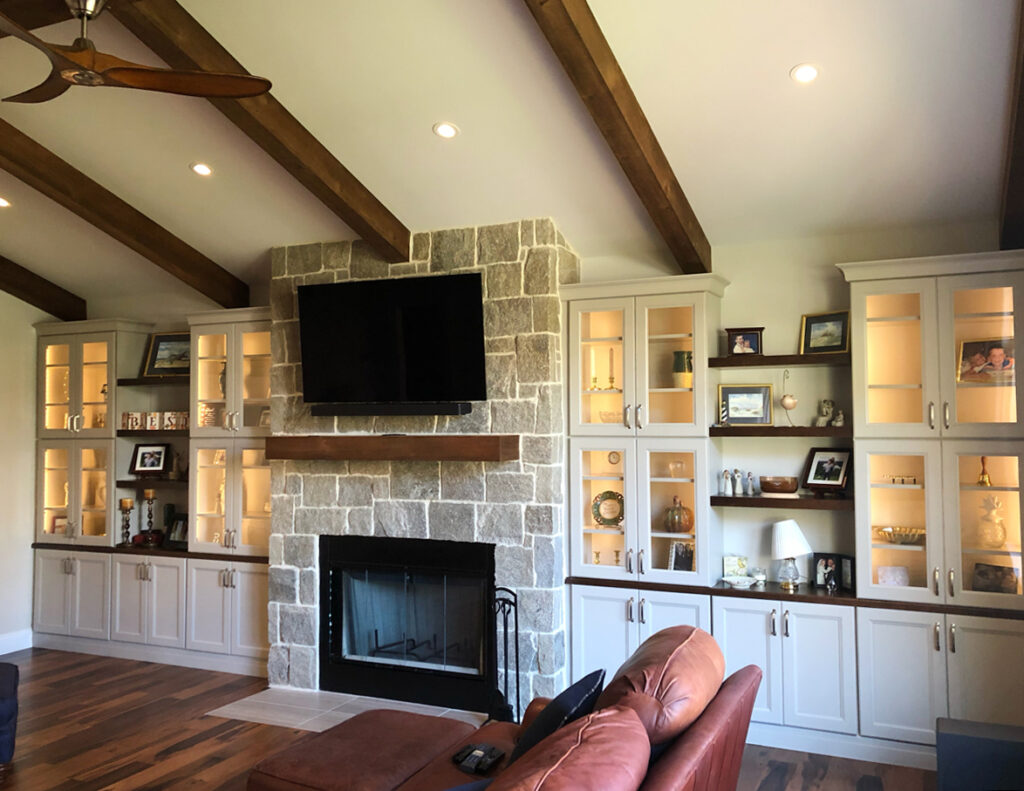 Best Dressed:
When we visited our client after they were all moved in to their re-imagined space, we initially thought we got lost and ended up in the Studio McGee and Hearth & Hand with Magnolia section of Target. You're going to love the timeless, minimal look of this home with its earthy hues and natural tones! We couldn't get over how well our client, Kim, staged and decorated her space. See for yourself: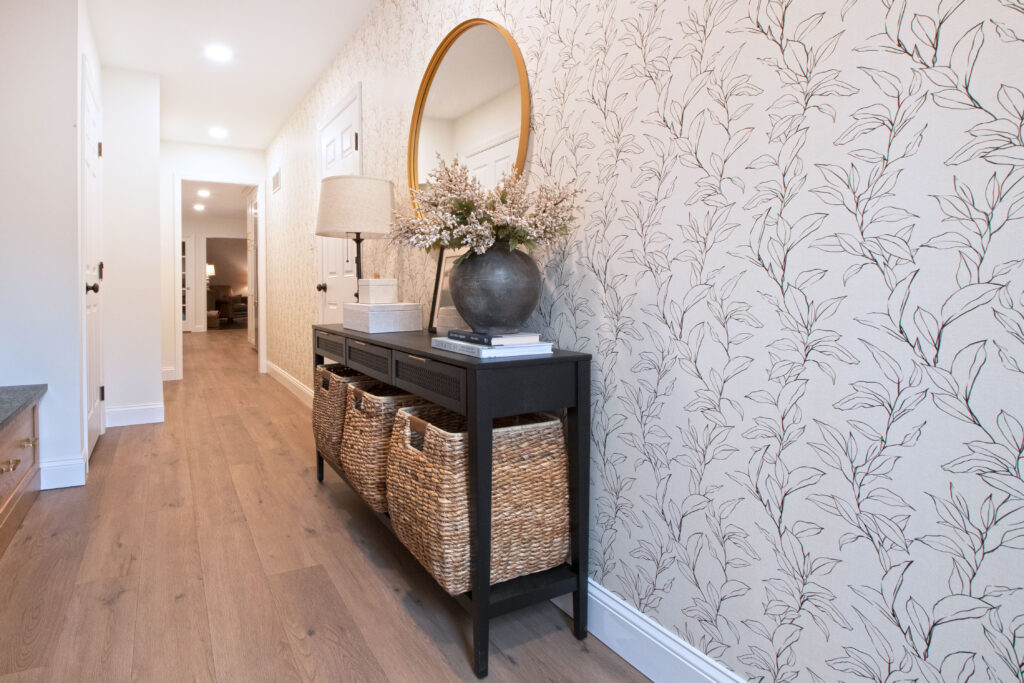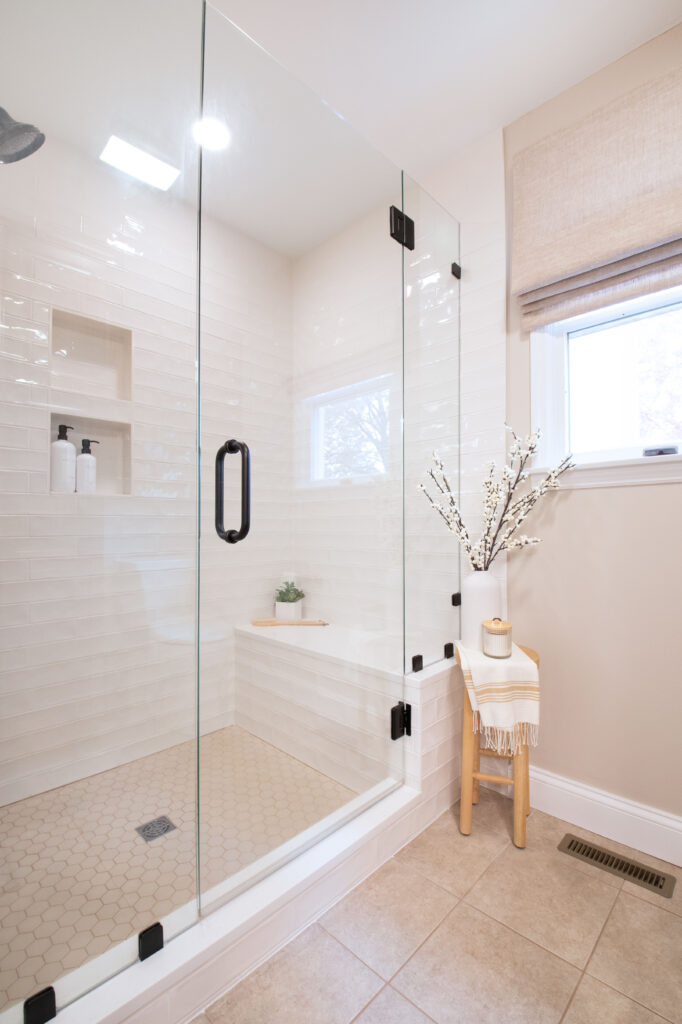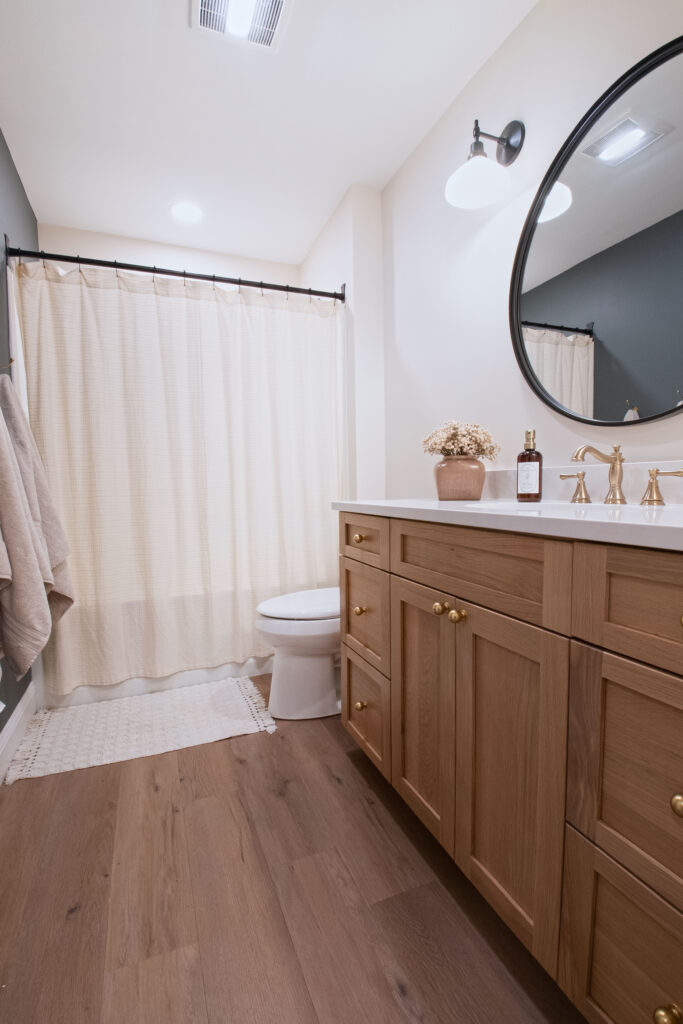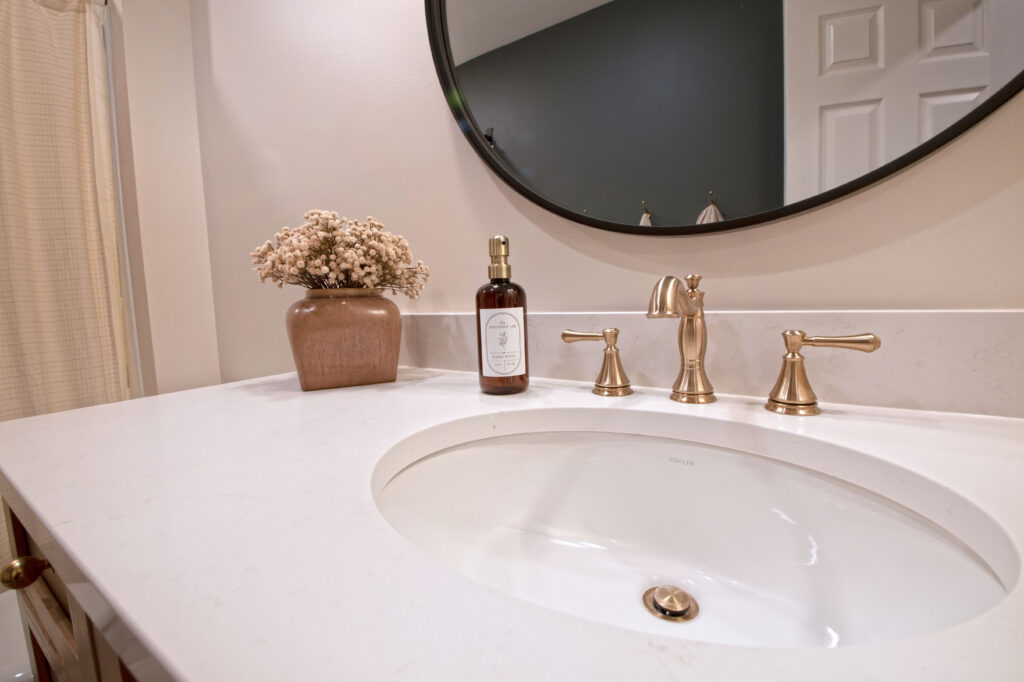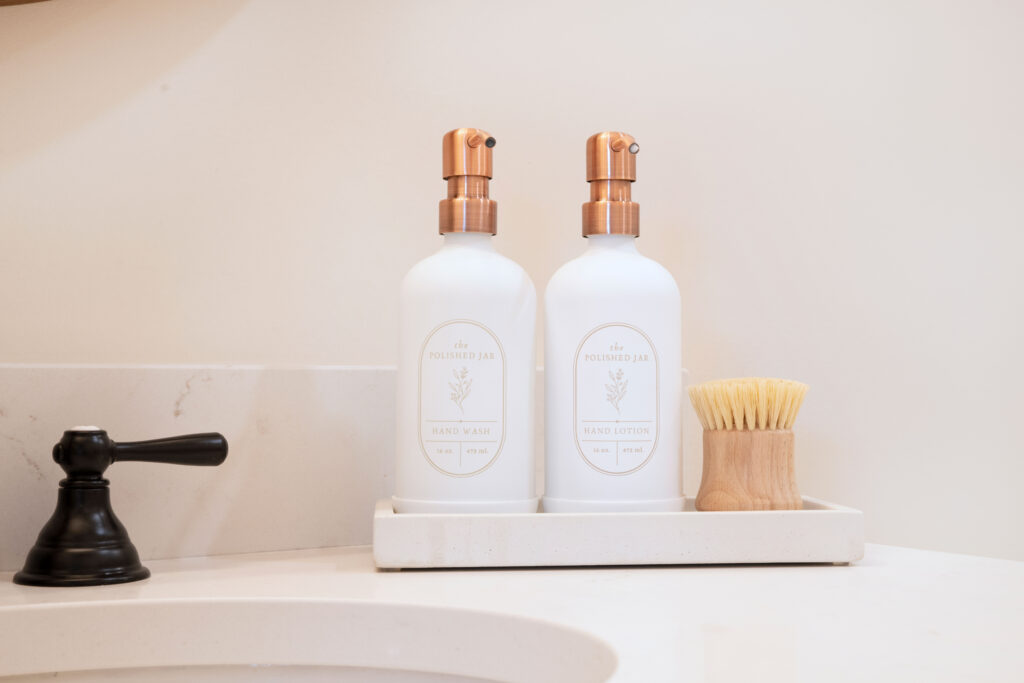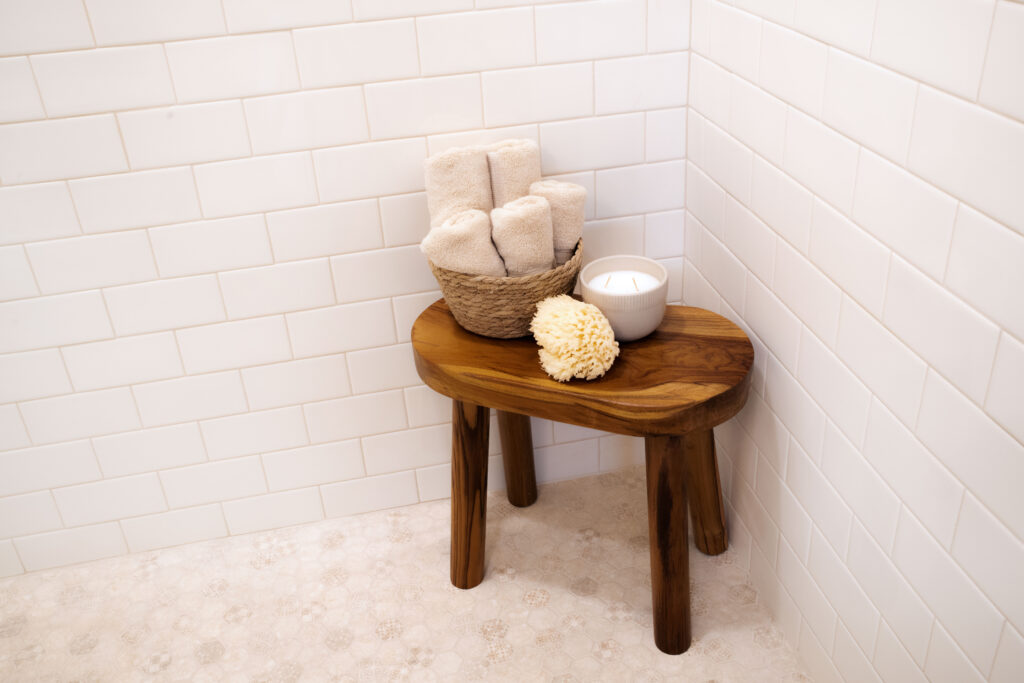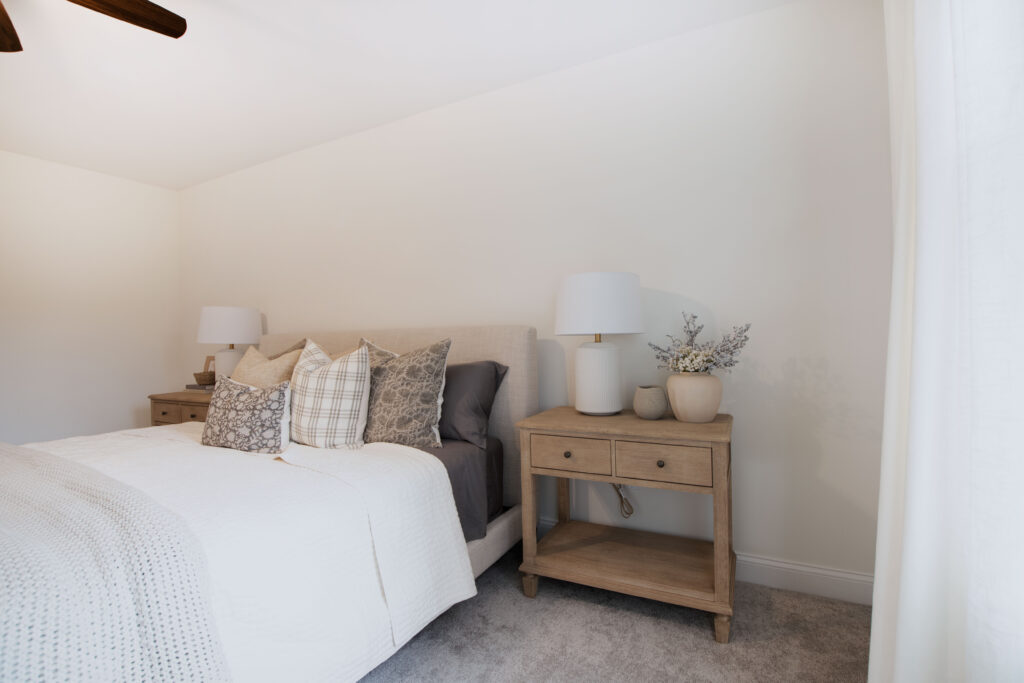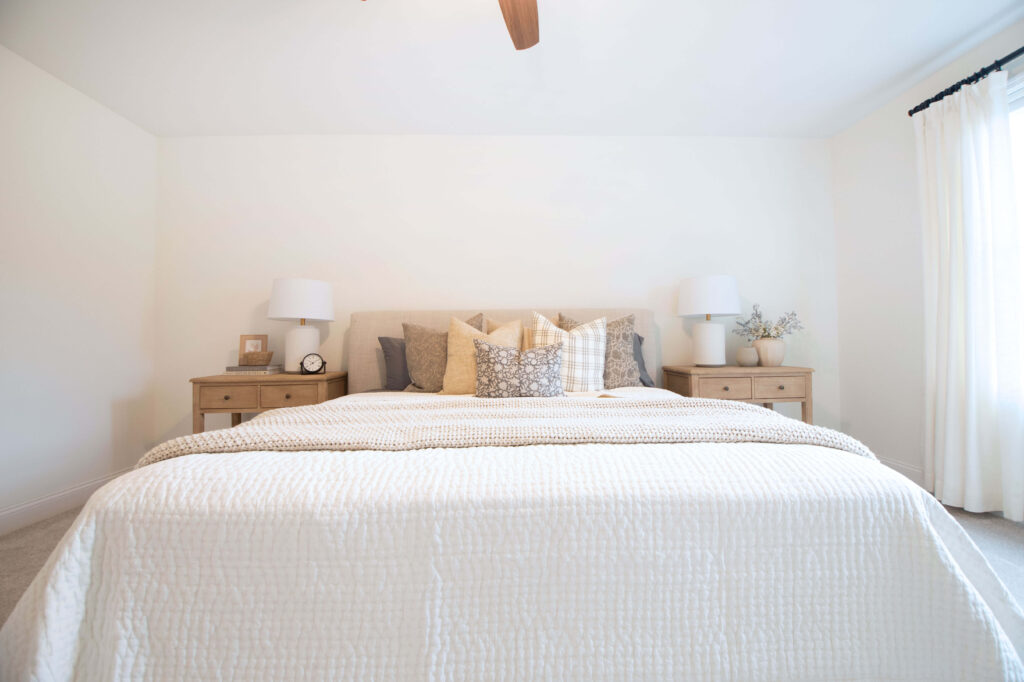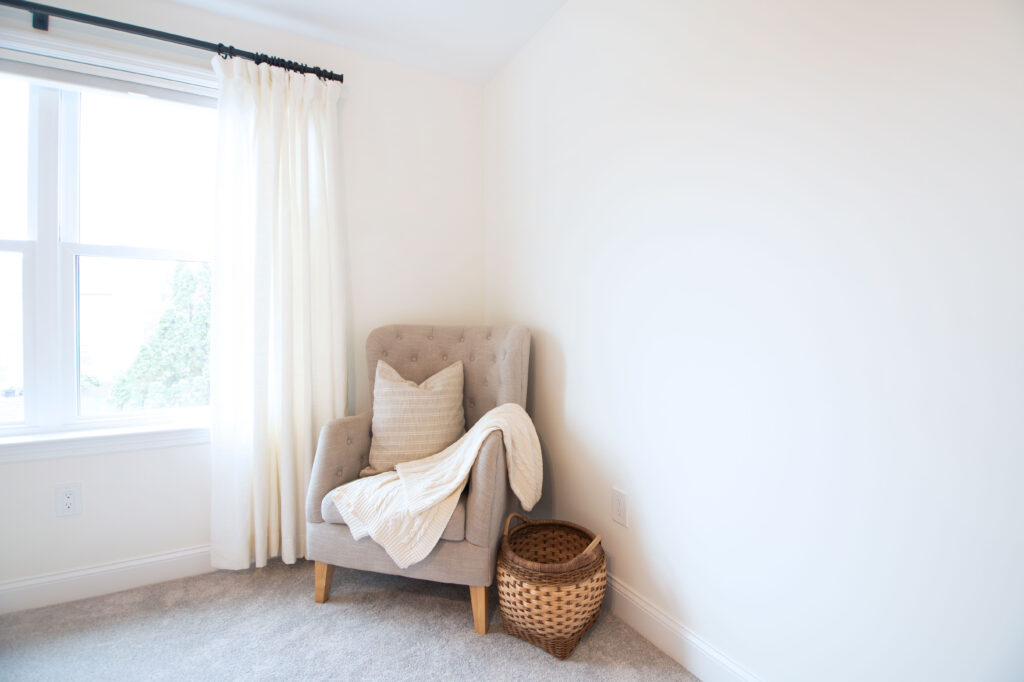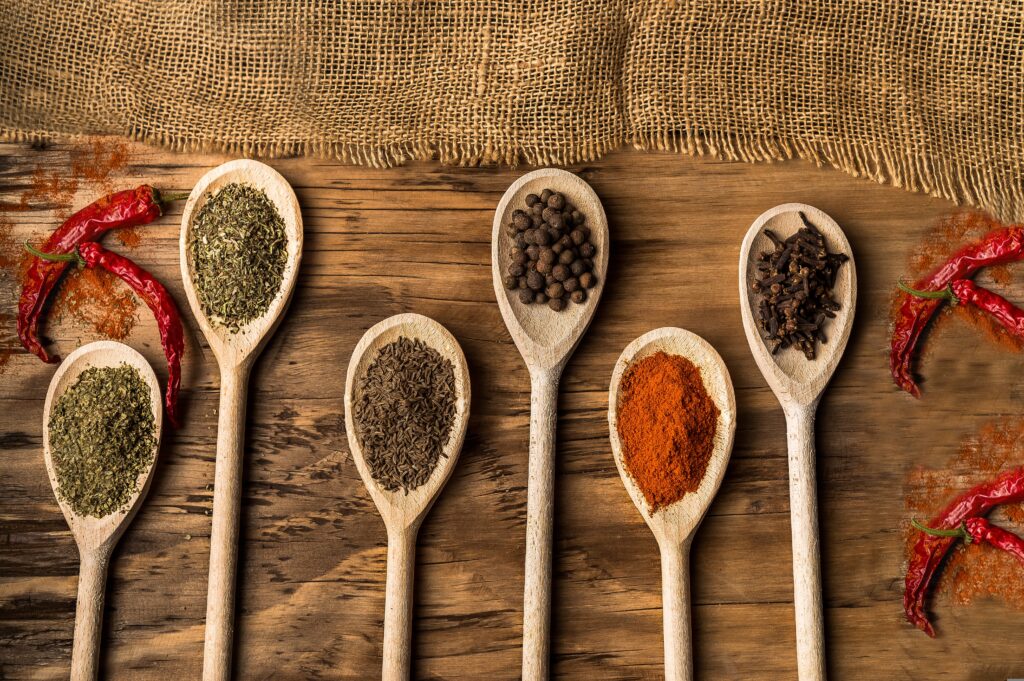 There are many options when it comes to organizing your spices, but here's our list of non-negotiables:
Optimize Your Space:
Label the top of your spices so you can keep track of inventory if using a pull-out drawer, or you can invest in an in-drawer insert that allows your spices to lay on their sides. Label the sides of your spice jars and purchase a tiered shelf or lazy Susan for easy access.
Organization 101:
Pick your organization method and run with it – whether you choose to arrange your spices alphabetically, by area of the world, how frequently you use it, or by type (such as categorizing by peppers, aromatics, herbs, warm baking spices, etc.).
Matching your jars and labels goes a long way! We recommend airtight glass jars, as they are the best option for protecting your herbs and spices by preventing premature oxygenation. Two-ounce jars that you can fit a teaspoon inside and that are small enough to encourage turnover work great.
Stocking Your Spices:
When it comes to spices, the more the merrier is not the way to go. That spice you can't remember the last time you used? Toss it. If a recipe calls for a small amount of something you don't think you'll ever use again, just skip it! We love this list of the spices you really need in your pantry from bon appétit – Check it out for some inspo on how to best stock your spice drawer.
Don't Bring The Heat:
Be cognizant of heat, as it causes spices to degrade faster than usual. Avoid making your spices' home base above your oven or near a radiator. Many people store spices on a spice rack on their kitchen counter for easy access, however this isn't ideal when the kitchen heats up. Your pantry, kitchen drawers, or a mounted shelf inside a pantry or cabinet drawer are your best options.
The Elite team recently completed a kitchen and dining room remodel for a Wyomissing client. The end result? We gave a kitchen built in 1953 an entire upgraded look, including new windows, a new door at a new location, and a re-imagined open floor plan. "It's a completely different house! I love it. It's what I always wanted since the day we moved in," exclaimed our client, Penny, when we stopped by to visit after they were settled in with their new furniture.
Josh, the Superintendent on the job said his favorite part of this project was "developing a new open floor plan while still keeping true to the 1950s architecture by keeping the curved opening of the doorway. Penny and her daughter's favorite part of their new kitchen was making the switch from an electric stove to gas because it has made cooking easier. (Bonus: There is even an air fryer in the oven!) They also love the peninsula in the new space.
A Look At The Transformation:
Here's some before and after photos of the space: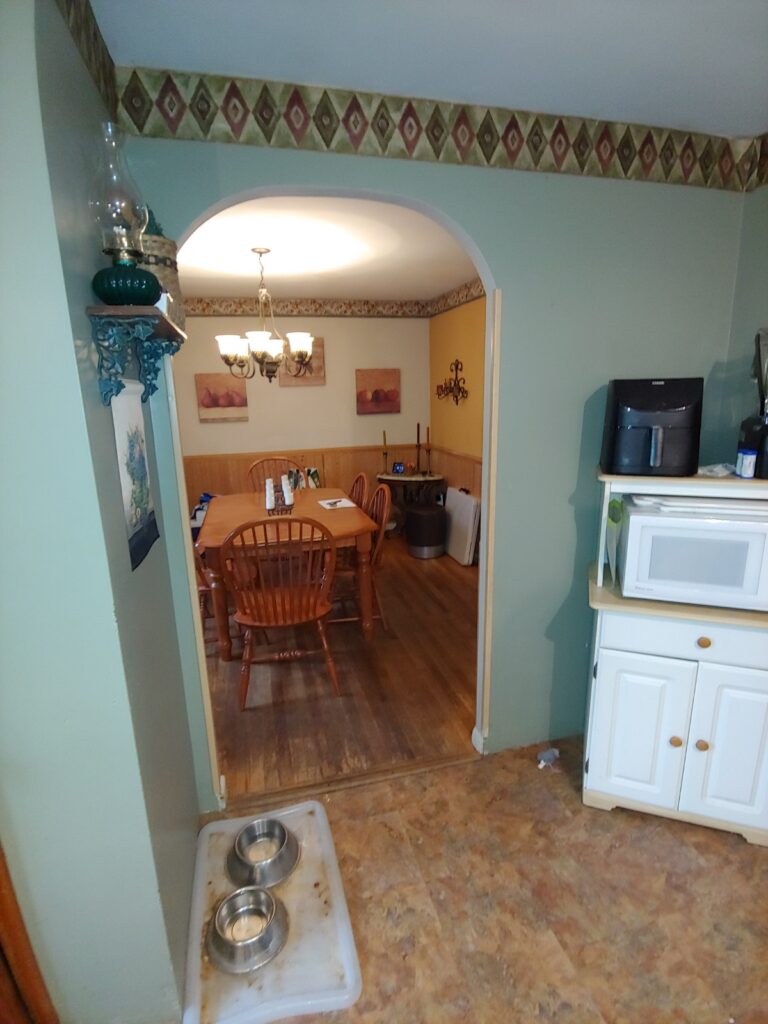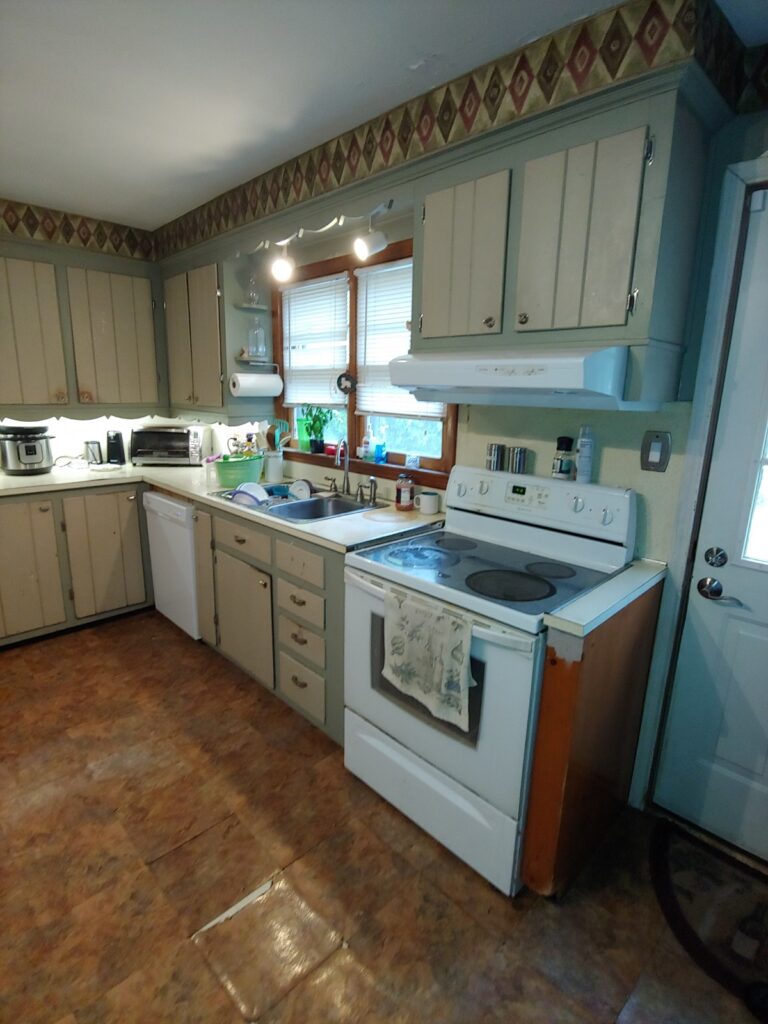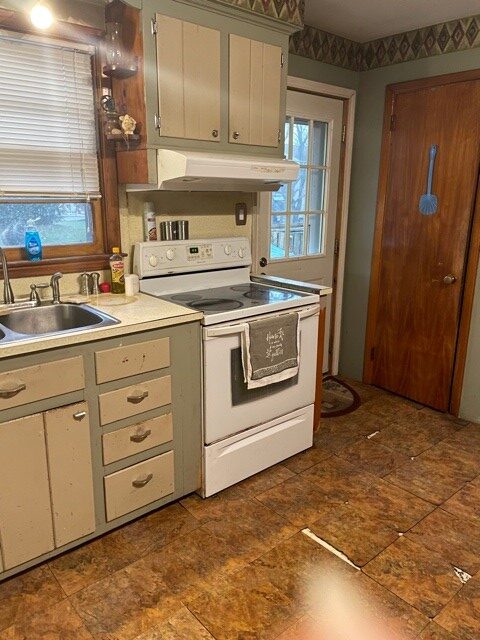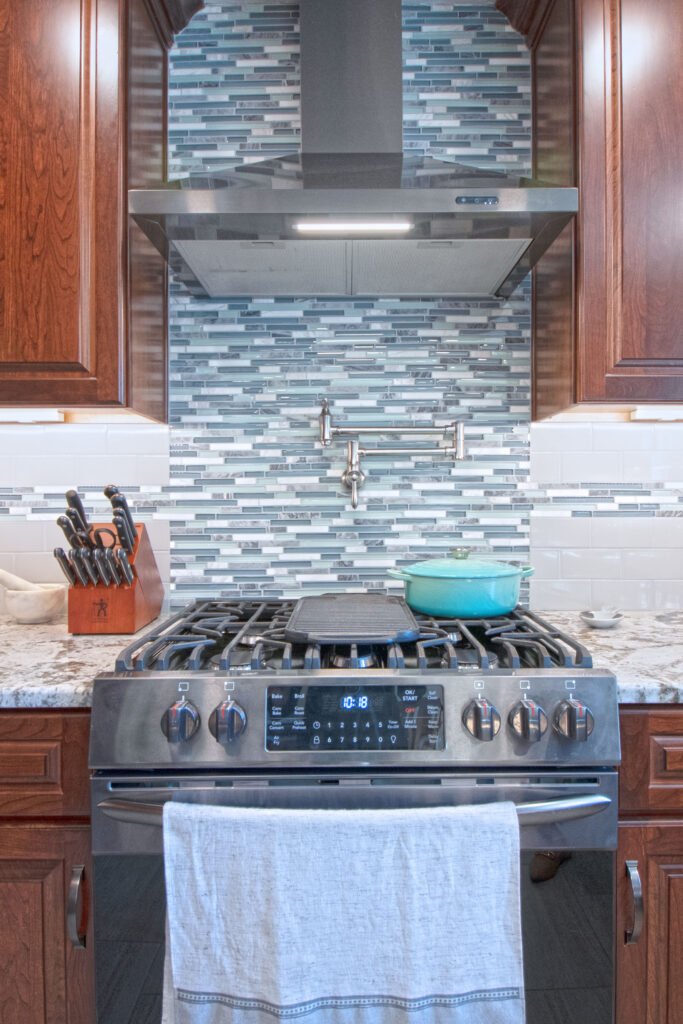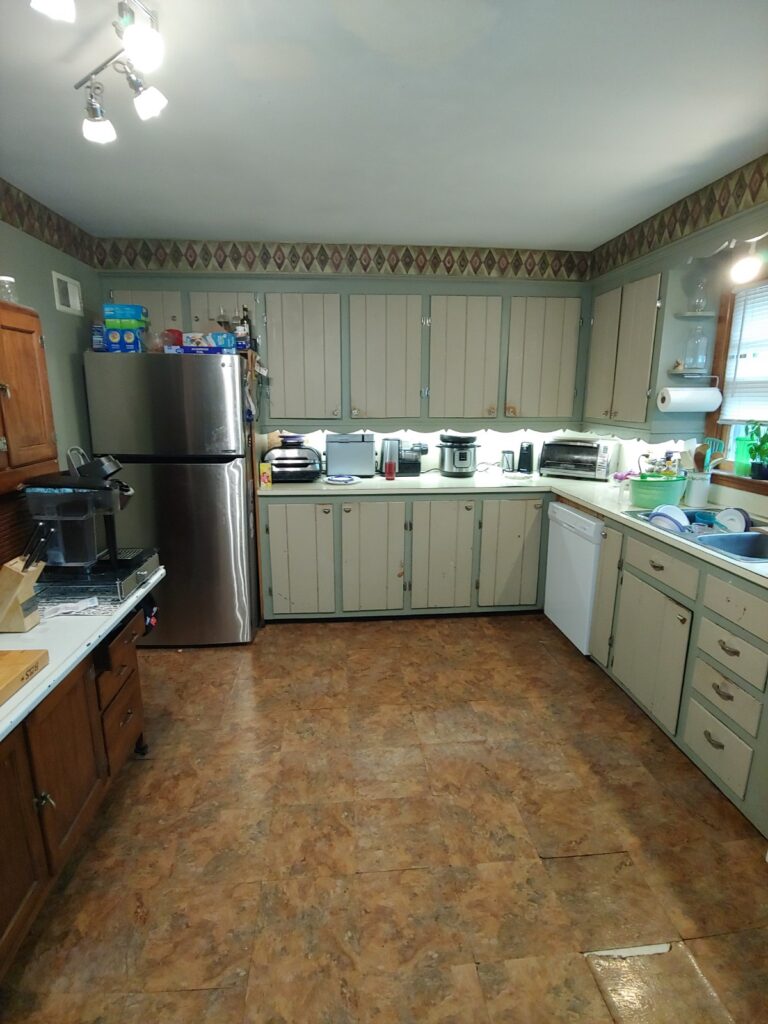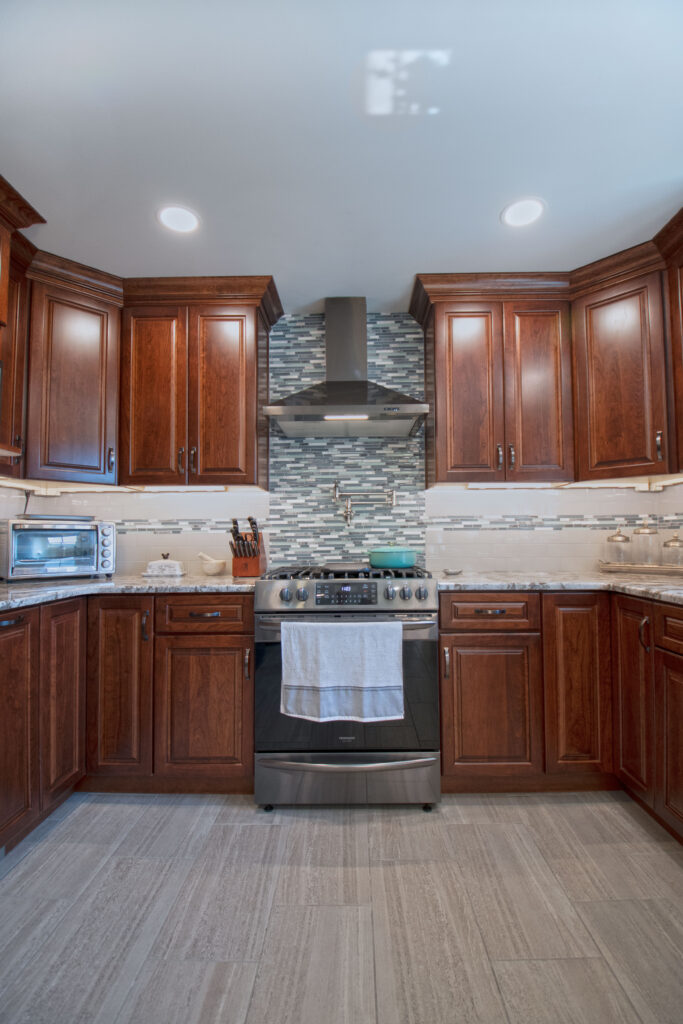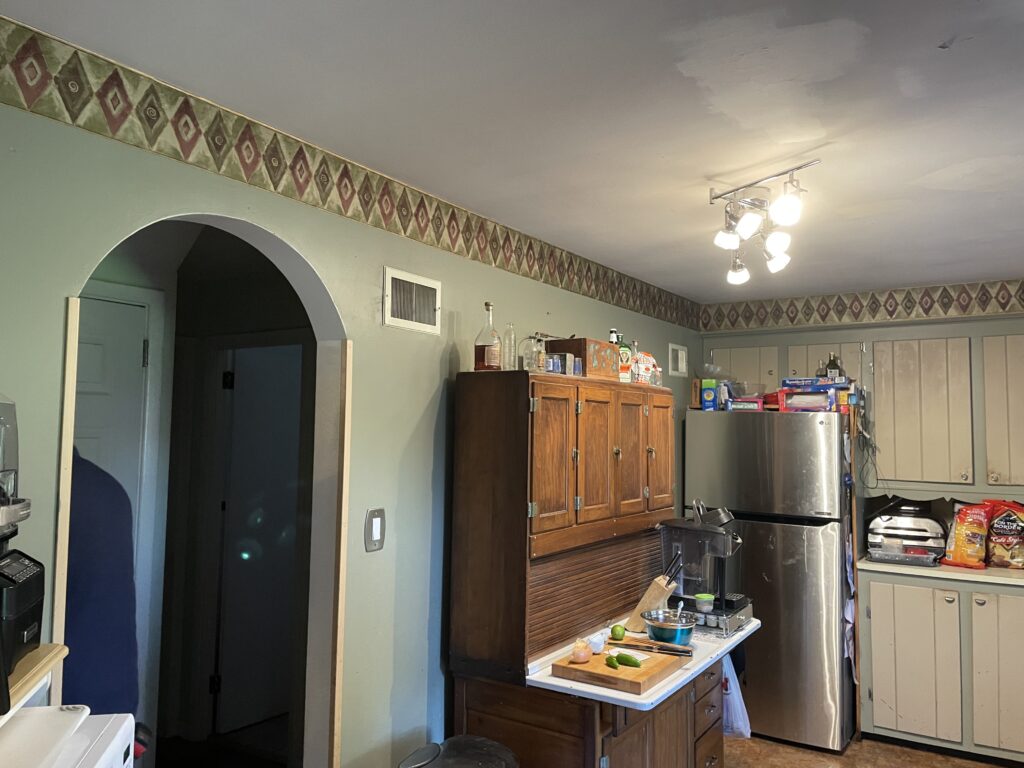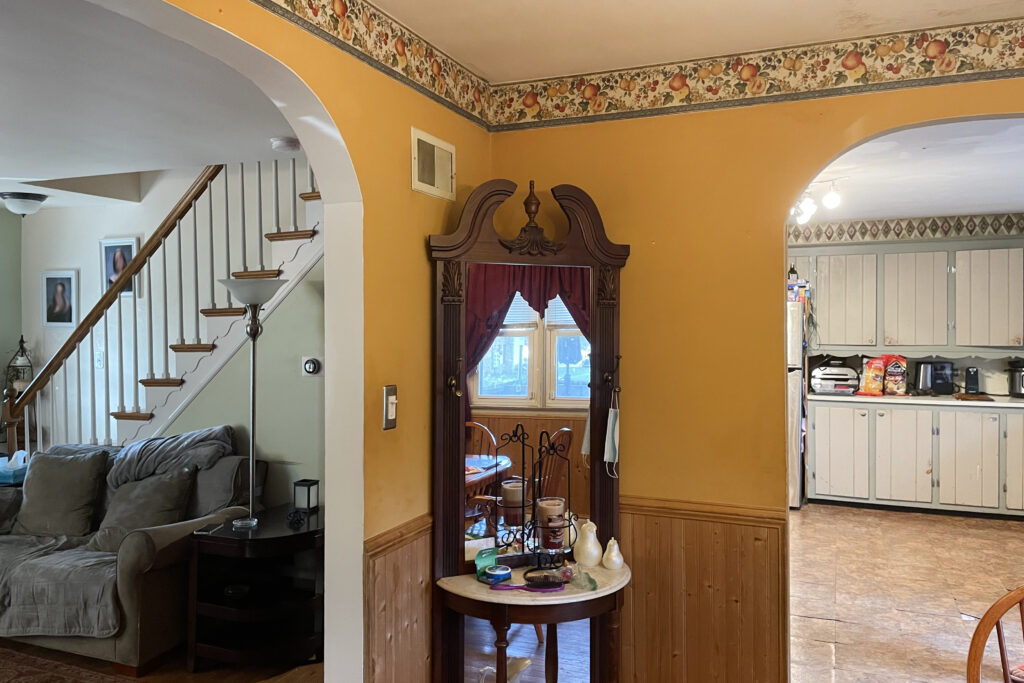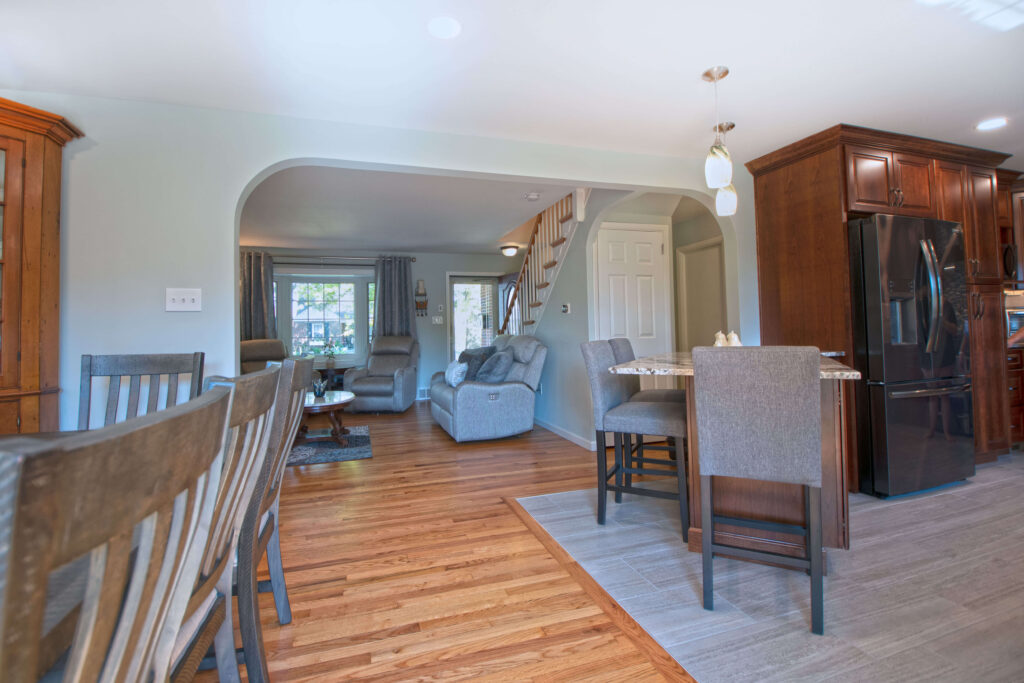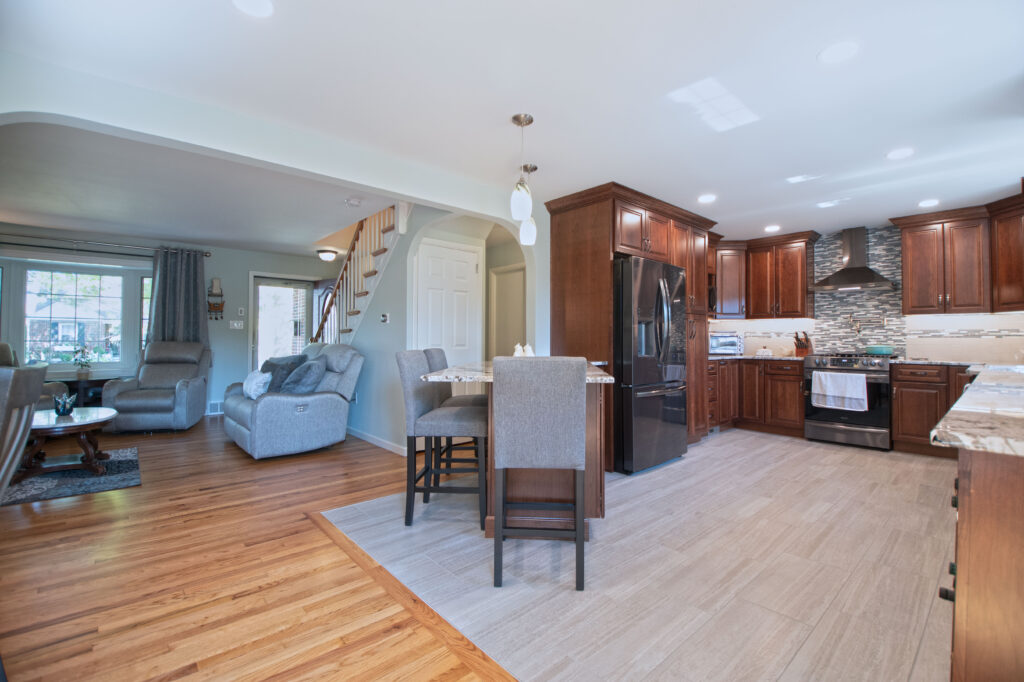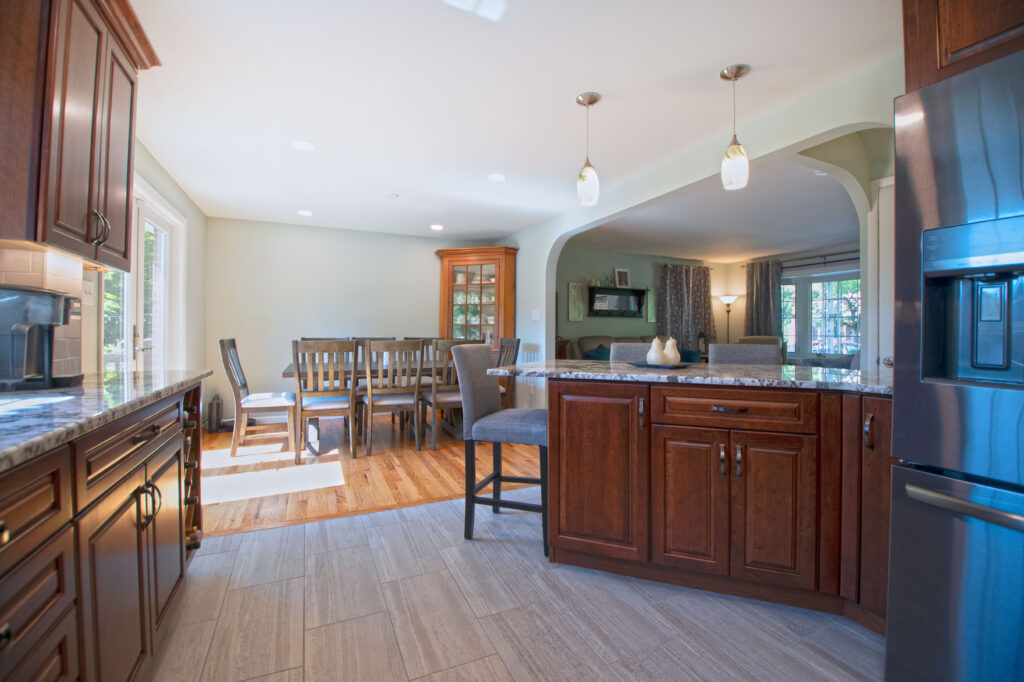 Our team opened up the dining room, living room, and kitchen area to create a more open space.
The Construction Process:
Penny and her family enjoyed watching the construction process and said that our team and Trade Partners were "nice and respectful, especially when it came to having to walk through the kitchen throughout construction." The on-site construction team would always move the plastic barriers whenever the family wanted or needed to walk through. "They were so courteous that they avoided cutting any wood, etc. and waited until we were done making our food," Penny's daughter reflects.
Our clients relied on microwave cooking and cooking on the grill throughout the course of construction. In fact, having to walk all the way around the house to get to the grill is what inspired the family to start dreaming up their next home renovation – an outdoor living project that they hope to begin with our team in Spring of 2023.
As the homeowner, Penny also appreciated how our team would always "go to bat for her to get her what they needed." That's the D&B Elite difference.
Now Get The Look:
Here's a look at some of our trusted Trade Partners who helped bring this vision to life: Flooring and tile backsplash from About All Floors, Granite Countertops from AAA Hellenic Marble, cabinetry was completed by Swartz Kitchens & Baths, and plumbing fixtures from Weinstein Reading.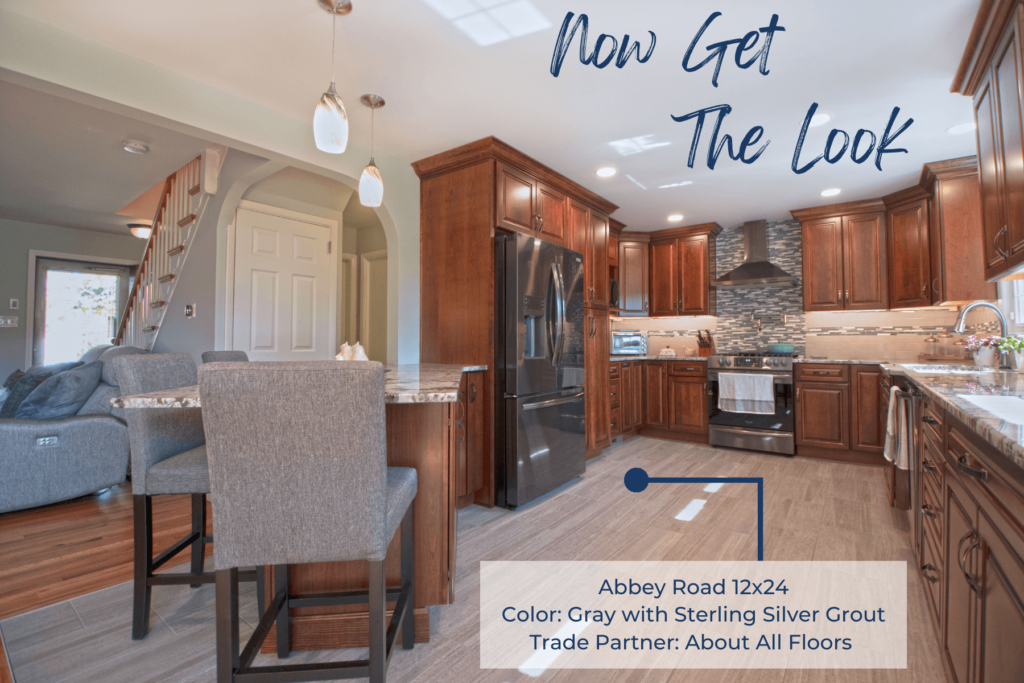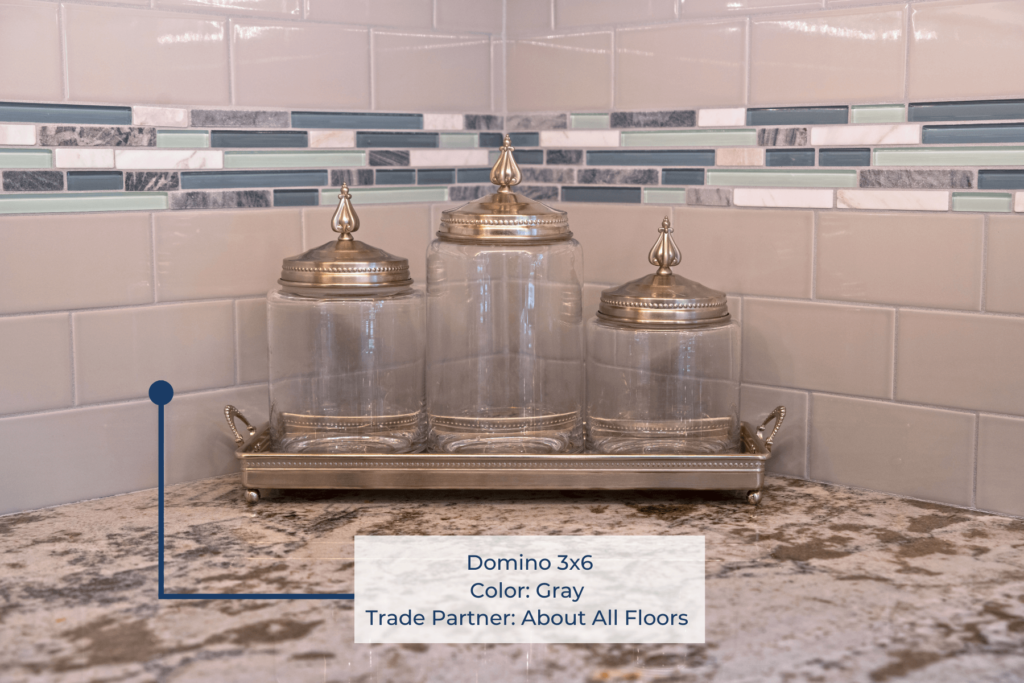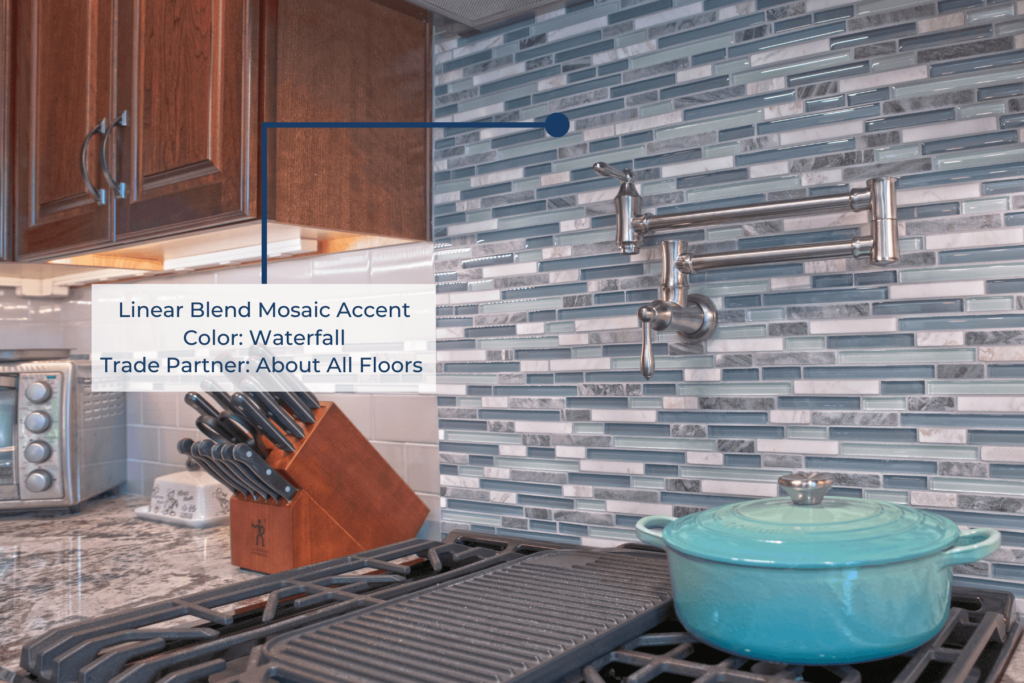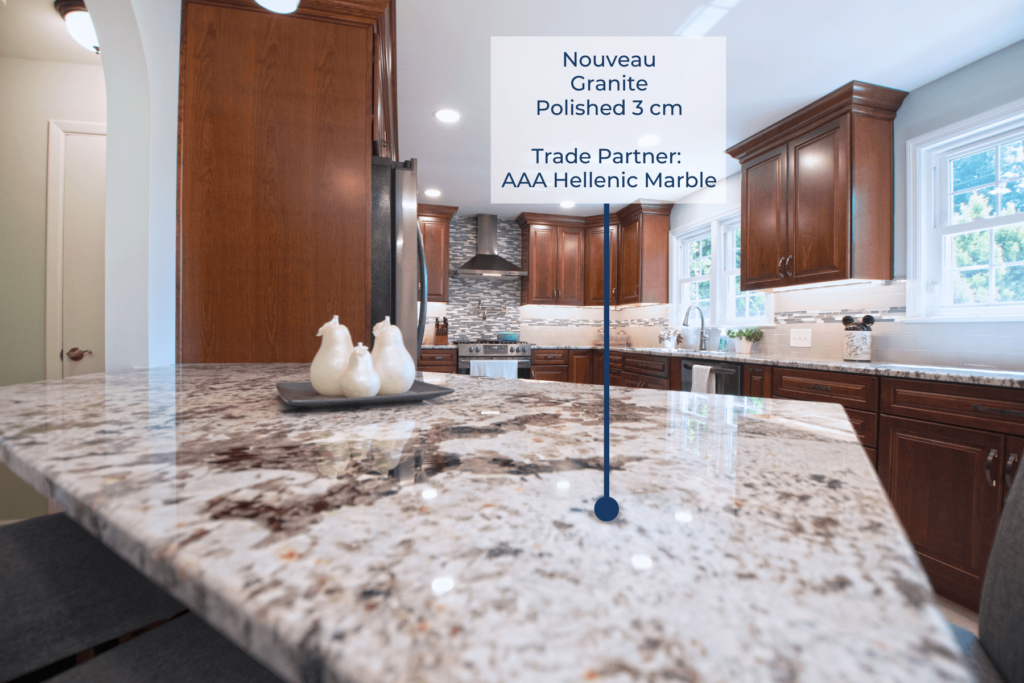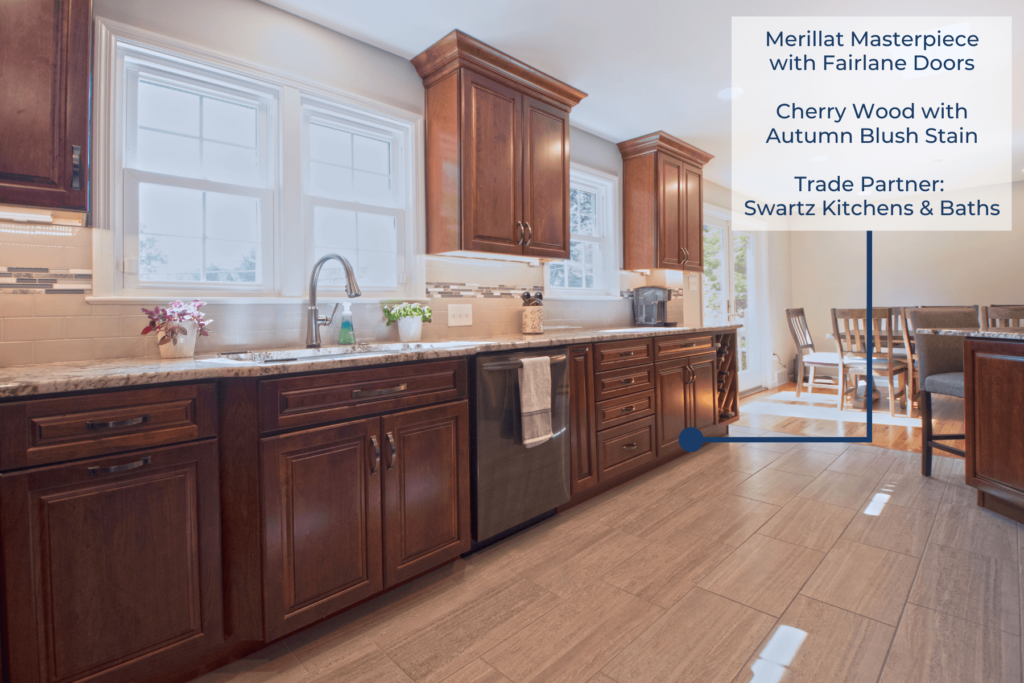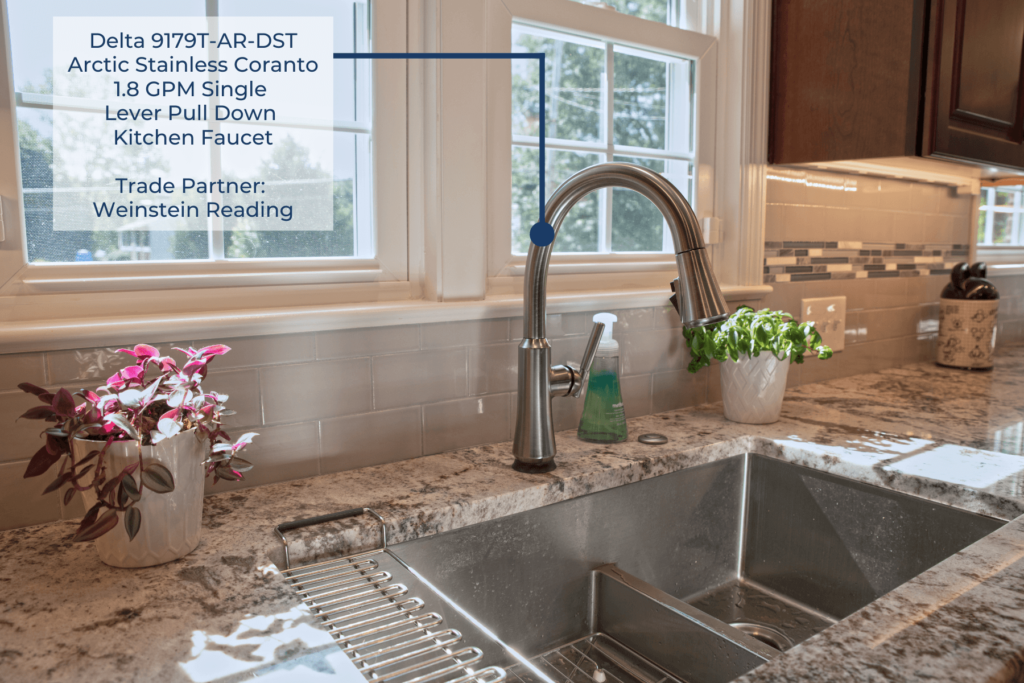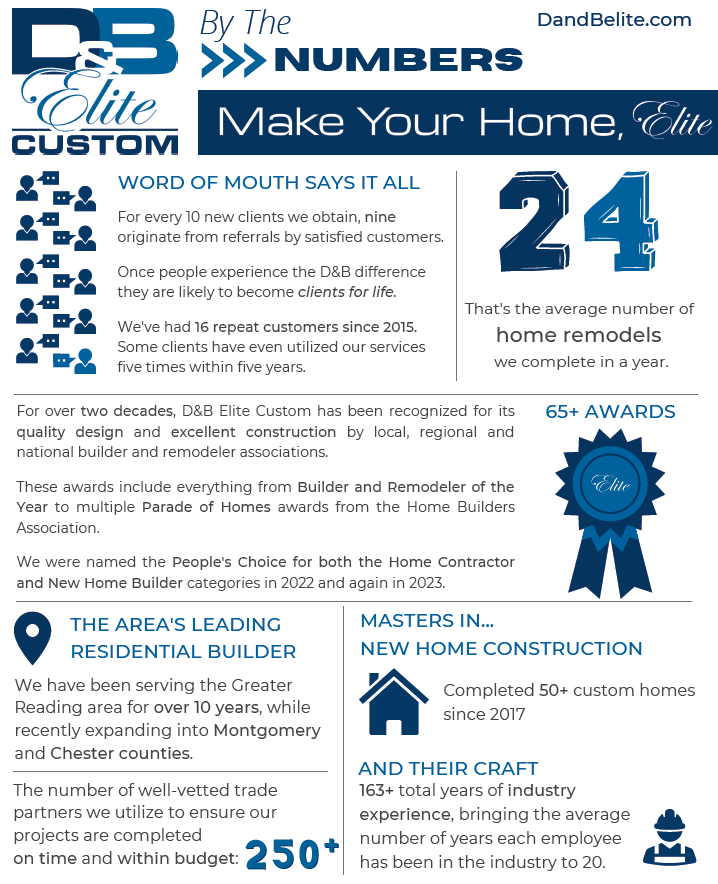 Many studies over the last several decades have shown that most seniors (ages 65+) prefer the idea of aging in their own home – or aging in place – rather than moving into a nursing home. Research indicates that the majority of seniors (about 94%) still wish to stay in their home as long as they are able. It's no secret that Covid-19 has likely strengthened the desire seniors have to age in place. With the change in "life as we knew it" since March of 2020, we couldn't help but wonder how Covid-19 may have affected the elderly's living landscape now and into the future.
This was the case for D&B Elite Custom clients, Janet and John, whose parents/in-laws decided to age in place by adding an addition to the couple's home. "We sat down with my father David to talk about options since the current plan of just taking care of Mom himself at their own home was no longer adequate," reflects Janet. Although Janet's father had been leaning towards moving into a senior living facility, his mind was swayed after the pandemic hit.
Janet reflected on the positive impact that aging in place had on her father: "It gave him a sense of ownership and privacy. He knows his money paid for the addition. For him that was a plus. My Dad made a business decision to sell his home and build something smaller onto our house. He knew he came out ahead financially, which gave him a sense of ownership and a boost." Hear more from the family about their experience adding an addition here!
In a senior living facility, you're not gaining a sense of ownership. Meanwhile, the way the addition was constructed allows Janet's father to feel that he still has his own home. He can come and go using his own walkway, and he can sit outside on his own porch with his wife. All of these actions give him a sense of privacy and strong sense of identity, allowing the couple to be who they are while still having the overall safety needed.
According to a Pew Research study, "living with an extended circle of relatives is the most common type of household arrangement for older people around the world. But in the United States, older people are far less likely to live this way – and far more likely to live alone or with only a spouse or partner." However, the pandemic may be changing these views in the United States. More families may be inclined to take in their seniors rather than putting them in senior facility homes. According to a Forbes article, students in a School of Aging Studies class at the University of Maryland Baltimore County gave their opinions on what they would do with their families' living situation in the future based on Covid-19: "More families will think about adapting their houses and lifestyle to accommodate older people living with them because living in those nursing facilities is risky." There are a scattering amount of home improvements that prove to be worth adding to your home to accommodate seniors. Improvements are not only for your parents, but are for yourself as you continue to age. Instead of looking into a retirement community or nursing home, consider making your home suitable for the needs that one develops as they age.
Ways to Accommodate Your Home to be Forever not Just Temporary:
– Install electronic stair lifts if you have more than one floor or a basement
– Improve sidewalks and pathways to ensure they are flat and have a ramp if needed for wheelchair accessibility
– Update your floor
Replace carpet with hardwood floor to make it easier to move around with a wheelchair
Widening your doorways for wheelchair and walker access
Putting all essential rooms on the first floor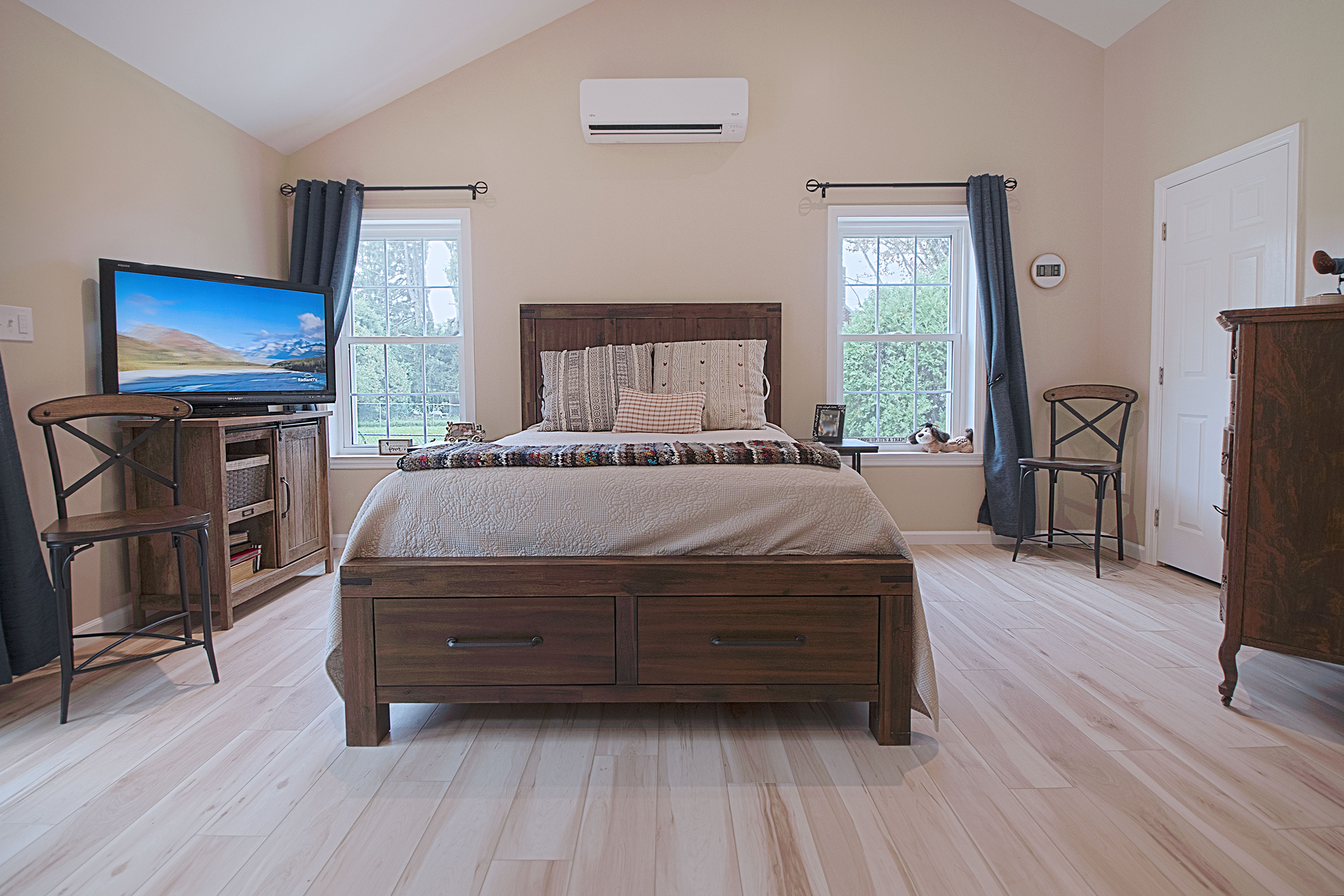 – Replace toilet
A raised toilet seat alleviates pain and makes it easier for aging adults
– Replace bathtub with walk-in shower to provide an easier and safer entry and exit
Add grab bars (horizontal and even small vertical ones)
Add shower chairs
Extendable shower head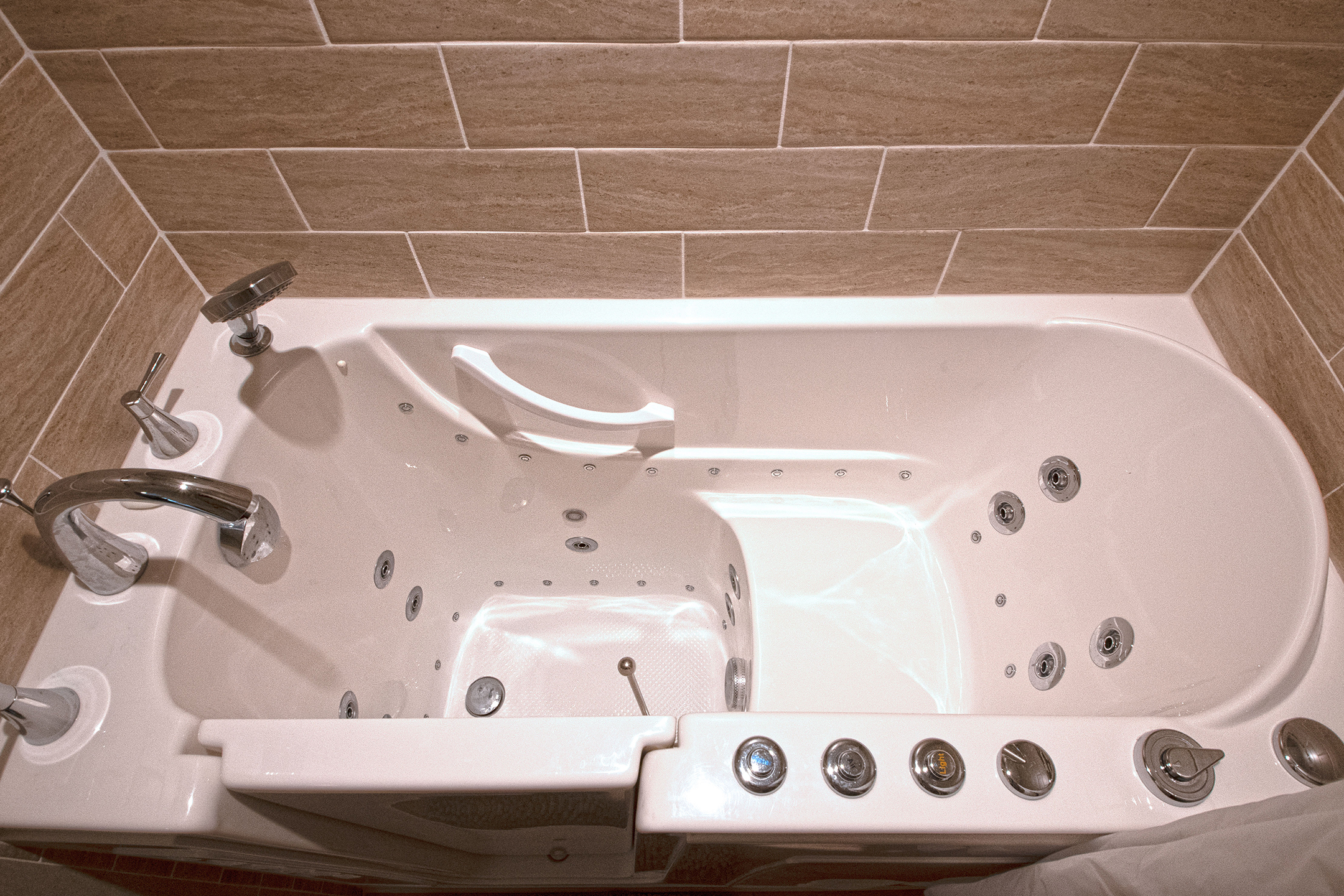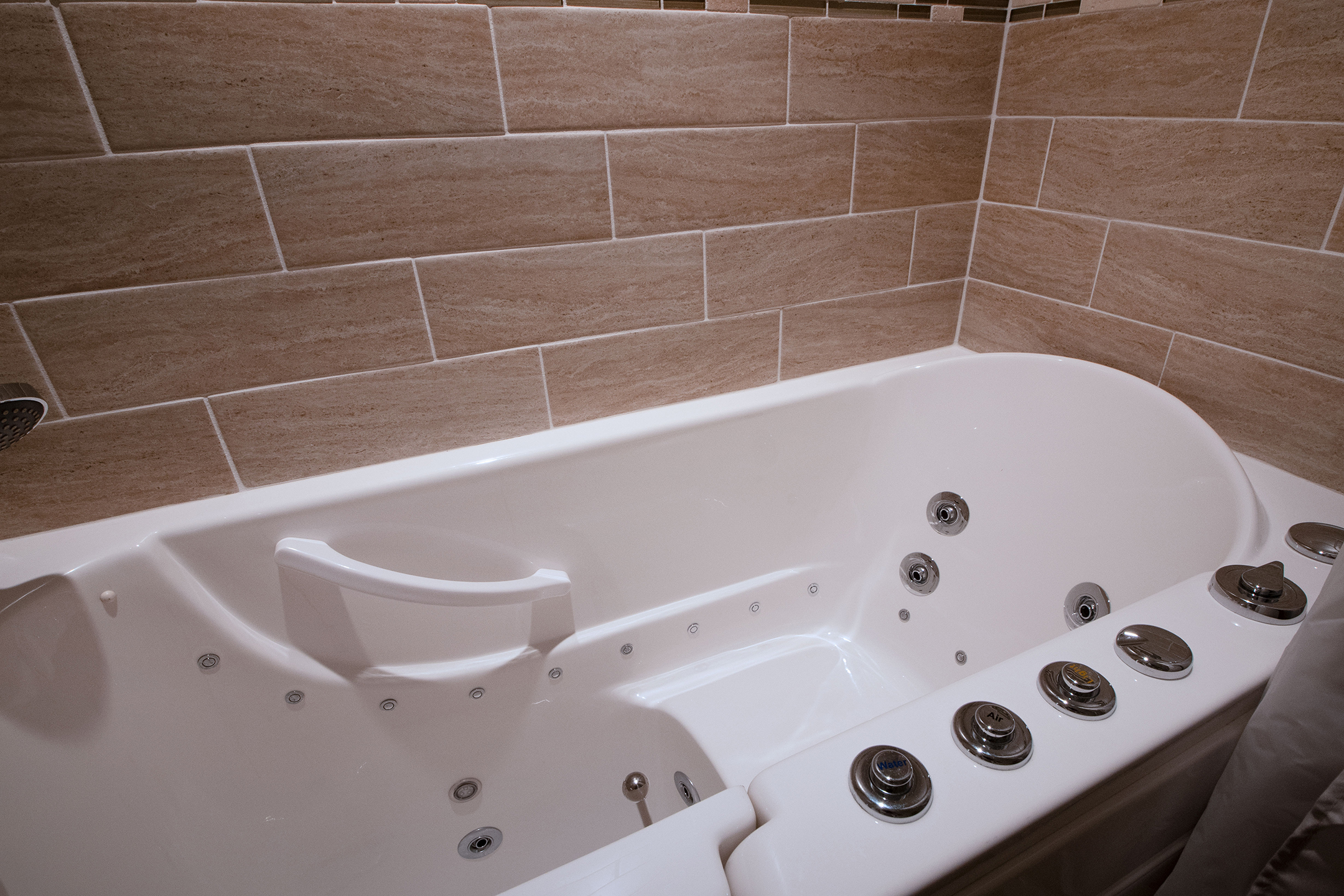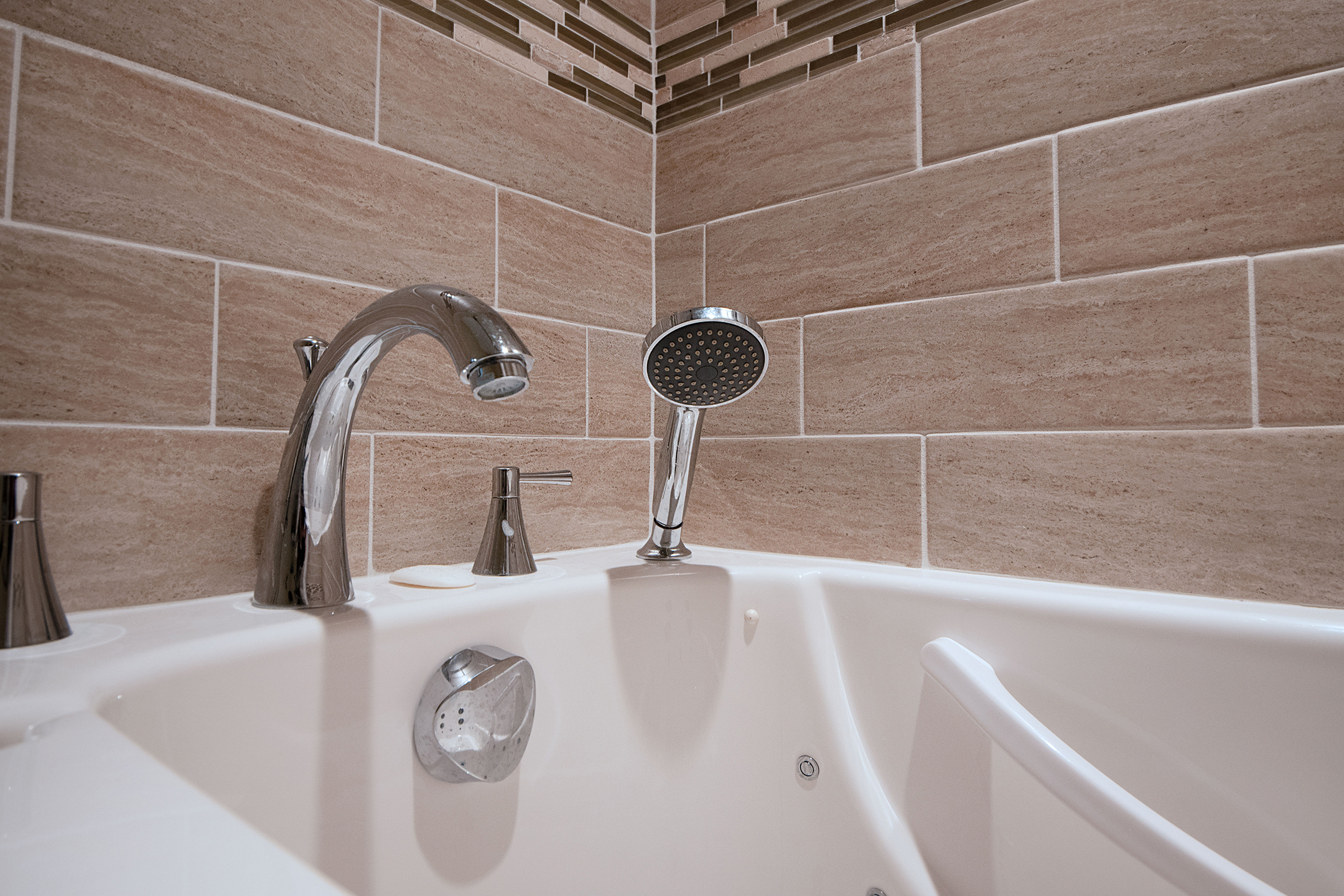 – Remote control lighting
This keeps areas accessible with easy access
– Easy thresholds and transitions
Increases safety for those with difficulty walking, walkers or wheelchairs
– Open floorplan
Easy to get around, especially if wheelchairs are needed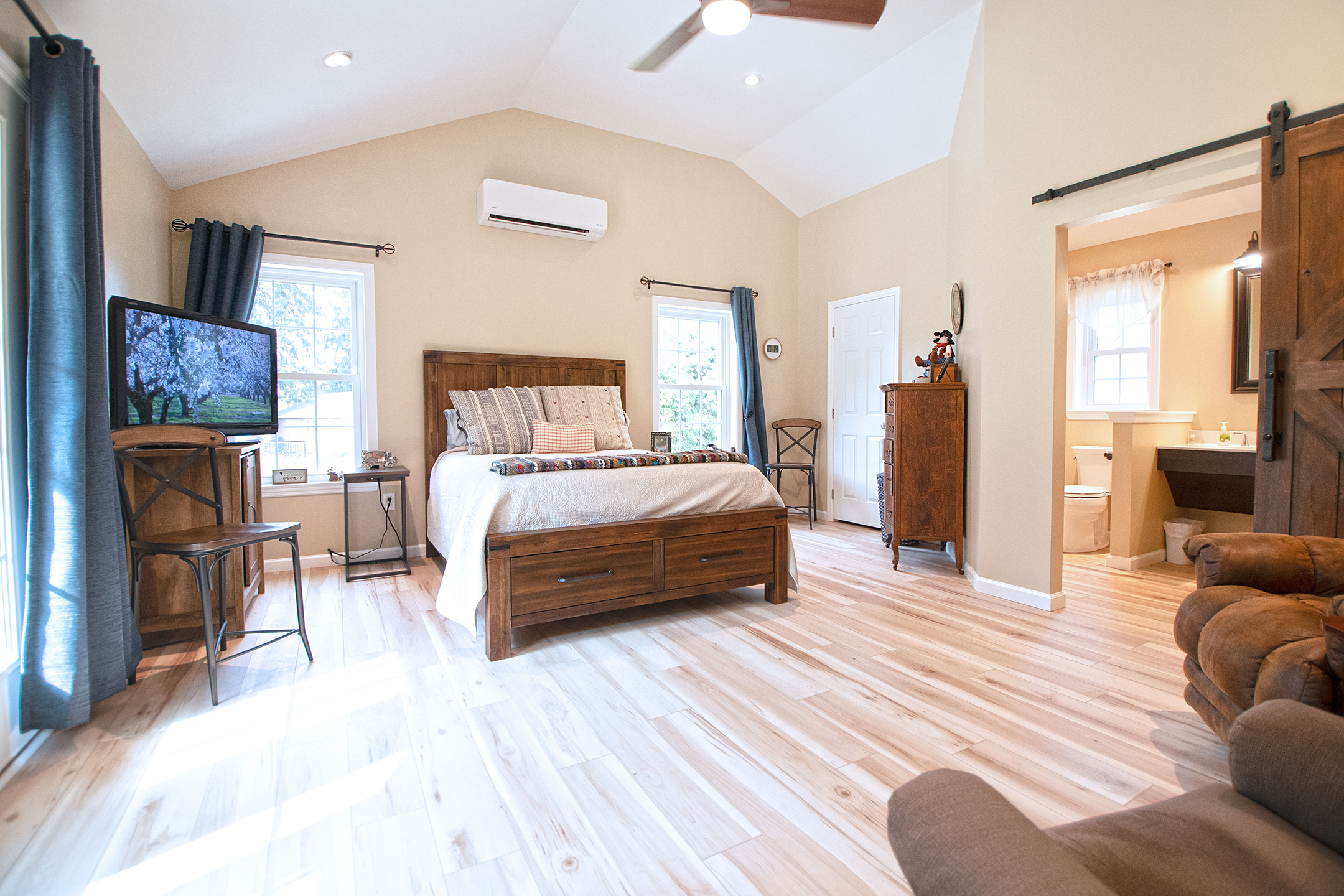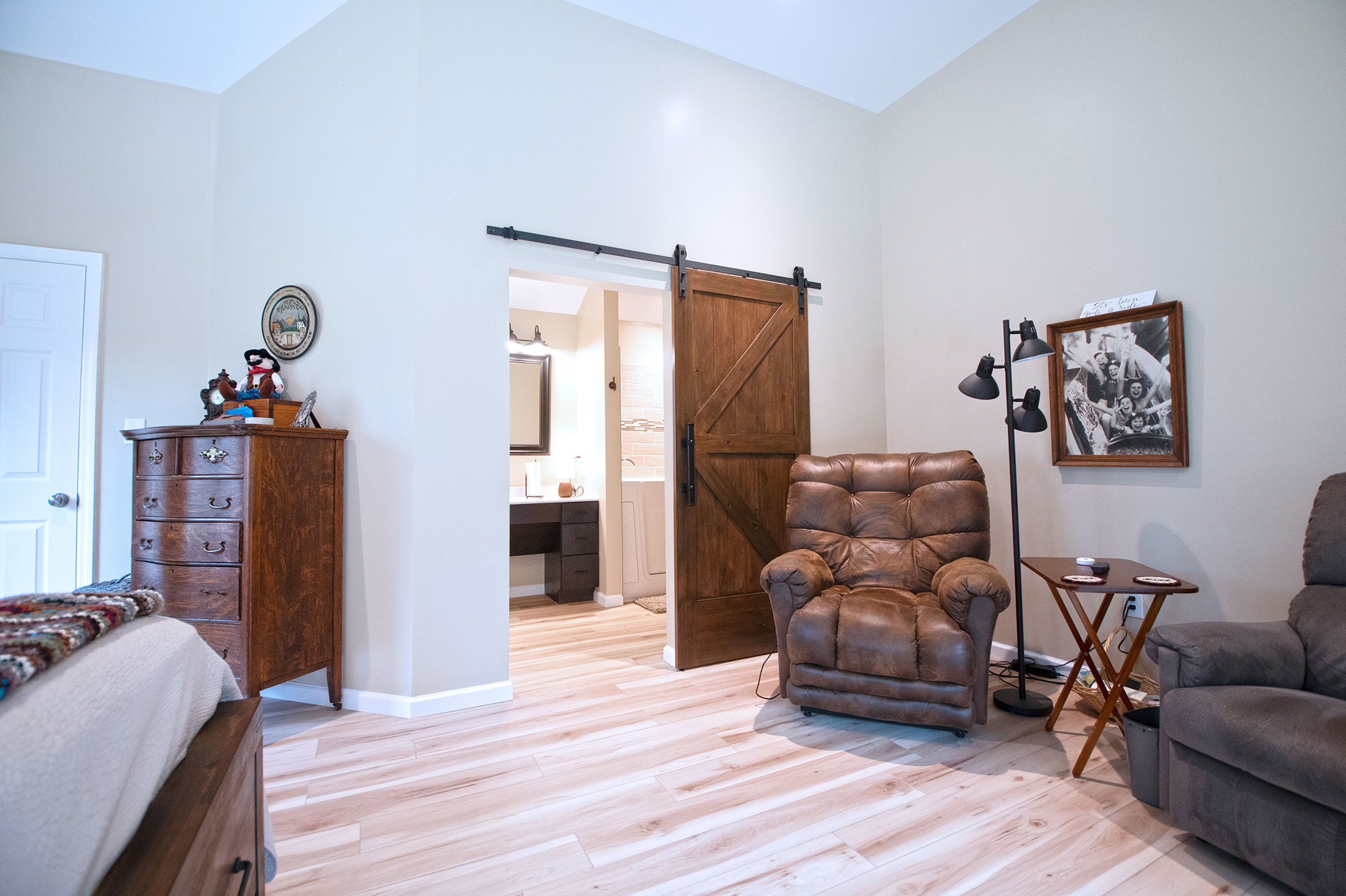 – Install a main floor drain and no-slip materials on floor
– Make simple purchases to enhance safety around your home
Our client purchased a safety mat so they can receive an alert every time their elders go in and out of the door. The mat includes a cordless alarm so they can know when they are entering and exiting without being in their personal space.
Always consider lighting. Adding nightlights to areas such as the bathroom, bedroom, and hallway are an easy way to ensure safety when moving around at night.
As a result of the pandemic, many families are more cautious when it comes to housing their elderly loved ones in a nursing home. The fear of them becoming ill couples with the fear of possibly not being able to see their loved ones if quarantining is needed. According to Home Advisor's True Cost Guide, "it is typically cheaper to build an addition than to buy or build a new home." John explained that for his family it was cheaper to add an addition instead of building another home close to them. Hear from John and Janet on what their experience was like working with the Elite team here!
Learn more about additions here on our website. With five currently in the works for this year, we have a handful of tips to offer, so reach out today for your free consultation!
Construction on your home is an inconvenience – we get that. Unforeseen issues will inevitably arise. As our Vice President of Residential Construction, Larry Adam, says, "A project well planned is a project half complete." Here's five tips on how to streamline your home remodel project:
Timing is everything!
Plan ahead (especially with current extended lead times, supply chain difficulties, and wait on inventory). If you want to enjoy a new outdoor living space by next Summer, you should really be starting today.
Be prepared with an idea board.
Houzz and Pinterest are great places to gather inspiration of the style, look, and feel you are going for.
Look for a general contractor that follows a pre-construction process focused on value engineering.
This will get you quality work on time and within budget. A builder that is willing to start active construction right away without ensuring every little detail of your project is thought of may be a red flag. They should be completing a pre-construction walk through to review points of access, location of dust protection and more to ease the process.
Be realistic when it comes to financials (unlike the budgets you see on HGTV!)
A good construction partner will advise you on where you can adjust specifications to save money. They will help you come up with a plan that gets the look you desire to fit within a reasonable budget.
Ask how involved all vendors and trades will be in your project.
Your general contractor should be making them a key part of the process. They should have an intimate knowledge of your project before they meet you. This makes all the difference.
Meeting selection deadlines will make a project run smoothly without delays.
Look for a construction partner that makes a point to clearly communicate and invests in construction management software to help manage project selections and deadlines.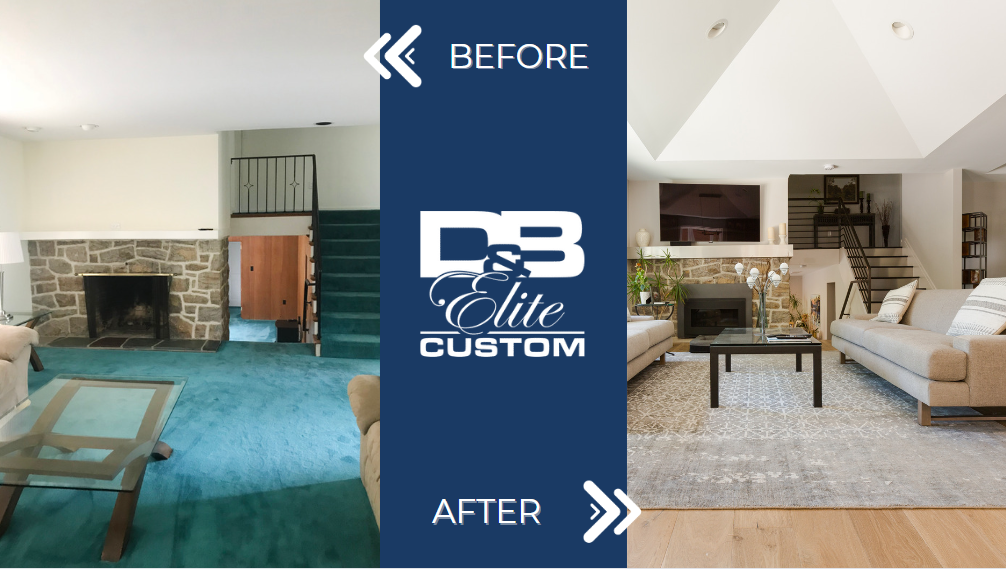 Learn more about floor plan remodels here!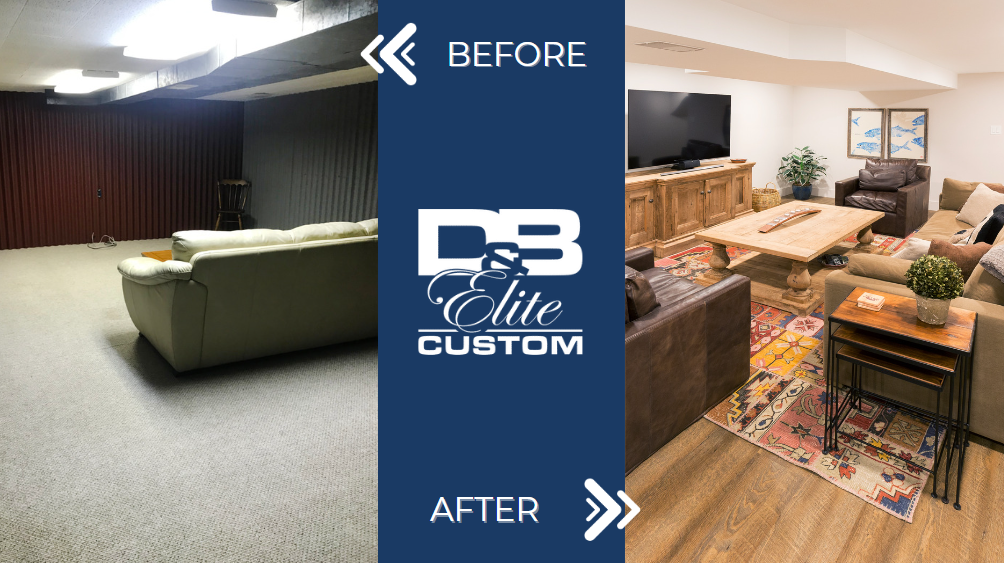 Learn more about Basement renovations here!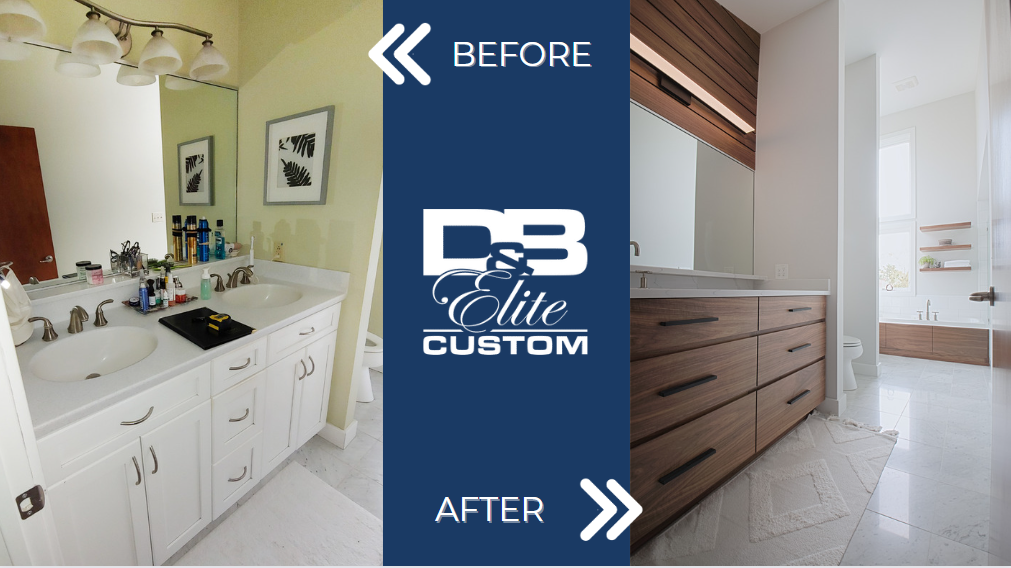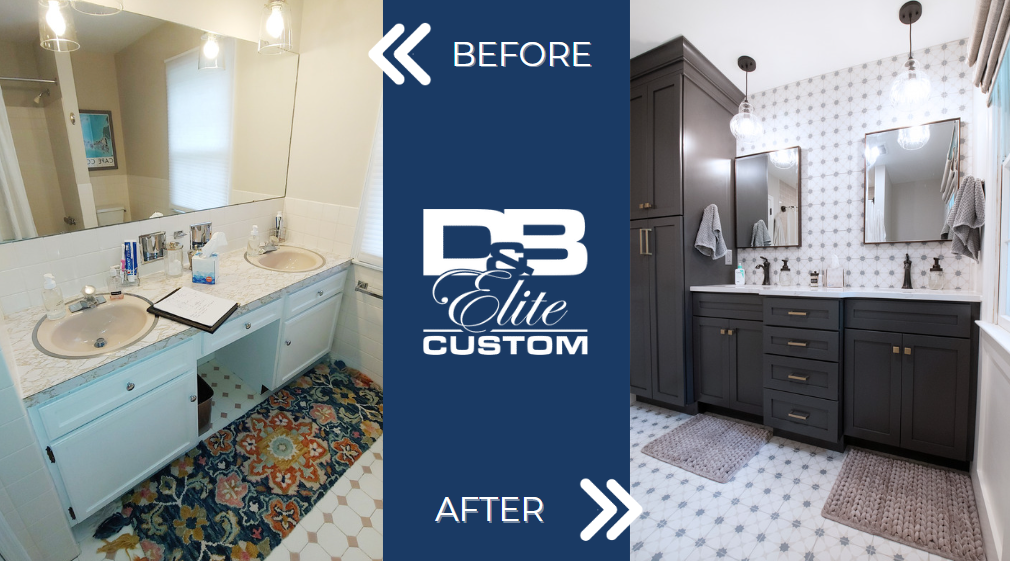 Learn more about Bathroom renovations here!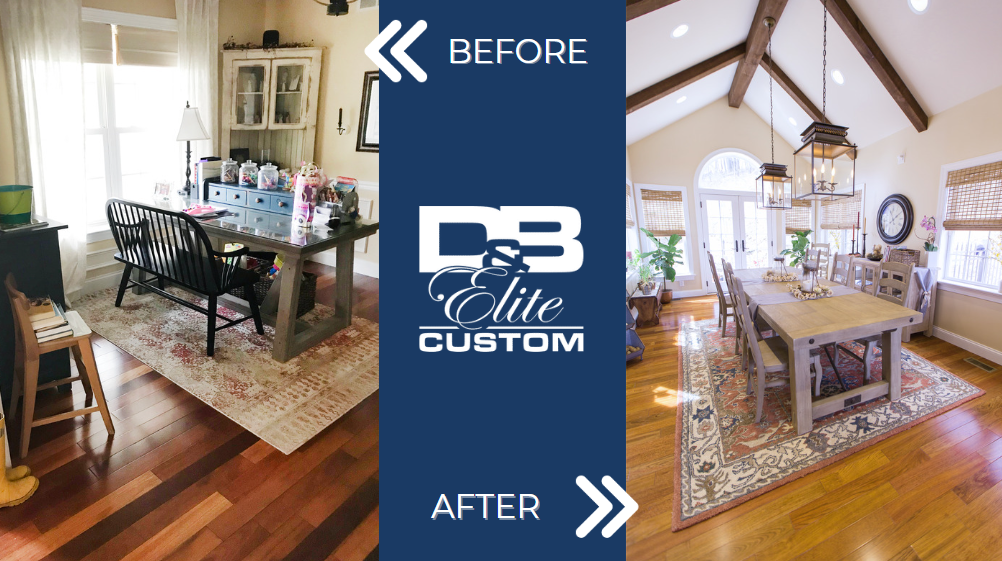 Learn more about Kitchen renovations here!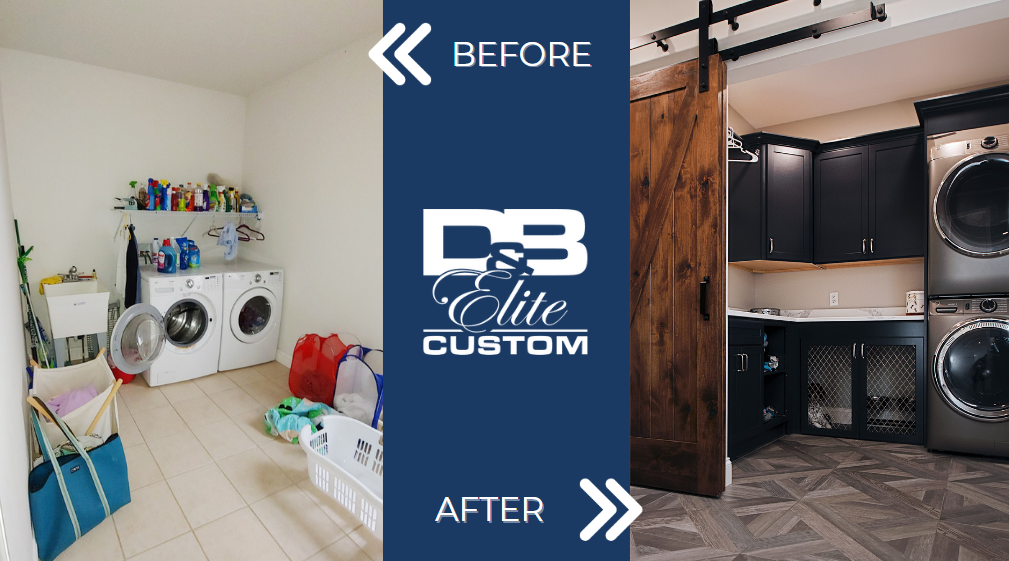 Learn about other specialty areas of the home here!
Contact D&B Elite Custom for your free consultation today! See why we were named 2022 People's Choice in Home Contractor and New Home Builder.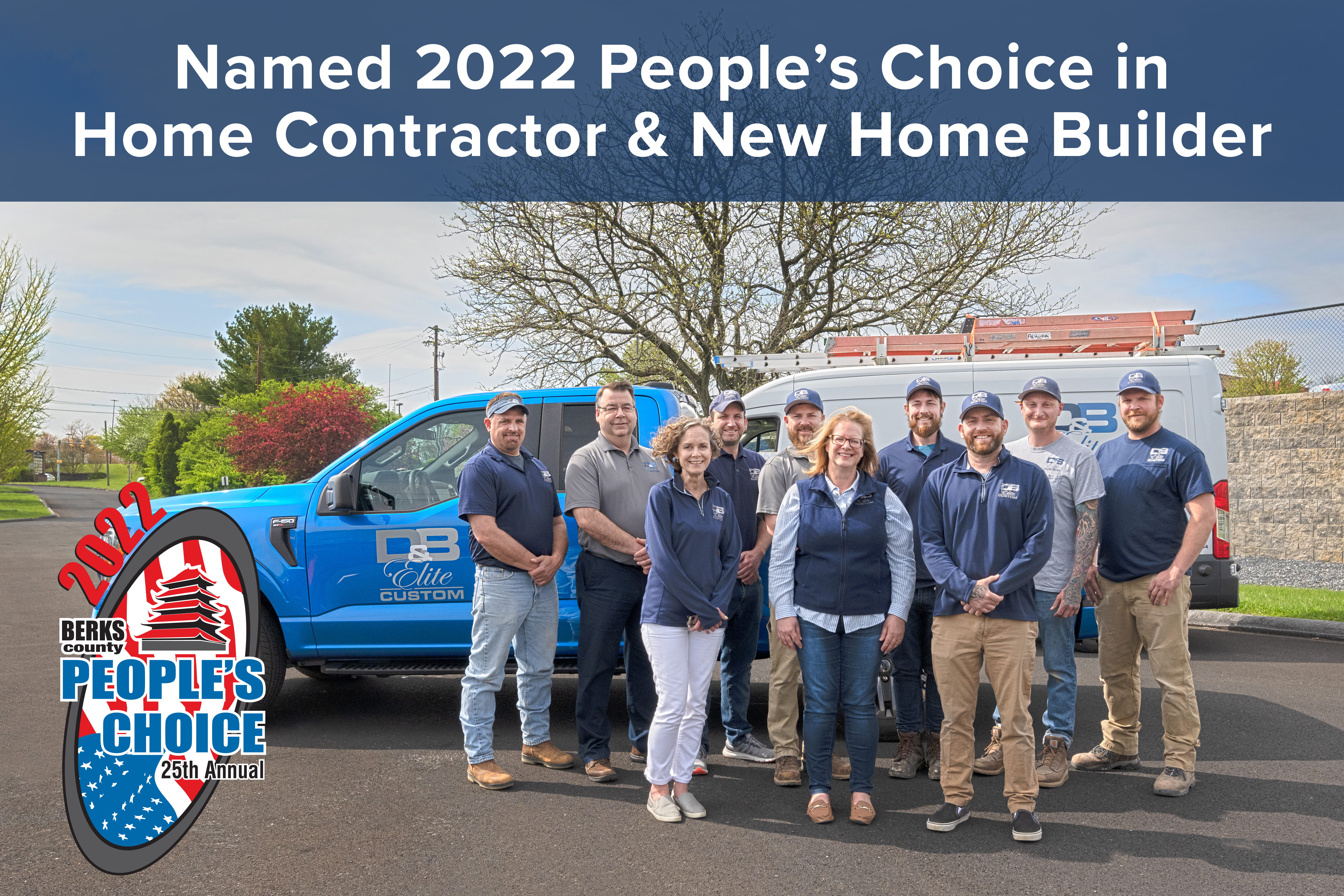 Did you know that major kitchen remodels are on the rise? Hiring kitchen renovation professionals has jumped to 89% in 2021, its highest level in four years! If you are also in the market for a major kitchen remodel this year, be sure to check out Houzz's Kitchen Trend Study for 2022. This report compiles findings from a survey of 2,380 U.S. homeowners who either recently completed a kitchen renovation or are in the planning stages with one. The 39-page report goes in-depth with many trends. We've summarized the biggest takeaways below for those crunched on time.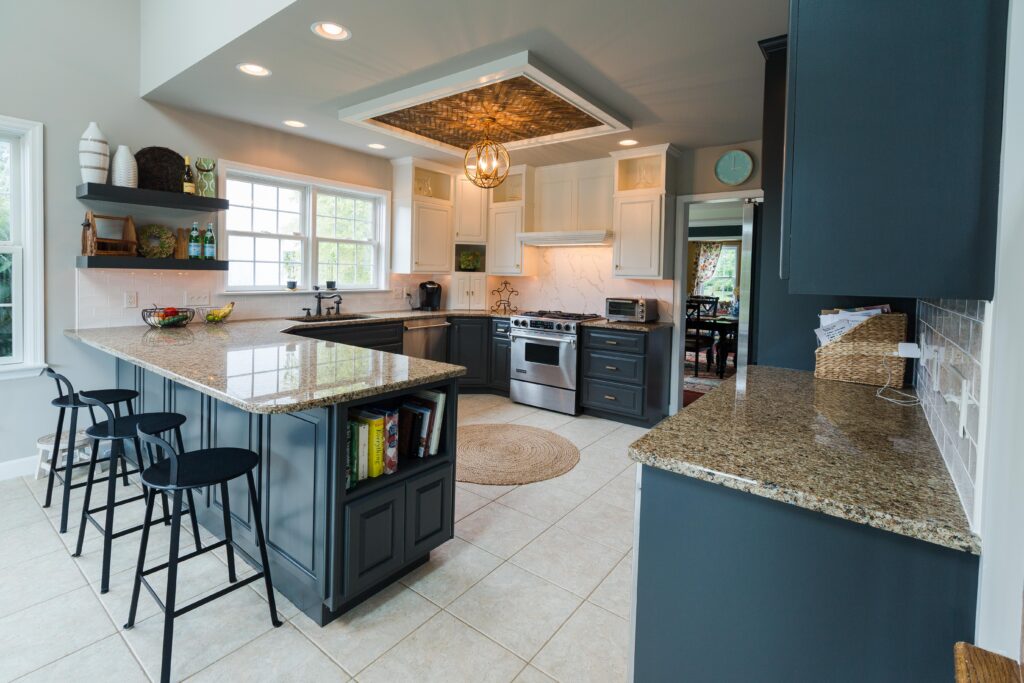 Let's Talk Kitchen Countertops:
The study revealed that more than one-third of homeowners reportedly splurged on countertops (35%). The most common feature improved during kitchen renovations, countertops were upgraded by more than nine in 10 homeowners (91%).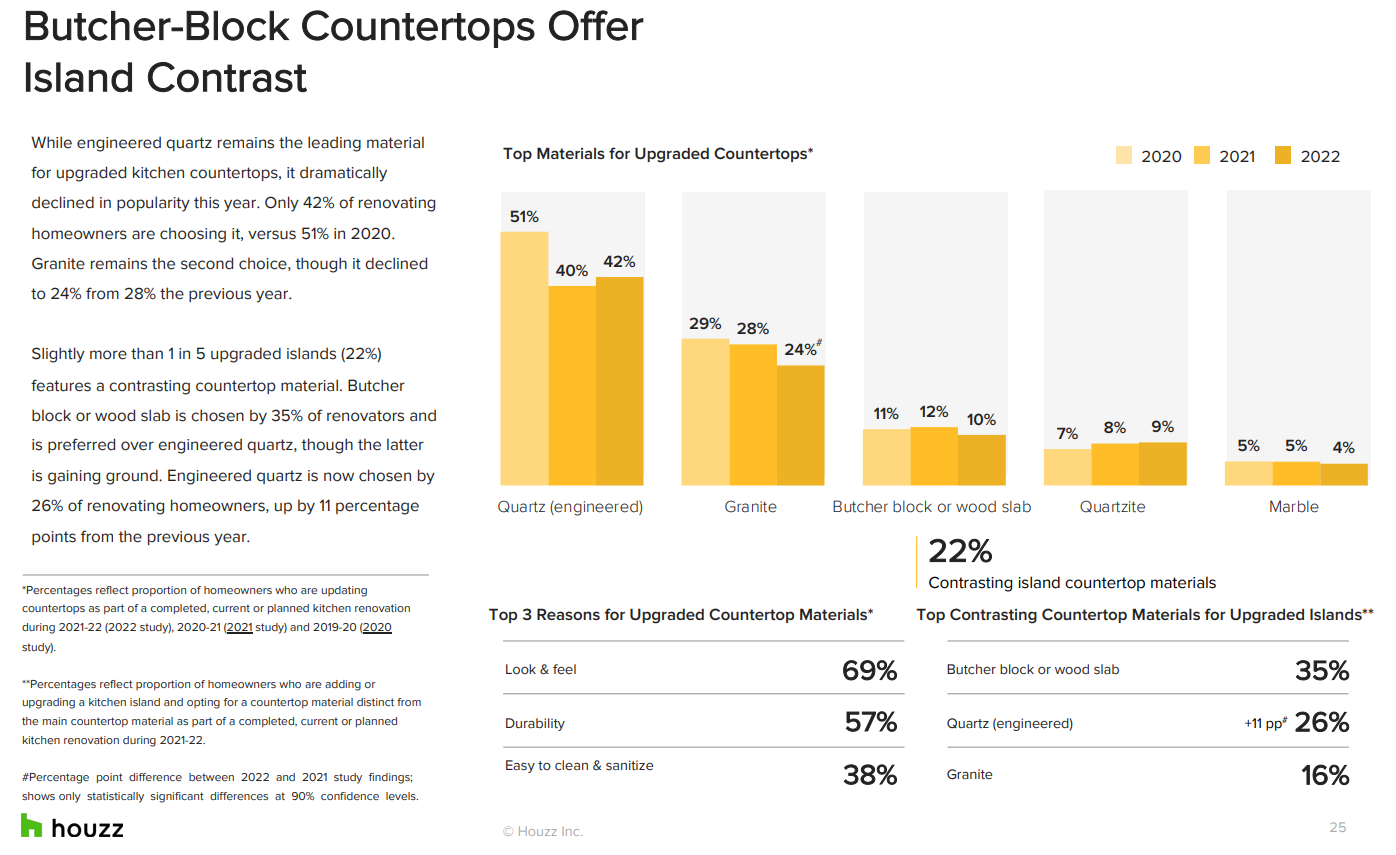 When it comes to countertops, there are so many options! These options can get overwhelming since the material you choose not only impacts aesthetics but the functionality of your kitchen (not to mention your budget, too). Did you know that more than one in three (35%) of renovating homeowners who are upgrading their kitchen reported that they decided to spend significantly more than originally planned and "splurge" on new countertops? The D&B Elite team is here to help! Below are some of the most popular choices and some pros and cons to each to help you weigh your options:
Engineered Quartz
Although this material remains number one in choice for upgrading kitchen countertops, according to the Houzz survey "it dramatically declined in popularity this year" with only 42% of renovating homeowners choosing quartz (down from 51% in 2020). Quartz is an engineered stone containing up to 93% quartz particles and other materials. It is then shaped into slabs and bound with resins. Quartz was engineered to make a more adaptable alternative to granite and marble. It's easy to see why quartz has been the #1 choice time and time again in this study, as its pros far outweigh its cons.
Pros: It's nonporous surface resists staining and scratching, it's available in a larger range of colors than granite, it's easy to maintain and no sealing is required, it's impervious to heat and acid, the slabs are uniform with no imperfections, DIY installation is possible, and it can be custom-fabricated into any shape or size
Cons: It is expensive and creates heavy countertops
Granite
Granite's sleek and elegant look speaks for itself on why it remains the second preferred choice. Here are some pros and cons of this material:
Pros: Strong and durable, adds real estate value to your home, almost impervious to heat, almost 3,000 different variants and colors are available, and it's nearly maintenance-free when treated with newer sealers
Cons: Very expensive material, not suitable for DIY installation, slabs may have imperfections, may crack if stressed / improperly installed, if you cut directly on granite your knives will dull quickly, and this stone is porous and requires sealing to avoid stains
Butcher Block or Wood Slab
Butcher block / wood slabs have rose in popularity this year (increasing from 10% to 12%). They create a soft, warm look that is currently trending. Maple and oak are the hardwoods most often used on countertops.
Pros: Incredibly long-lasting when properly cared for, you can sand and reseal this countertop material as needed, it is relatively easy to clean, and it offers a charming, country look in most kitchens
Cons: Fairly expensive material, it can be damaged by water and stains over time, knives can cut and scratch this surface, if the wood isn't oiled and sealed frequently the wood may crack, and bacteria can become an issue if this material is not properly maintained
Marble
Since no two sheets of marble are entirely the same, each marble countertop is one-of-a-kind, which may explain why this natural stone is commonly used for countertops in kitchens. It is common to see a portion of a countertop, such as the baking center, reserved for marble due to its high price tag. Here are some other things to be aware of:
Pros: Waterproof and heatproof, adds to real estate value of your home, and is a beautiful stone with unique veining
Cons: Expensive material, DIY installation is not possible, marble is porous and stains easily unless sealed, it can be scratched, and repairs are difficult to make on this material
Let's Talk Kitchen Cabinets:
Of the 94% of renovating homeowners who either replace all of their kitchen cabinets (65%) or partially replace the kitchen cabinets (29%) as part of their renovation, the majority of homeowners (76%) are choosing solid wood as the primary material of new cabinets. Among those partially upgrading cabinets, the percentage of homeowners refinishing cabinet exteriors jumped by 5 points from the previous year, to 65%. One in four individuals add some cabinets, while 23% replace only the cabinet doors. Cabinets with deep drawers for specialty storage, such as adding organizers for cookie sheets or trays, continue to be popular!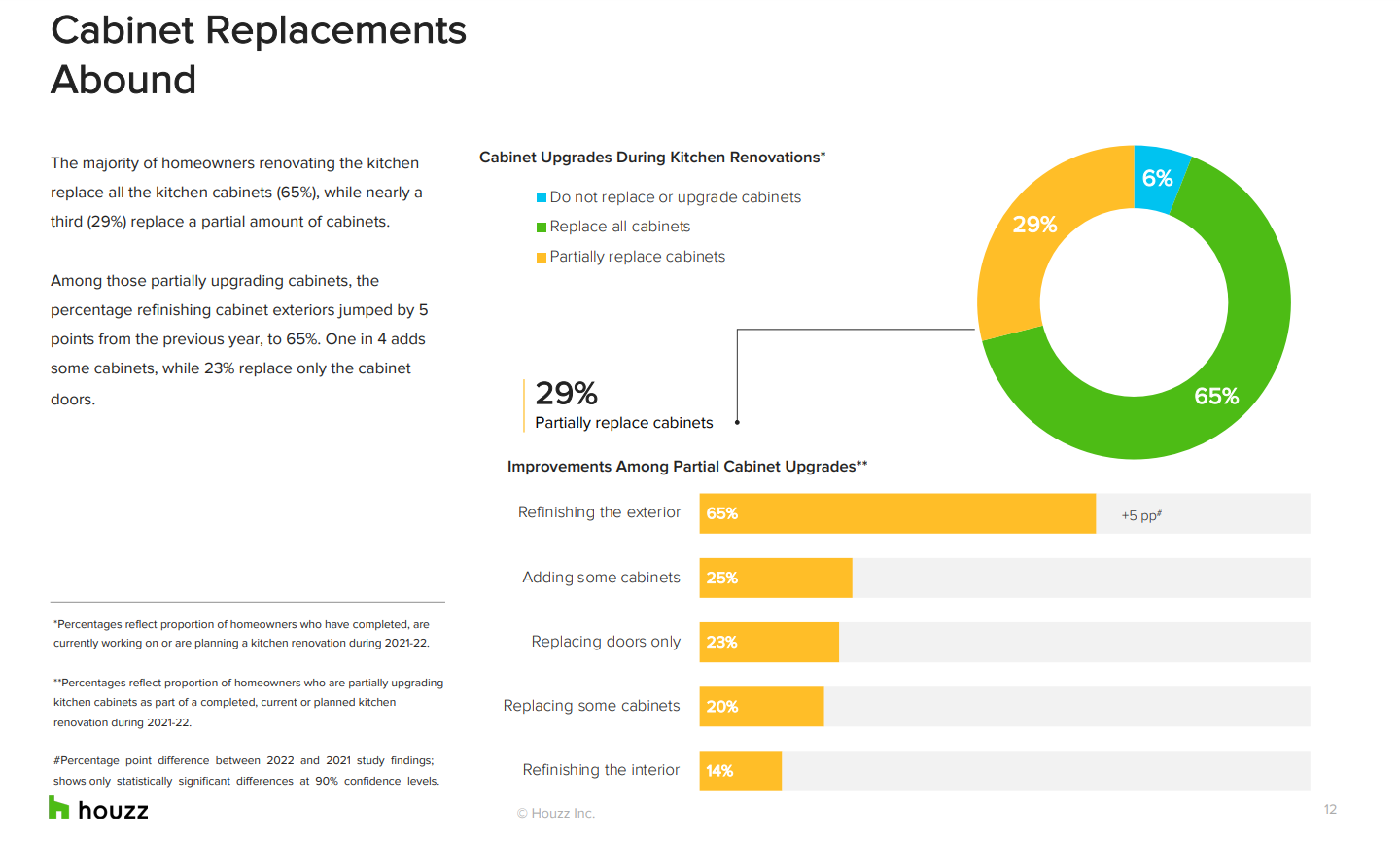 Let's Talk Kitchen Appliances:
Appliances are the second most common feature that homeowners splurge on during their kitchen renovations (27%). Over a third of upgraded appliances include high-tech features (35%), up six percentage points from the previous year. The most popular kitchen appliance features are wireless and smart phone controls (26%), up eight percentage points from 2021.
When it comes to upgrading kitchen appliances, the study found that garbage disposals (52%) and beverage refrigerators (19%) are gaining popularity in particular this year. Nearly 1 in 5 renovating homeowners incorporated or plan to incorporate a beverage refrigerator (up 5% from last year) while 14% add or upgrade a wine refrigerator.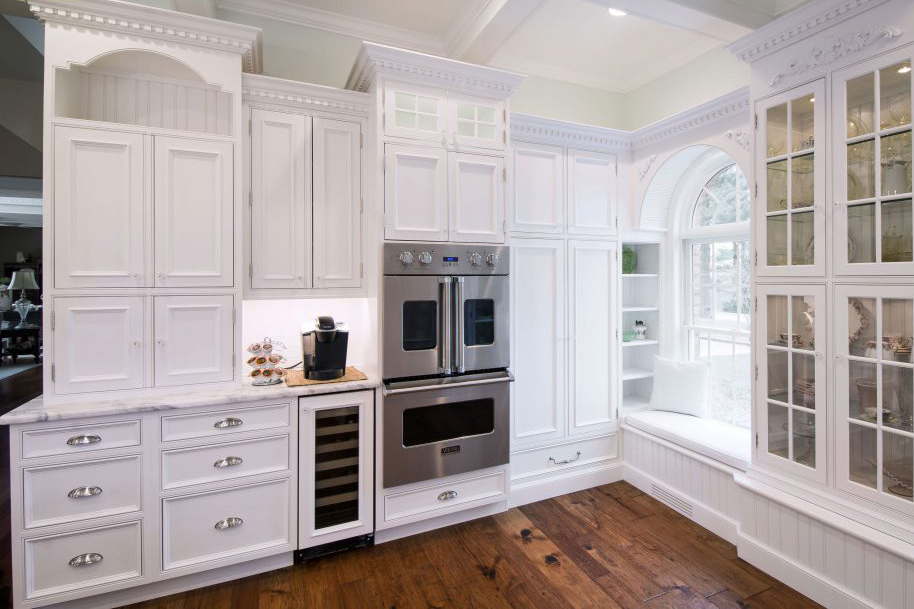 Let's Talk Kitchen Islands (Because It Seems Everyone Is):
More than half of renovating homeowners (57%) either upgrade or add an island, and more than 1 in four homeowners (27%) upgrade an existing island, up by 3 percentage points from the previous year — a significant increase. Nearly 2 in 5 islands are more than 7 feet long, a significant increase from last year, indicating that islands in general are getting longer. Given the current work from home trend, it may come as no surprise that one in five homeowners (20%) say that a top activity they complete at their island following their kitchen renovation is work. Here's a look at two of our favorite kitchen islands we recently completed: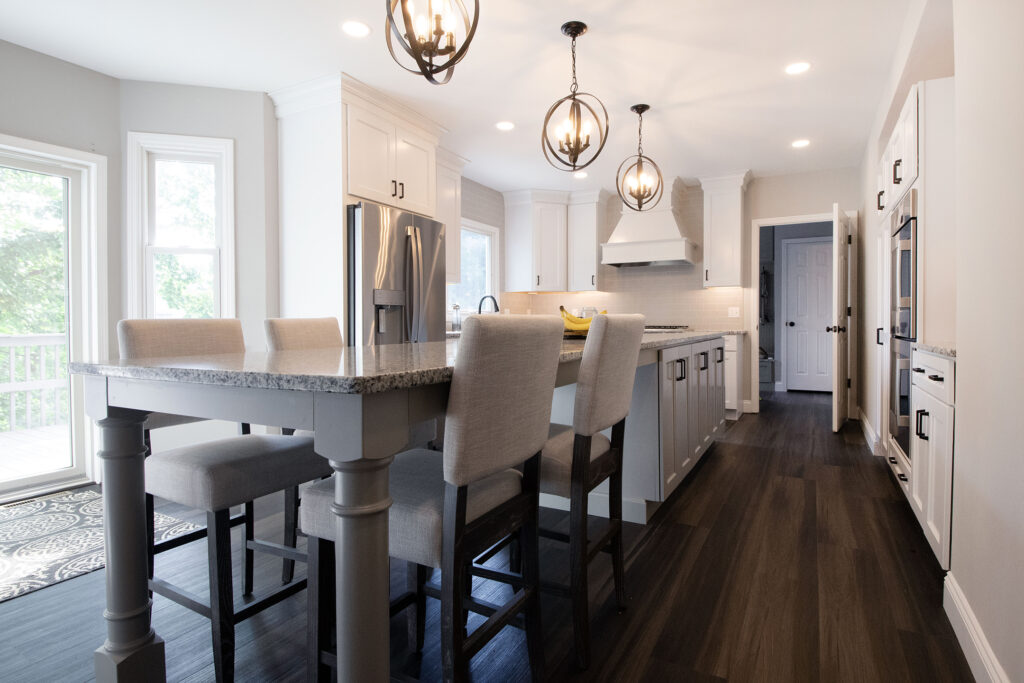 Let's Talk Lighting:
The top choice for upgraded light fixtures in 2022? Undercabinet lights (with recessed lights trailing just behind them). Pendant lights saw a 4% increase in popularity for 2022. We love the way these pendant lights complete the space of a recent home renovation we completed: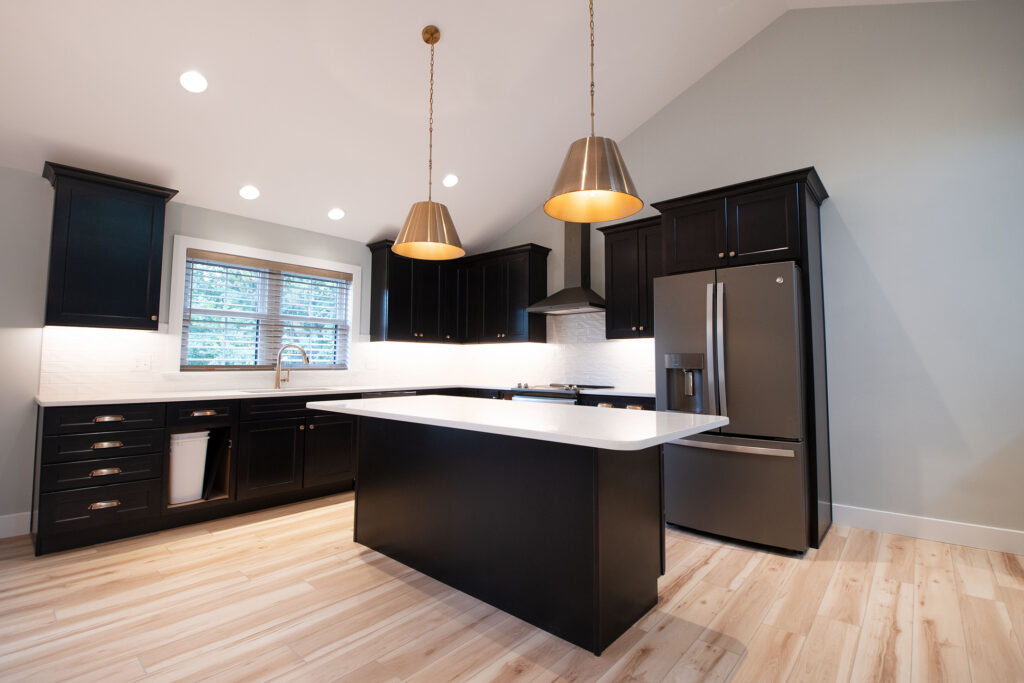 Let's Talk Flooring:
What's in style when it comes to flooring? Stained or unstained hardwood floor regained its #1 spot this year and vinyl/resilient flooring nearly doubled in popularity since 2019, taking the #2 spot away from ceramic or porcelain tile.
Let's Talk Color:
White kitchens are IN. The study revealed that white continues to lead as the top choice for kitchen cabinets, backsplash and walls (41%, 40% and 32% respectively).
The report also revealed that gray is the most common alternative to white, with 27% of homeowners painting their renovated kitchen walls gray, 13% installing gray flooring, and 11% choosing to opt for gray backsplash. Homeowners looking to add a pop of color to their space tend to be drawn towards blue, black, and green for their kitchen island cabinet colors.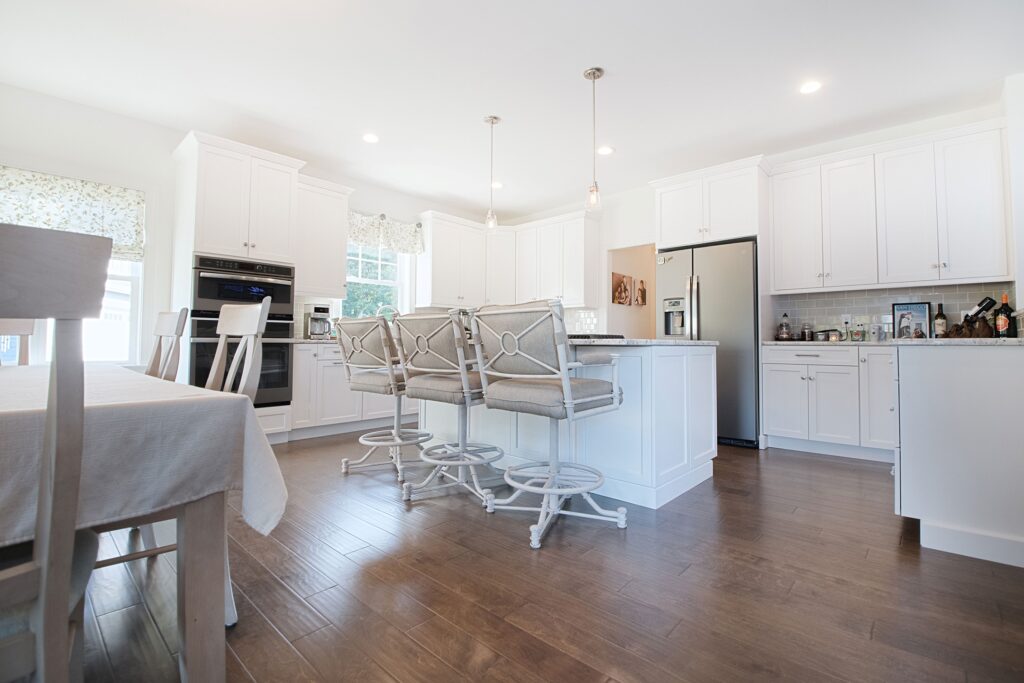 Let's Talk Money:
The median spend for both major and minor kitchen remodels increased in mid-2021 by 14% to $40,000 and 25% to $10,000, respectively, compared to 2020. Likewise, the median spend for a major kitchen remodel of a large kitchen (250 SF or more) continued to climb for the fourth year in a row to $50,000, up $5,000 from the previous year. The median spend on a major small kitchen remodel (less than 250 SF) increased as well, up $5,000 from $35,000 in mid-2021.
Reach out to D&B Elite Custom today for a free consultation to see how we can make your home renovations a reality while staying within your budget.