Natural look and feel with everyday functionality lead home designs in 2023.
Interior designers and residential builders have identified the new trends that have taken over home remodeling. We've reviewed the list of 35 home design trends on the rise from HOUZZ to give you a summary of things to expect and consider in your upcoming projects. One common theme that appears to weave throughout the house is creating a sense of warmth with natural materials and colors. Here is a breakdown of new inspirations for the different areas of your home:
The Kitchen:
Likely to no one's surprise, one of the primary focal points in home remodeling and new home construction is the kitchen. This room has always been a showcase for homeowner's personal style – coupled with sensible functional elements. Based on feedback from top designers across the country, there is a great mix of new features you may see in kitchen designs. According to HOUZZ, a modern rustic style is driving kitchen makeovers. New color palates mixed into a combination of rustic and industrial finishes and fixtures is all the rage right now.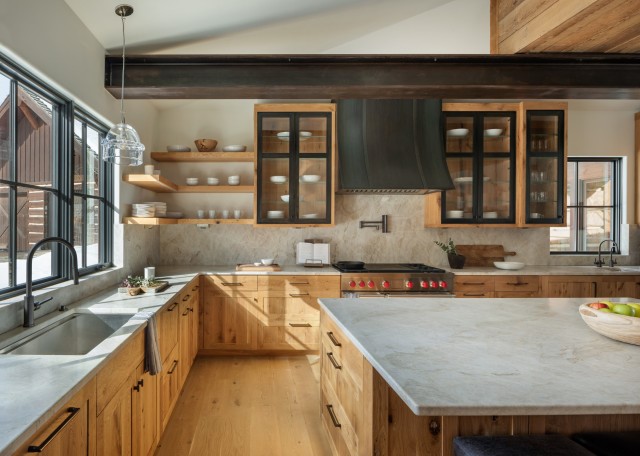 (photo by Centre Sky Architecture Ltd)
Cabinets, countertops and backsplashes are coming together with natural woods that include unique details tied in with natural stone. Natural materials are always in style, but lately they seem to have hit a high point in popularity. In particular, homeowners are installing quartzite and other natural stone countertops, as well as marble tile and wood cabinets and vanities, especially white oak.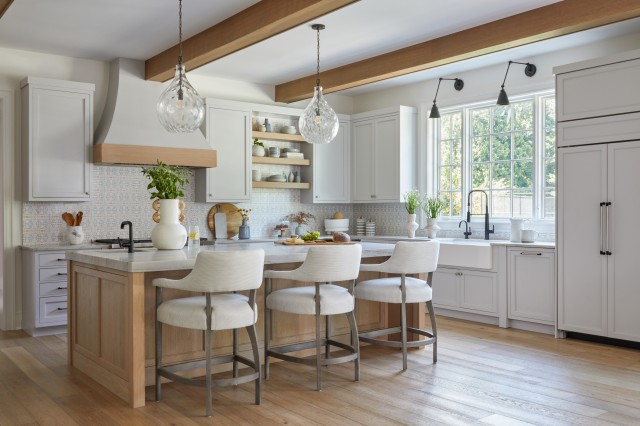 (photo: k+co LIVING – Interiors by Karen B Wolf)
This photo reminded us of a kitchen we completed in a new custom home build constructed by our Elite team in 2019. We most loved the way the wooden beams and large island with a wooden top give the space a natural, rustic look. It compliments the bold, vibrant wallpaper and sleek white cabinetry perfectly.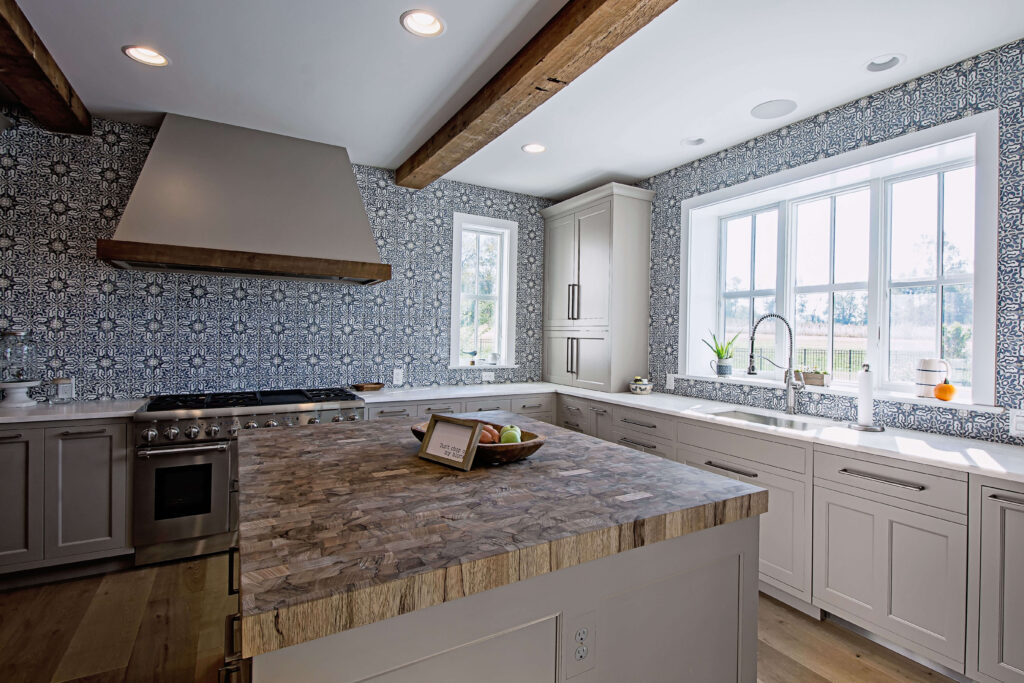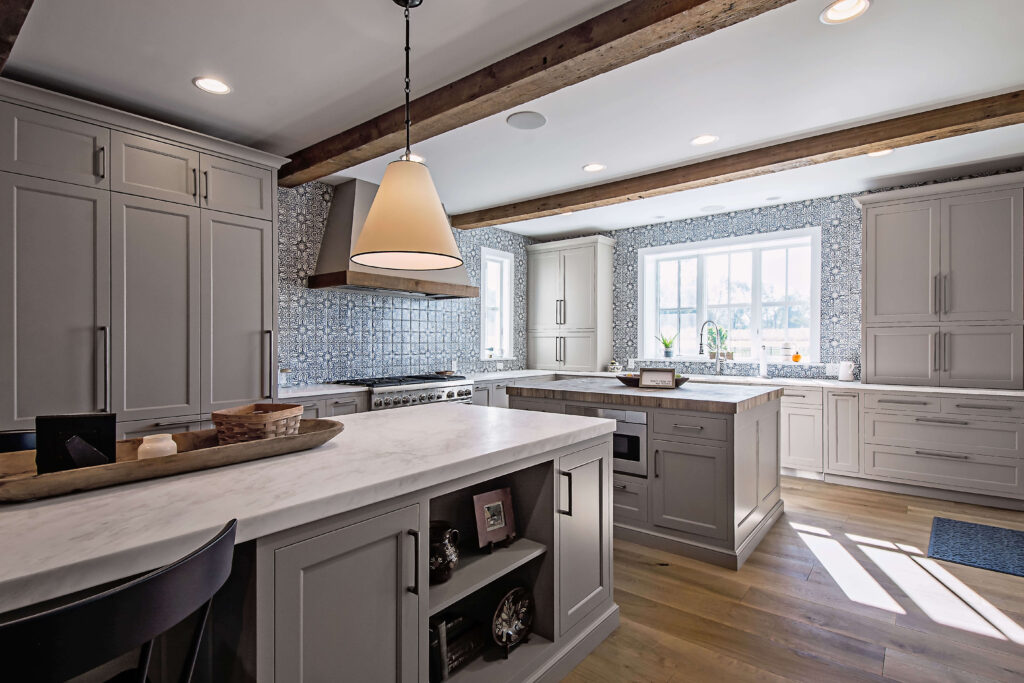 While some homeowners are desiring more bold color in their kitchens, many are looking for warm and soft styles that elicit a restful, relaxing atmosphere. To do that, designers are embracing greige or off-white cabinets, light woods, subtle patterns and warm bronze and brass finishes.
White and gray are by far the most popular colors used in kitchens. But when homeowners stray from that palette, they often choose blue. In fact, when a homeowner chooses to go with an island color that contrasts with the surrounding cabinets, more than a quarter (26%) will select blue, according to Houzz research. Green is quickly gaining favor in kitchens, especially for cabinets. Both light and dark greens work well with wood details and brass finishes, creating a warm, rich look.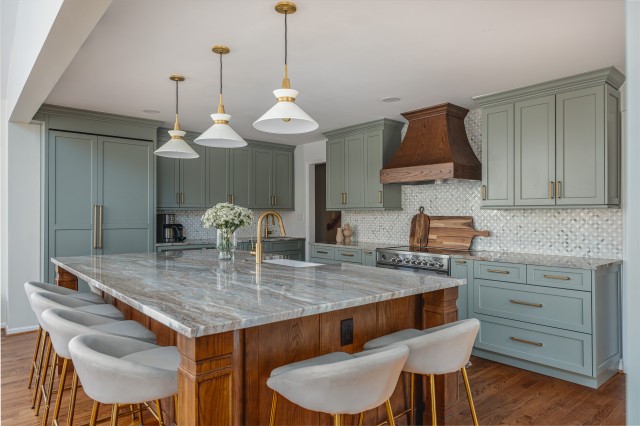 (Photo: FineLine Kitchens, Inc)
This Vienna, Virginia kitchen by FineLine Kitchens (pictured above) was one of the most-saved kitchen photos of 2022; it combines sage green perimeter cabinets, similar in color to a kitchen renovation our team completed (pictured below), with a medium-tone oak range hood and island base. Ming Green floral tiles with white Thassos marble pieces add another green detail, while brass pendant lights and Brown Fantasy natural quartzite countertops complement the warm wood tones. This kitchen also features an island with an updated seating arrangement. Traditional seating arrangements for islands are usually a row of stools on one side facing the cooking area.  Lately, alternative setups have been increasing in popularity to create more of a dining table layout allowing face to face seating.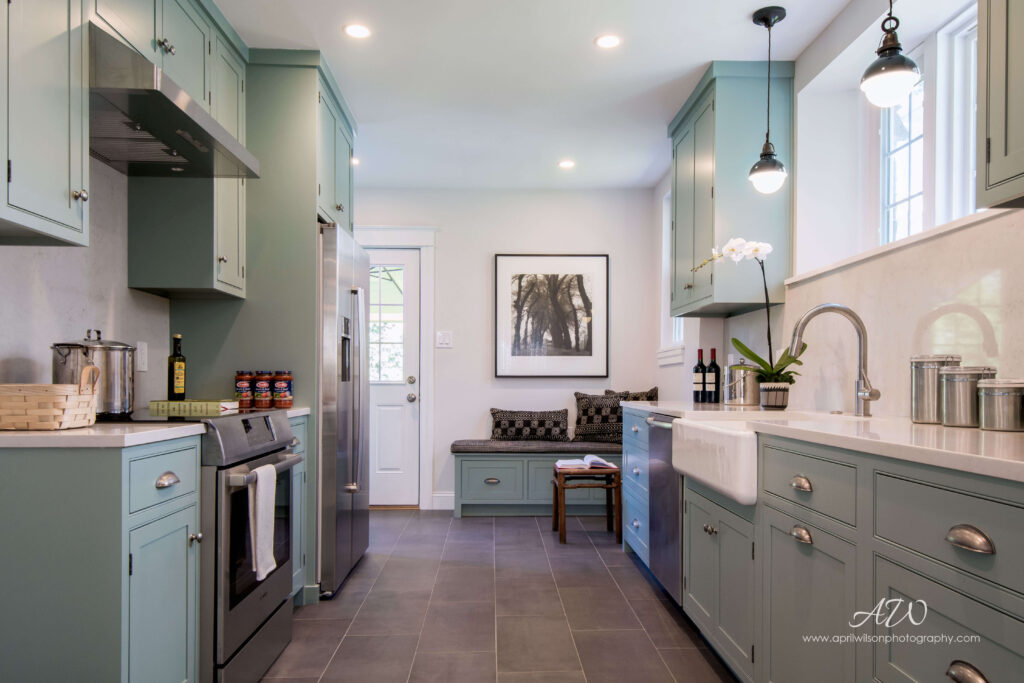 Kitchen fixtures are starting to implement industrial-looking, commercial grade features to combine design with functionality. Workstation sinks are also part of the drift toward commercial-style features. These have been around for many years now, but manufacturers have caught up to the demand and now offer all kinds of sizes, styles and accessories for things like chopping, straining, drying and other functions.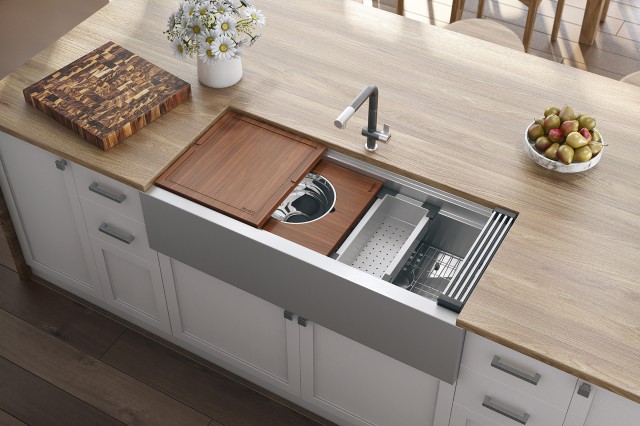 (Photo: HOUZZ)
The Bathroom: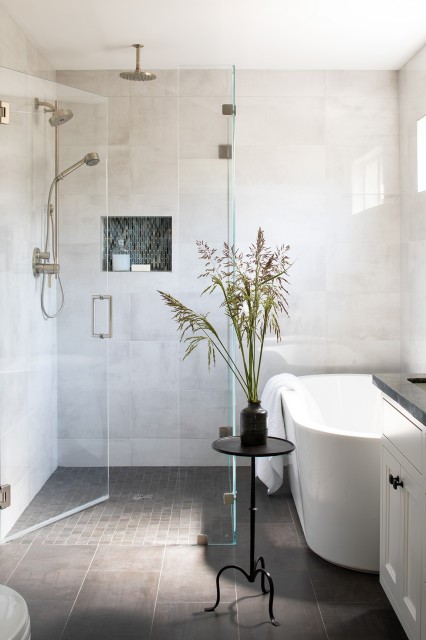 (Photo: DiVittorio Architecture & Design)
In the aftermath of COVID and the quarantines that ensued, homeowners have explored varying ways to maximize the enjoyment of their house. Many are looking to create bathrooms that function for more than just bathing. They want relaxing experiences that create a refreshing escape from the daily grind.
To create that, many are embracing pamper-me features like multiple shower heads with various spray settings, such as deep massage or warm mist.
White and blue palettes are aiding in the spa-like atmosphere for several designers.  Similar to blue accents in kitchens, this color is becoming a go-to in many bathrooms to perk up popular all-white palettes without veering too bold. Here's a look at some of our work that demonstrate this trend: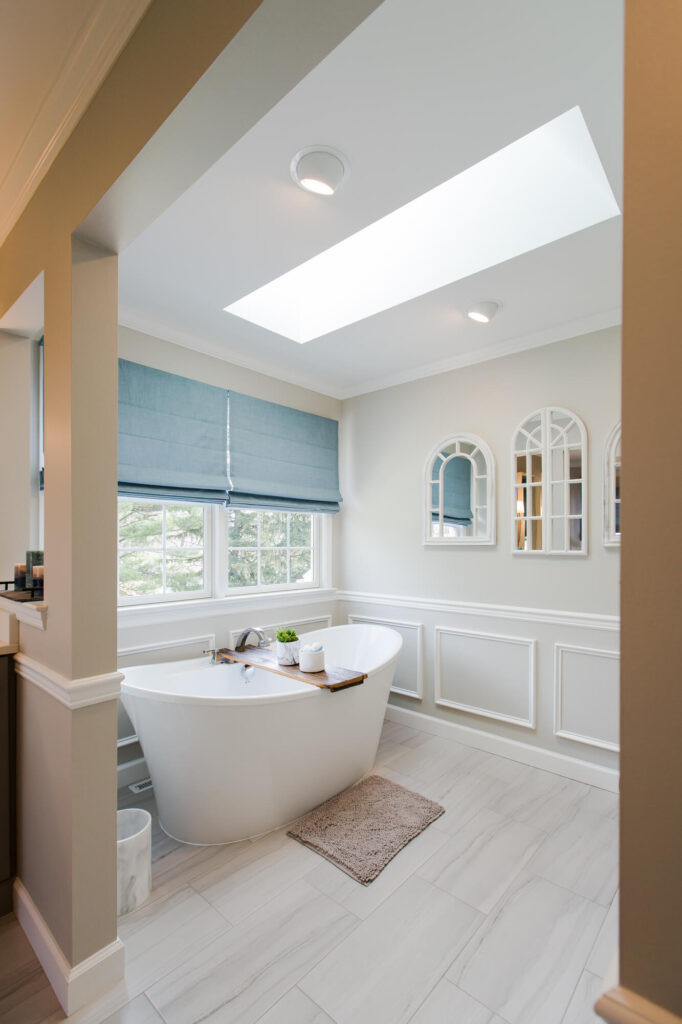 In this West Palm Beach, Florida bathroom, HW Interiors created a soothing focal wall in the shower with watery blue tiles installed in a basket weave pattern. White finishes enhance light and deliver an airy look and feel, as does the chevron-pattern white floor tile that runs the length of the bathroom into the curbless shower.
Curbless showers have been a popular bathroom feature for a while. Often, the shower flooring is tile in a smaller size or different material than the main flooring, to provide a nonslip surface in the wet area. But more recently, many designers are running this mosaic tile continuously through the entire bathroom, including the curbless shower area. This approach further enhances the sleek, streamlined effect of a curbless shower design, extends the nonslip surface and helps a smaller space appear larger than it is.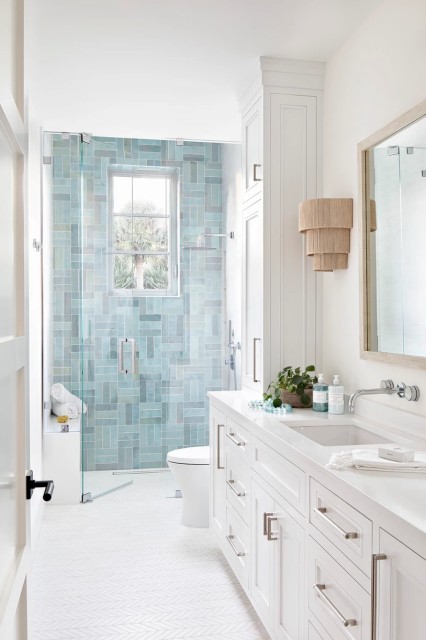 (Photo: HW Interiors)
The Living Space: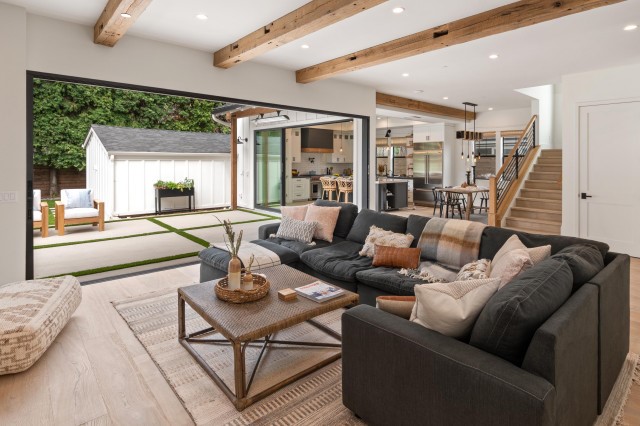 (Photo: Jackson Design & Remodeling)
Homeowners have long craved deep connections to outdoor spaces. Sliding glass doors that completely open interior spaces to the outside are at the top of the list for many dream homes. Many professionals are helping homeowners find more affordable ways to bring the outdoors inside. Adding large windows can maximize views and bring in ample natural light in a less expensive way than fully glazed walls. Meanwhile, a focus on natural materials and colors, as well as wallpaper prints that recall nature, are also helping homeowners feel connected to the outside.
One phrase that has come up again and again in conversations with design professionals is "layered texture" in decor, wallpaper, materials and accessories. We're seeing a lot of designers layering wood, rattan, stone, metal finishes, concrete and various textural fabrics in a room to create a dynamic style full of visual and tactile interest. You'll see this in the living room below, which was designed by Demi Ryan in North Carolina.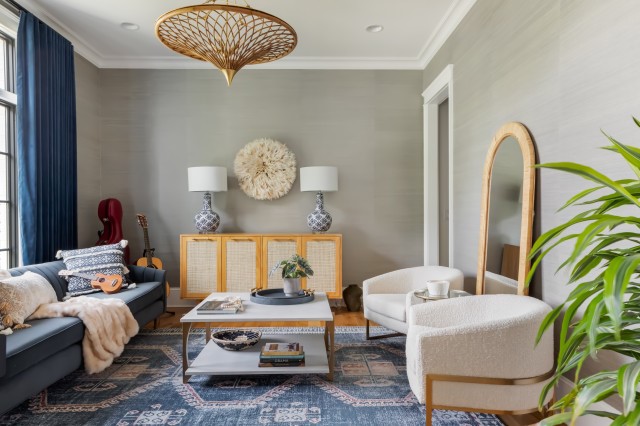 (Photo: Demi Ryan Home)
Built-in's, bringing customization coupled with display and storage functionality, remain popular throughout the house through 2023. Custom built-in cabinets also give a nice finished look, which is why they're one of the top design features professionals recommend in a living room.
Designer Stephanie Alegre added these custom built-ins flanking a fireplace surround in a Holmdel, New Jersey, living room. A bar sits to the left, with additional storage on the right.
Riding the work from home wave the pandemic caused, many homeowners have turned to converting bedrooms into home offices for remote work.  This is another area that built-ins have shined.  When storage and organization are a top priority, going the custom built-in route is what pros recommend. Similar to what we're seeing in living rooms, built-ins are showing up in many home offices to tackle storage and display space.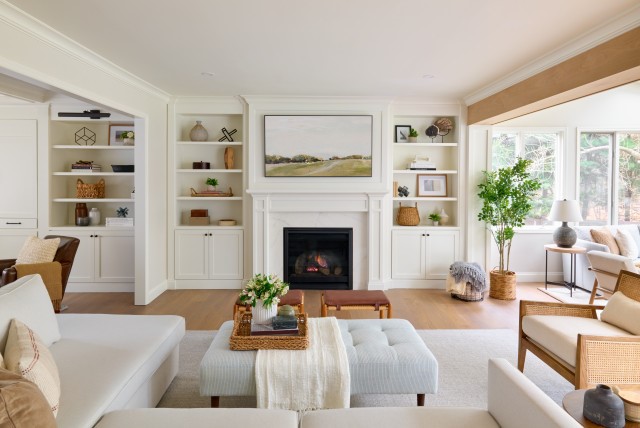 (Photo: Stephanie Alegre Interiors)
In this Houston home office by Laura U Design Collective, soft blue built-ins (Little Falls by Benjamin Moore) blend in seamlessly with the walls, adding tons of storage without overwhelming the stylish look of the room. This was the most-saved home office photo of 2022: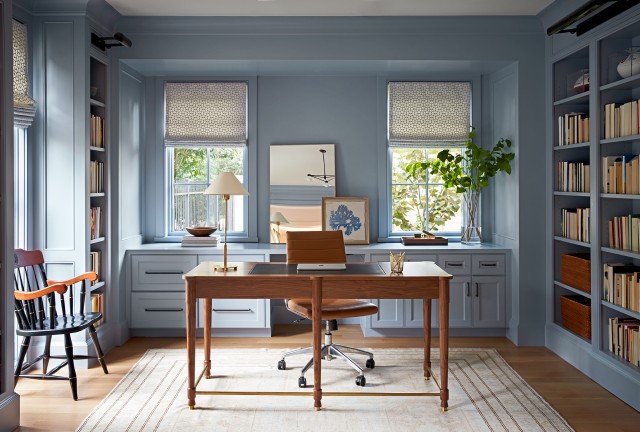 (Photo: Lara U Design Collective)
The Exterior Spaces:
When it comes to exteriors, white board-and-batten or vertical siding continues to be popular. Lately, these bright whites are being contrasted with black details such as window and trim to create graphic curb appeal, as shown on this home renovation we completed in 2021. This creates a dramatic look that is sure to up your curb appeal.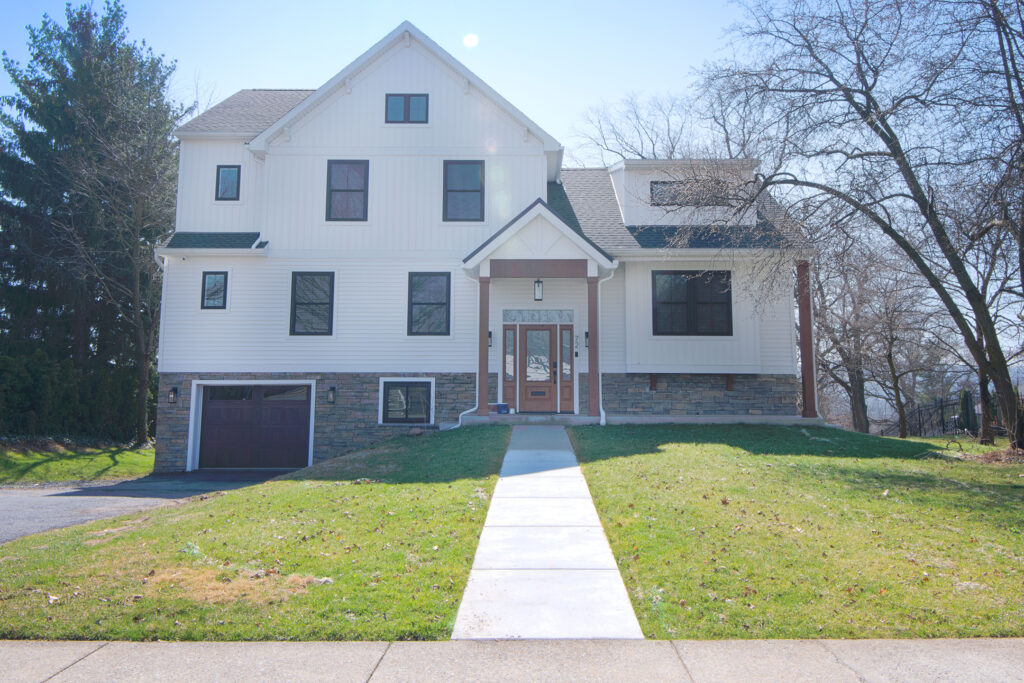 On the other hand, Ott says she's increasingly noticing a shift to less contrasting colors. "Darker siding colors in muted shades of blue, green, warm gray or tan are complemented by trim and accent colors that are just a few shades lighter or darker than the siding," she says. "And, depending on the architectural style of the home, a fun accent color for the front door remains popular." This midcentury Oakland, California, home by ODS Architecture is a fitting example: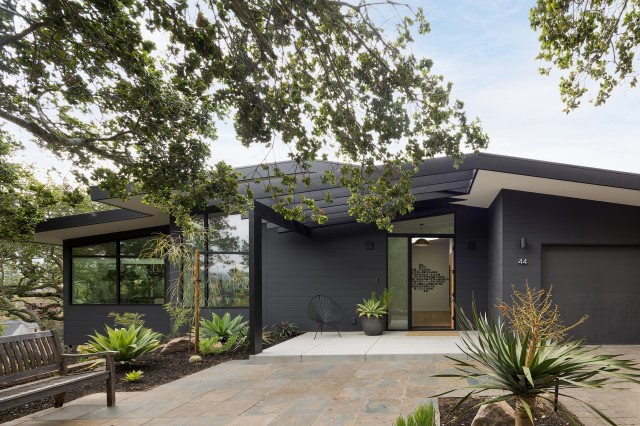 (Photo: ODS Architecture)
Home exteriors as an extension of the home's living space continues to increase in demand and popularity.  Over the last couple of years, we've seen homeowners look to their outdoor spaces to accommodate a variety of activities, including cooking, dining and exercising. However, few things trump lounging, and increasingly these areas are garnering lots of attention.
Durable, comfortable furnishings, stylish shade structures and pampering features like outdoor heaters, fire pits, chandeliers and water elements can create an enviable lounge area like this one in Chicago by Amy Kartheiser Design.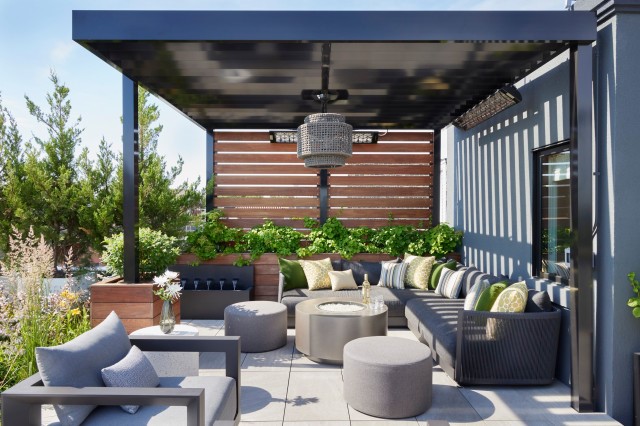 (Photo: Amy Kartheiser Design)
For more details and trends visit HOUZZ to see their top 35 list in its entirety, and you can always reach out to our team for a complimentary consultation to learn more about how you can #MakeYourHomeElite.
The end of another year has quickly approached! Our Elite team completed just over 20 projects this year. Here's a look at our end of year superlatives as we look at our year in review:
Best Overall Transformation:
We'd be remiss to not award this category to a Wyomissing home that transformed their 1950's kitchen and dining room into a new space. The project included new windows, a door at a new location, and a completely re-imagined open floor plan. Once complete, our client Penny described her home as a "completely different house," exclaiming her love for it and how it is what she "always wanted" since the day they moved in.
Josh, the Superintendent on the job said his favorite part of this project was "developing a new open floor plan while still keeping true to the 1950s architecture by keeping the curved opening of the doorway. Penny and her daughter's favorite part of their new kitchen was making the switch from an electric stove to gas because it has made cooking easier. (Bonus: There is even an air fryer in the oven!) They also love the peninsula in the new space.
Here's some before and after photos: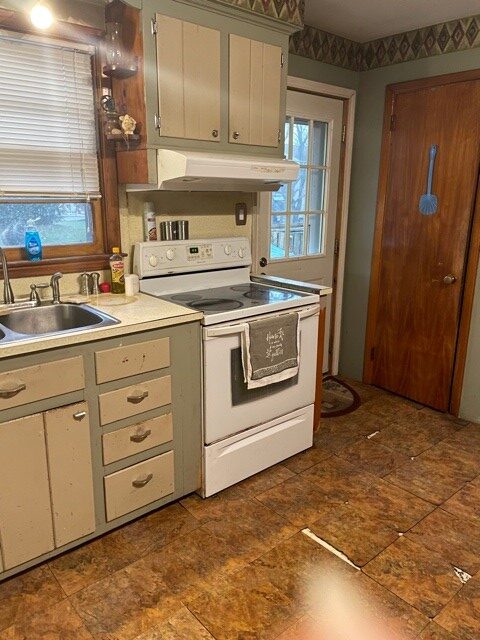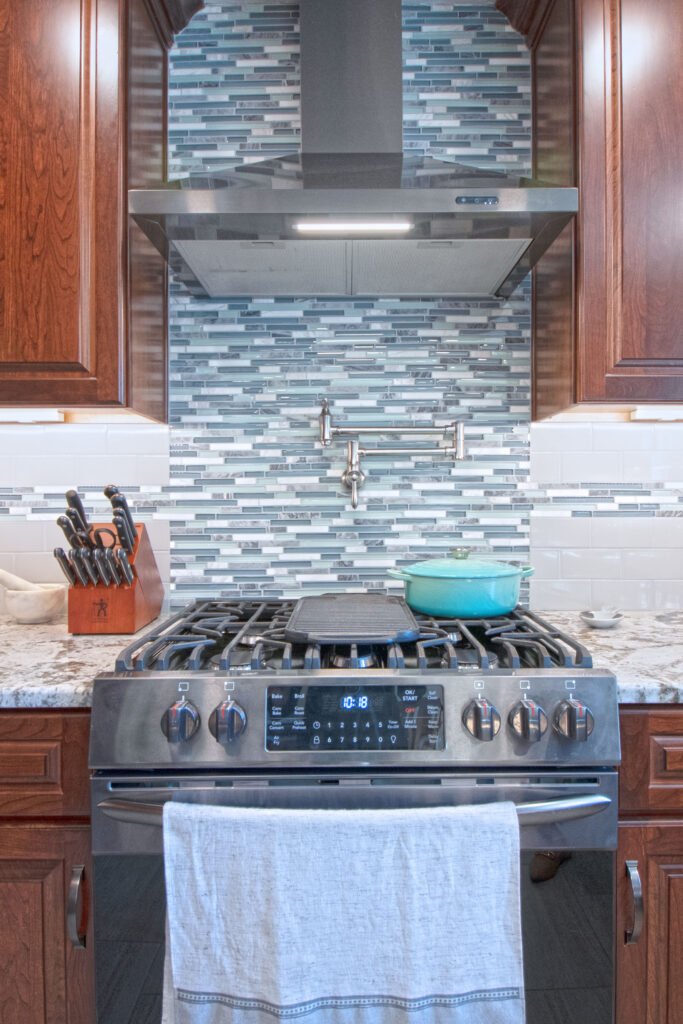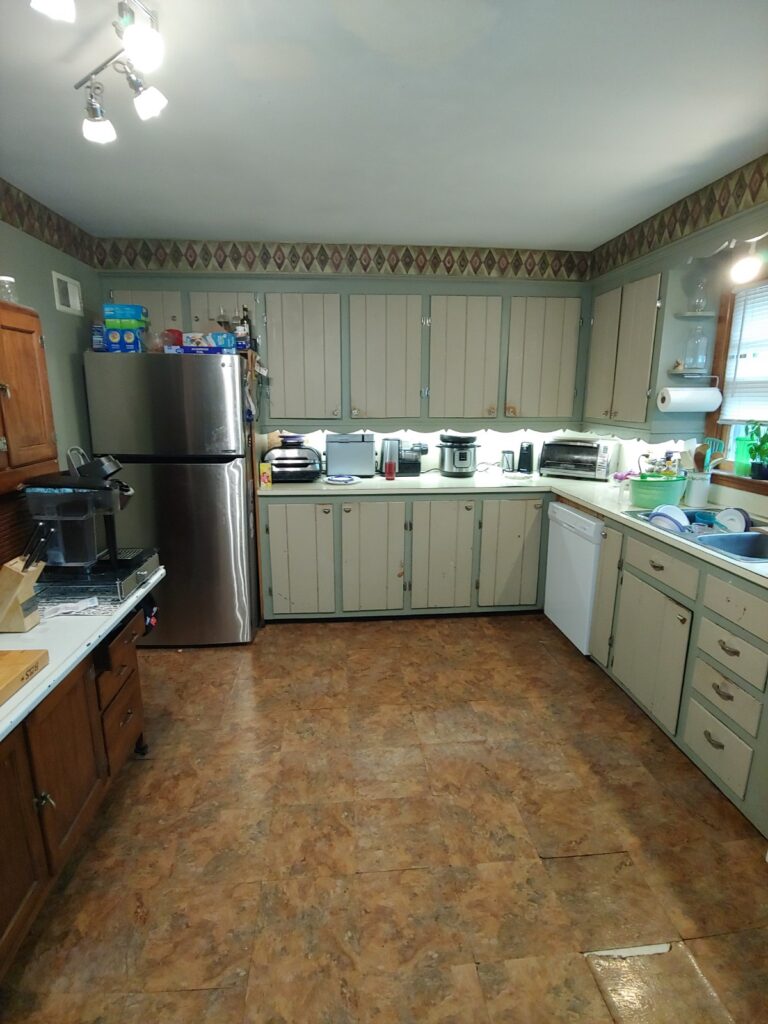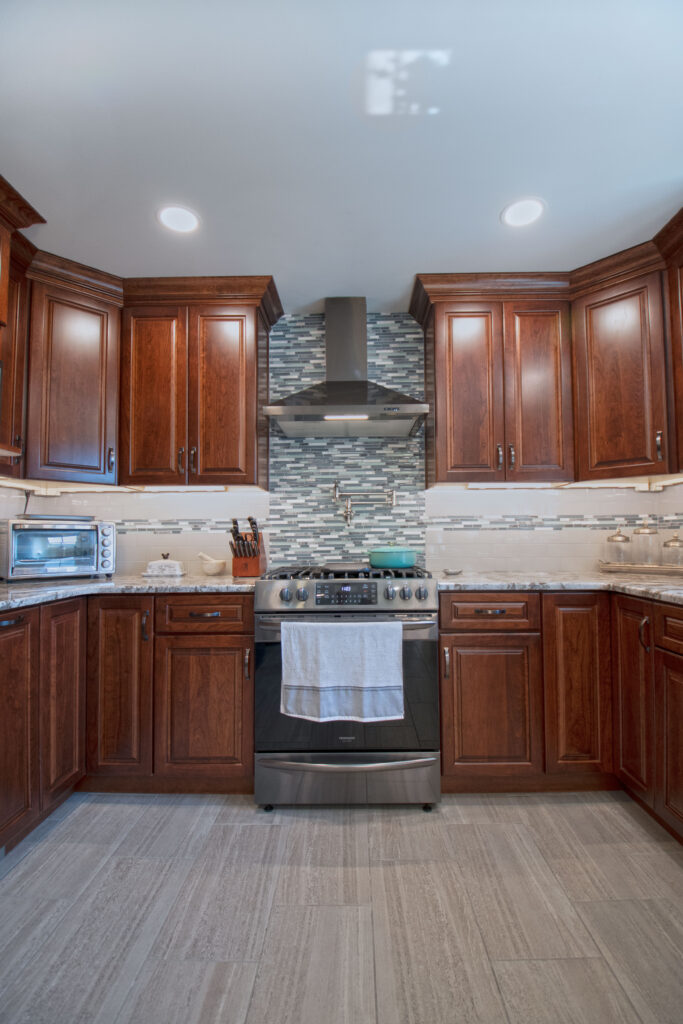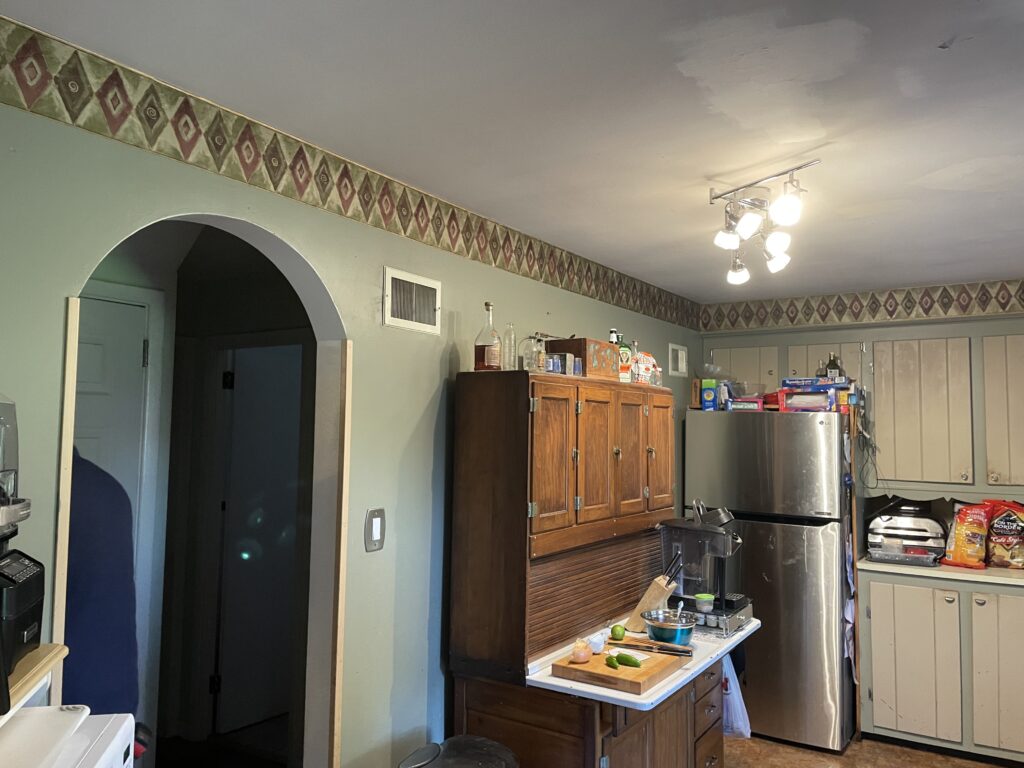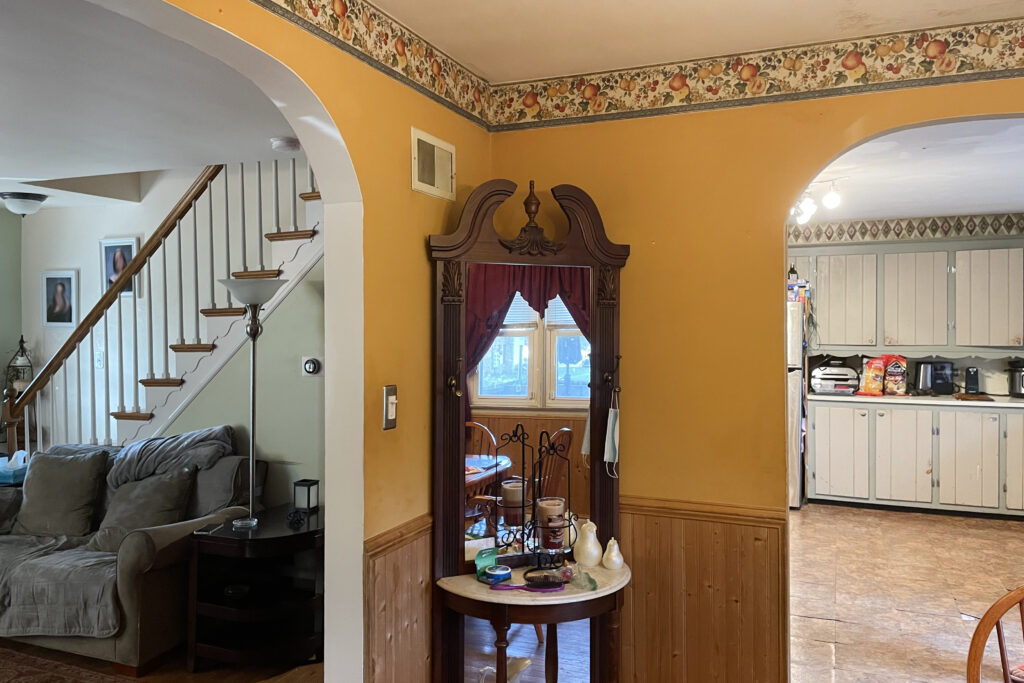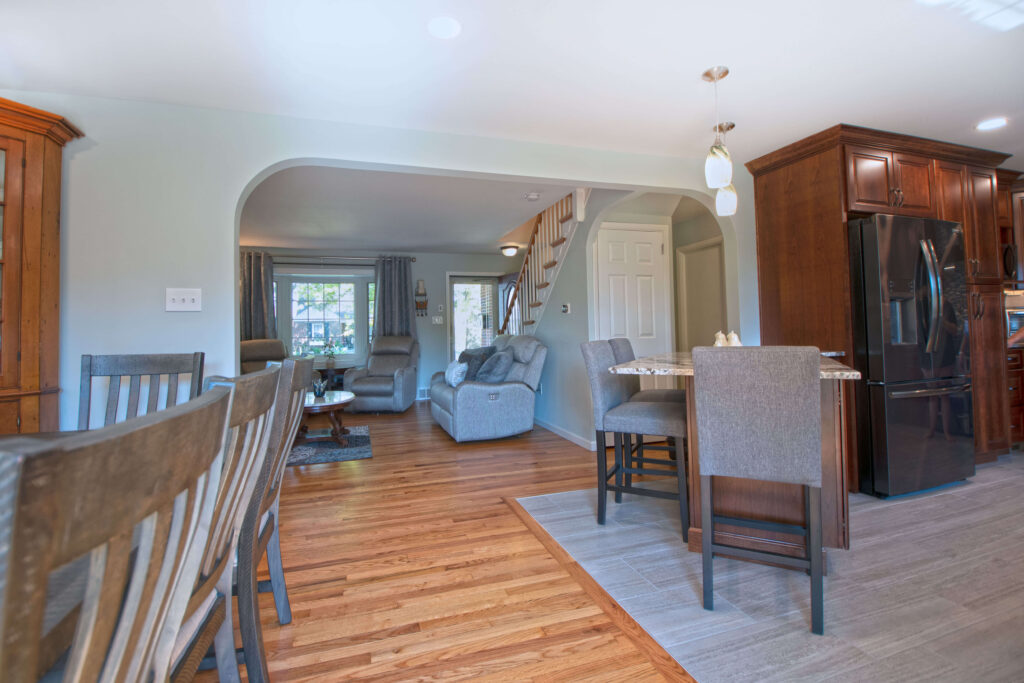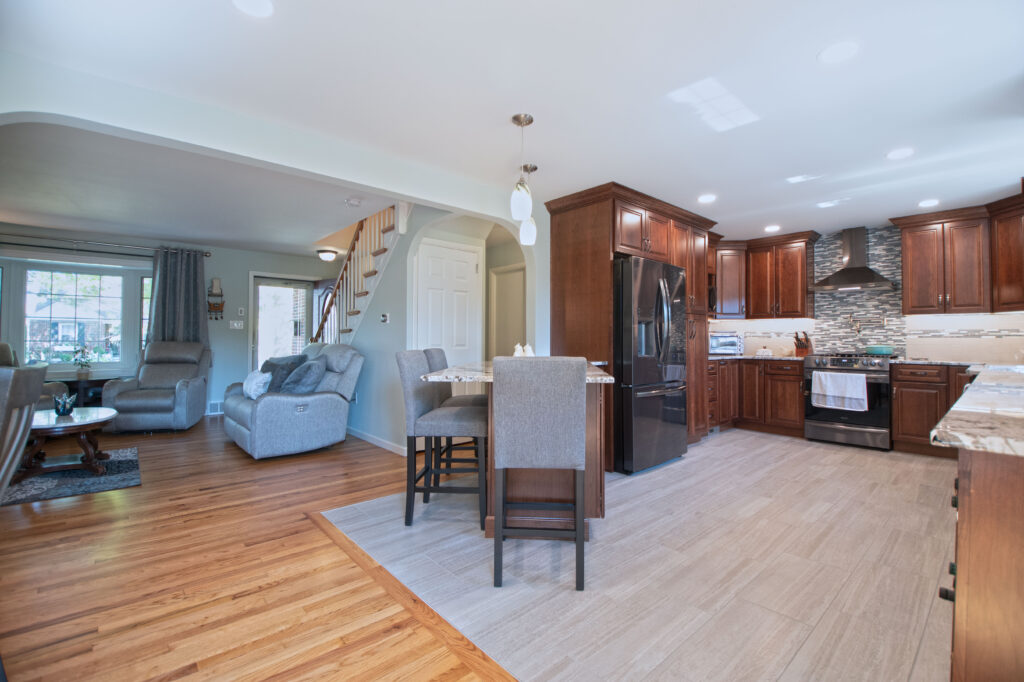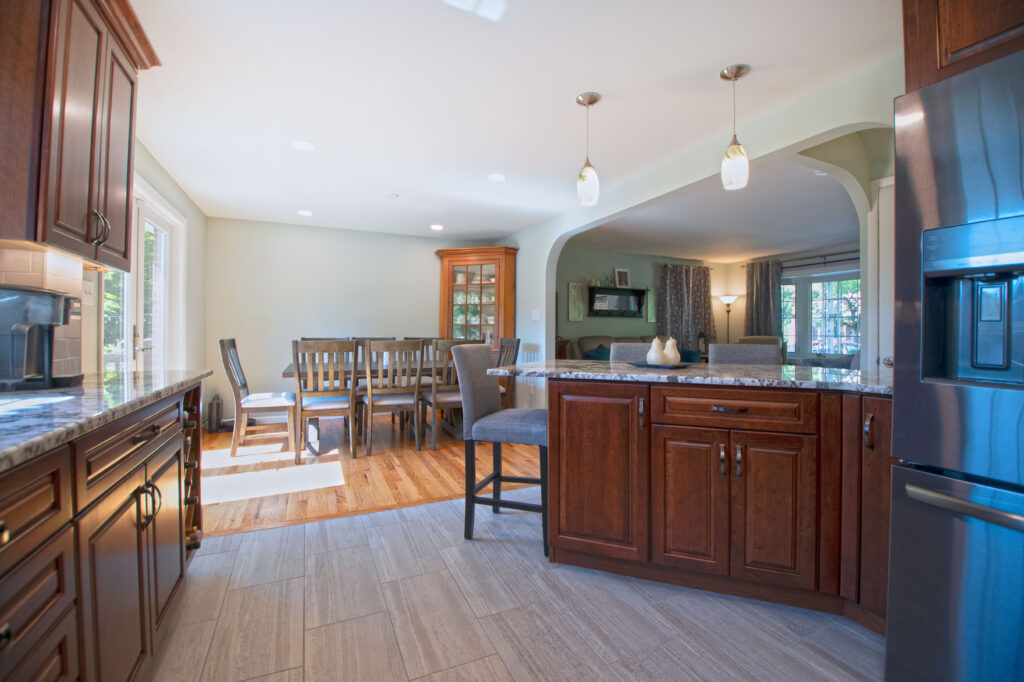 Best House To Host A Party:
This project involved a first and second floor addition that was roughly 1,400 SF, a complete kitchen remodel, master bath remodel, re-imagined mudroom, and a stunning new outdoor entertaining area featuring a built-in kitchen to top it all off. Our clients put A LOT of thought into making this the ideal space in terms of flow and usability. Although we originally started discussing this project with our client in 2019, a pregnancy and COVID-19 led us to start construction in April of this year.
Our Elite team unanimously agreed that the spacious, open concept of this first floor, combined with the perfect outdoor entertainment area, make this property an easy win for "Best House To Host A Party," but we'll let you be the judge: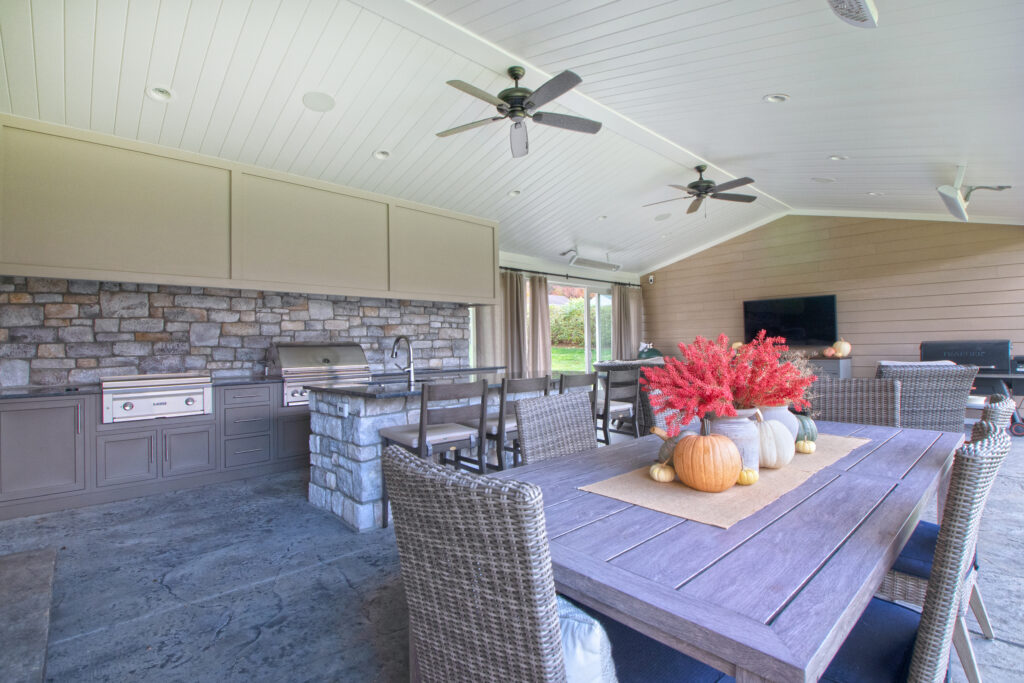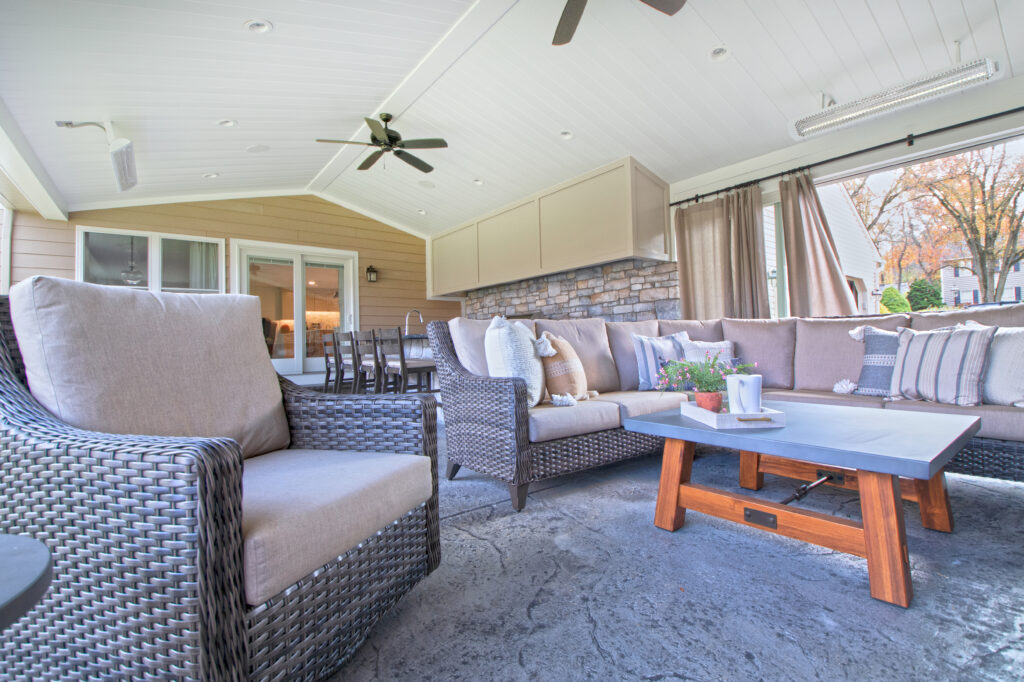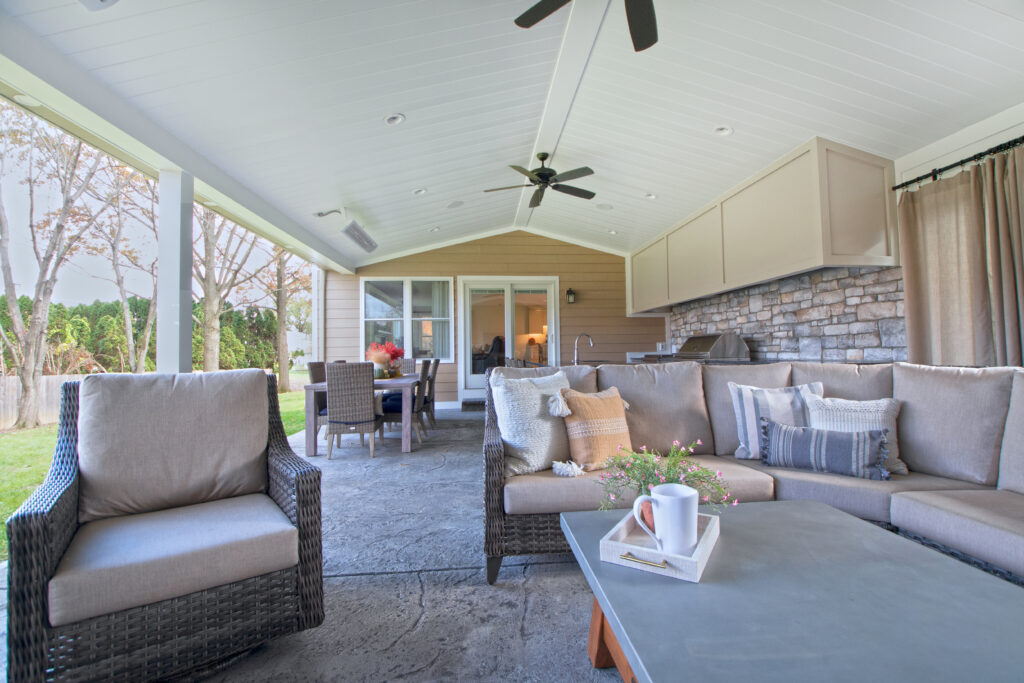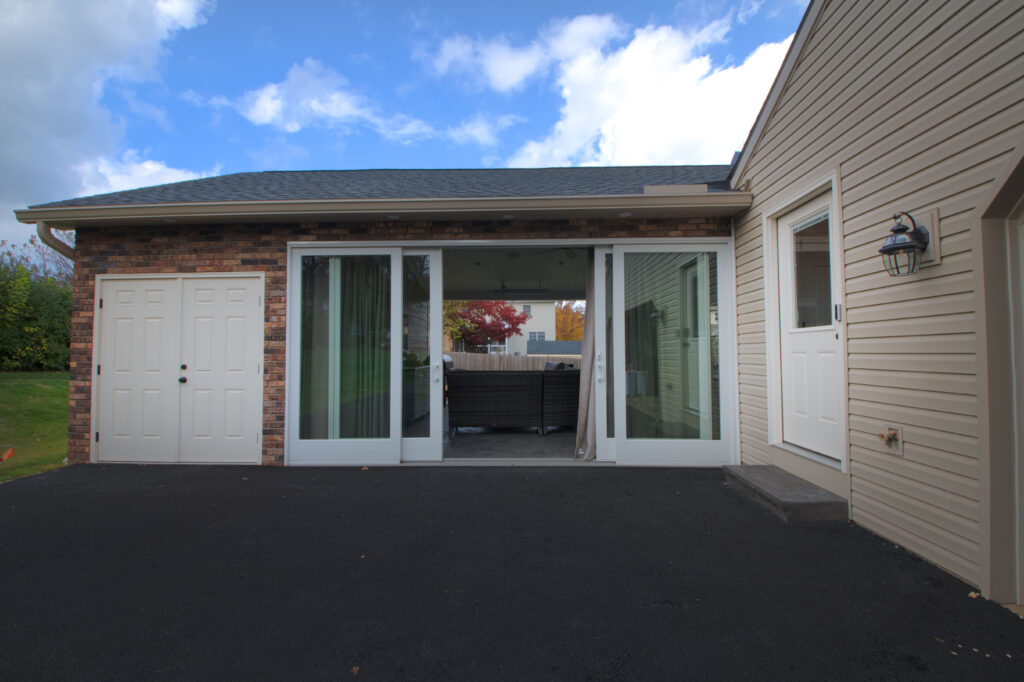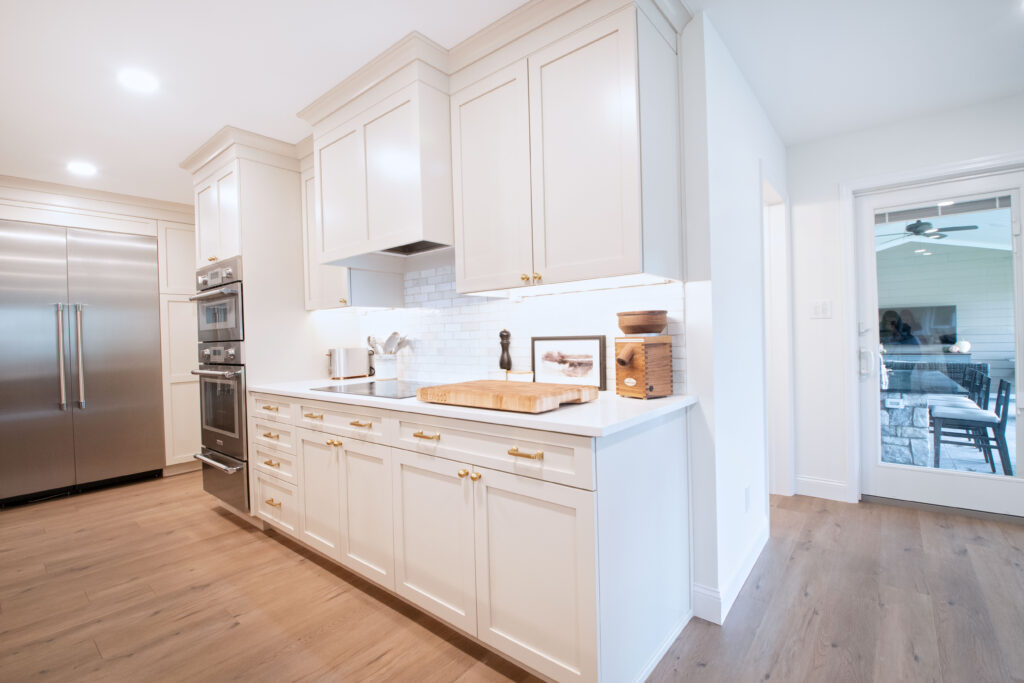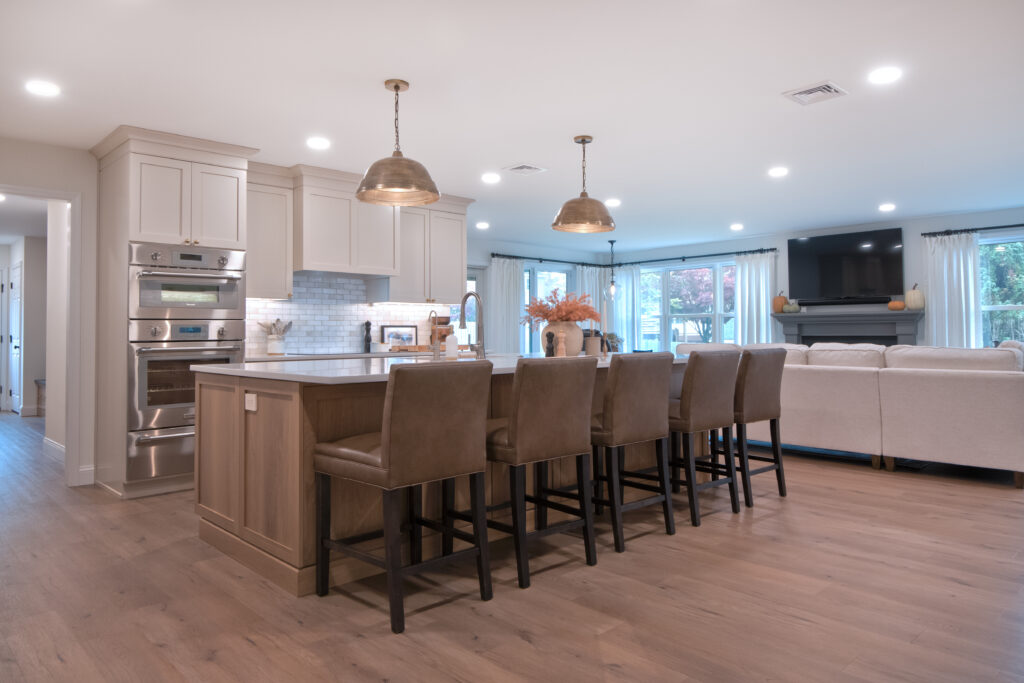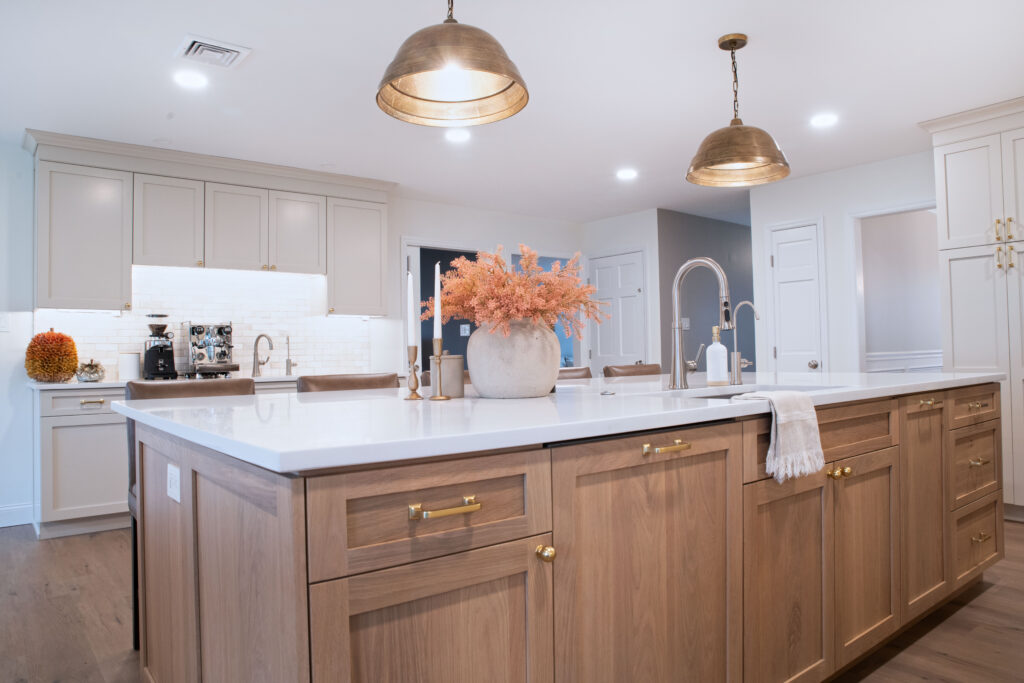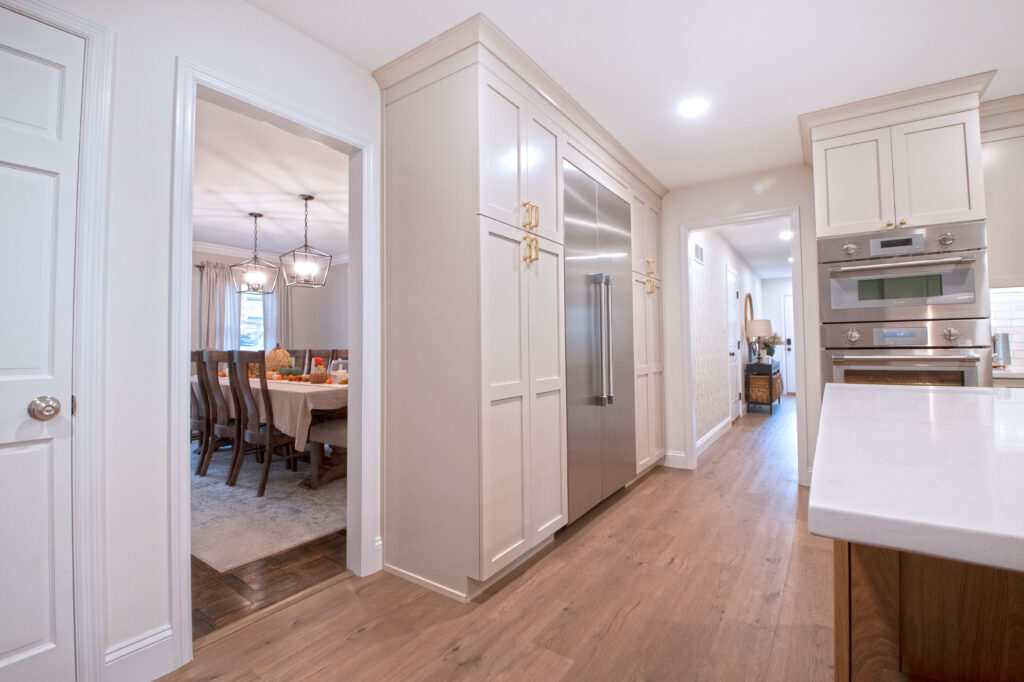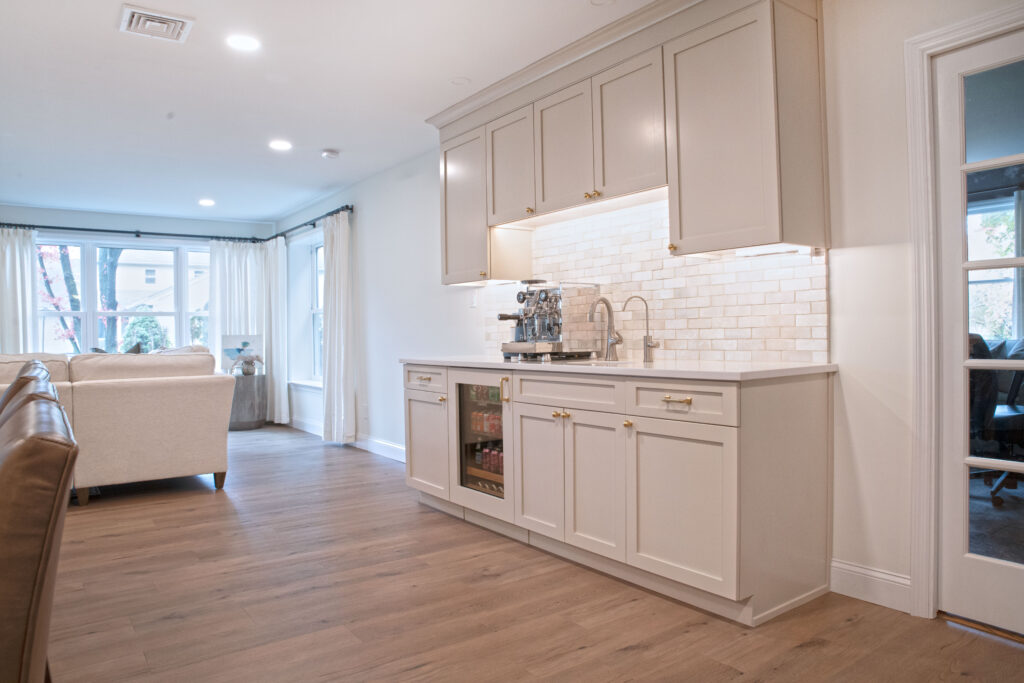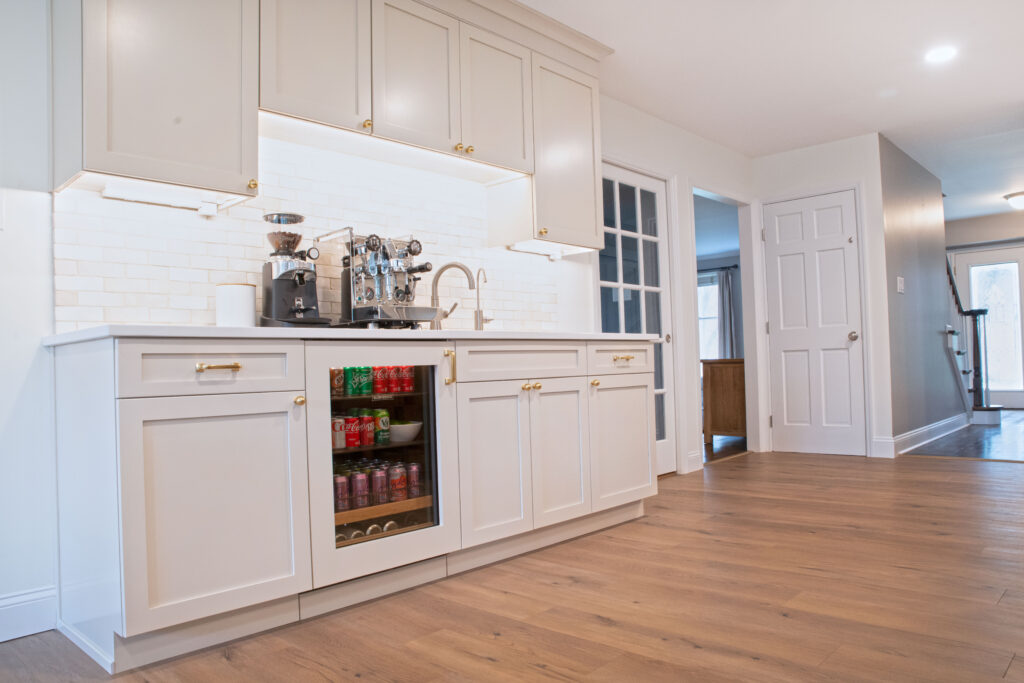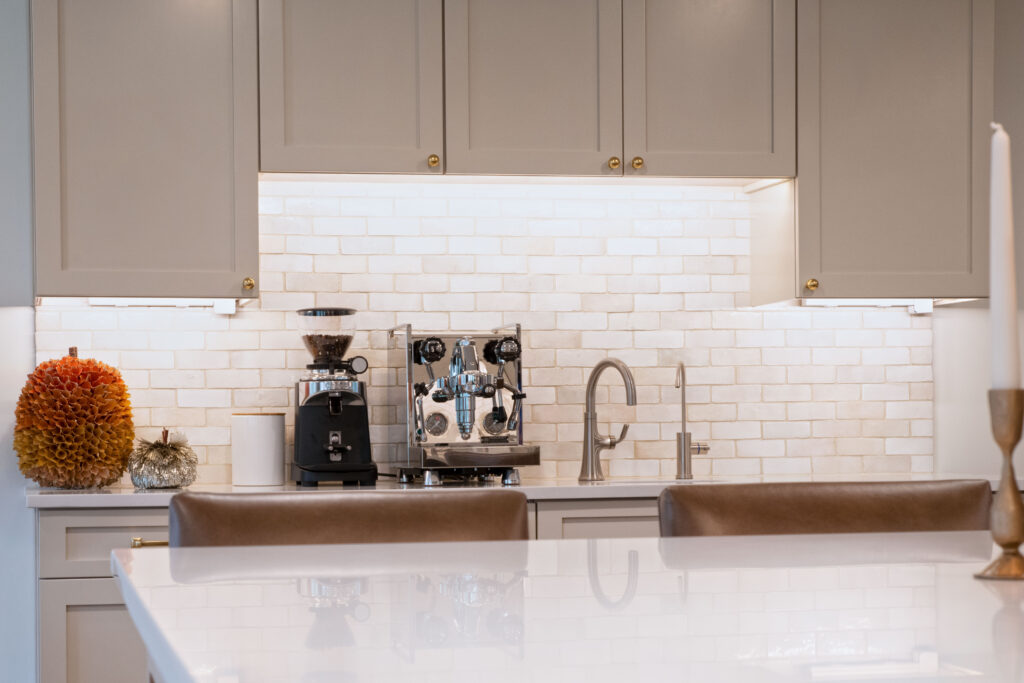 Best Bathroom Transformation:
Our Elite team took an ordinary bathroom in Mohnton and transformed it into nothing short of an in-home spa fit for a king and queen – right down to the matching "His" and "Hers" robes. We'll let the before and after photos do the speaking:
– Before –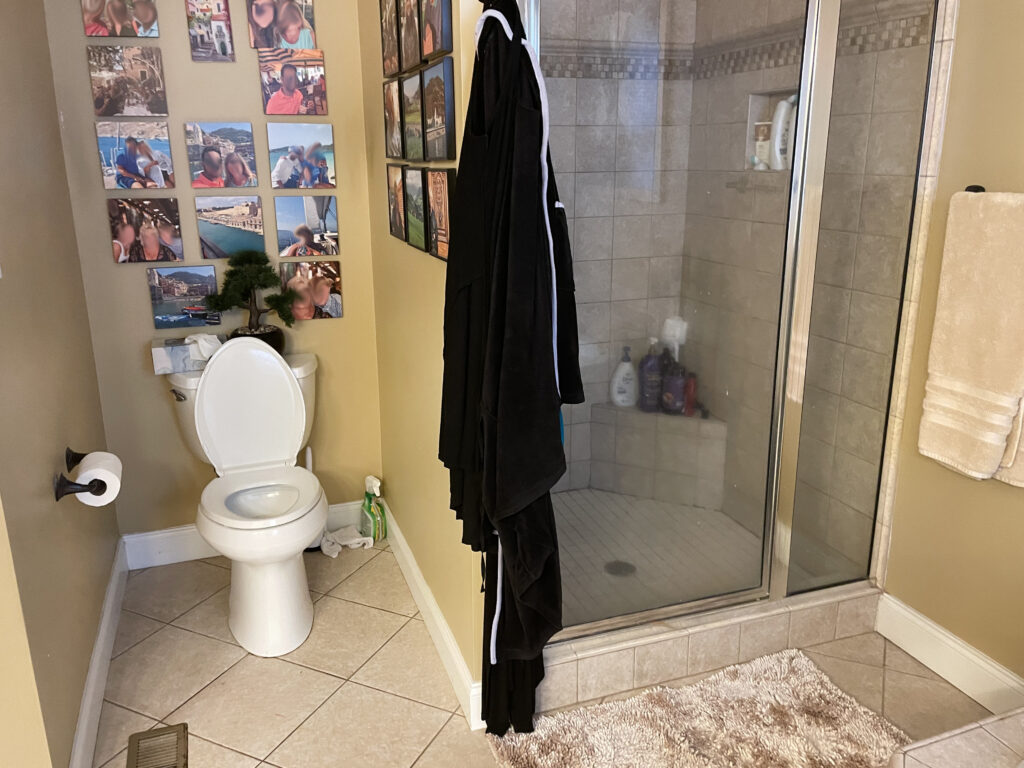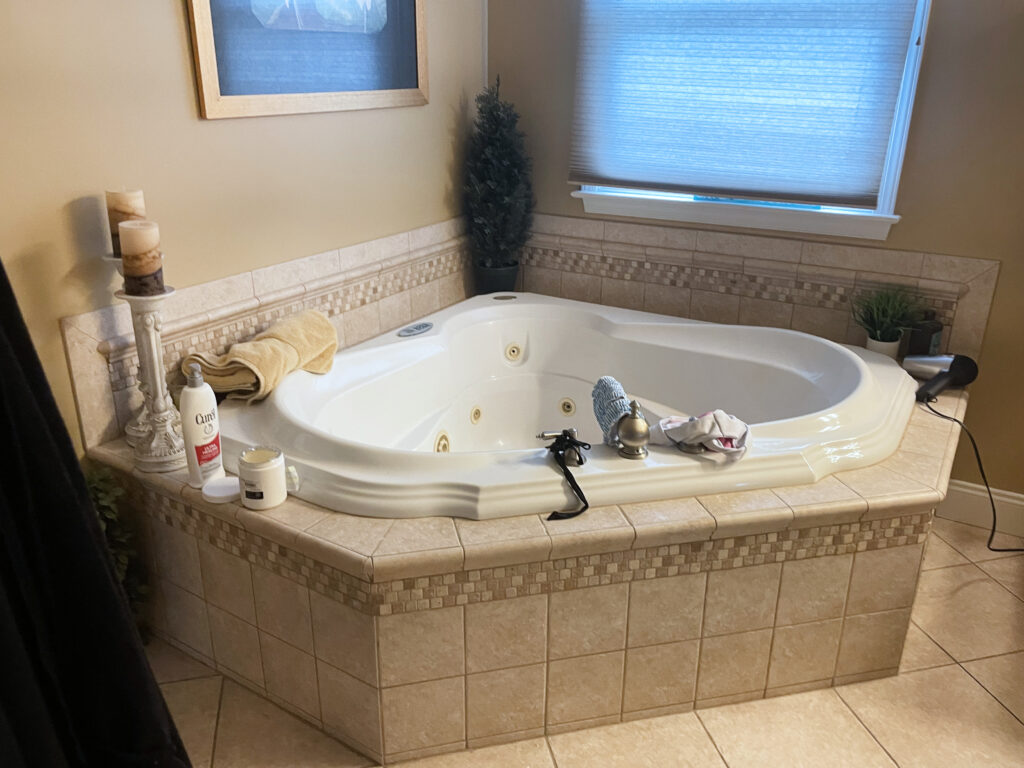 – After –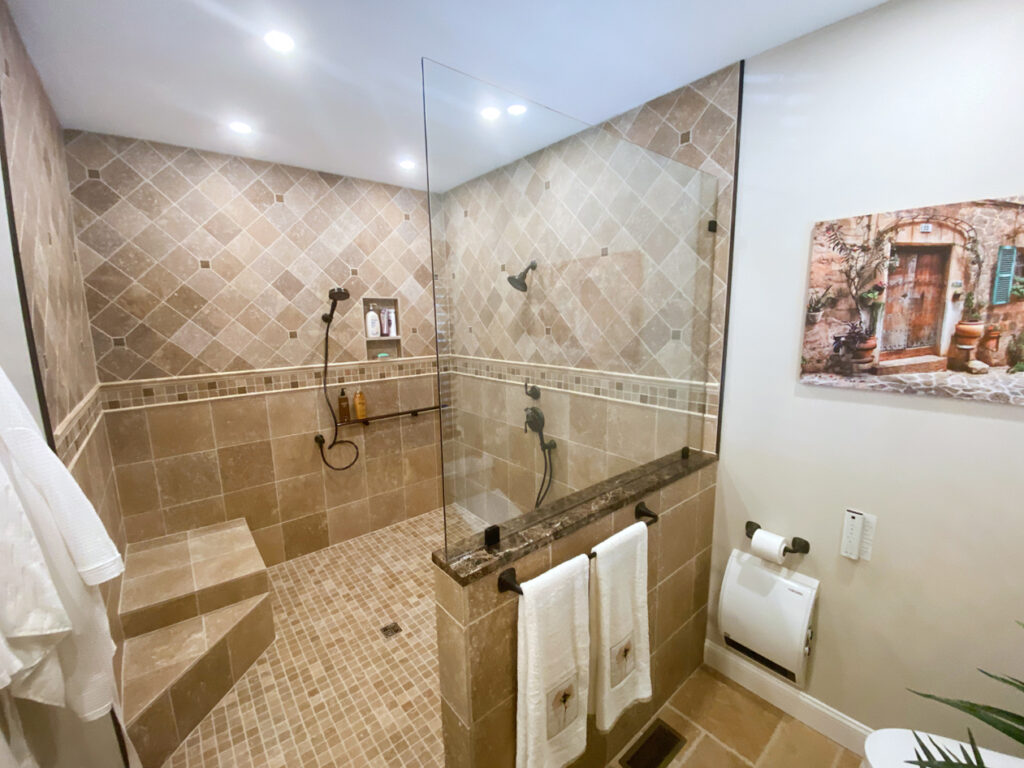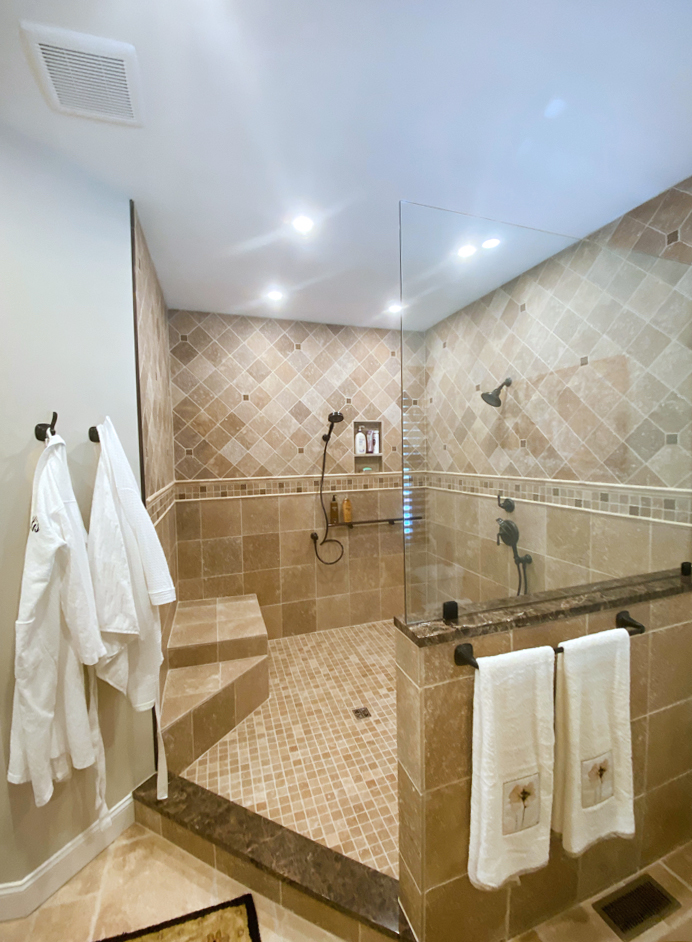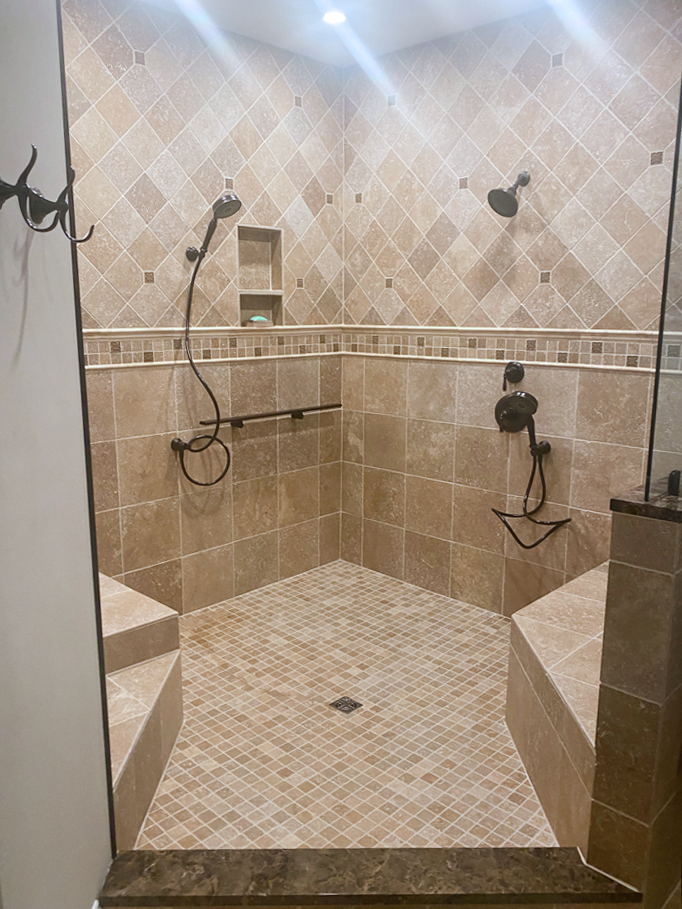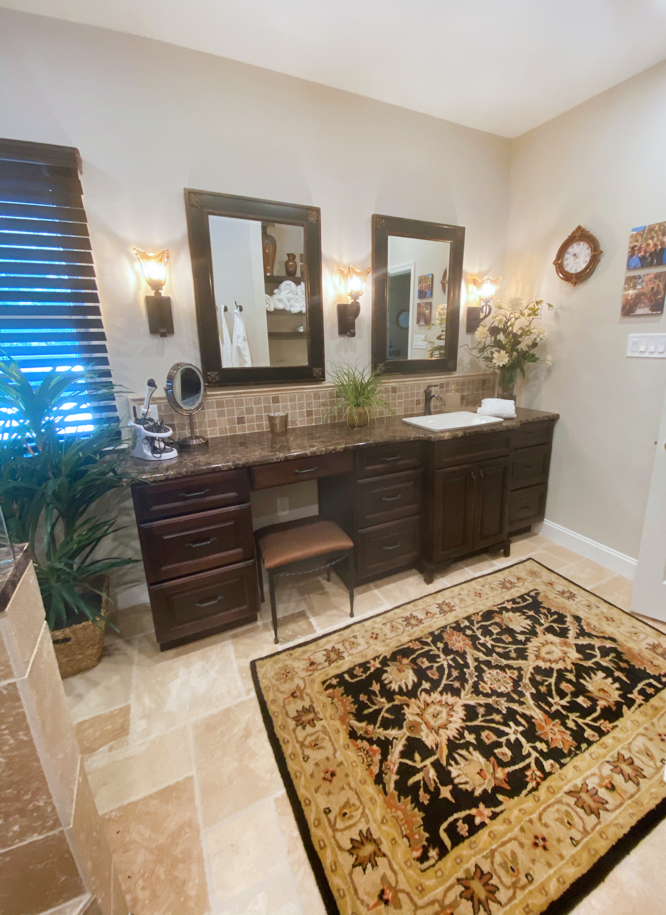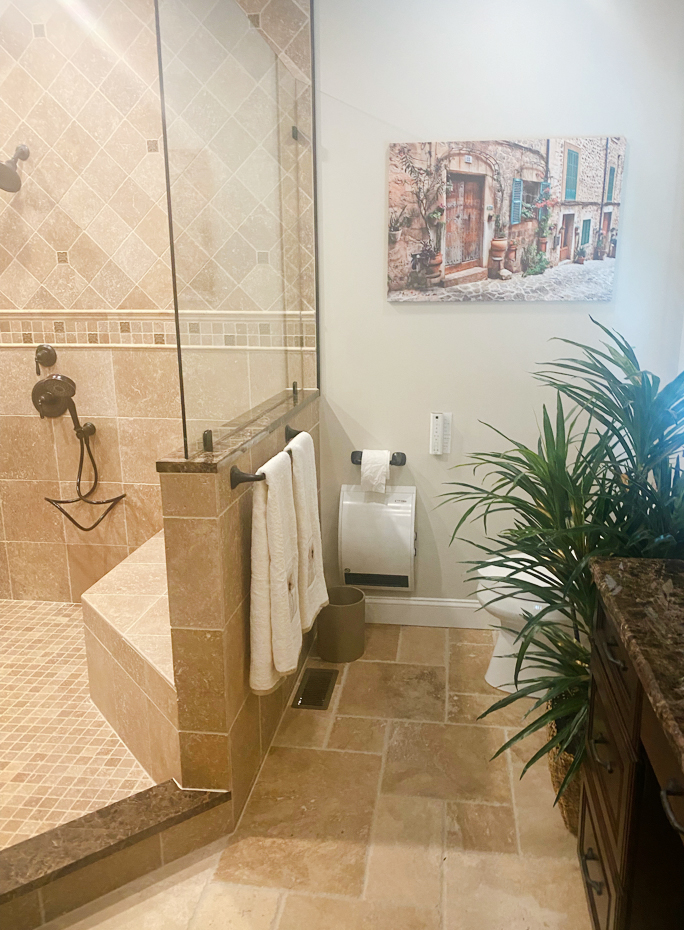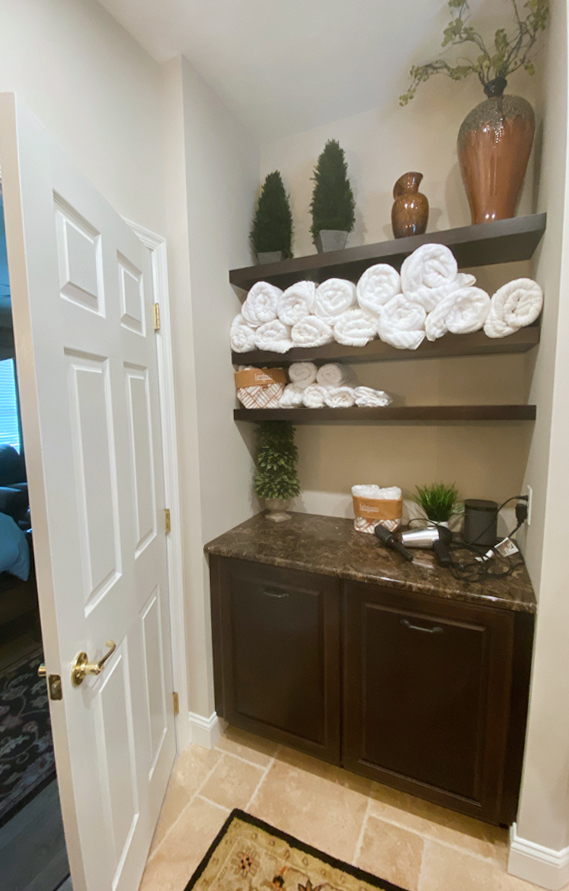 Best Curb Appeal:
This exterior transformation will make you stop and stare! A past customer reached out to make their home Elite once more. This time, we added a new roof and completed some exterior renovations to completely revamp the outside of their home. Our Superintendent Josh loves how "the vibrant blue hardie board siding really pops with the white trim, especially since the exterior of most other houses on their street is either brick or vinyl." What do you think?
– Before –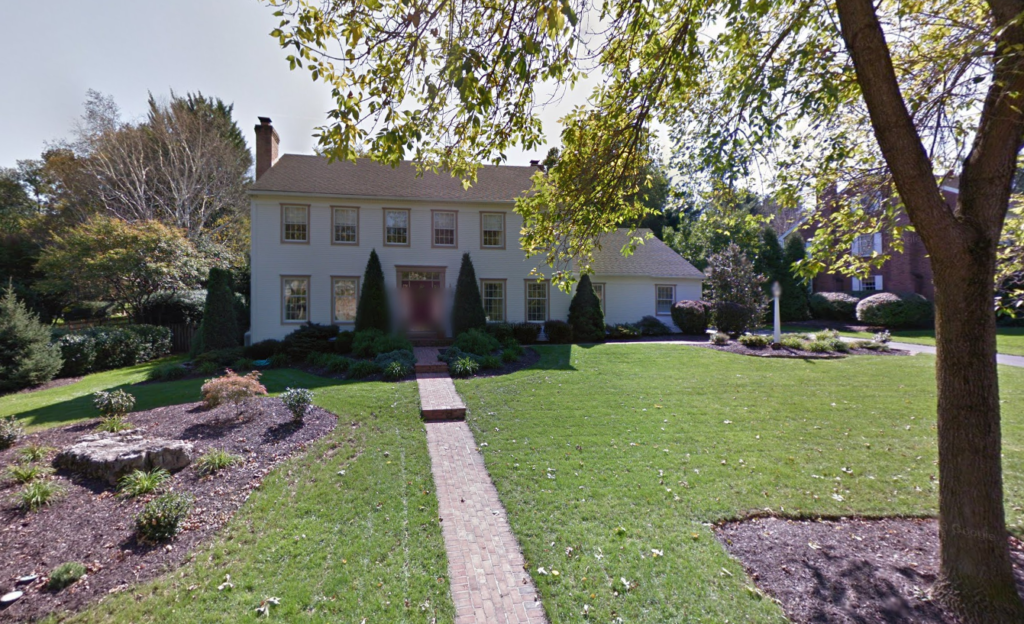 – After –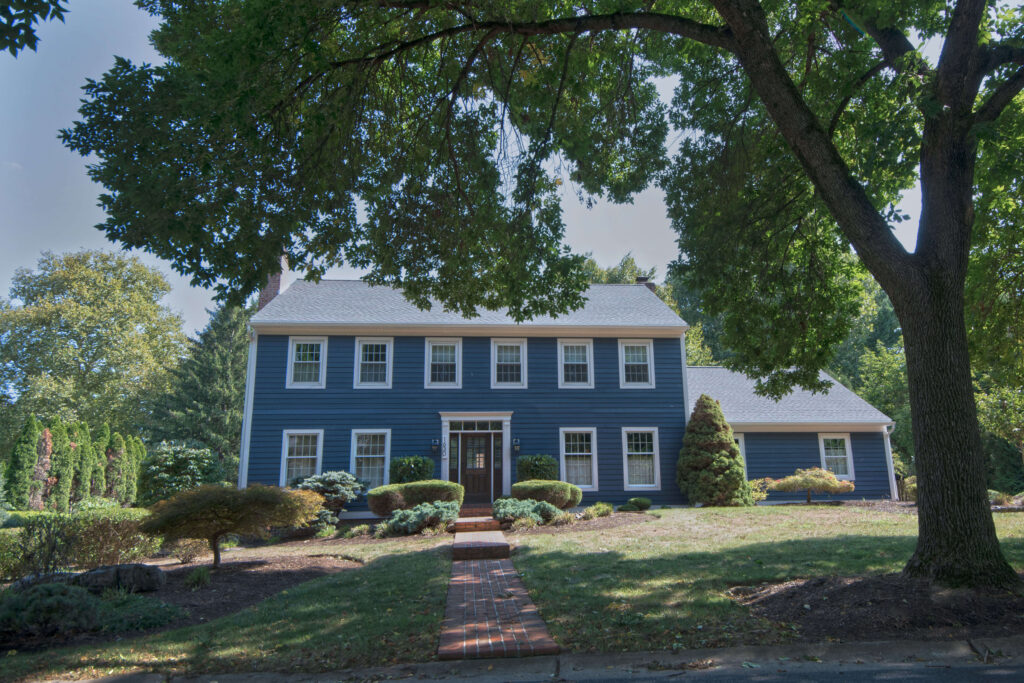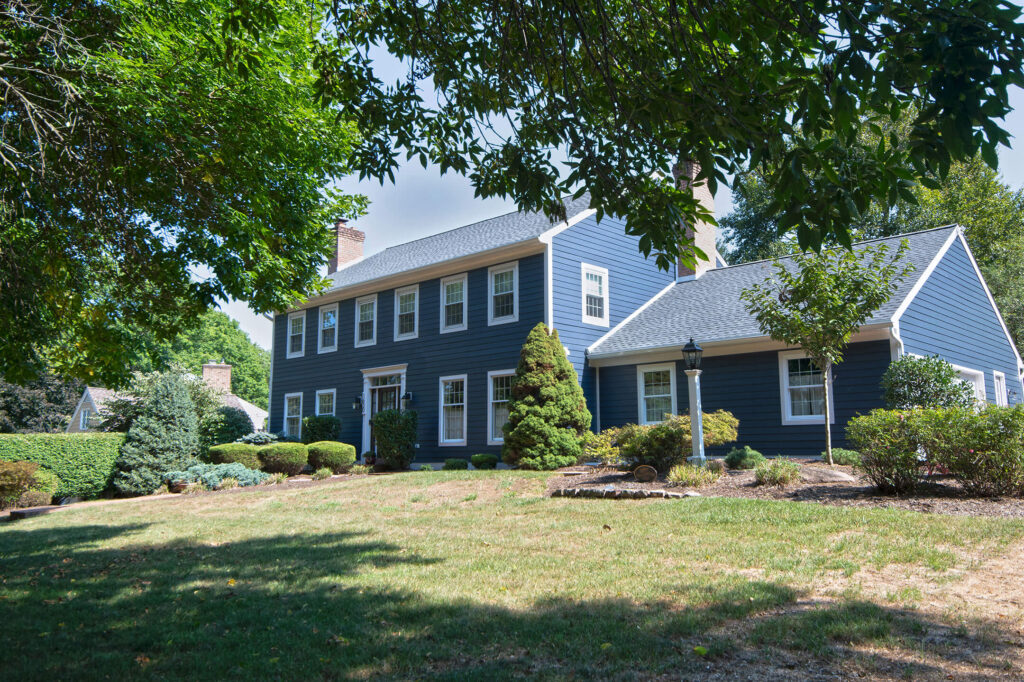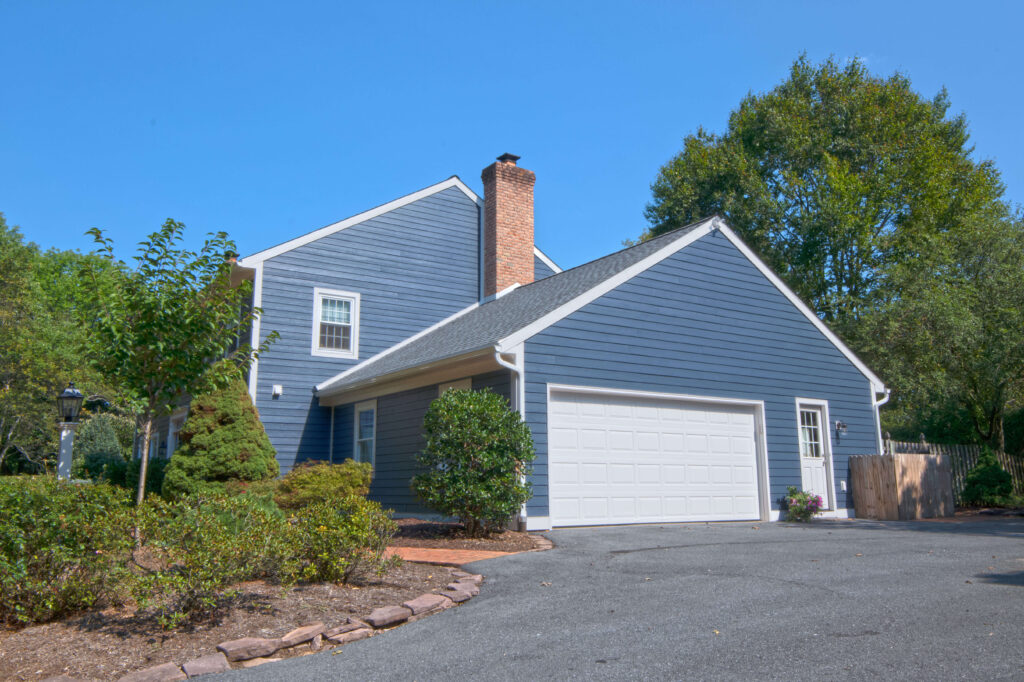 Most Impactful:
Perhaps the most rewarding project for our Elite team this year was a home addition that was completed for the clients' 11-year old son, Ryan, who has Spina Bifida. Although he uses a wheelchair and crutches in his everyday life, Ryan enjoys an active lifestyle filled with sporting events, playing instruments, and more. D&B Elite Custom was able to assist in helping him achieve an even more independent lifestyle. "We wanted to add an addition that allows him to move freely whether he is on crutches or using a wheelchair. It is important to us to help Ryan grow as independent as possible," explain Ryan's parents. Prior to this home addition, Ryan was limited to a small bedroom with a hall bathroom that would not properly accommodate him as he continues to grow.
John Watkins of Watkins Architect reached out directly to D&B Elite Custom with the plan. "Watkins was a huge component of planning this process because once D&B Elite Custom got involved everything was ready to go," explains Melissa. Larry Adam, Vice President of Residential Construction for D&B Elite Custom, met with David and Melissa for their consultation. "Larry was very confident that Watkin's plans could be done. It allowed us to be very confident. It was important for us to develop a relationship where we felt confident that they were going to have everything that we needed." Since Watkins Architect and D&B Elite Custom work together on a regular basis, this partnership made all the difference.
This 440 SF addition was designed to have a functional bedroom, bathroom and closet that extends off of the living room. The process took seven different revisions to find the design that flowed best with Ryan's needs. Ryan was a part of the design process and told us he worked with Beth, D&B Elite's Project Coordinator, to find features and designs that he liked best – such as vinyl flooring and slip-free flooring for the shower.
Although this project was not fully ADA compliant, it encompasses a multitude of ADA features that were designed with Ryan's needs in mind. "ADA requires three different hand rails around the toilet, but ultimately Ryan did not need that, so we only installed one hand rail," explains Ryan's father, David. In addition, Ryan does not have any doors in his room because it is his own private living space. According to Ryan's mother, Melissa, swinging doors can sometimes be a problem with his wheelchair. "This addition has the space to allow Ryan to move freely and spin around in a wheelchair, the doors are larger, and the bathroom was constructed in a way that allows him to do everything independently. D&B Elite Custom did a really good job of not just doing things by the book but instead making it functional for us and for Ryan's needs. The ADA compliant wasn't exactly what Ryan needed."
"The goal for Ryan was to be able to be more independent as he continues to grow. The addition did just that, allowing him to become independent for all of his daily needs without his parents," explain David and Melissa as they reflect on the positive impact that this project had on Ryan. When you ask Ryan, he'll tell you that he most enjoys the fact that he can control his fan and the temperature of his bedroom and bathroom via a remote control. In fact, Ryan loves his new space so much that he let his parents know that he plans to never leave, joking that his future wife will one day move in with them.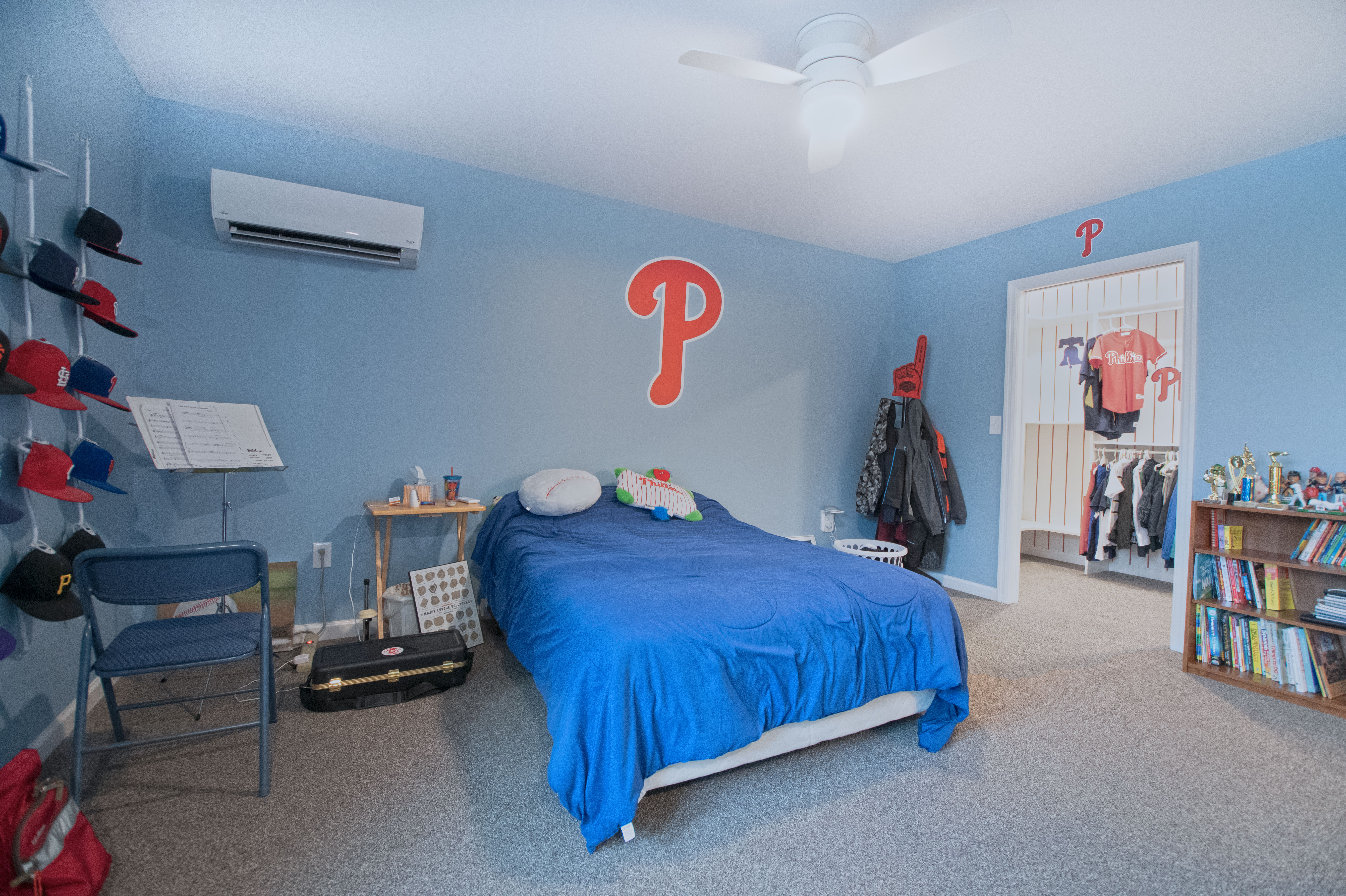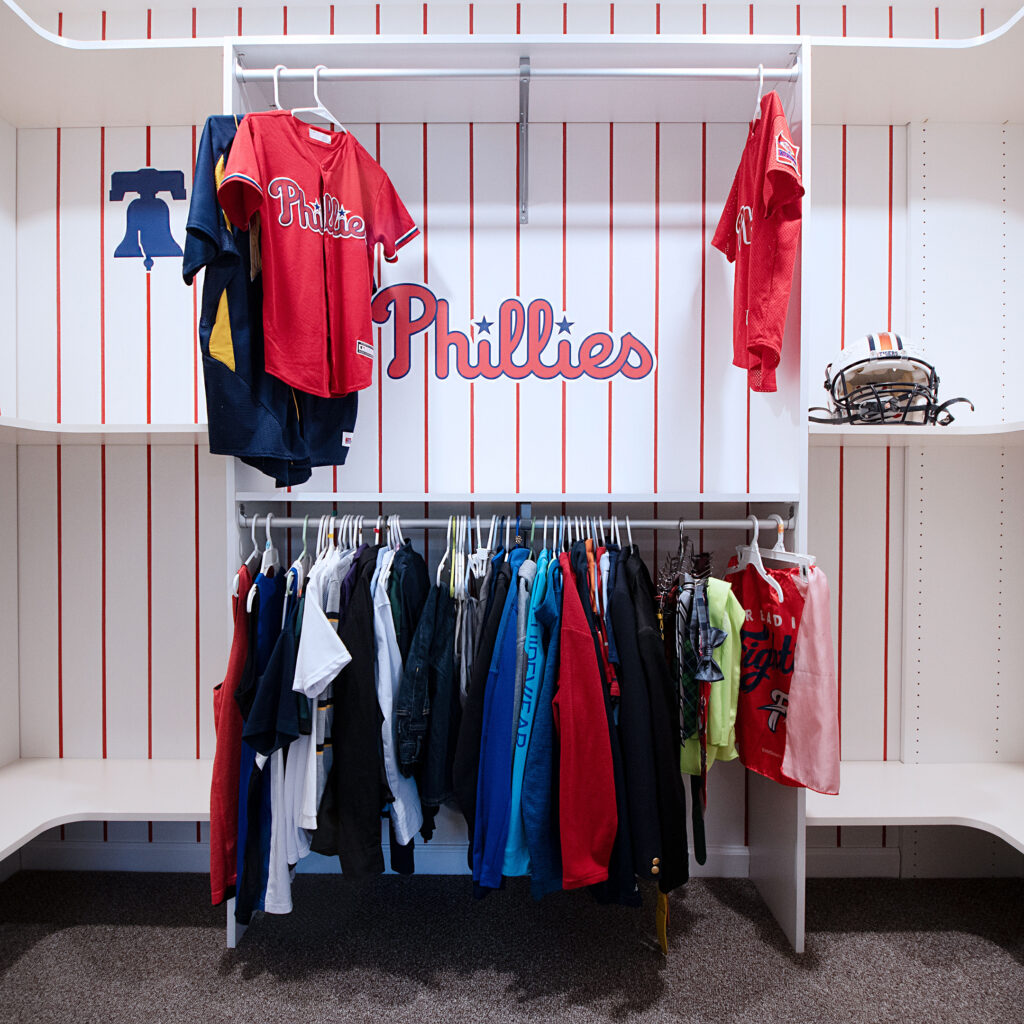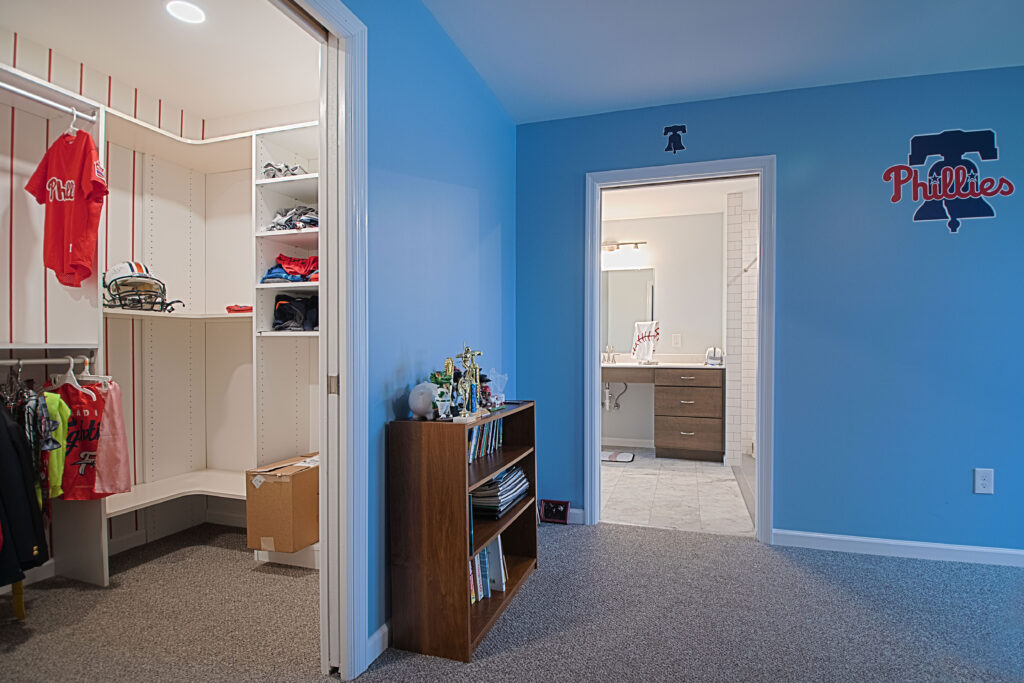 Best Space To Watch The Game:
From the bar to the dual televisions, you'll want to watch all your favorite sports in this spacious basement we remodeled in Exeter Township! (Bonus Points if you are a Philadelphia Sports fan, as the walls of this freshly renovated space are decked out in all things Philly!) After your favorite team wins, burn off your energy in the renovated gym – complete with gorgeous barn doors.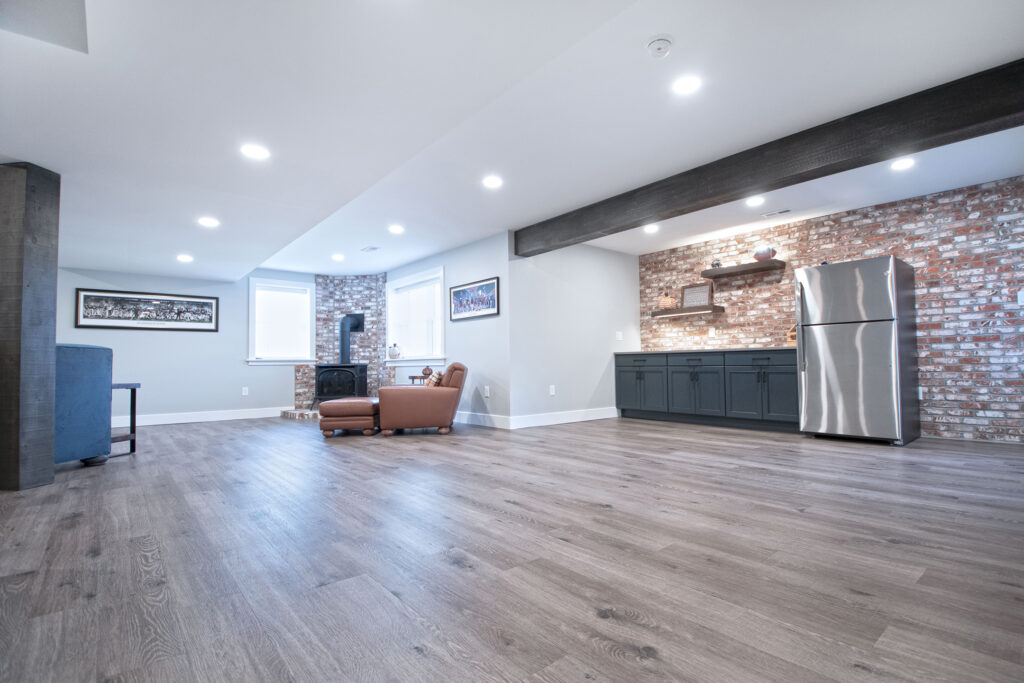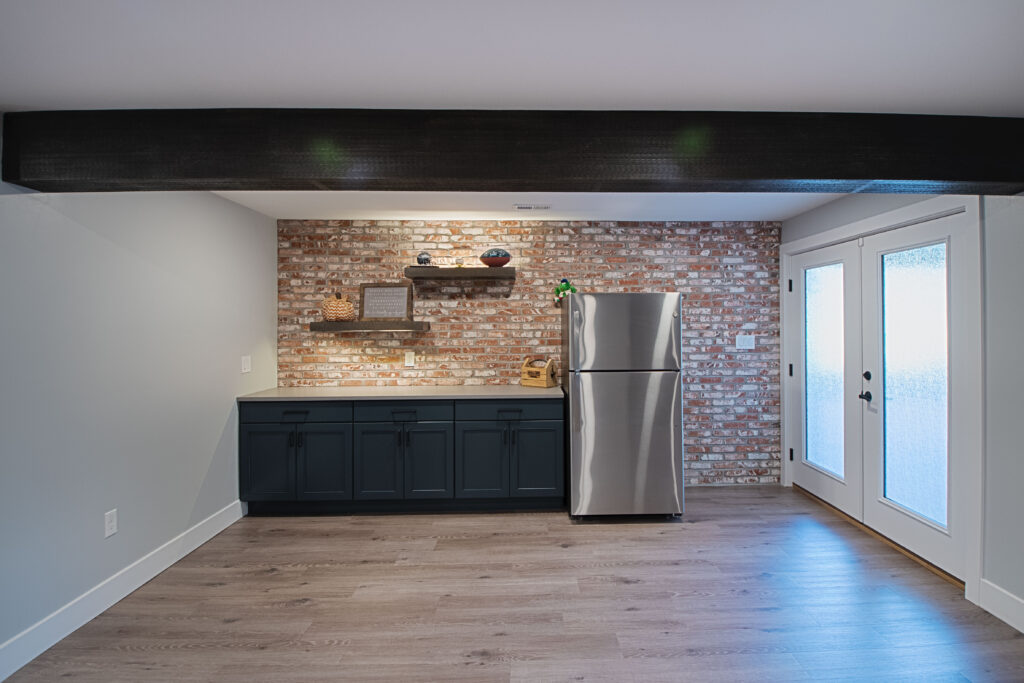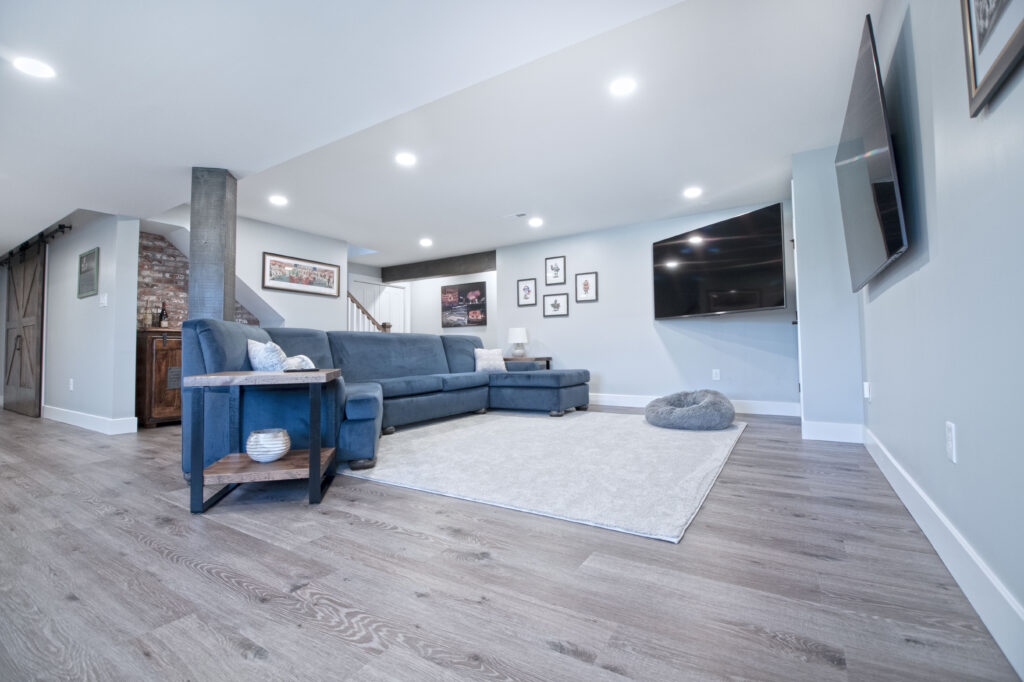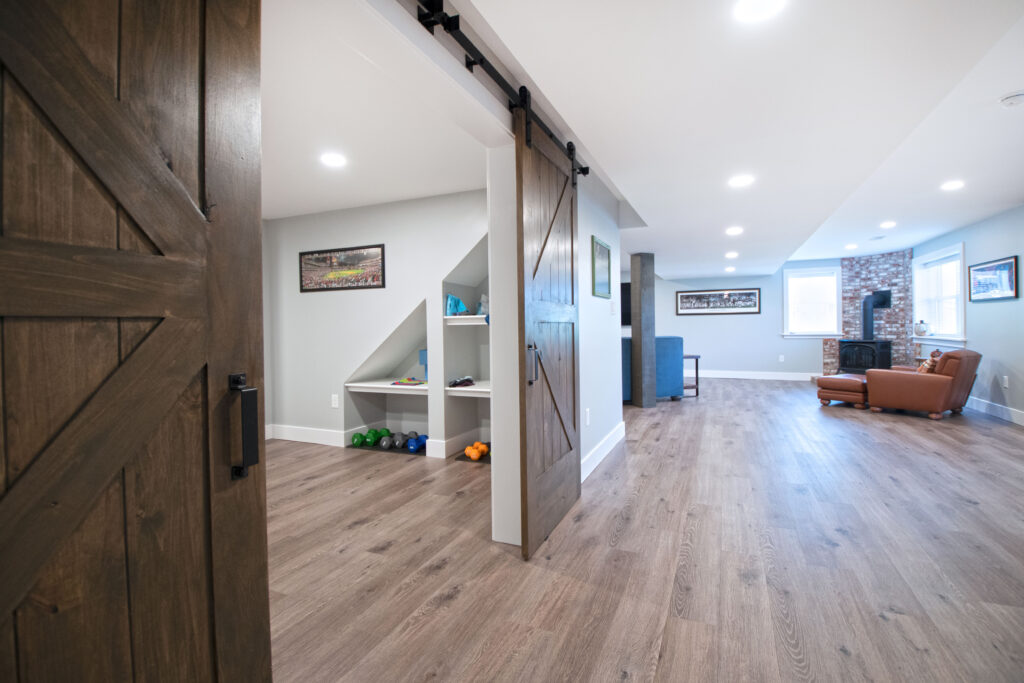 Place You're Most Likely To Find Us Curled Up With A Good Book:
Catch us here all Winter with the fireplace blazing!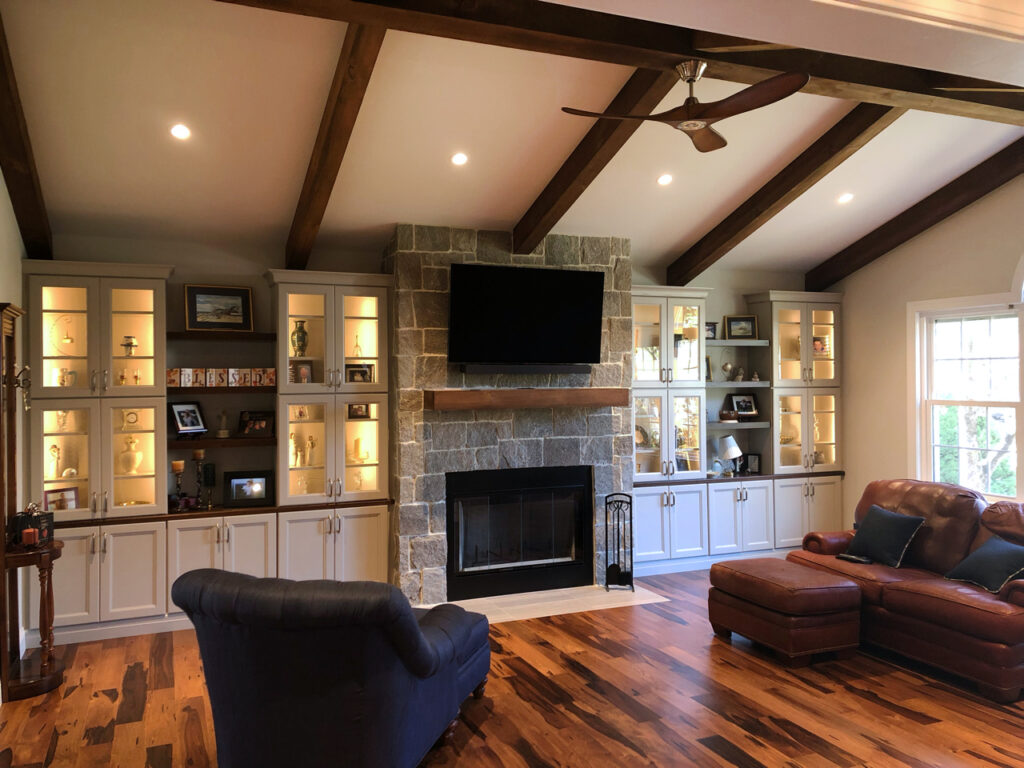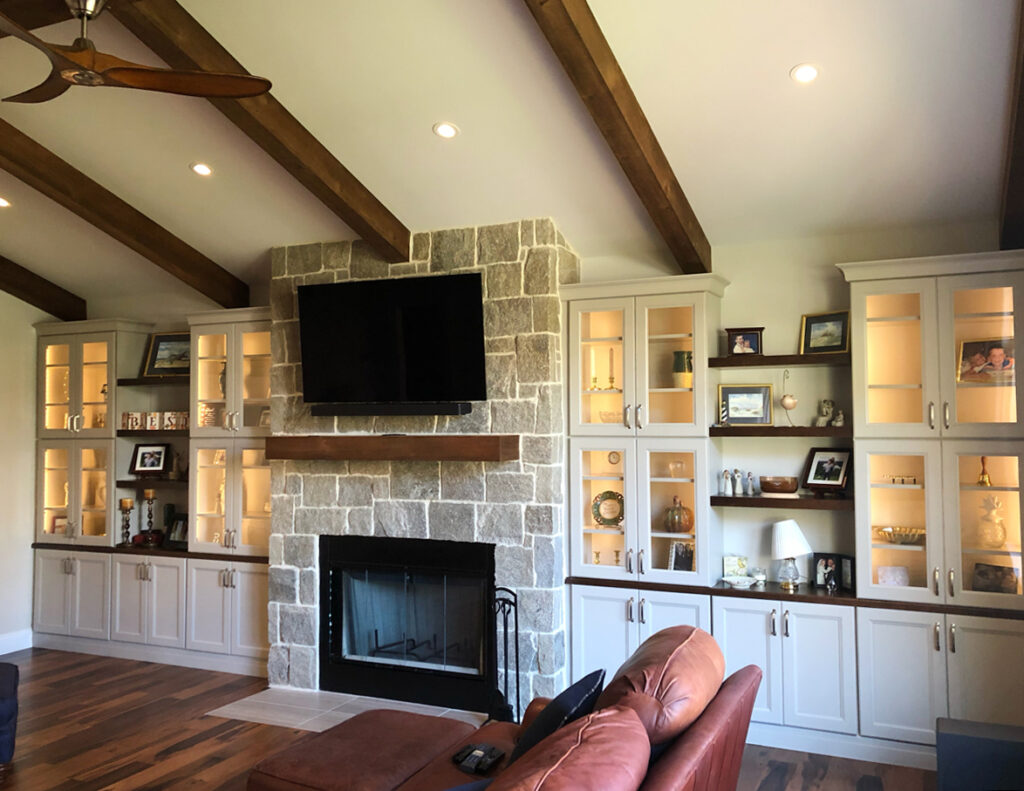 Best Dressed:
When we visited our client after they were all moved in to their re-imagined space, we initially thought we got lost and ended up in the Studio McGee and Hearth & Hand with Magnolia section of Target. You're going to love the timeless, minimal look of this home with its earthy hues and natural tones! We couldn't get over how well our client, Kim, staged and decorated her space. See for yourself: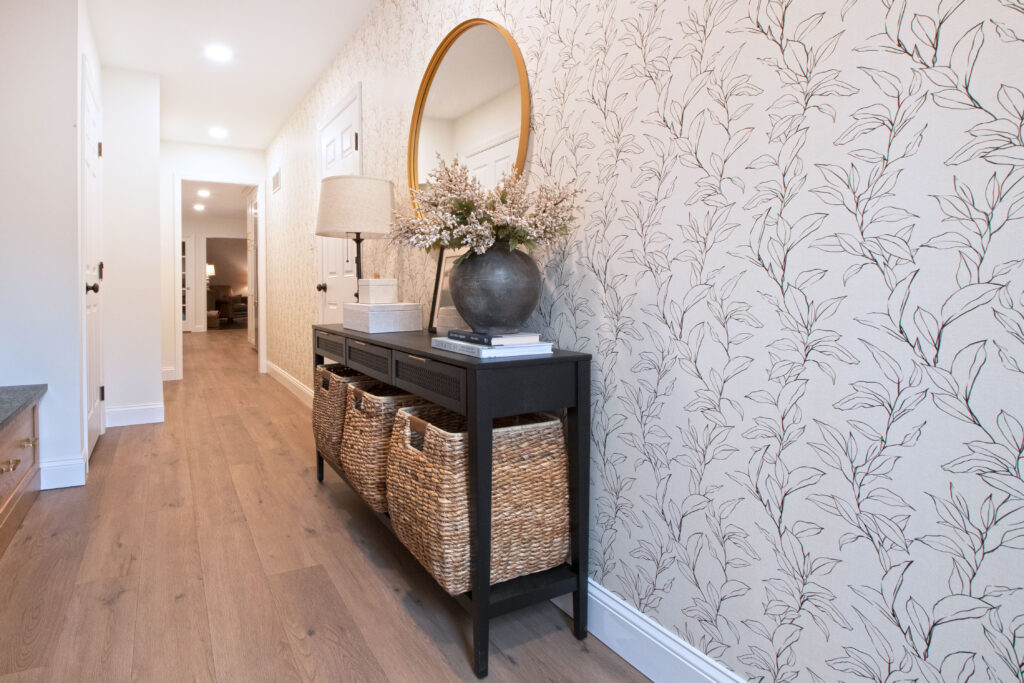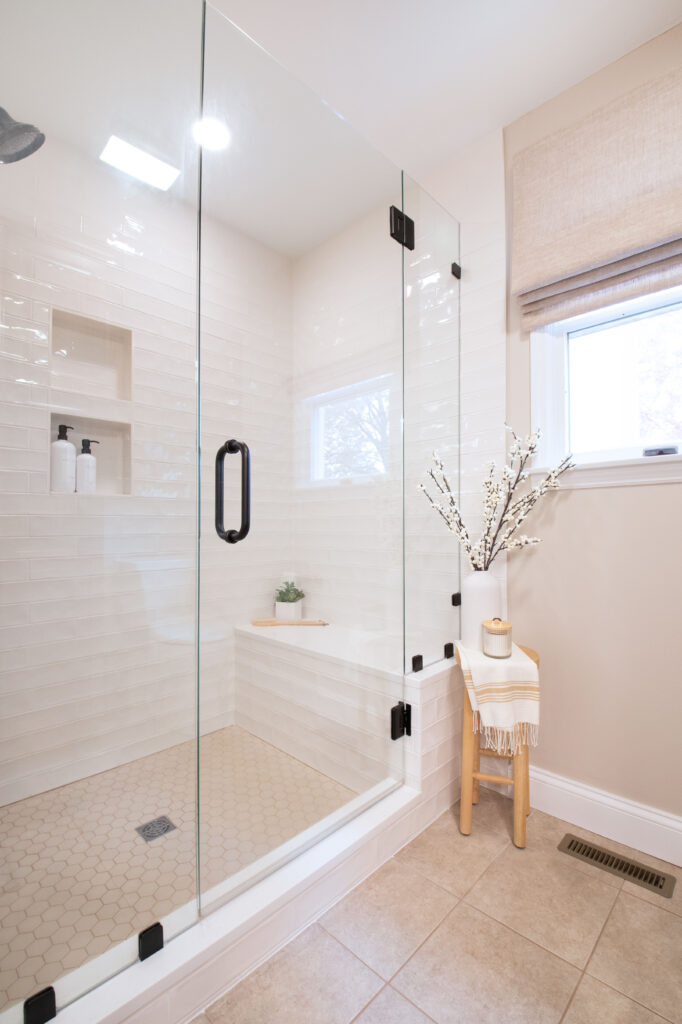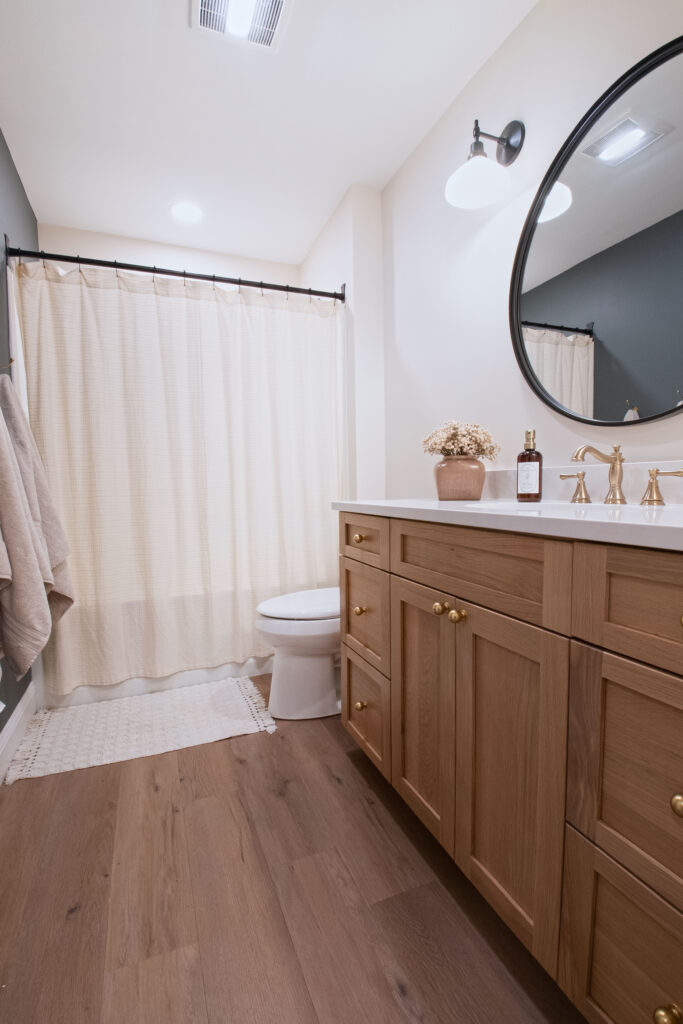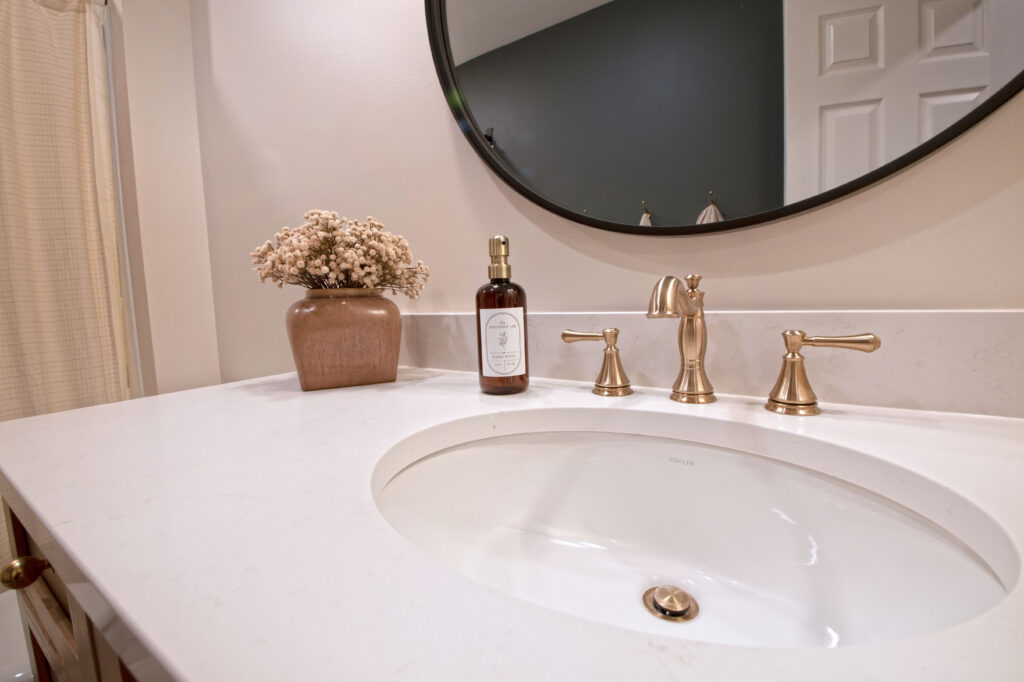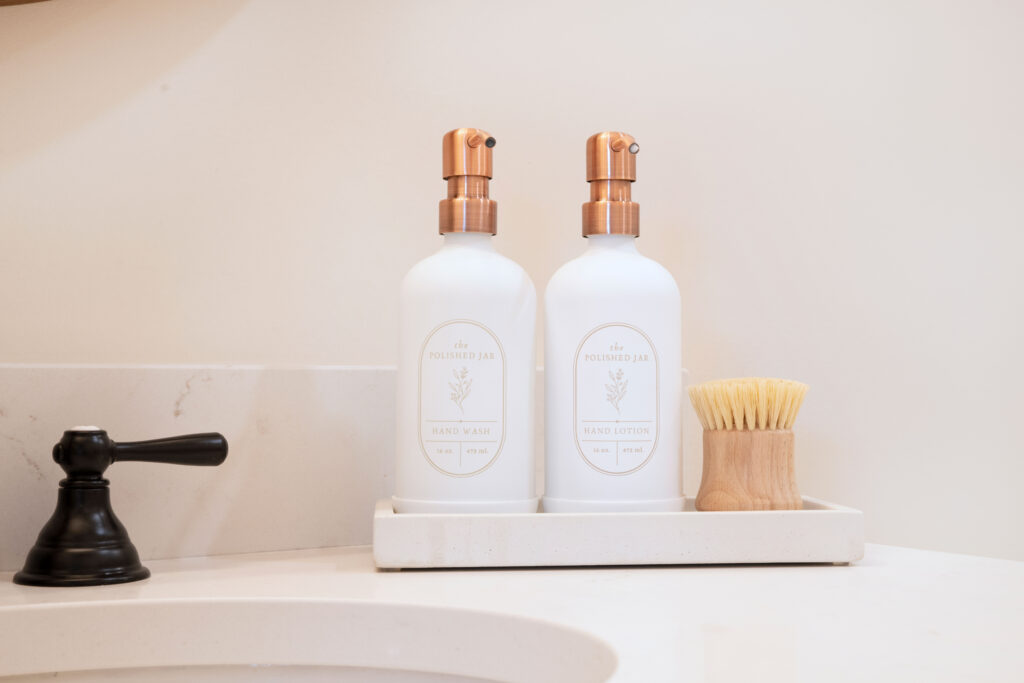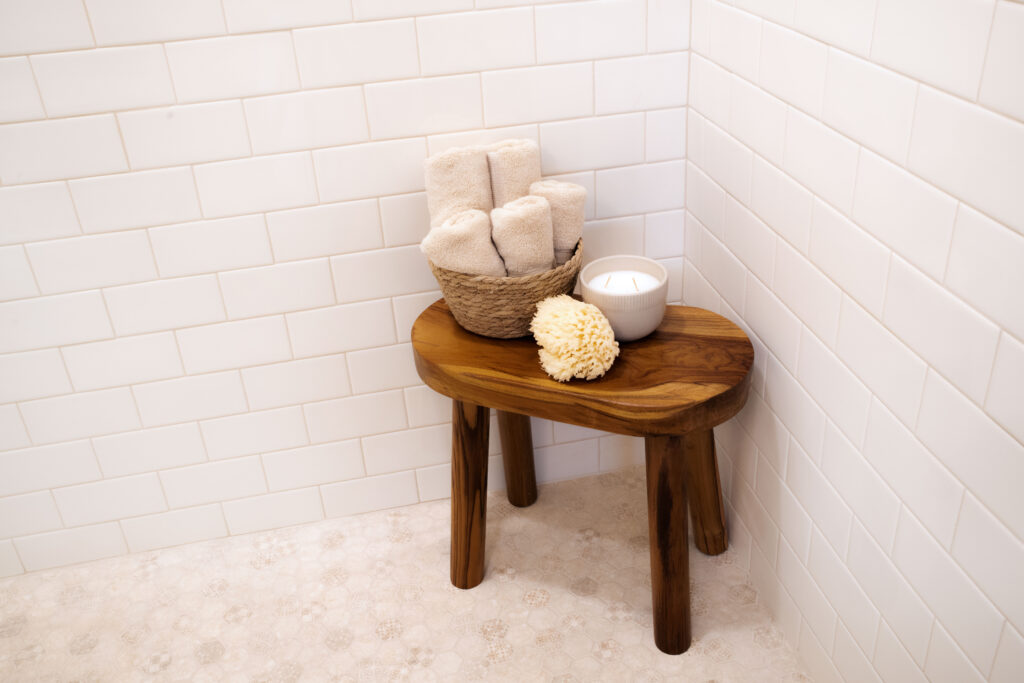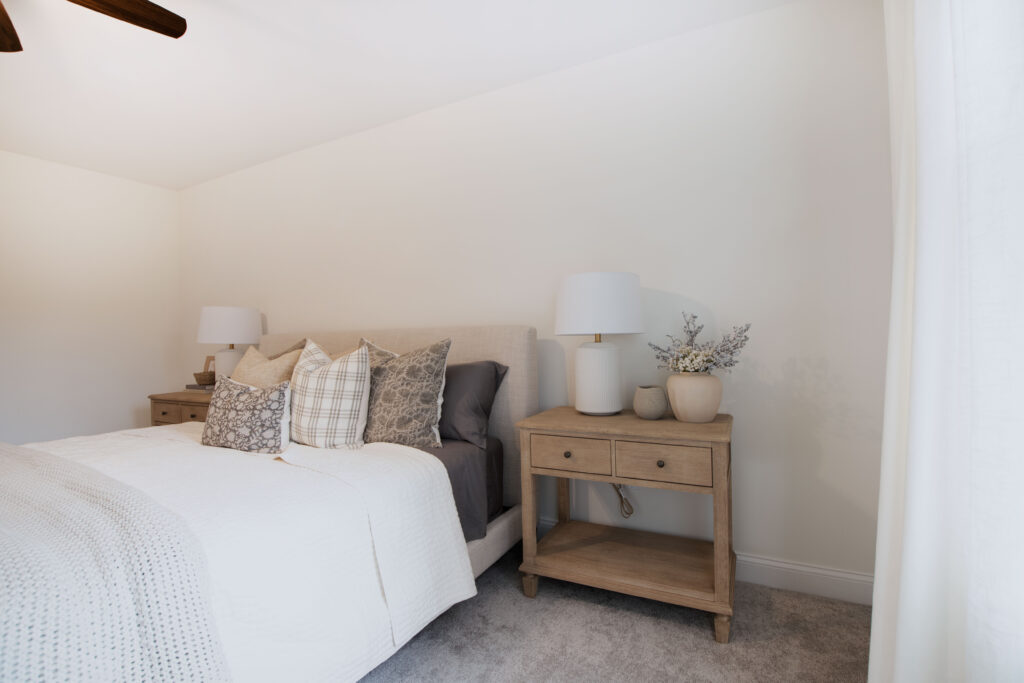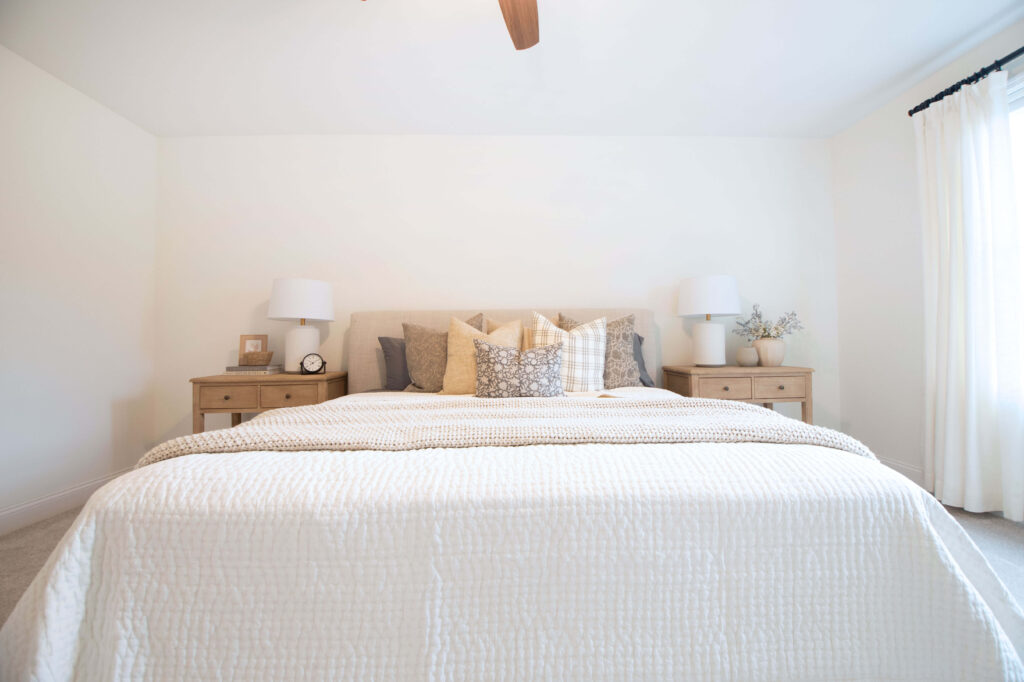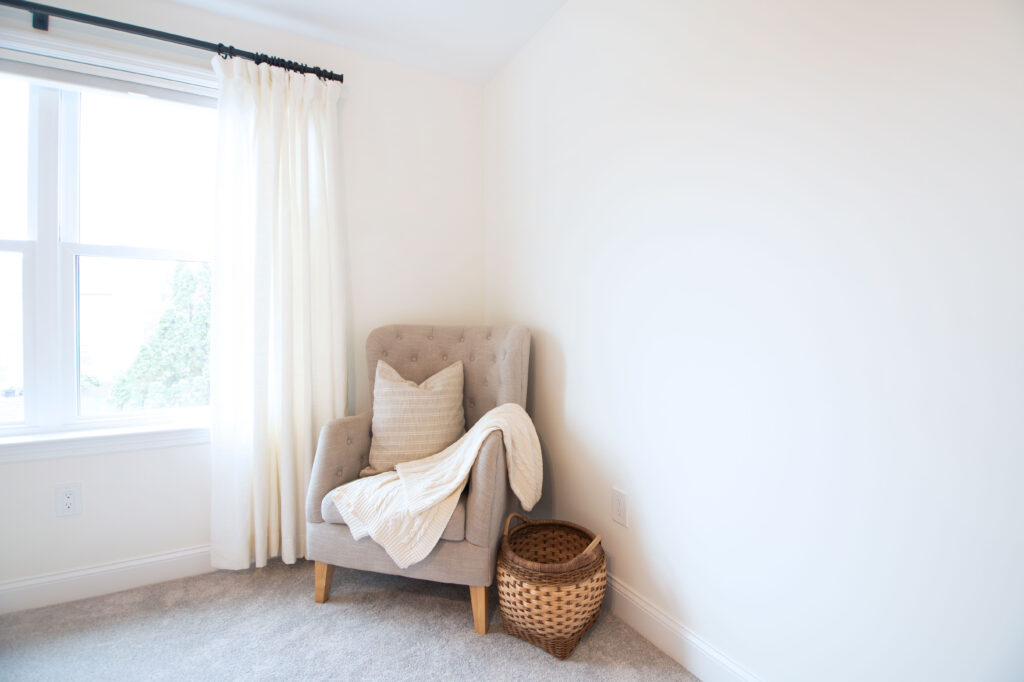 The Elite team recently completed a kitchen and dining room remodel for a Wyomissing client. The end result? We gave a kitchen built in 1953 an entire upgraded look, including new windows, a new door at a new location, and a re-imagined open floor plan. "It's a completely different house! I love it. It's what I always wanted since the day we moved in," exclaimed our client, Penny, when we stopped by to visit after they were settled in with their new furniture.
Josh, the Superintendent on the job said his favorite part of this project was "developing a new open floor plan while still keeping true to the 1950s architecture by keeping the curved opening of the doorway. Penny and her daughter's favorite part of their new kitchen was making the switch from an electric stove to gas because it has made cooking easier. (Bonus: There is even an air fryer in the oven!) They also love the peninsula in the new space.
A Look At The Transformation:
Here's some before and after photos of the space: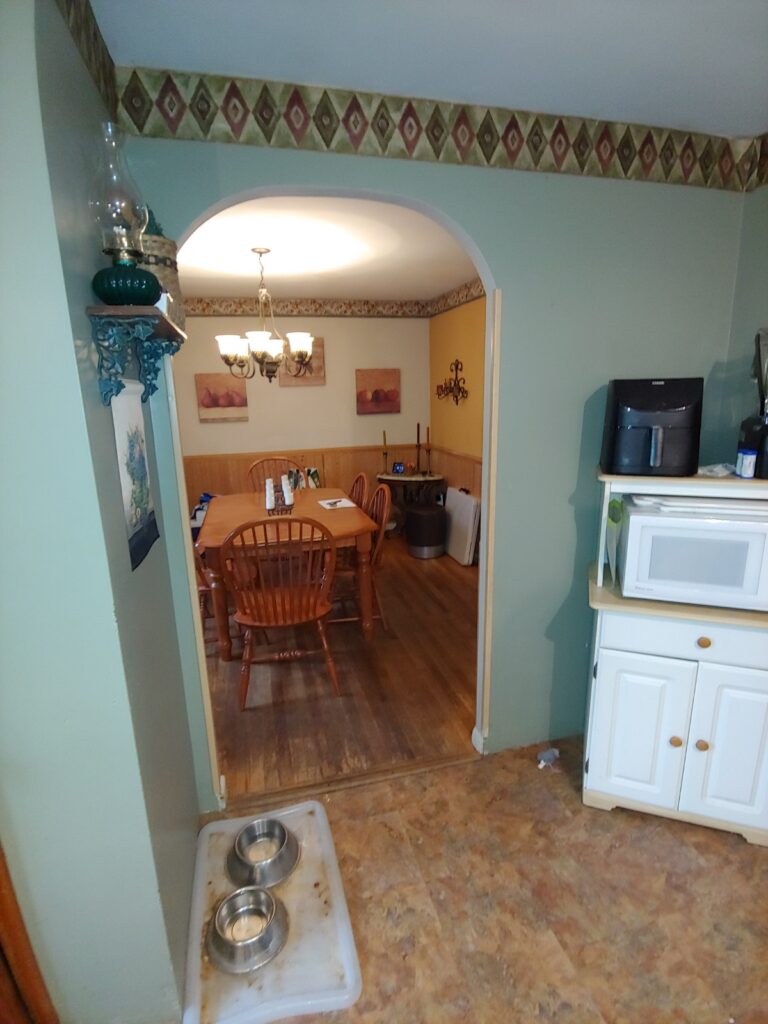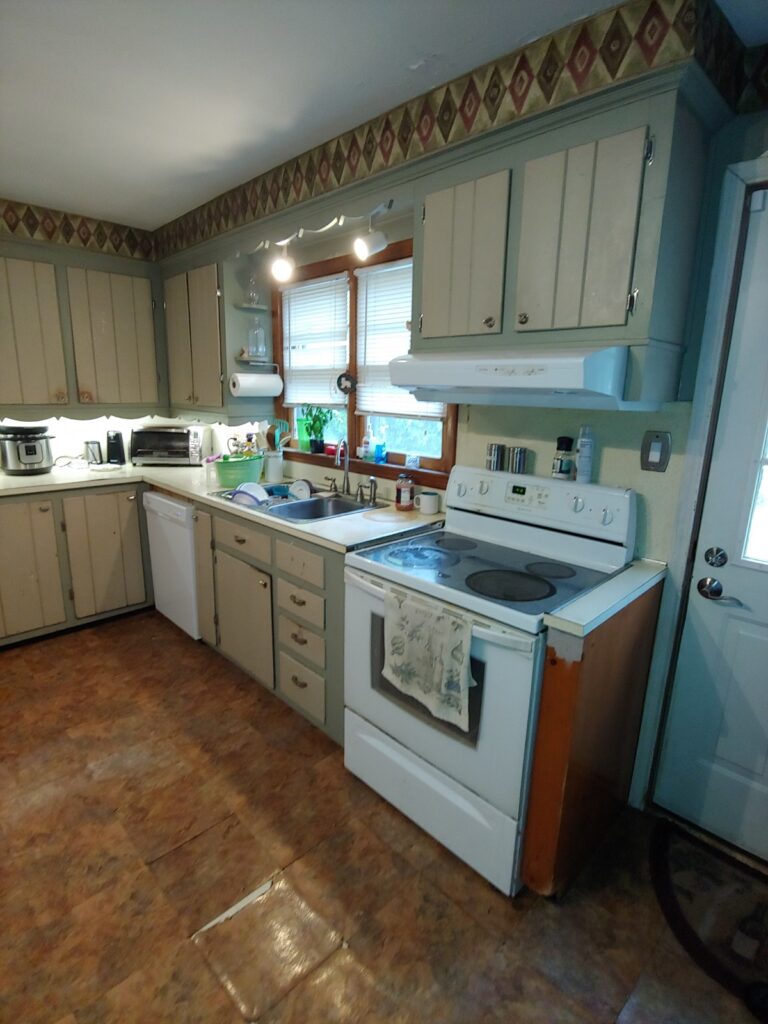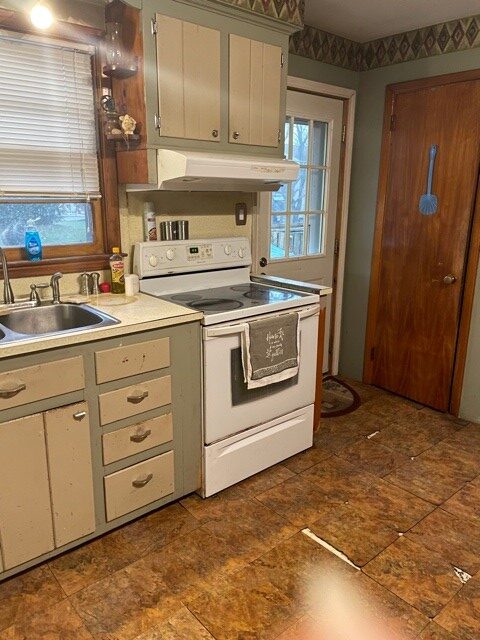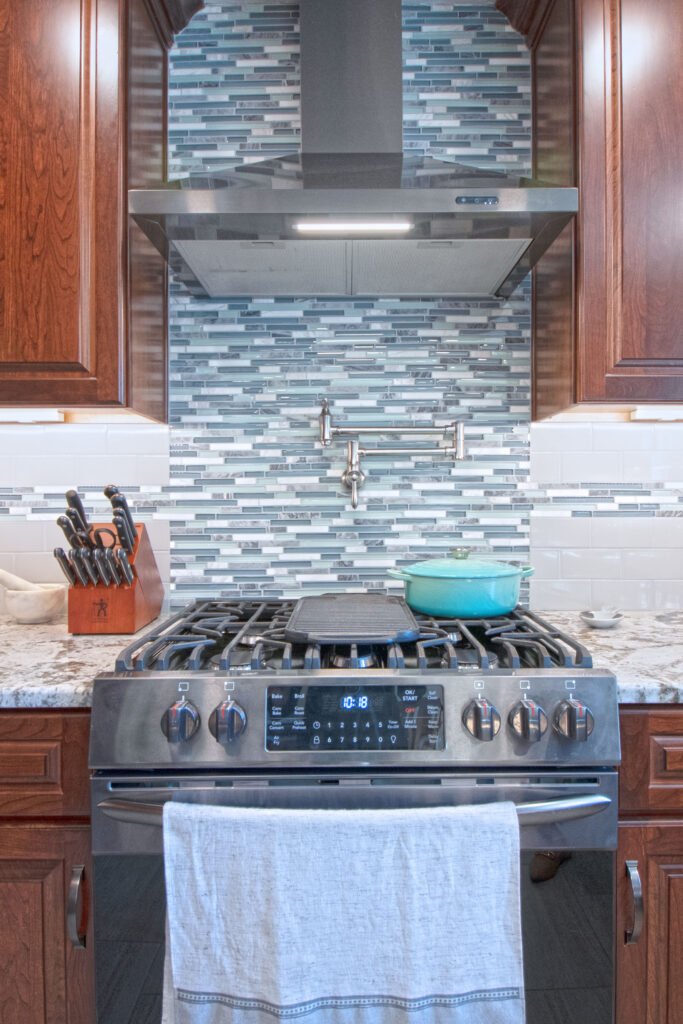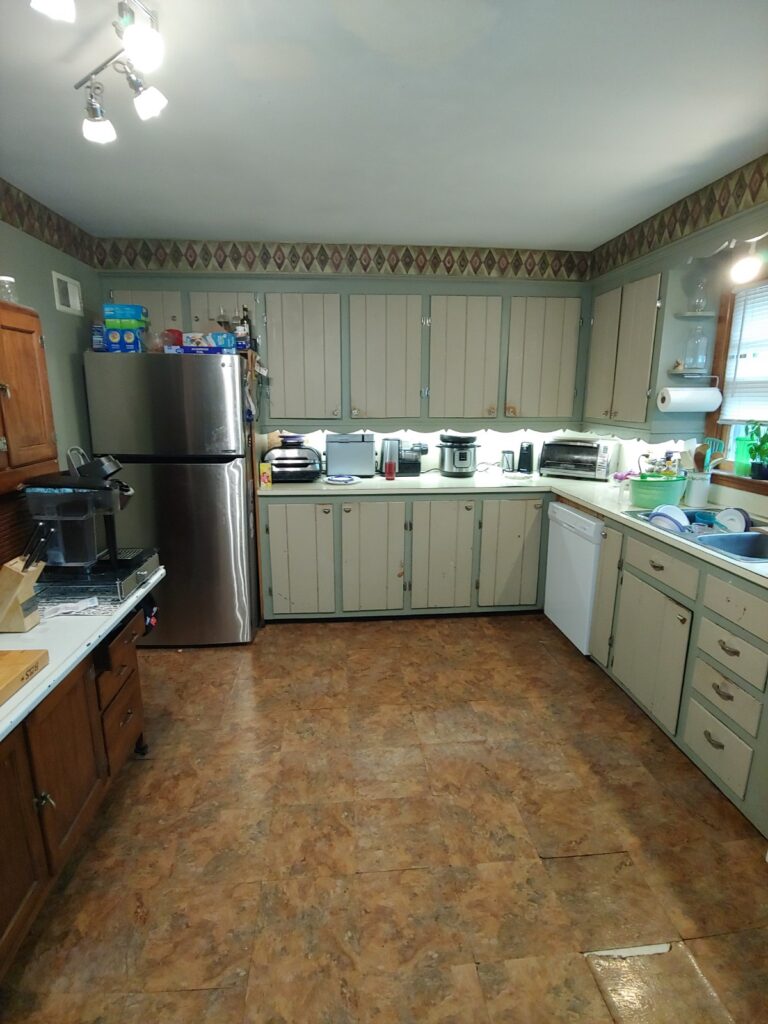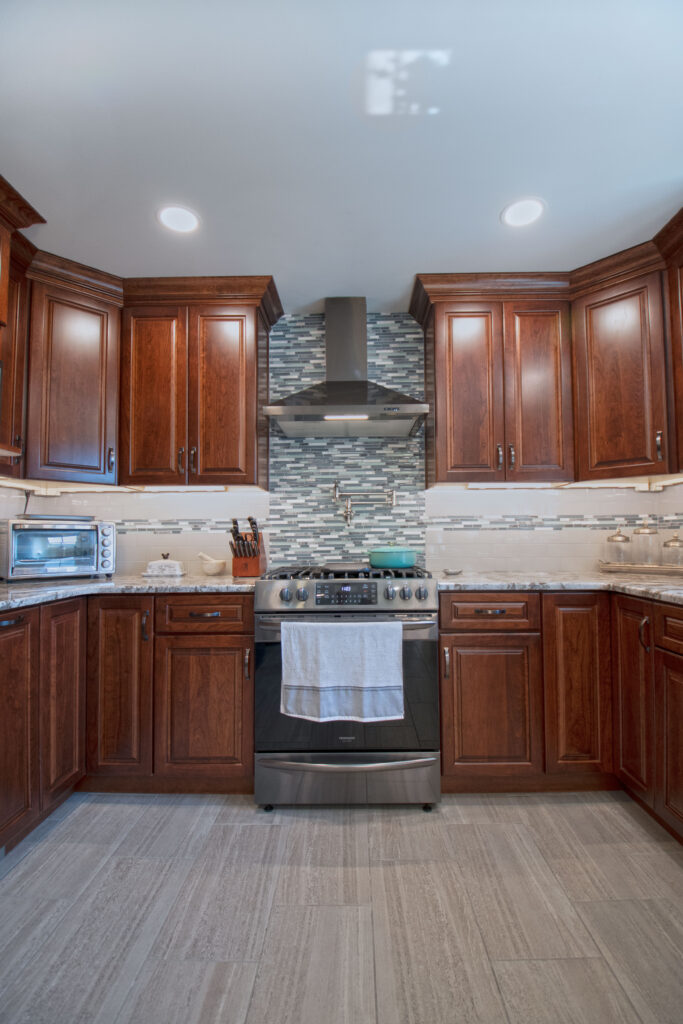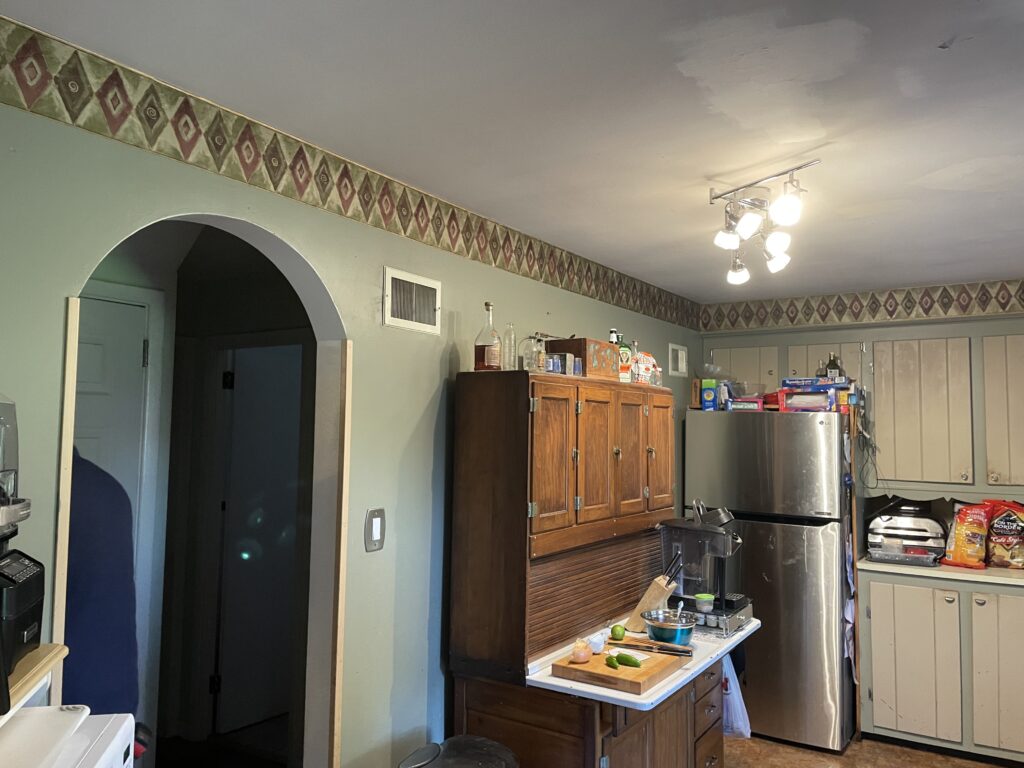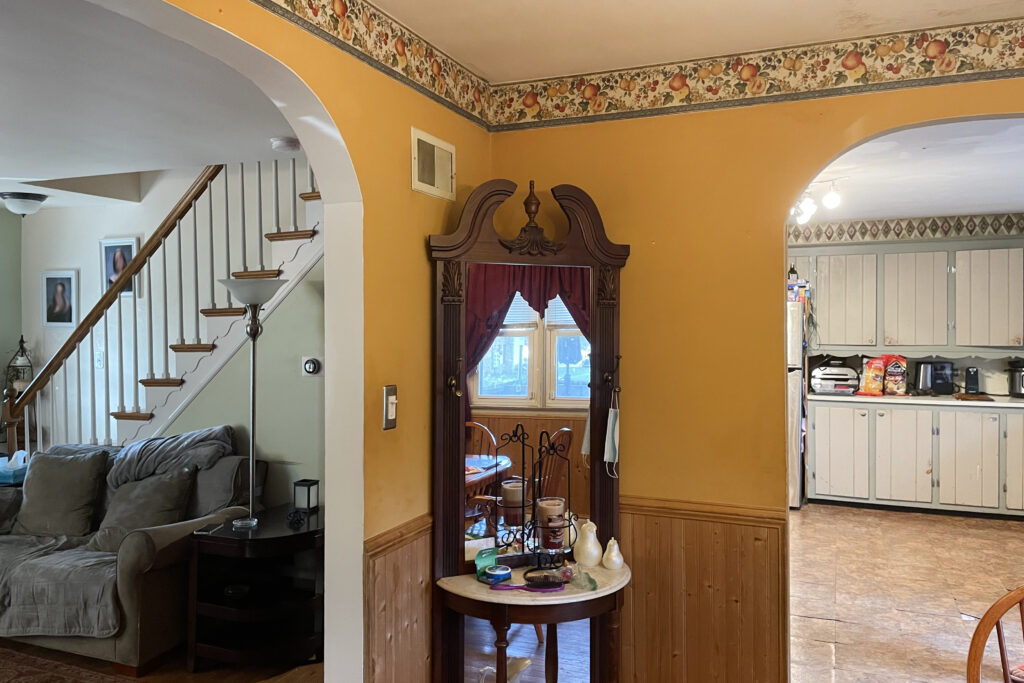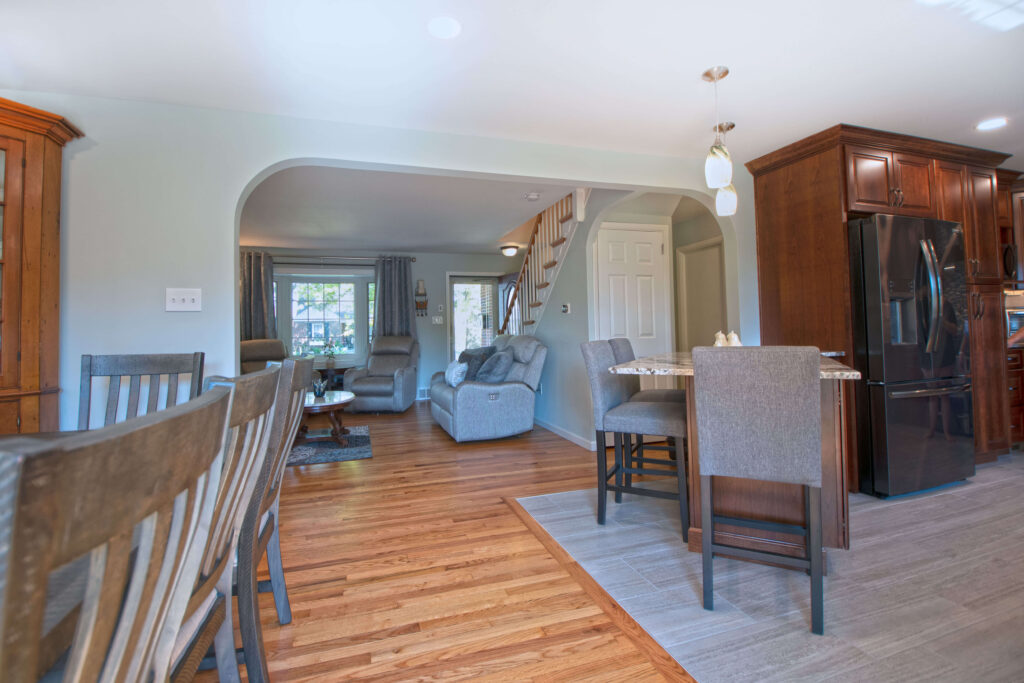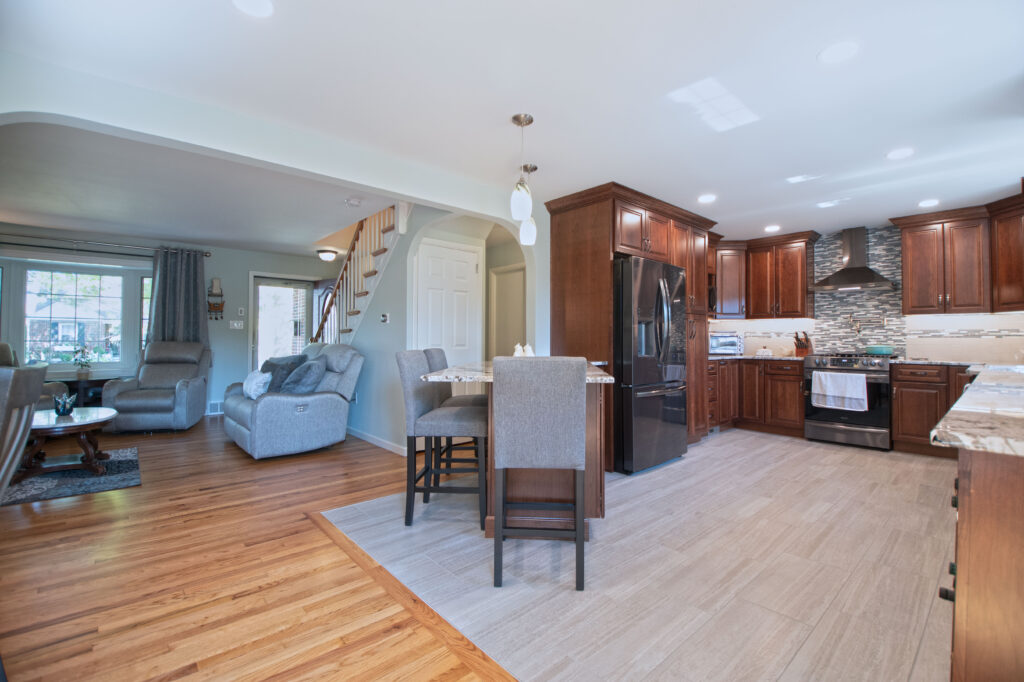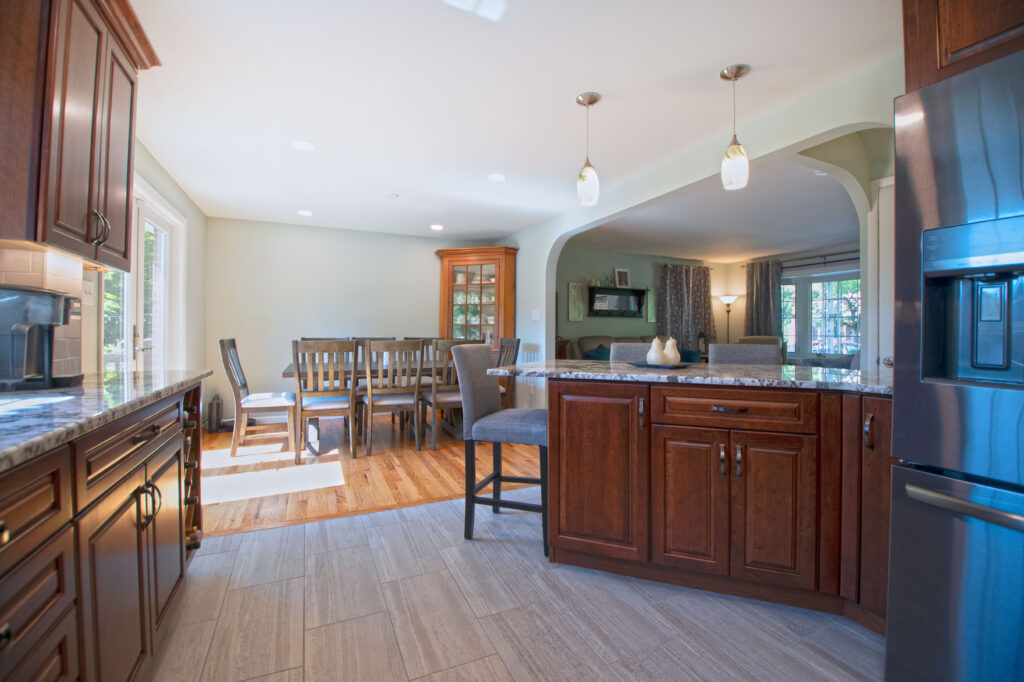 Our team opened up the dining room, living room, and kitchen area to create a more open space.
The Construction Process:
Penny and her family enjoyed watching the construction process and said that our team and Trade Partners were "nice and respectful, especially when it came to having to walk through the kitchen throughout construction." The on-site construction team would always move the plastic barriers whenever the family wanted or needed to walk through. "They were so courteous that they avoided cutting any wood, etc. and waited until we were done making our food," Penny's daughter reflects.
Our clients relied on microwave cooking and cooking on the grill throughout the course of construction. In fact, having to walk all the way around the house to get to the grill is what inspired the family to start dreaming up their next home renovation – an outdoor living project that they hope to begin with our team in Spring of 2023.
As the homeowner, Penny also appreciated how our team would always "go to bat for her to get her what they needed." That's the D&B Elite difference.
Now Get The Look:
Here's a look at some of our trusted Trade Partners who helped bring this vision to life: Flooring and tile backsplash from About All Floors, Granite Countertops from AAA Hellenic Marble, cabinetry was completed by Swartz Kitchens & Baths, and plumbing fixtures from Weinstein Reading.