As we journey through life, there comes a time when our living spaces need a touch of transformation to suit our changing needs. Senior living renovations are not just about updating aesthetics; they're about creating a haven of comfort and functionality for life's next chapter. Whether you're considering modifications for yourself or a loved one, these home renovation and remodeling ideas are designed to embrace the golden years with style and practicality.
Open Concept Living


Wave goodbye to cramped spaces and embrace the open concept trend. Knock down walls to create larger, flowing spaces that are easier to navigate. This not only enhances mobility but also promotes social interaction and maximizes natural light.

Accessible Bathrooms

Bathrooms can be a source of frustration as we age, but a few thoughtful changes can make a world of difference. Install grab bars, walk-in tubs, and non-slip flooring to ensure safety without compromising on style.

Kitchen Convenience


Revamp the kitchen to be a user-friendly space. Lower countertops, pull-out shelves, soft-close drawers and cabinets, and lever-handled faucets are small adjustments that make a big impact, ensuring meal preparation remains an enjoyable activity.

Ample Lighting


A well-lit home is key for aging eyes. Consider adding task lighting, motion-sensor lights, and larger windows to brighten up the space. Smart lighting systems can be controlled effortlessly, making it easier to adapt to changing needs.

Comfortable Flooring


Replace carpets with hardwood, laminate, or vinyl flooring. These options are not only easier to clean, but they also minimize the risk of trips and falls. Adding rugs with non-slip pads can offer both comfort and safety.

Technology Integration


Stay connected effortlessly by incorporating technology. Smart home devices like voice-controlled assistants, automated thermostats, and security systems can be tailored to enhance convenience and security.

Tranquil Outdoor Spaces


Create serene outdoor retreats by designing accessible gardens, patios, or balconies. These areas provide a breath of fresh air and an opportunity to enjoy the beauty of nature from the comfort of you home.

Multifunctional Rooms


Design rooms with versatility in mind. A guest room that can double as a hobby space or a home office that can accommodate a daybed ensures that every inch of your home serves a purpose.

Thoughtful Storage Solutions


Optimize storage by integrating easy-to-reach shelves, cabinets with pull-out organizers, and spacious closets. This not only minimizes clutter but also simplifies daily routines.

Aging-in-Place Upgrades

Consider future needs with features like stairlifts, ramps, and wider doorways that allow aging homeowners to comfortably remain in their cherished space even as mobility changes.

Wellness Retreats

Transform bathrooms into personal spas with walk-in showers featuring benches, steam options, and adjustable showerheads. This luxurious touch promotes relaxation and self-care.
Senior living renovations are about creating an environment that nurtures the spirit while embracing the changes that come with age. By infusing comfort, accessibility, and style into every corner of your living space, you're crafting a home that is not only a reflection of your journey but also an empowering setting for life's next chapter.
Consider enlisting the expertise of D&B Elite Custom; with a wealth of experience in universal design and aging-in-place renovations, we are dedicated to crafting spaces that harmoniously blend aesthetics and functionality. Our guidance will turn your renovation dreams into a reality that not only welcomes the future but also enhances your present comfort.  Make your home, Elite.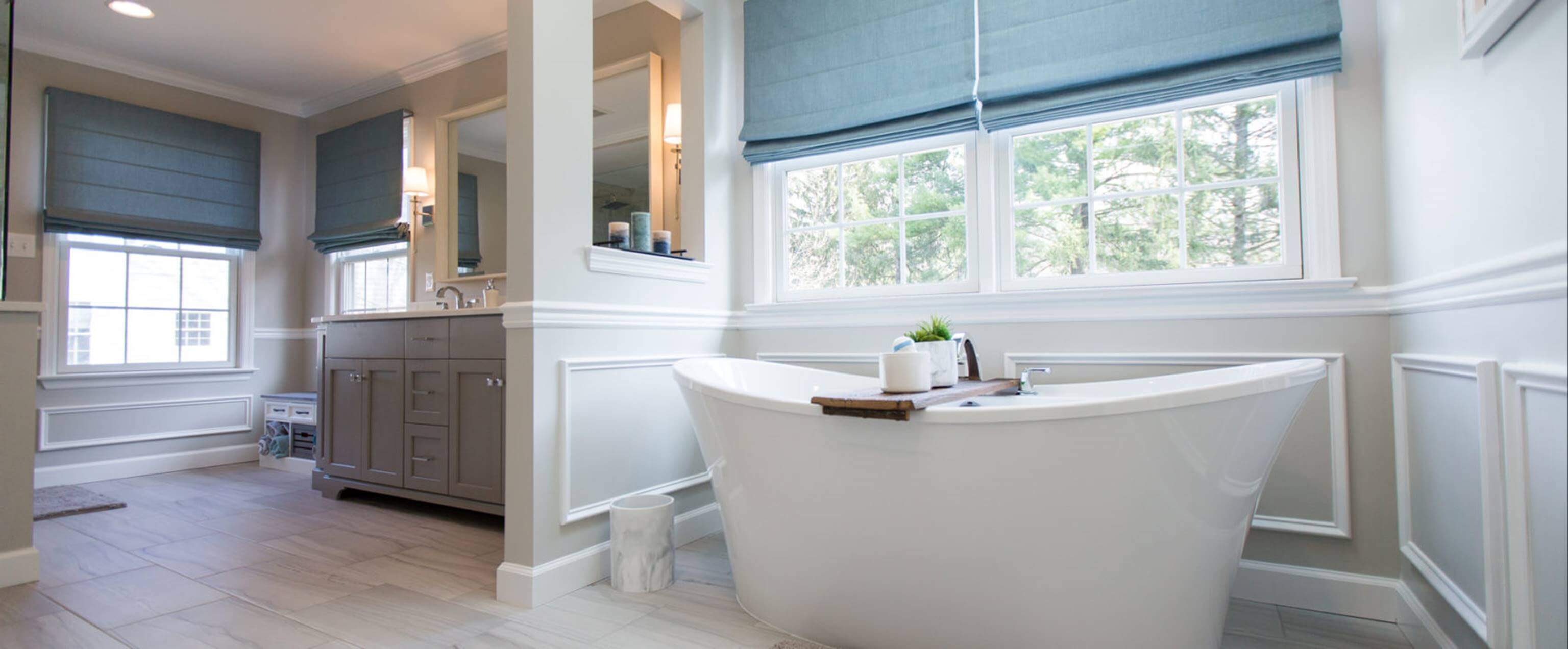 In the world of home improvement, a trend that's gaining immense popularity is the art of transforming mundane bathrooms into luxurious spa-like retreats. Gone are the days when bathrooms were mere functional spaces. Today, homeowners are embracing the concept of turning their bathrooms into havens of relaxation and rejuvenation. in this article we dive into the captivating trend of luxurious bathroom remodeling, where walk-in showers, soaking tubs, heated floors, and high-end fixtures are the stars of the show.
Spa-Inspired Serenity

Modern life's hustle and bustle often leaves us yearning for relaxation. Luxurious bathroom remodeling brings the tranquility of a spa right into your home. With carefully selected features, you can create an ambiance that soothes the senses and provides a much-needed escape.

Walk-In Showers: A Touch of Opulence

Say goodbye to cramped shower stalls and hello to spacious walk-in showers. These grand installations offer the freedom to indulge in a showering experience like no other. Rainfall showerheads, built-in benches, and seamless glass enclosures make your daily routine a luxurious ritual.

Soaking Tubs: Indulgence Redefined

Transform your bathroom into a sanctuary of relaxation with a soaking tub. These elegant tubs invite you to unwind in style, enveloping you in comfort and luxury. Choose from various designs, such as freestanding, corner, or sunken tubs, to make a statement in your remodeled bathroom.

Heated Floors: Embrace Warmth

Bid farewell to cold tiles underfoot by incorporating heated floors into your bathroom remodeling project. These radiant heating systems provide a touch of luxury while keeping you warm during colder months. Stepping onto a heated floor is the transition to start your morning off right.

High-End Fixtures: The Devil in the Details

Luxury lies in the details, and high-end fixtures are the epitome of this principle. From intricately designed faucets to gleaming hardware, these elements elevate the overall aesthetic of your bathroom. The gleam of polished metal adds an unmistakable touch of sophistication.

Lighting Matters

Proper lighting can make or break the ambiance of any space, and bathrooms are no exception. Incorporating soft, flattering lighting enhances the spa-like atmosphere. Consider pendant lights, backlit mirrors, under-lit cabinets, and dimmer switches to create a customizable and luxurious glow.

Seamless Design & Clean Lines

Minimalistic and streamlined designs are the hallmark of luxurious bathroom remodeling. Embrace clean lines, neutral color palettes, and cohesive textures to achieve an elegant, unified look that echoes high-end spa resorts.

Ample Storage Solutions

Luxurious bathrooms are clutter-free havens. Integrate innovative storage solutions like built-in shelves, hidden cabinets, vanities with soft-close doors and drawers to keep your space organized and pristine, enhancing the overall luxurious feel.

Smart Technology Integration

Stay ahead of the curve by integrating smart technology into your bathroom remodel. Programmable showers, voice-activated lighting, and temperature-controlled features contribute to an ultra-modern, luxurious experience.

Eco-Friendly Luxury

Luxury doesn't have to come at the expense of the environment. Choose sustainable materials like bamboo, recycled glass, or low-flow fixtures to create an eco-friendly yet lavish bathroom space that aligns with your values.

Personalized Touches

Infuse your personality into your bathroom oasis with personalized touches. Artwork, plants, scented candles, and plush textiles can all contribute to the cozy, spa-like atmosphere you're striving to achieve.

Return on Investment

Lastly, consider the substantial return on investment that luxurious bathroom remodeling can bring. Not only does it enhance your daily life, but it also adds significant value to your home. Potential buyers will be captivated by the allure of a spa-like retreat within the confines of their future home.
Luxurious bathroom remodeling is more than just a trend—it's a lifestyle upgrade. With walk-in showers, soaking tubs, heated floors, and high-end fixtures, you have the power to transform your bathroom into a sanctuary of relaxation and indulgence. Embrace the possibilities and let your imagination run wild as you embark on this journey to create your very own spa-like retreat. Your bathroom will no longer be just a functional space; it will be a haven of opulence and tranquility.
Discover the possibilities of transforming your bathroom into a spa-like retreat with a complimentary consultation from one of our remodeling experts.  At D&B Elite Custom, we don't just renovate spaces – we create timeless sanctuaries.
Make your home, Elite.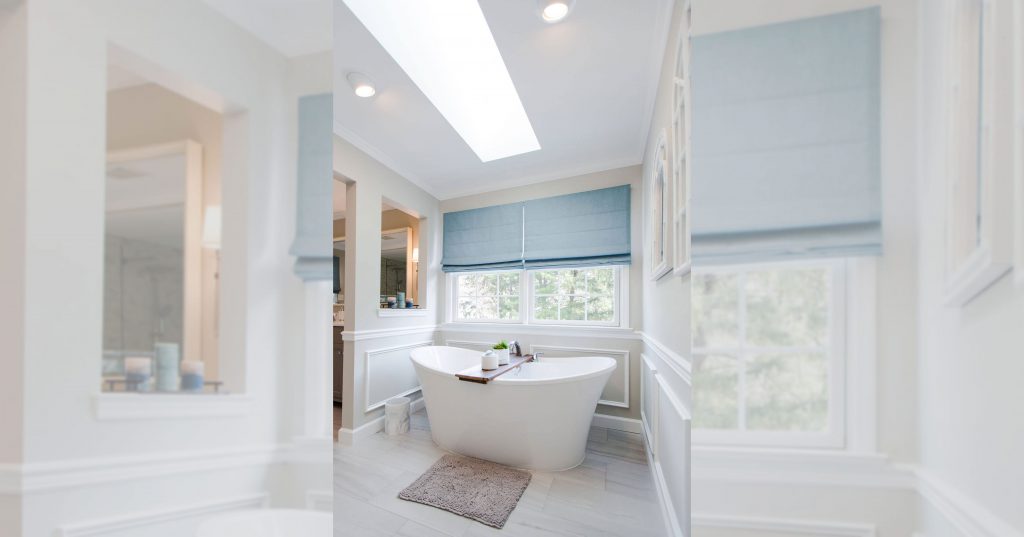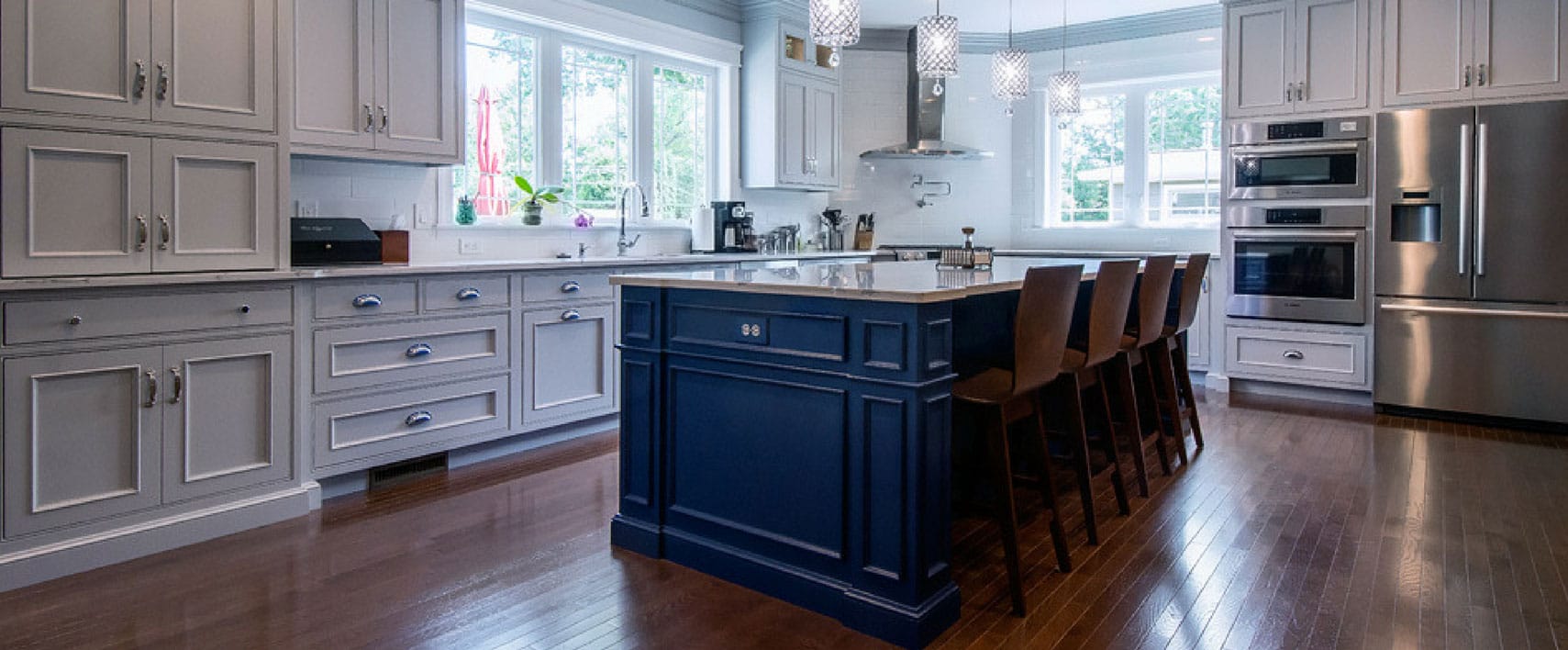 As the heart of the home, the kitchen deserves special attention when it comes to remodeling. In recent years, several captivating styles have gained popularity, transforming kitchens into stunning spaces that combine functionality with aesthetic appeal. In this article, we will explore four of the most trending styles in kitchen remodeling: Modern Rustic, Elegant Farmhouse, Warm & Soft Color Palettes, and Natural Materials. Get ready to be inspired by these contemporary design choices that can elevate your kitchen to a whole new level.
Modern Rustic:

Modern Rustic is a style that blends the warmth and charm of rustic elements with the clean lines and sleek finishes of modern design. Exposed wooden beams, reclaimed materials, and earthy color palettes define this style. Incorporating vintage-inspired fixtures and industrial accents can add character to your kitchen while maintaining a contemporary feel.

Elegant Farmhouse:

Elegant Farmhouse style infuses classic farmhouse elements with refined touches, creating a sophisticated and inviting ambiance. Combining natural textures like shiplap walls and reclaimed wood with elegant details such as crystal chandeliers or marble countertops can strike a perfect balance between rustic charm and timeless elegance.

Warm & Soft Color Palettes:

Gone are the days of stark white kitchens; warm and soft color palettes are taking center stage in the realm of kitchen design. Shades of creamy whites, pale greys, and muted pastels create a calming and welcoming atmosphere. These colors can be incorporated into cabinetry, backsplashes, and walls, allowing for versatility in personalizing your kitchen's aesthetic.

Natural Materials:

The use of natural materials in kitchen remodeling has gained significant momentum. From countertops made of granite or marble to wooden cabinetry, natural materials bring a touch of authenticity and warmth to any kitchen. Additionally, integrating natural light through large windows or skylights can further enhance the natural aesthetic and create an airy ambiance.

Open Shelving & Statement Range Hoods:

Modern kitchen remodels often feature open shelving as a design choice, allowing for both functionality and a chance to display decorative items and cherished kitchenware. Pairing open shelving with statement range hoods, such as copper or brushed brass, adds a touch of luxury and focal point to the kitchen space.

Minimalist & Streamlined Design:

In the age of simplicity, minimalist and streamlined design approaches are gaining traction. Clean lines, handle-less cabinetry, and concealed appliances contribute to a sleek and clutter-free kitchen. This style not only exudes a contemporary look but also maximizes space efficiency, making it ideal for smaller kitchens.

Bold Backsplashes:

One way to inject personality and visual interest into your kitchen is through bold backsplashes. Vibrant tiles, geometric patterns, or even textured materials like brick or stone can transform a simple kitchen into a statement-making space. Experimenting with contrasting colors and unique materials allows you to add an element of surprise to your kitchen design.

Smart Technology Integration:

In the digital age, incorporating smart technology into kitchen remodeling is a growing trend. From touchless faucets to voice-controlled appliances, the possibilities are endless. Smart technology not only enhances convenience but also contributes to an overall modern and futuristic ambiance.

Mixed Metal Accents:

Gone are the days of matching all the metals in your kitchen. Mixing metals such as copper, brass, and matte black adds visual interest and creates a unique and dynamic look. Whether it's through faucets, hardware, or lighting fixtures, experimenting with mixed metal accents can elevate your kitchen's style quotient.

Statement Lighting:

Lighting serves as both a functional and decorative element in the kitchen. Incorporating statement lighting fixtures, such as oversized pendant lights or dramatic chandeliers, can become a focal point while adding an element of luxury and glamour. Moreover, carefully placed task lighting enhances functionality in work areas.

Sustainable & Eco-Friendly Materials:

In an era of increased environmental consciousness, incorporating sustainable and eco-friendly materials in kitchen remodeling has become essential. Opt for renewable materials like bamboo or cork flooring, recycled glass countertops, and low-VOC paints to create a greener kitchen that contributes positively to the planet.

Personalized Touches:

No matter which trending style you choose for your kitchen remodel, adding personalized touches is the key to making it truly yours. Display cherished artwork, incorporate family heirlooms, or create a dedicated space for showcasing your culinary adventures. Infusing your kitchen with personal elements will make it a space that truly reflects your style and taste.
With the Modern Rustic, Elegant Farmhouse, Warm & Soft Color Palettes, and Natural Materials styles leading the way, kitchen remodeling is experiencing a renaissance. From the fusion of rustic and modern elements to the embrace of eco-friendly materials, these trends offer an array of options to transform your kitchen into a visually stunning and functional space. Embrace these styles, unleash your creativity, and enjoy a kitchen that perfectly aligns with your taste and lifestyle.
D&B Elite Custom is here to bring your dream kitchen to life. Don't wait any longer; contact us today for all your kitchen renovation, remodel, or any other home renovation needs. Let our team of experts guide you through the process and create a space that exceeds your expectations.  Make your home, Elite.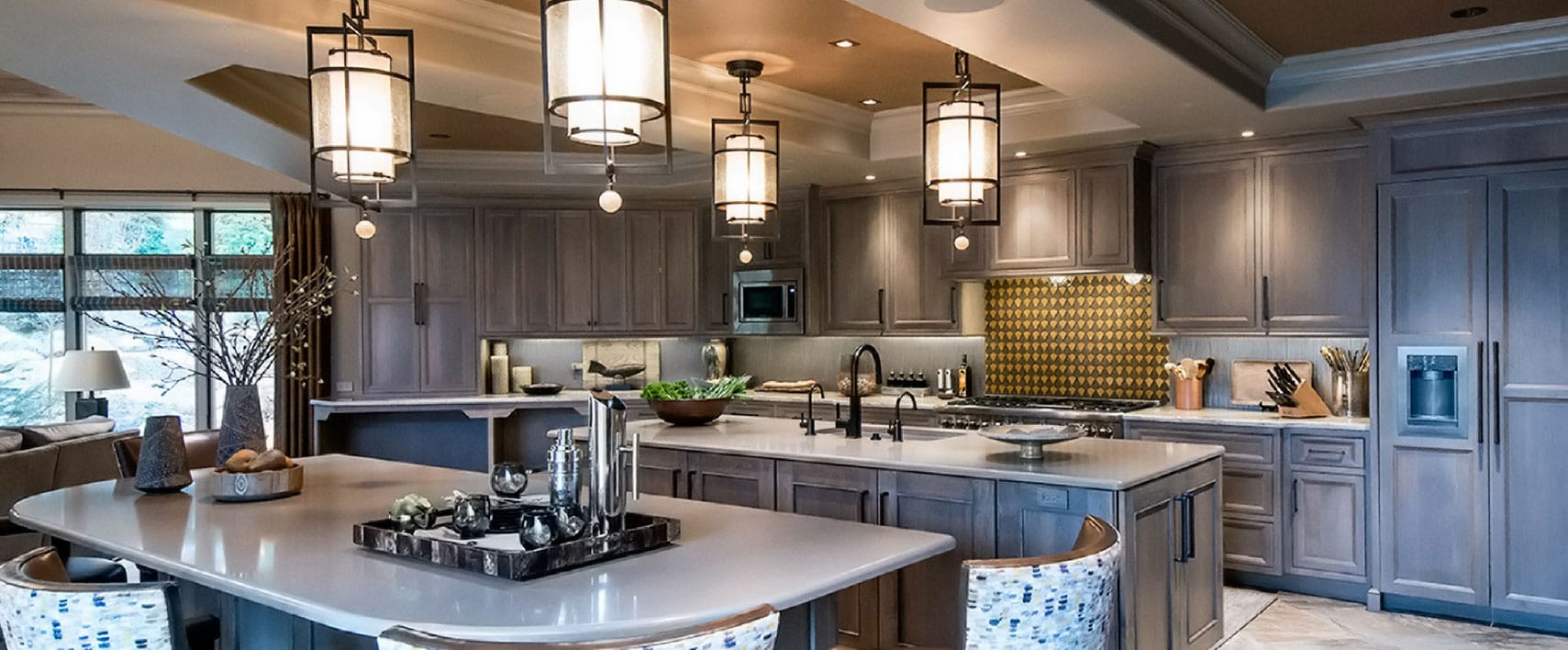 Natural look and feel with everyday functionality lead home designs in 2023.
Interior designers and residential builders have identified the new trends that have taken over home remodeling. We've reviewed the list of 35 home design trends on the rise from HOUZZ to give you a summary of things to expect and consider in your upcoming projects. One common theme that appears to weave throughout the house is creating a sense of warmth with natural materials and colors. Here is a breakdown of new inspirations for the different areas of your home:
The Kitchen:
Likely to no one's surprise, one of the primary focal points in home remodeling and new home construction is the kitchen. This room has always been a showcase for homeowner's personal style – coupled with sensible functional elements. Based on feedback from top designers across the country, there is a great mix of new features you may see in kitchen designs. According to HOUZZ, a modern rustic style is driving kitchen makeovers. New color palates mixed into a combination of rustic and industrial finishes and fixtures is all the rage right now.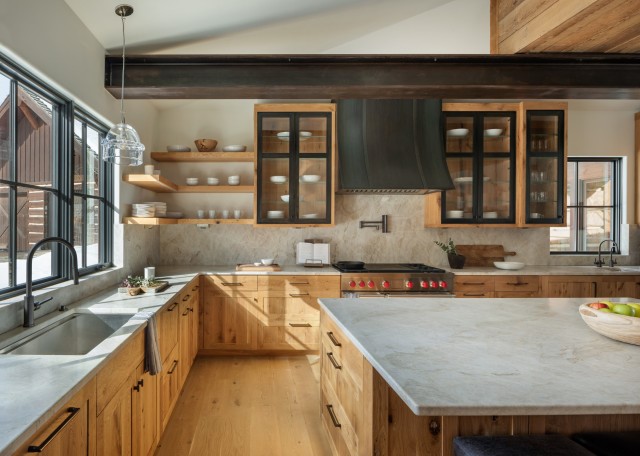 (photo by Centre Sky Architecture Ltd)
Cabinets, countertops and backsplashes are coming together with natural woods that include unique details tied in with natural stone. Natural materials are always in style, but lately they seem to have hit a high point in popularity. In particular, homeowners are installing quartzite and other natural stone countertops, as well as marble tile and wood cabinets and vanities, especially white oak.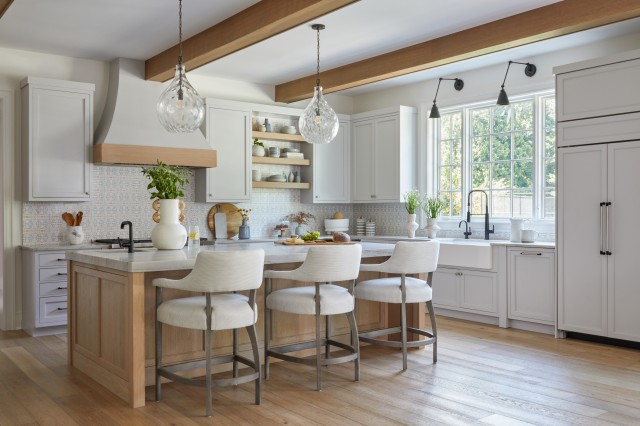 (photo: k+co LIVING – Interiors by Karen B Wolf)
This photo reminded us of a kitchen we completed in a new custom home build constructed by our Elite team in 2019. We most loved the way the wooden beams and large island with a wooden top give the space a natural, rustic look. It compliments the bold, vibrant wallpaper and sleek white cabinetry perfectly.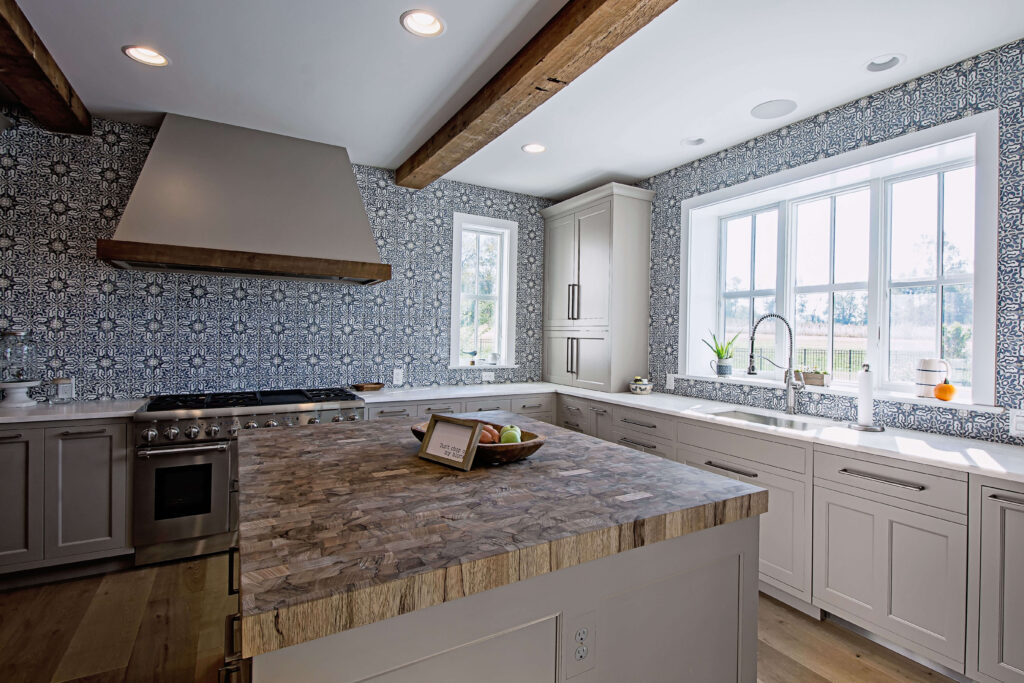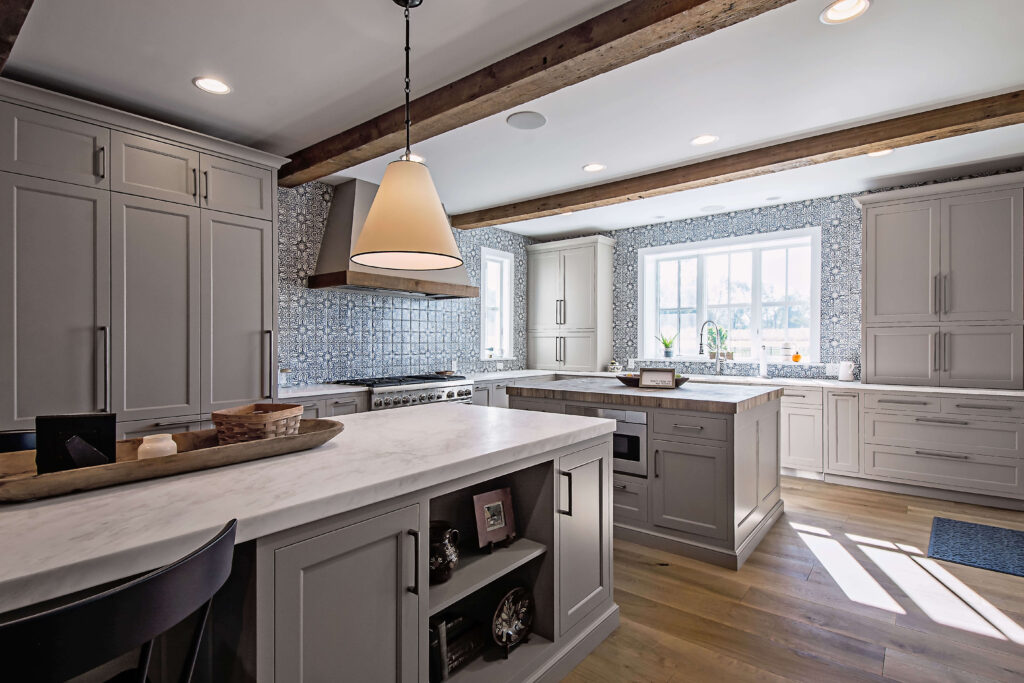 While some homeowners are desiring more bold color in their kitchens, many are looking for warm and soft styles that elicit a restful, relaxing atmosphere. To do that, designers are embracing greige or off-white cabinets, light woods, subtle patterns and warm bronze and brass finishes.
White and gray are by far the most popular colors used in kitchens. But when homeowners stray from that palette, they often choose blue. In fact, when a homeowner chooses to go with an island color that contrasts with the surrounding cabinets, more than a quarter (26%) will select blue, according to Houzz research. Green is quickly gaining favor in kitchens, especially for cabinets. Both light and dark greens work well with wood details and brass finishes, creating a warm, rich look.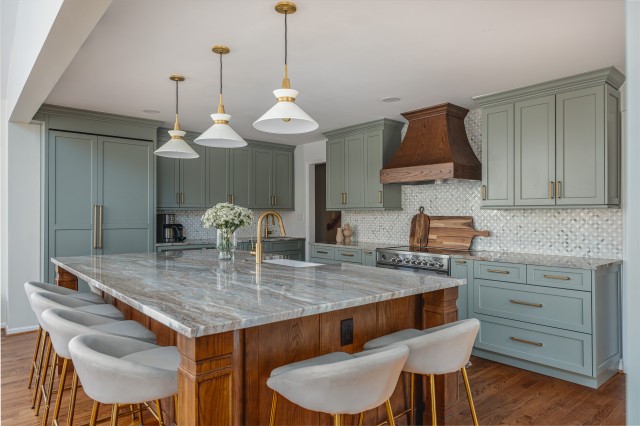 (Photo: FineLine Kitchens, Inc)
This Vienna, Virginia kitchen by FineLine Kitchens (pictured above) was one of the most-saved kitchen photos of 2022; it combines sage green perimeter cabinets, similar in color to a kitchen renovation our team completed (pictured below), with a medium-tone oak range hood and island base. Ming Green floral tiles with white Thassos marble pieces add another green detail, while brass pendant lights and Brown Fantasy natural quartzite countertops complement the warm wood tones. This kitchen also features an island with an updated seating arrangement. Traditional seating arrangements for islands are usually a row of stools on one side facing the cooking area.  Lately, alternative setups have been increasing in popularity to create more of a dining table layout allowing face to face seating.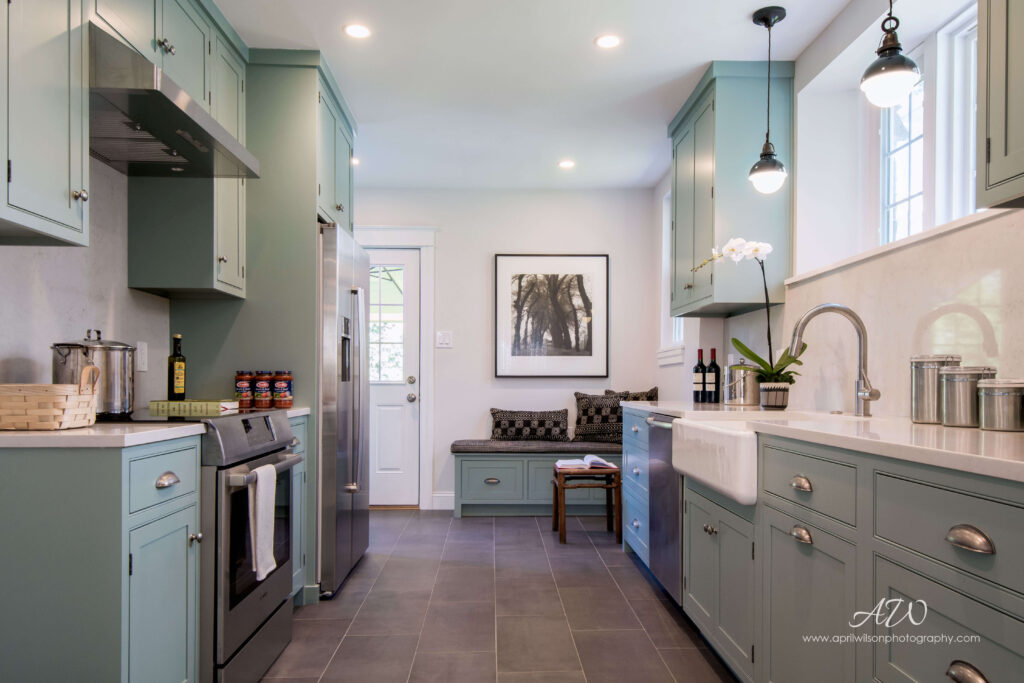 Kitchen fixtures are starting to implement industrial-looking, commercial grade features to combine design with functionality. Workstation sinks are also part of the drift toward commercial-style features. These have been around for many years now, but manufacturers have caught up to the demand and now offer all kinds of sizes, styles and accessories for things like chopping, straining, drying and other functions.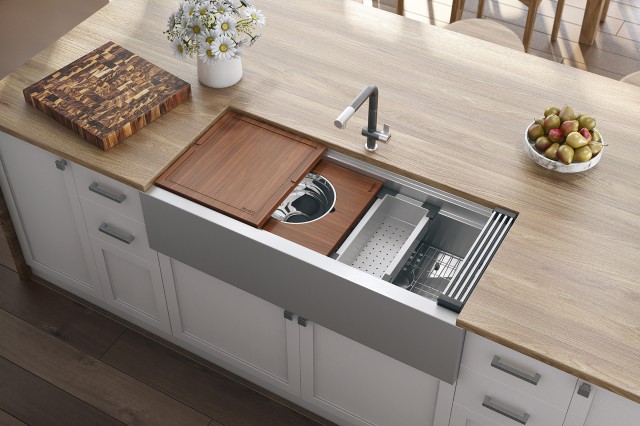 (Photo: HOUZZ)
The Bathroom: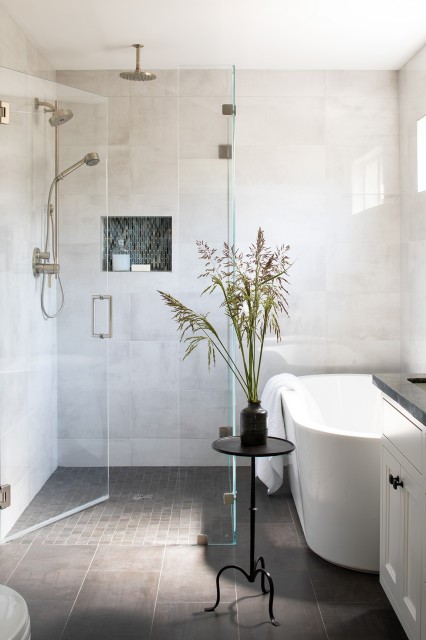 (Photo: DiVittorio Architecture & Design)
In the aftermath of COVID and the quarantines that ensued, homeowners have explored varying ways to maximize the enjoyment of their house. Many are looking to create bathrooms that function for more than just bathing. They want relaxing experiences that create a refreshing escape from the daily grind.
To create that, many are embracing pamper-me features like multiple shower heads with various spray settings, such as deep massage or warm mist.
White and blue palettes are aiding in the spa-like atmosphere for several designers.  Similar to blue accents in kitchens, this color is becoming a go-to in many bathrooms to perk up popular all-white palettes without veering too bold. Here's a look at some of our work that demonstrate this trend: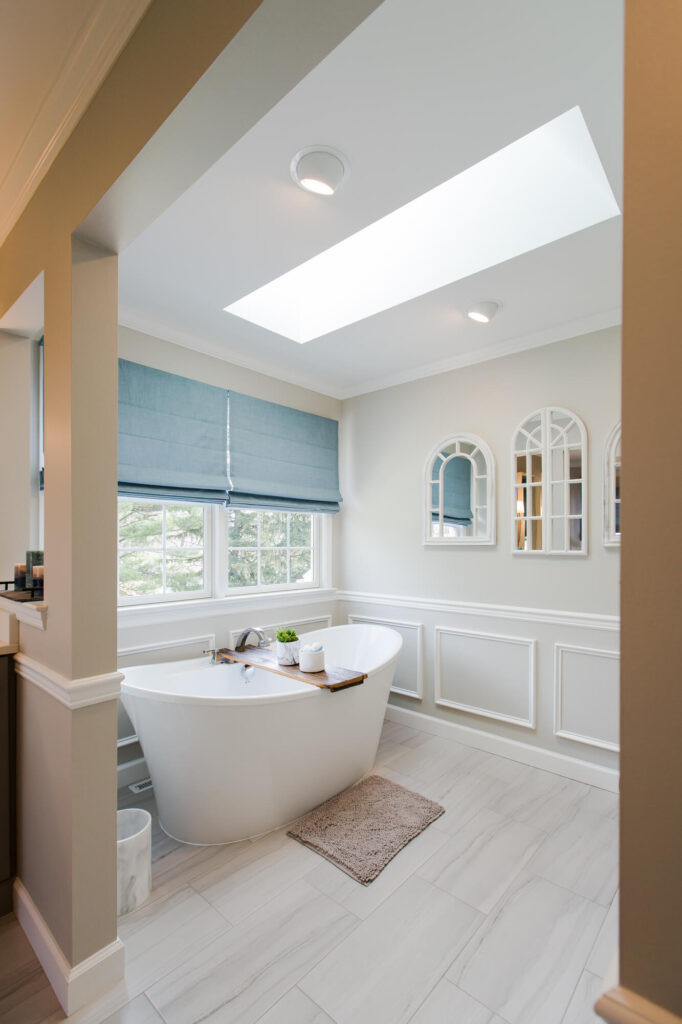 In this West Palm Beach, Florida bathroom, HW Interiors created a soothing focal wall in the shower with watery blue tiles installed in a basket weave pattern. White finishes enhance light and deliver an airy look and feel, as does the chevron-pattern white floor tile that runs the length of the bathroom into the curbless shower.
Curbless showers have been a popular bathroom feature for a while. Often, the shower flooring is tile in a smaller size or different material than the main flooring, to provide a nonslip surface in the wet area. But more recently, many designers are running this mosaic tile continuously through the entire bathroom, including the curbless shower area. This approach further enhances the sleek, streamlined effect of a curbless shower design, extends the nonslip surface and helps a smaller space appear larger than it is.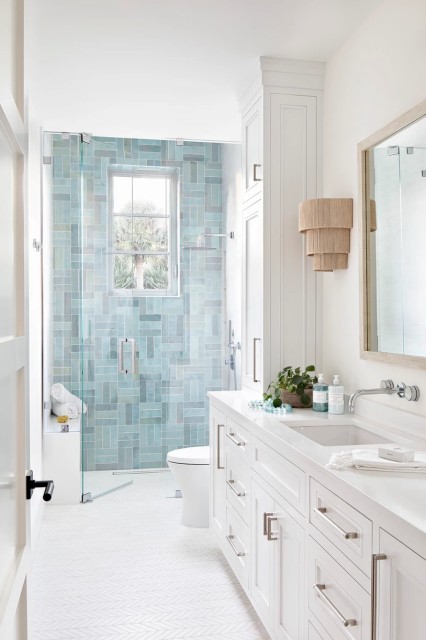 (Photo: HW Interiors)
The Living Space: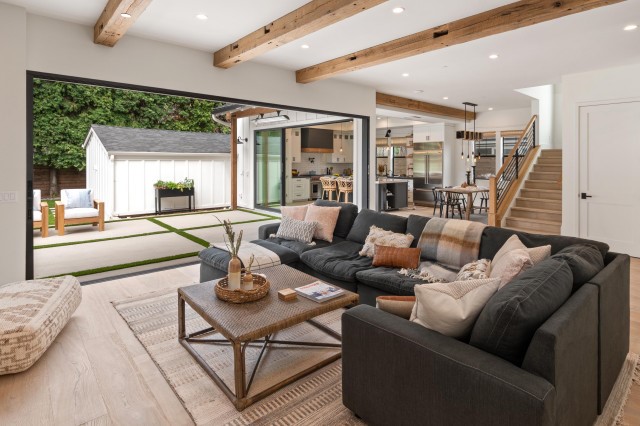 (Photo: Jackson Design & Remodeling)
Homeowners have long craved deep connections to outdoor spaces. Sliding glass doors that completely open interior spaces to the outside are at the top of the list for many dream homes. Many professionals are helping homeowners find more affordable ways to bring the outdoors inside. Adding large windows can maximize views and bring in ample natural light in a less expensive way than fully glazed walls. Meanwhile, a focus on natural materials and colors, as well as wallpaper prints that recall nature, are also helping homeowners feel connected to the outside.
One phrase that has come up again and again in conversations with design professionals is "layered texture" in decor, wallpaper, materials and accessories. We're seeing a lot of designers layering wood, rattan, stone, metal finishes, concrete and various textural fabrics in a room to create a dynamic style full of visual and tactile interest. You'll see this in the living room below, which was designed by Demi Ryan in North Carolina.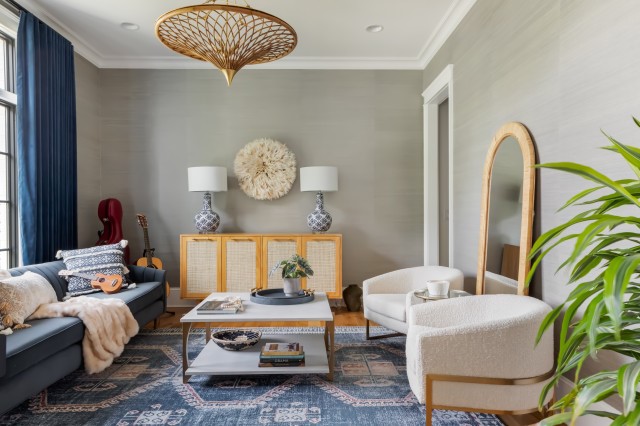 (Photo: Demi Ryan Home)
Built-in's, bringing customization coupled with display and storage functionality, remain popular throughout the house through 2023. Custom built-in cabinets also give a nice finished look, which is why they're one of the top design features professionals recommend in a living room.
Designer Stephanie Alegre added these custom built-ins flanking a fireplace surround in a Holmdel, New Jersey, living room. A bar sits to the left, with additional storage on the right.
Riding the work from home wave the pandemic caused, many homeowners have turned to converting bedrooms into home offices for remote work.  This is another area that built-ins have shined.  When storage and organization are a top priority, going the custom built-in route is what pros recommend. Similar to what we're seeing in living rooms, built-ins are showing up in many home offices to tackle storage and display space.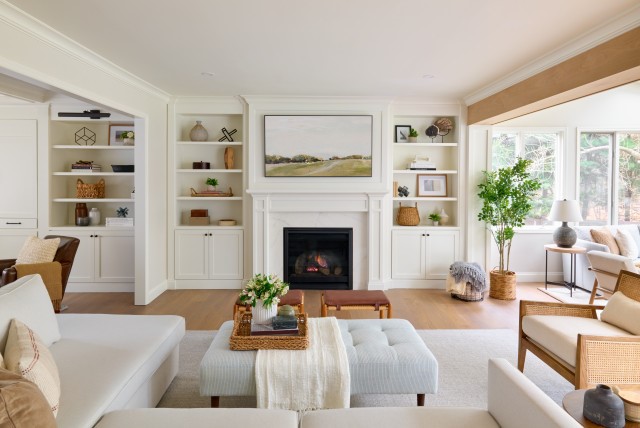 (Photo: Stephanie Alegre Interiors)
In this Houston home office by Laura U Design Collective, soft blue built-ins (Little Falls by Benjamin Moore) blend in seamlessly with the walls, adding tons of storage without overwhelming the stylish look of the room. This was the most-saved home office photo of 2022: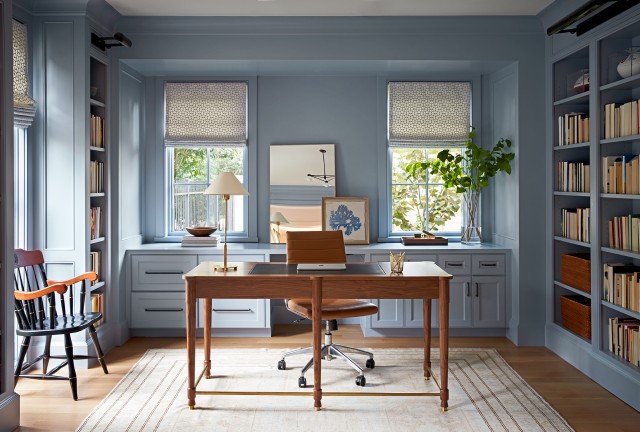 (Photo: Lara U Design Collective)
The Exterior Spaces:
When it comes to exteriors, white board-and-batten or vertical siding continues to be popular. Lately, these bright whites are being contrasted with black details such as window and trim to create graphic curb appeal, as shown on this home renovation we completed in 2021. This creates a dramatic look that is sure to up your curb appeal.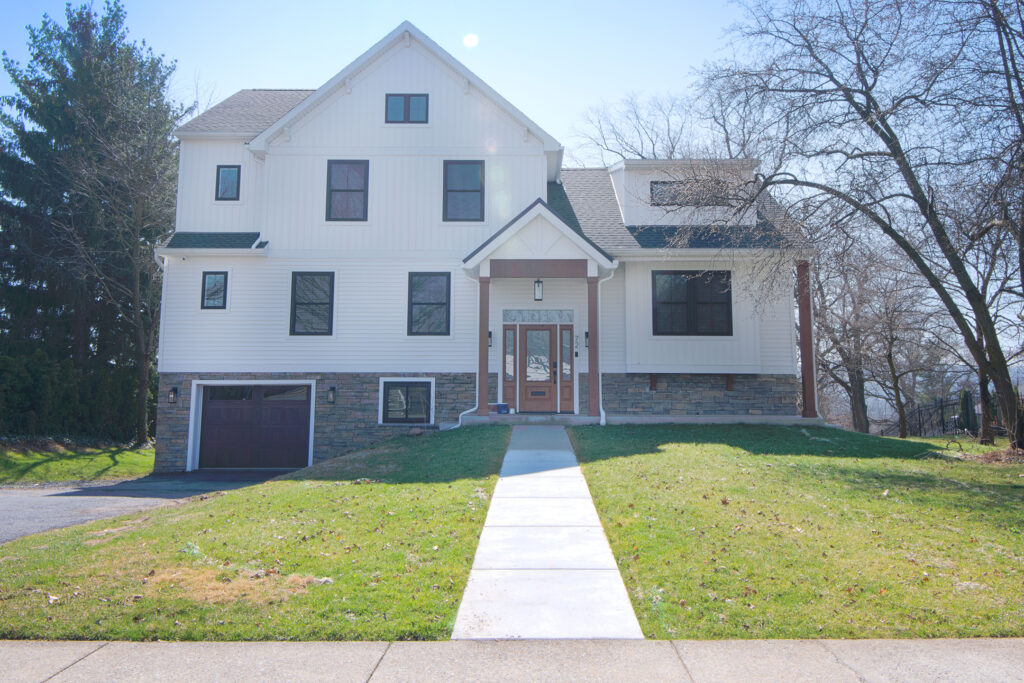 On the other hand, Ott says she's increasingly noticing a shift to less contrasting colors. "Darker siding colors in muted shades of blue, green, warm gray or tan are complemented by trim and accent colors that are just a few shades lighter or darker than the siding," she says. "And, depending on the architectural style of the home, a fun accent color for the front door remains popular." This midcentury Oakland, California, home by ODS Architecture is a fitting example: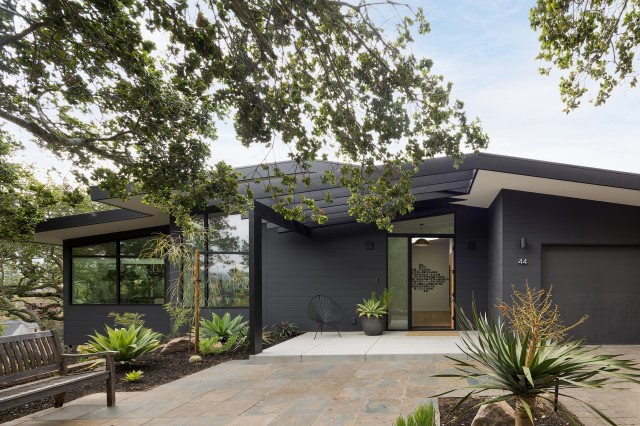 (Photo: ODS Architecture)
Home exteriors as an extension of the home's living space continues to increase in demand and popularity.  Over the last couple of years, we've seen homeowners look to their outdoor spaces to accommodate a variety of activities, including cooking, dining and exercising. However, few things trump lounging, and increasingly these areas are garnering lots of attention.
Durable, comfortable furnishings, stylish shade structures and pampering features like outdoor heaters, fire pits, chandeliers and water elements can create an enviable lounge area like this one in Chicago by Amy Kartheiser Design.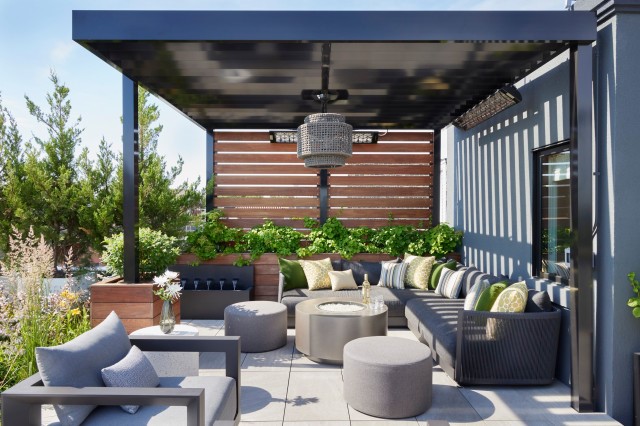 (Photo: Amy Kartheiser Design)
For more details and trends visit HOUZZ to see their top 35 list in its entirety, and you can always reach out to our team for a complimentary consultation to learn more about how you can #MakeYourHomeElite.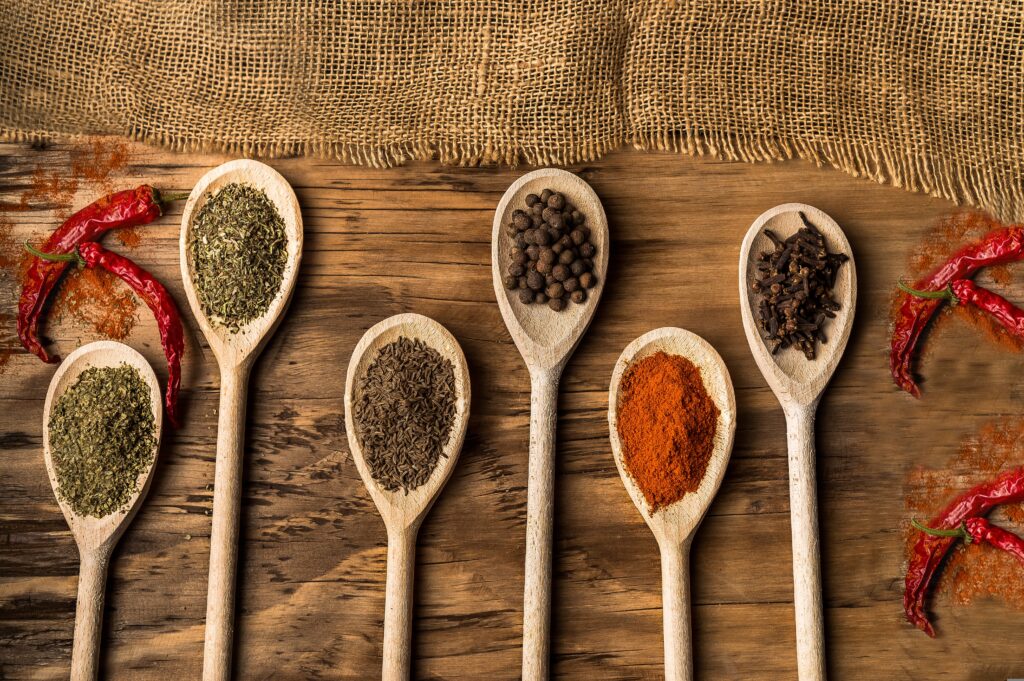 There are many options when it comes to organizing your spices, but here's our list of non-negotiables:
Optimize Your Space:
Label the top of your spices so you can keep track of inventory if using a pull-out drawer, or you can invest in an in-drawer insert that allows your spices to lay on their sides. Label the sides of your spice jars and purchase a tiered shelf or lazy Susan for easy access.
Organization 101:
Pick your organization method and run with it – whether you choose to arrange your spices alphabetically, by area of the world, how frequently you use it, or by type (such as categorizing by peppers, aromatics, herbs, warm baking spices, etc.).
Matching your jars and labels goes a long way! We recommend airtight glass jars, as they are the best option for protecting your herbs and spices by preventing premature oxygenation. Two-ounce jars that you can fit a teaspoon inside and that are small enough to encourage turnover work great.
Stocking Your Spices:
When it comes to spices, the more the merrier is not the way to go. That spice you can't remember the last time you used? Toss it. If a recipe calls for a small amount of something you don't think you'll ever use again, just skip it! We love this list of the spices you really need in your pantry from bon appétit – Check it out for some inspo on how to best stock your spice drawer.
Don't Bring The Heat:
Be cognizant of heat, as it causes spices to degrade faster than usual. Avoid making your spices' home base above your oven or near a radiator. Many people store spices on a spice rack on their kitchen counter for easy access, however this isn't ideal when the kitchen heats up. Your pantry, kitchen drawers, or a mounted shelf inside a pantry or cabinet drawer are your best options.
Many studies over the last several decades have shown that most seniors (ages 65+) prefer the idea of aging in their own home – or aging in place – rather than moving into a nursing home. Research indicates that the majority of seniors (about 94%) still wish to stay in their home as long as they are able. It's no secret that Covid-19 has likely strengthened the desire seniors have to age in place. With the change in "life as we knew it" since March of 2020, we couldn't help but wonder how Covid-19 may have affected the elderly's living landscape now and into the future.
This was the case for D&B Elite Custom clients, Janet and John, whose parents/in-laws decided to age in place by adding an addition to the couple's home. "We sat down with my father David to talk about options since the current plan of just taking care of Mom himself at their own home was no longer adequate," reflects Janet. Although Janet's father had been leaning towards moving into a senior living facility, his mind was swayed after the pandemic hit.
Janet reflected on the positive impact that aging in place had on her father: "It gave him a sense of ownership and privacy. He knows his money paid for the addition. For him that was a plus. My Dad made a business decision to sell his home and build something smaller onto our house. He knew he came out ahead financially, which gave him a sense of ownership and a boost." Hear more from the family about their experience adding an addition here!
In a senior living facility, you're not gaining a sense of ownership. Meanwhile, the way the addition was constructed allows Janet's father to feel that he still has his own home. He can come and go using his own walkway, and he can sit outside on his own porch with his wife. All of these actions give him a sense of privacy and strong sense of identity, allowing the couple to be who they are while still having the overall safety needed.
According to a Pew Research study, "living with an extended circle of relatives is the most common type of household arrangement for older people around the world. But in the United States, older people are far less likely to live this way – and far more likely to live alone or with only a spouse or partner." However, the pandemic may be changing these views in the United States. More families may be inclined to take in their seniors rather than putting them in senior facility homes. According to a Forbes article, students in a School of Aging Studies class at the University of Maryland Baltimore County gave their opinions on what they would do with their families' living situation in the future based on Covid-19: "More families will think about adapting their houses and lifestyle to accommodate older people living with them because living in those nursing facilities is risky." There are a scattering amount of home improvements that prove to be worth adding to your home to accommodate seniors. Improvements are not only for your parents, but are for yourself as you continue to age. Instead of looking into a retirement community or nursing home, consider making your home suitable for the needs that one develops as they age.
Ways to Accommodate Your Home to be Forever not Just Temporary:
– Install electronic stair lifts if you have more than one floor or a basement
– Improve sidewalks and pathways to ensure they are flat and have a ramp if needed for wheelchair accessibility
– Update your floor
Replace carpet with hardwood floor to make it easier to move around with a wheelchair
Widening your doorways for wheelchair and walker access
Putting all essential rooms on the first floor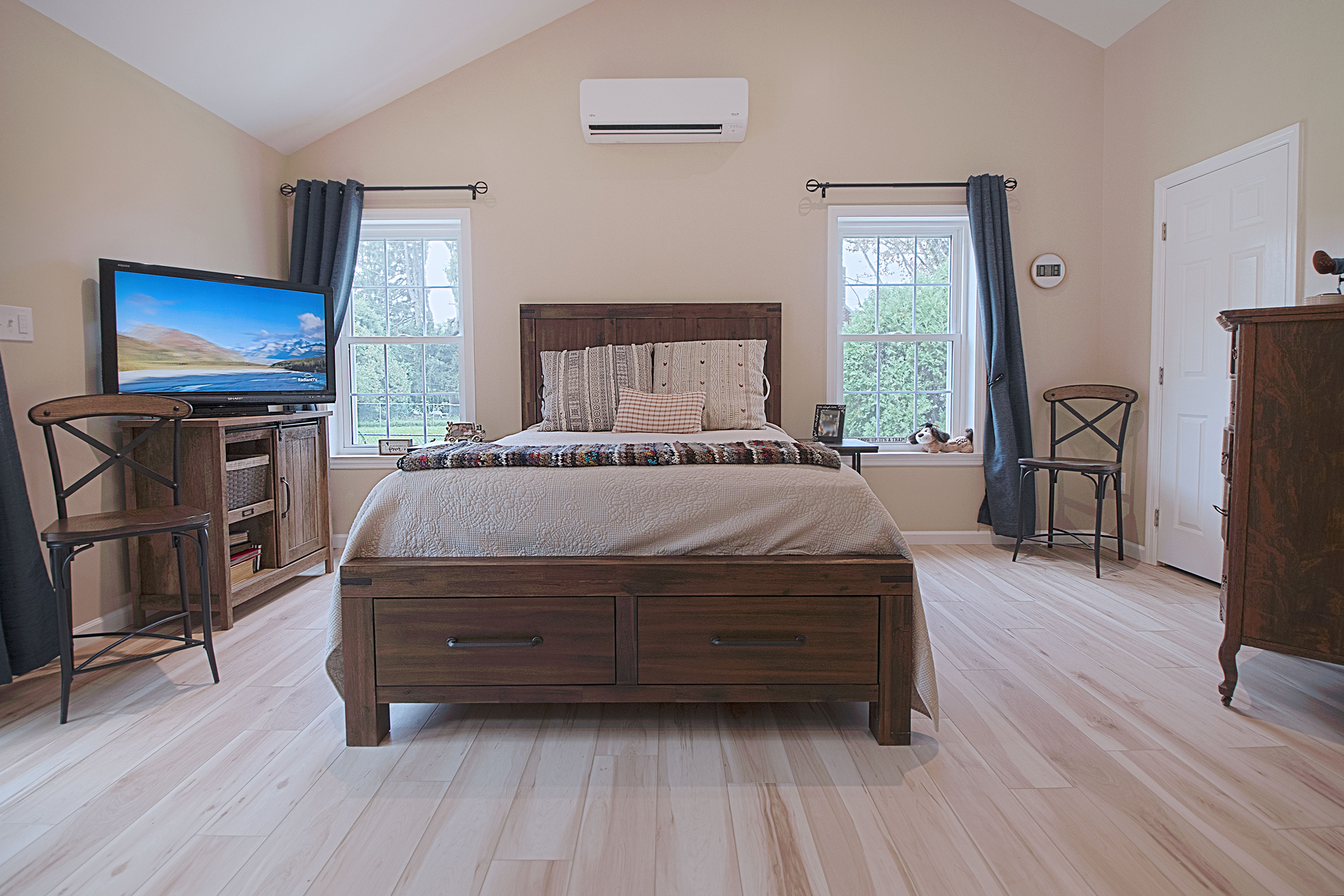 – Replace toilet
A raised toilet seat alleviates pain and makes it easier for aging adults
– Replace bathtub with walk-in shower to provide an easier and safer entry and exit
Add grab bars (horizontal and even small vertical ones)
Add shower chairs
Extendable shower head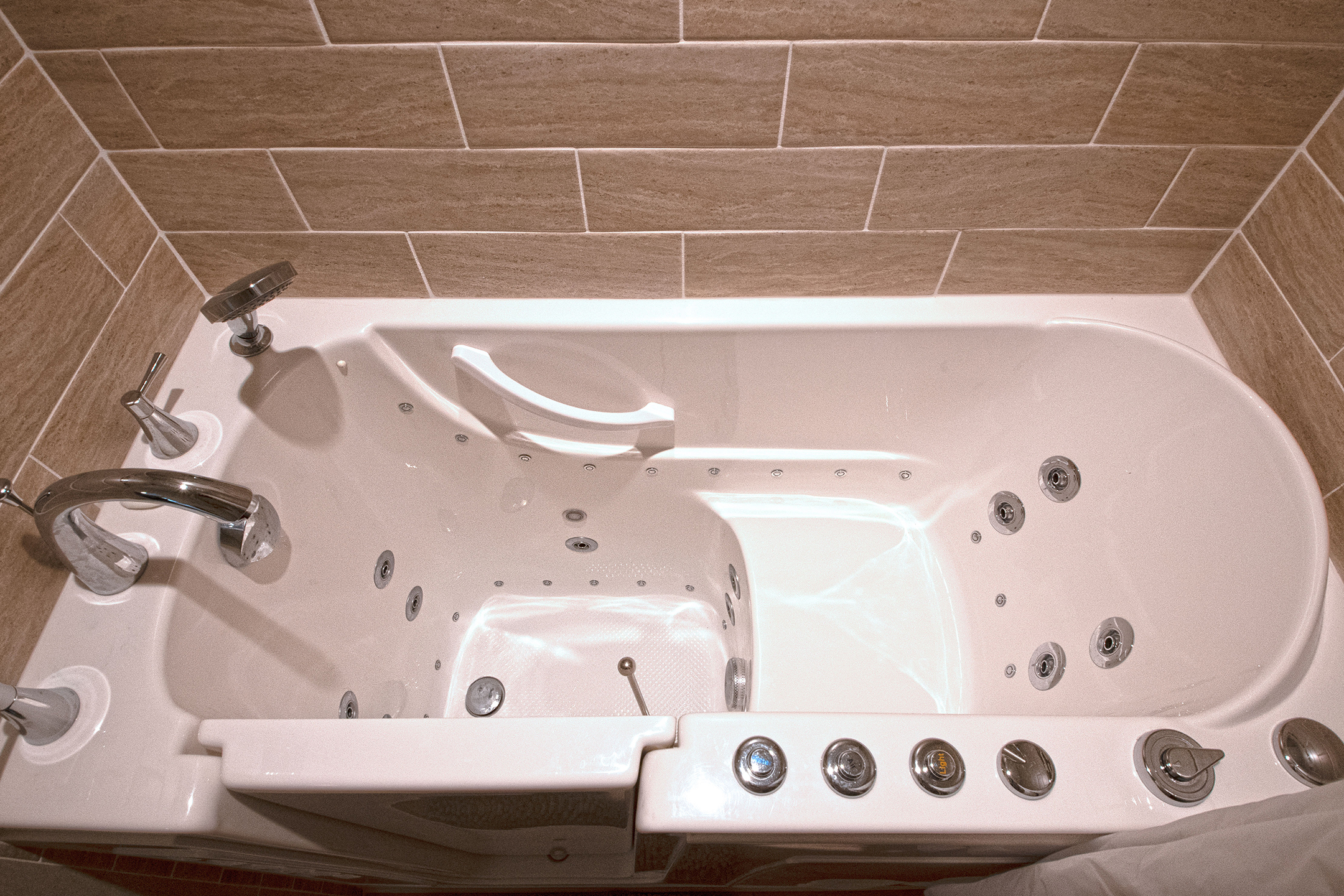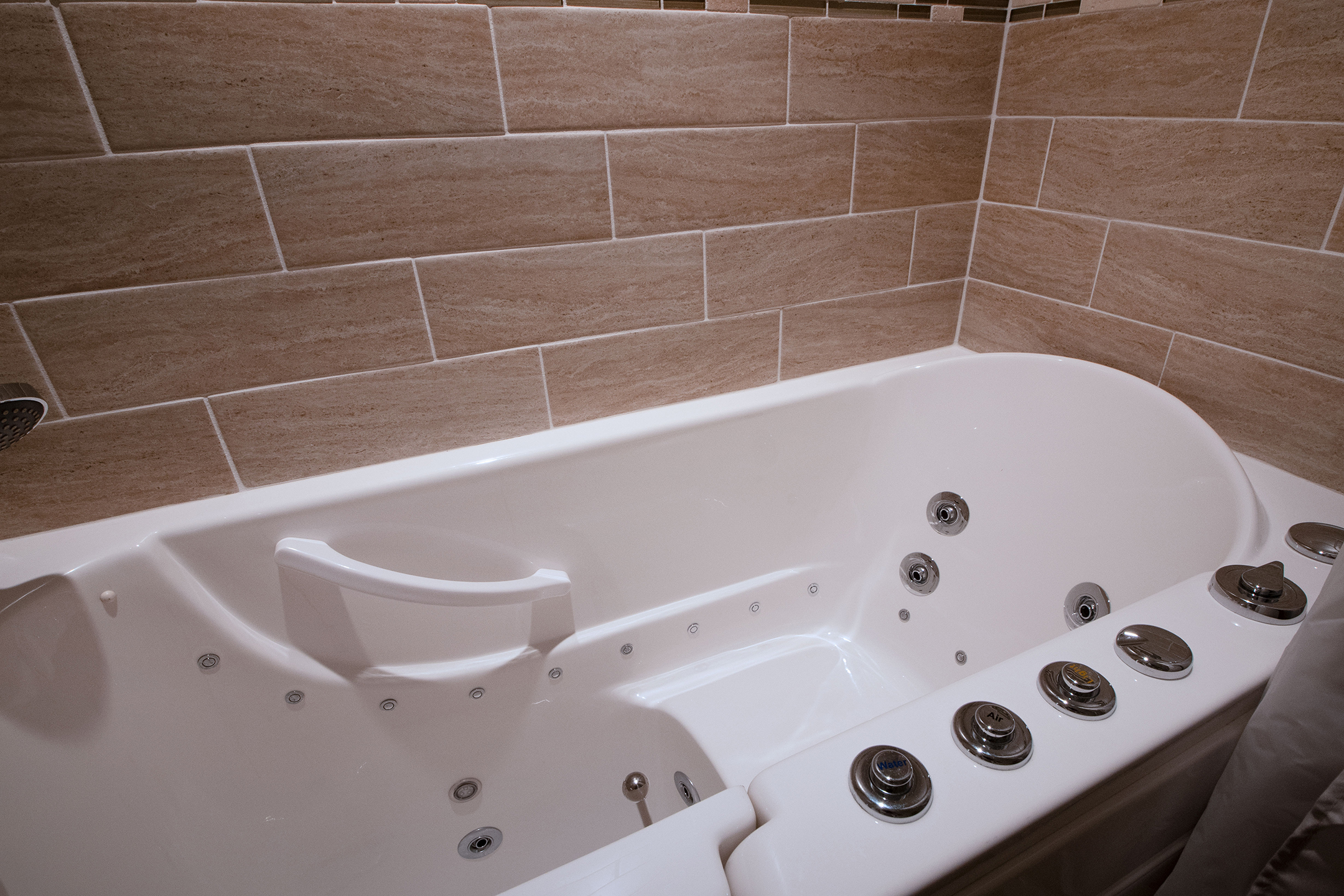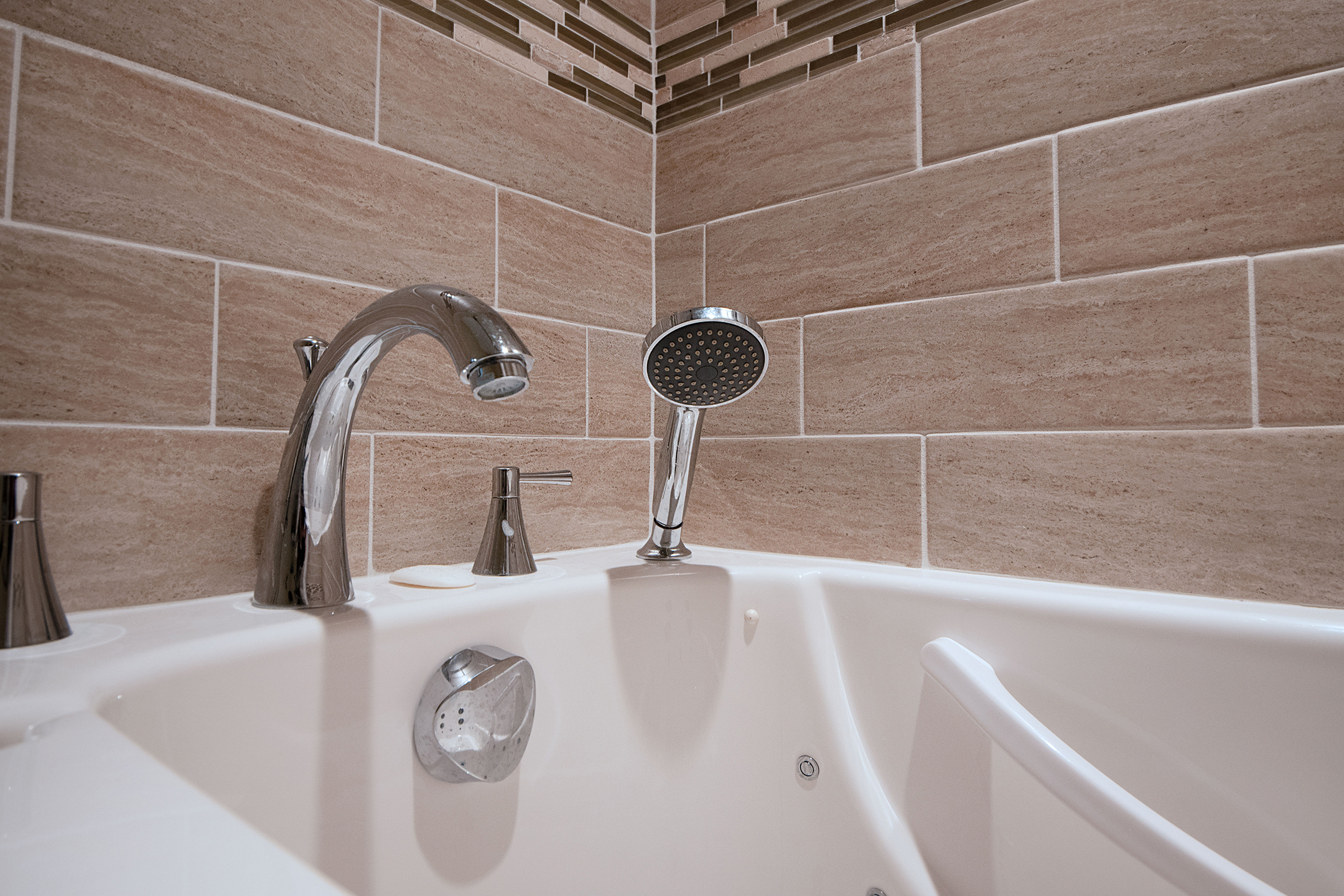 – Remote control lighting
This keeps areas accessible with easy access
– Easy thresholds and transitions
Increases safety for those with difficulty walking, walkers or wheelchairs
– Open floorplan
Easy to get around, especially if wheelchairs are needed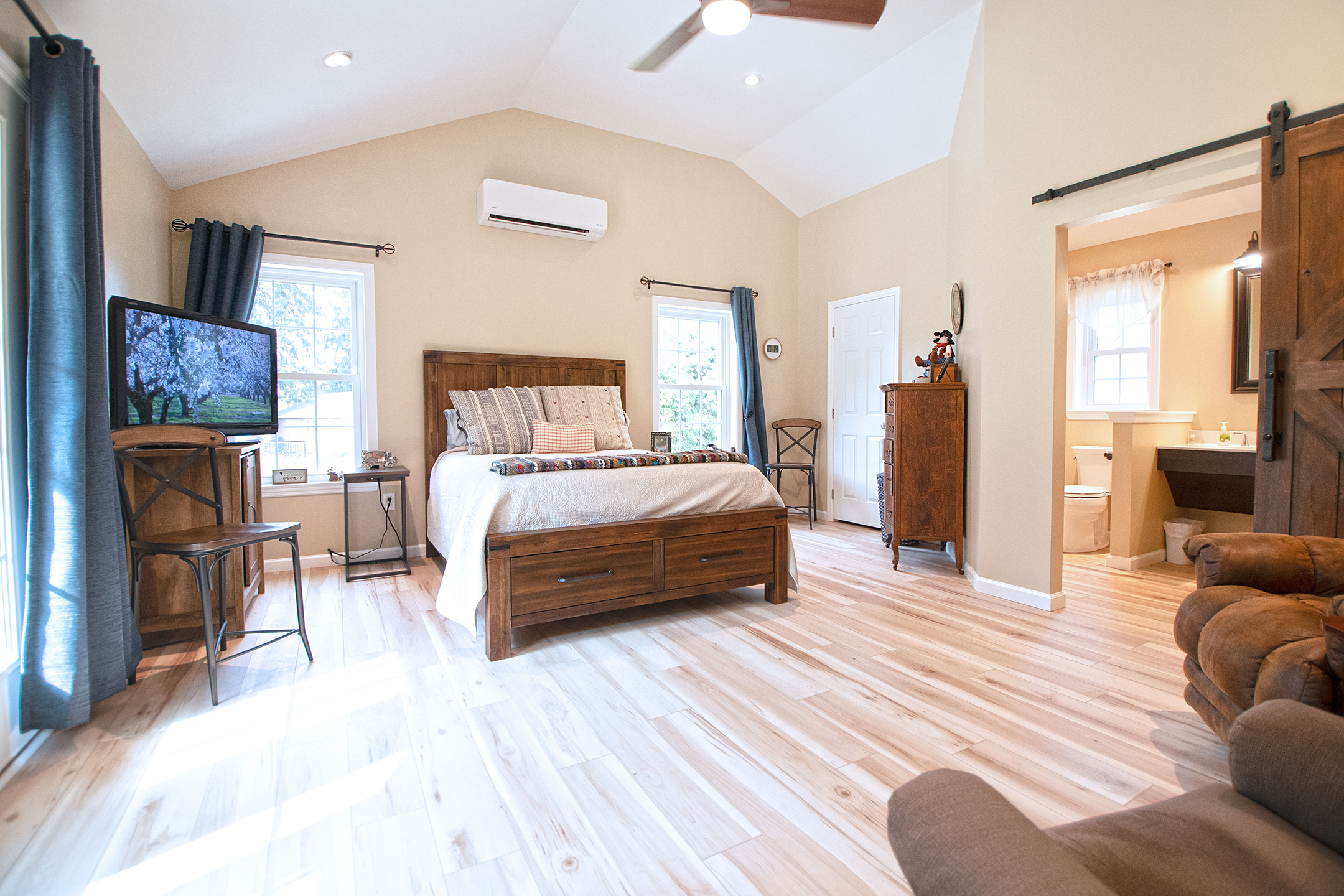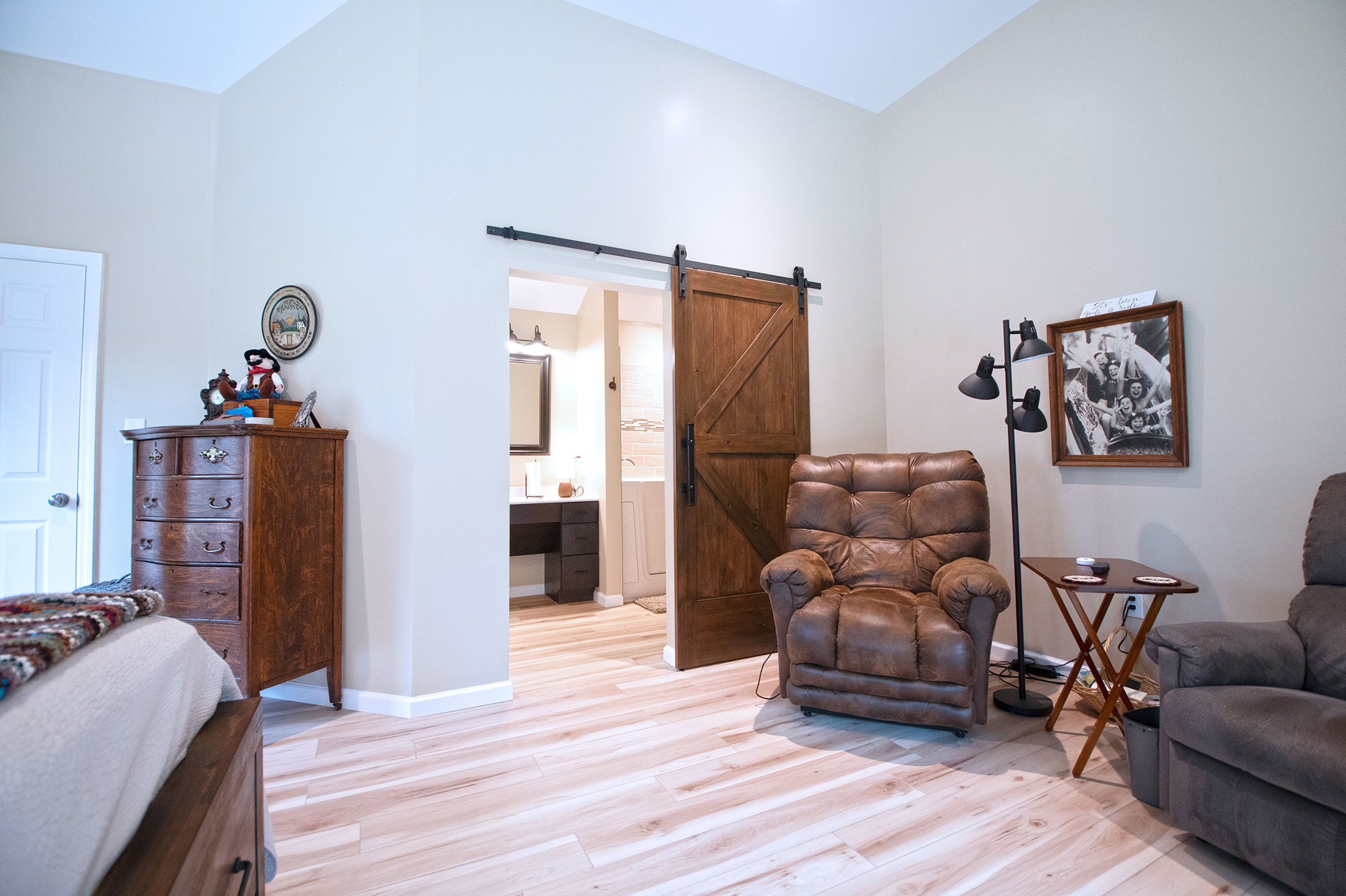 – Install a main floor drain and no-slip materials on floor
– Make simple purchases to enhance safety around your home
Our client purchased a safety mat so they can receive an alert every time their elders go in and out of the door. The mat includes a cordless alarm so they can know when they are entering and exiting without being in their personal space.
Always consider lighting. Adding nightlights to areas such as the bathroom, bedroom, and hallway are an easy way to ensure safety when moving around at night.
As a result of the pandemic, many families are more cautious when it comes to housing their elderly loved ones in a nursing home. The fear of them becoming ill couples with the fear of possibly not being able to see their loved ones if quarantining is needed. According to Home Advisor's True Cost Guide, "it is typically cheaper to build an addition than to buy or build a new home." John explained that for his family it was cheaper to add an addition instead of building another home close to them. Hear from John and Janet on what their experience was like working with the Elite team here!
Learn more about additions here on our website. With five currently in the works for this year, we have a handful of tips to offer, so reach out today for your free consultation!
Construction on your home is an inconvenience – we get that. Unforeseen issues will inevitably arise. As our Vice President of Residential Construction, Larry Adam, says, "A project well planned is a project half complete." Here's five tips on how to streamline your home remodel project:
Timing is everything!
Plan ahead (especially with current extended lead times, supply chain difficulties, and wait on inventory). If you want to enjoy a new outdoor living space by next Summer, you should really be starting today.
Be prepared with an idea board.
Houzz and Pinterest are great places to gather inspiration of the style, look, and feel you are going for.
Look for a general contractor that follows a pre-construction process focused on value engineering.
This will get you quality work on time and within budget. A builder that is willing to start active construction right away without ensuring every little detail of your project is thought of may be a red flag. They should be completing a pre-construction walk through to review points of access, location of dust protection and more to ease the process.
Be realistic when it comes to financials (unlike the budgets you see on HGTV!)
A good construction partner will advise you on where you can adjust specifications to save money. They will help you come up with a plan that gets the look you desire to fit within a reasonable budget.
Ask how involved all vendors and trades will be in your project.
Your general contractor should be making them a key part of the process. They should have an intimate knowledge of your project before they meet you. This makes all the difference.
Meeting selection deadlines will make a project run smoothly without delays.
Look for a construction partner that makes a point to clearly communicate and invests in construction management software to help manage project selections and deadlines.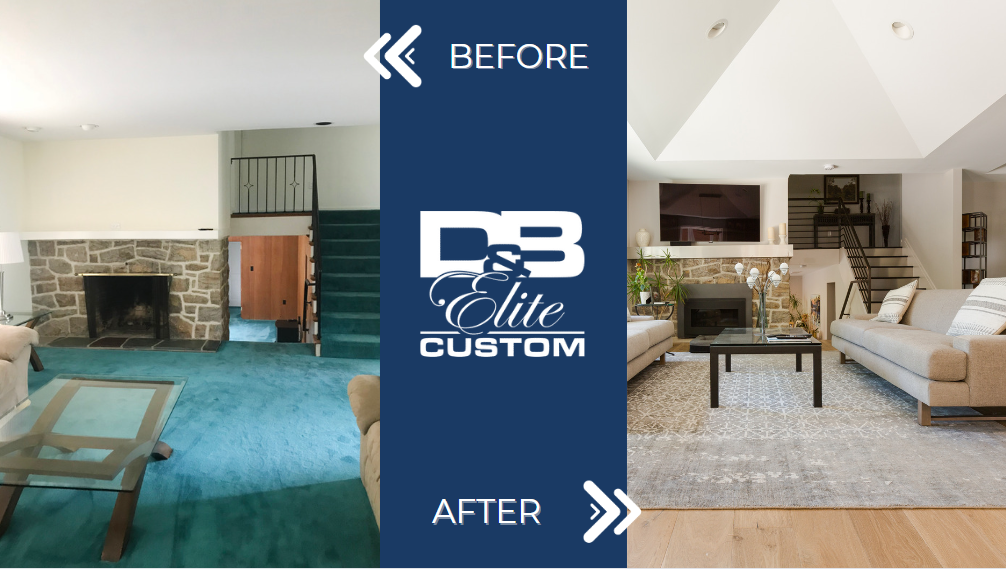 Learn more about floor plan remodels here!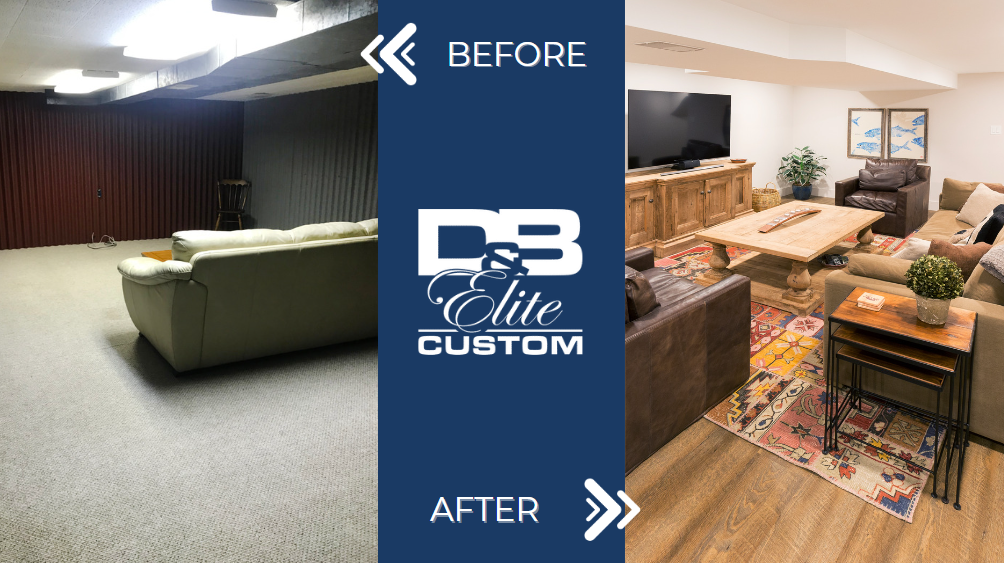 Learn more about Basement renovations here!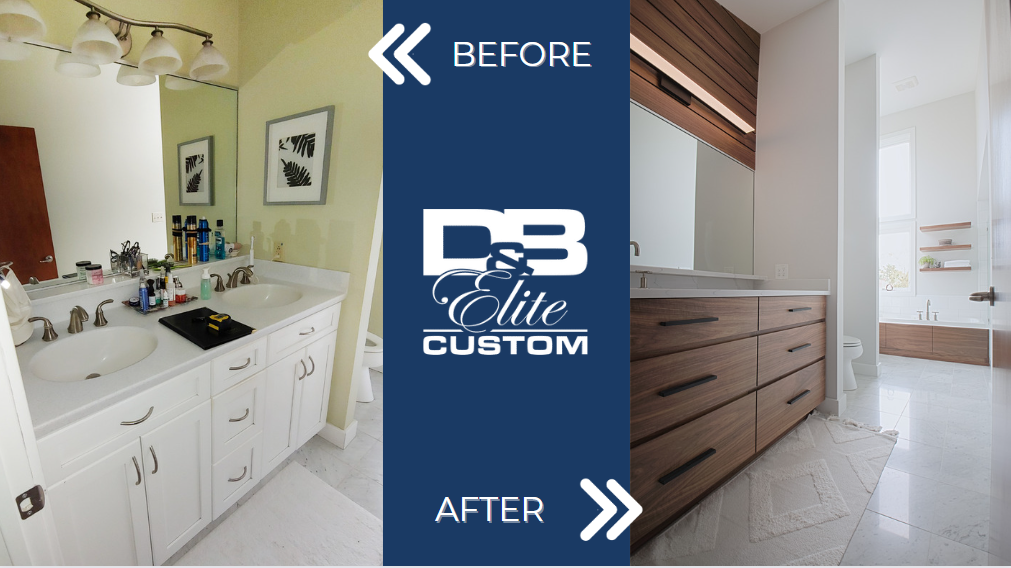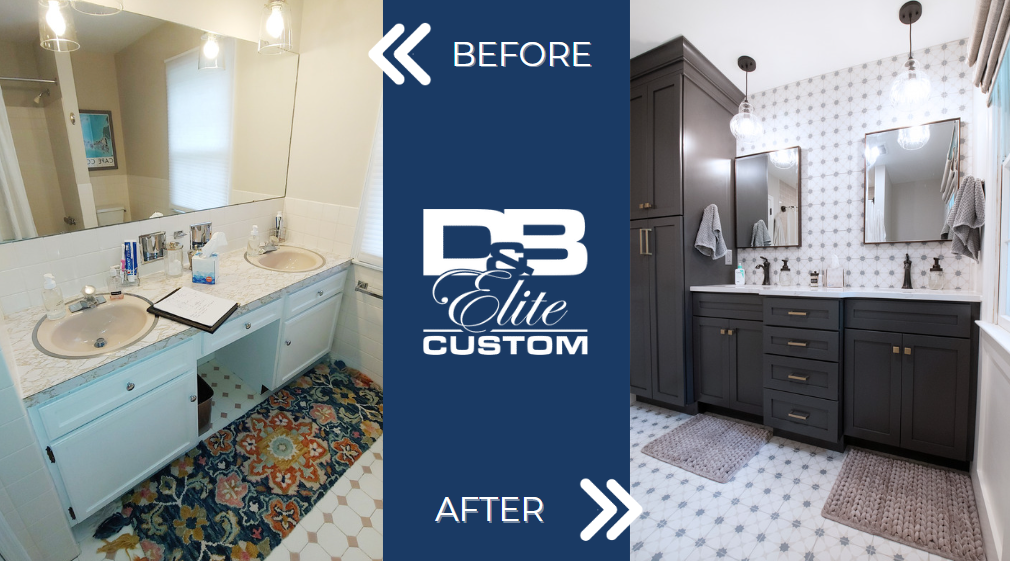 Learn more about Bathroom renovations here!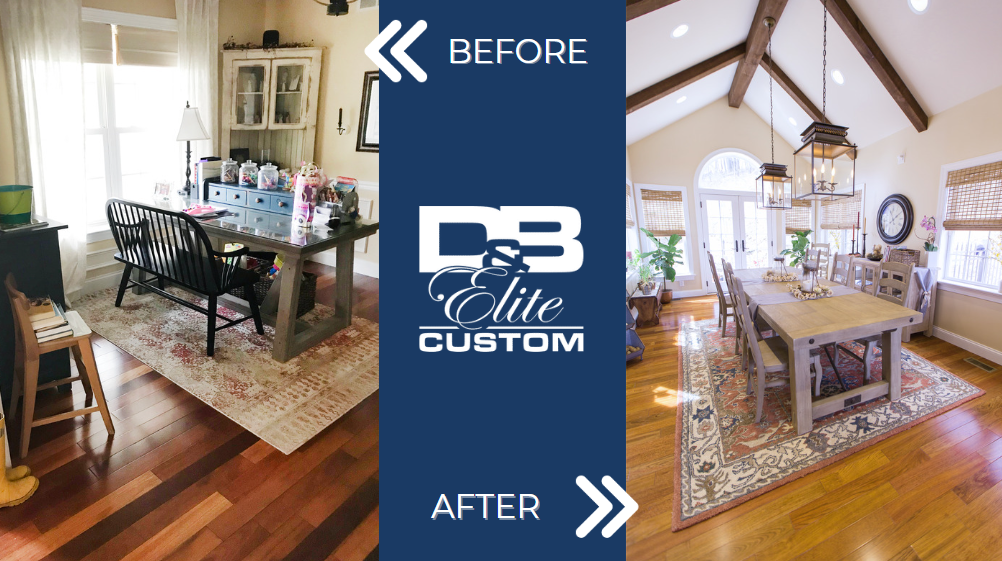 Learn more about Kitchen renovations here!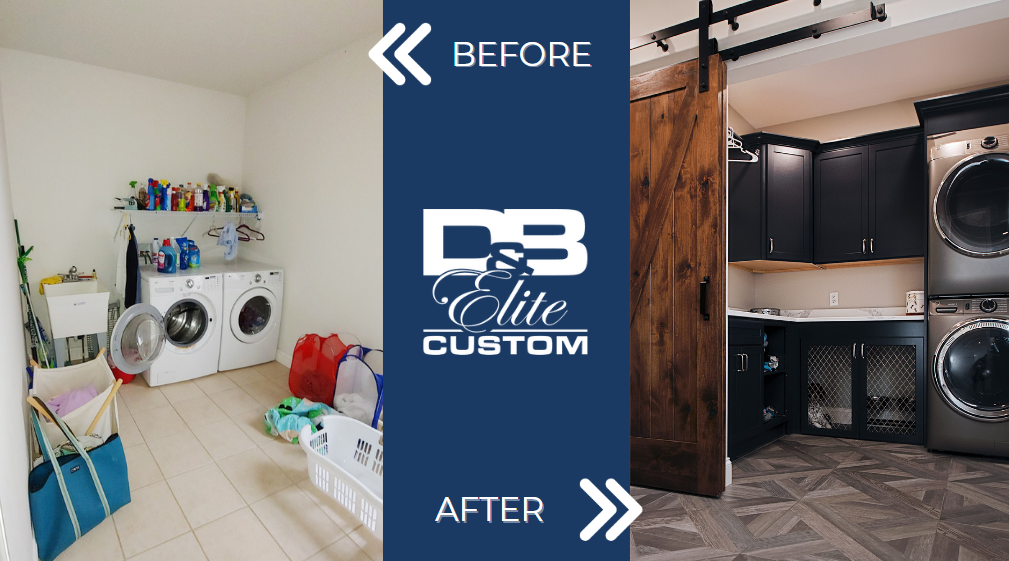 Learn about other specialty areas of the home here!
Contact D&B Elite Custom for your free consultation today! See why we were named 2022 People's Choice in Home Contractor and New Home Builder.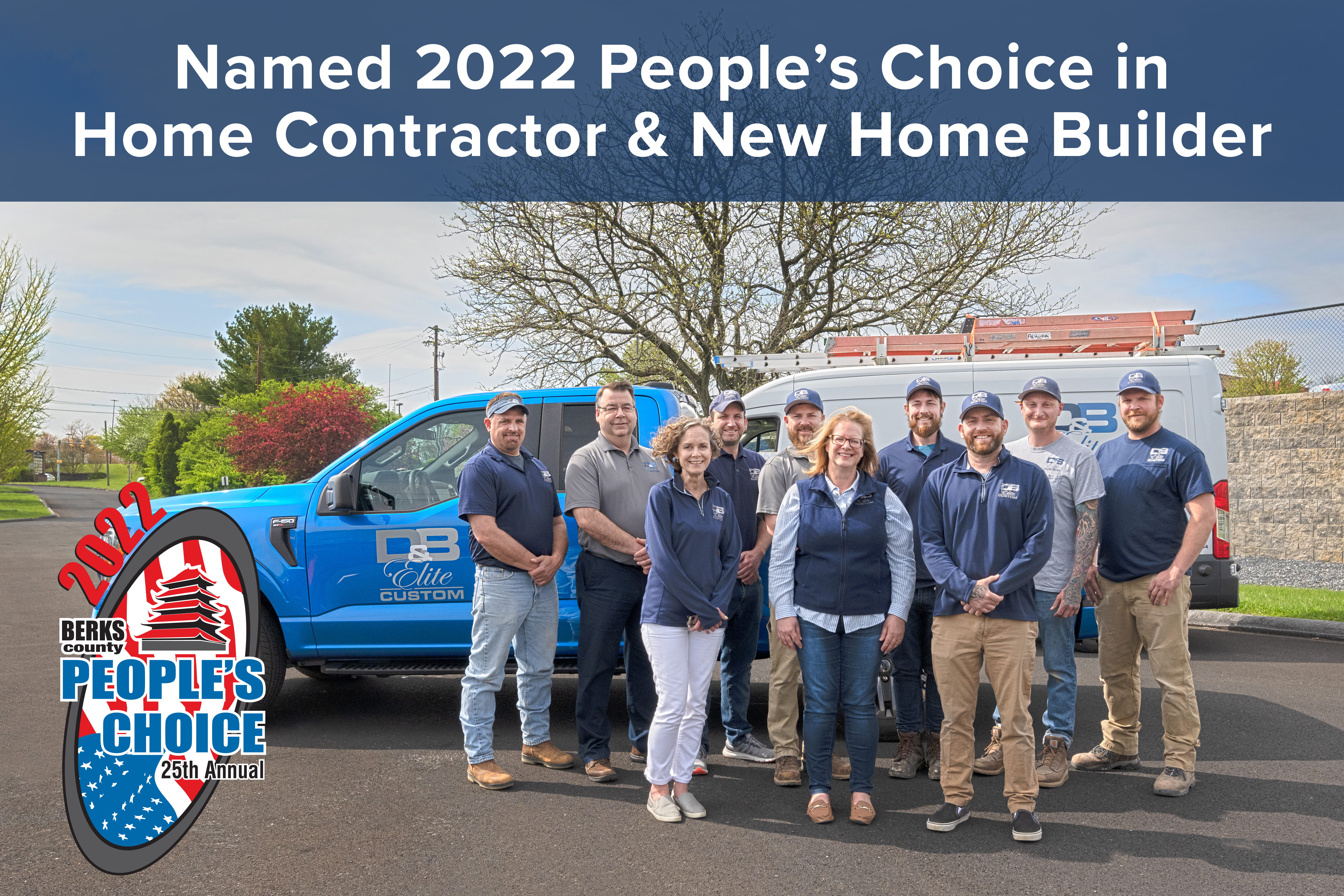 Color, pattern and texture – oh my! The versatility of wallpaper makes it easy to find a design that complements the room in your house, no matter what style you are looking for.
Did you know wallpaper is a key trend this year? Hand-painted wallpapers are very much "on trend" and growing in popularity. Wallpaper helps us to individualize our rooms and make them cozier, which makes sense after staring at the same four walls for quite some time throughout the pandemic.
Although wallpaper has tended to be more common in living spaces and bedrooms in the past, today's technological advances have allowed for the creation of many designs able to tolerate humid conditions. As a result, there are many suitable options for kitchens and bathrooms.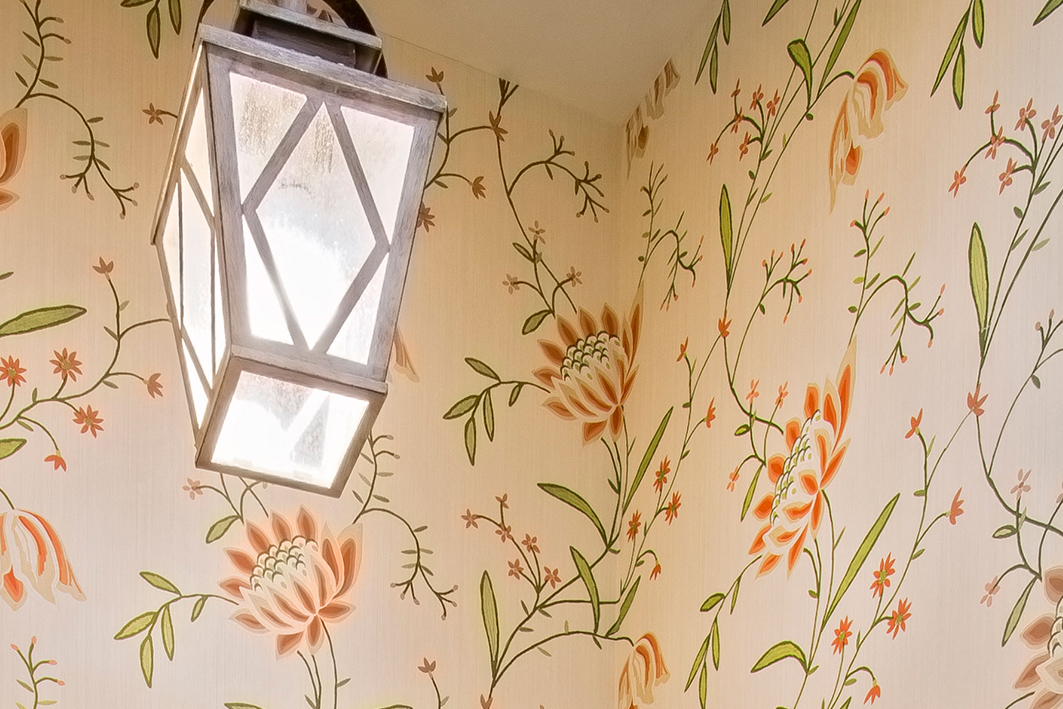 Ten Creative Wallpaper Ideas:
Double Trouble: Who said you can't use the same design in two different colors? Not us! In fact, we encourage you to give it a go. When you use the same print in two contrasting colors, it really adds design detail and maximizes the magic of one's wallpaper. Try this for the perfect way to give some edge to your space in need of a renovation.
Spruce Up Your Entryway: The entryway of your home is your first opportunity to set the tone and style of your home, so be sure to not overlook this space and give it the personality it deserves. Wallpaper is a fun, easy, and relatively inexpensive way to brighten things up when you first step into your home! Entryways are often a narrower space that sometimes get overlooked, so it may be worth considering embracing the fun patterns and color that wallpaper has to offer in this space. A repetitive pattern will create a rhythmic motif that helps to widen and elongate the smaller space typically found in an entryway. Consider wallpaper that features a good stripe; the linear quality will help add character to your entryway. This design also helps to add height if the lines are vertical or space if the lines are horizontally placed.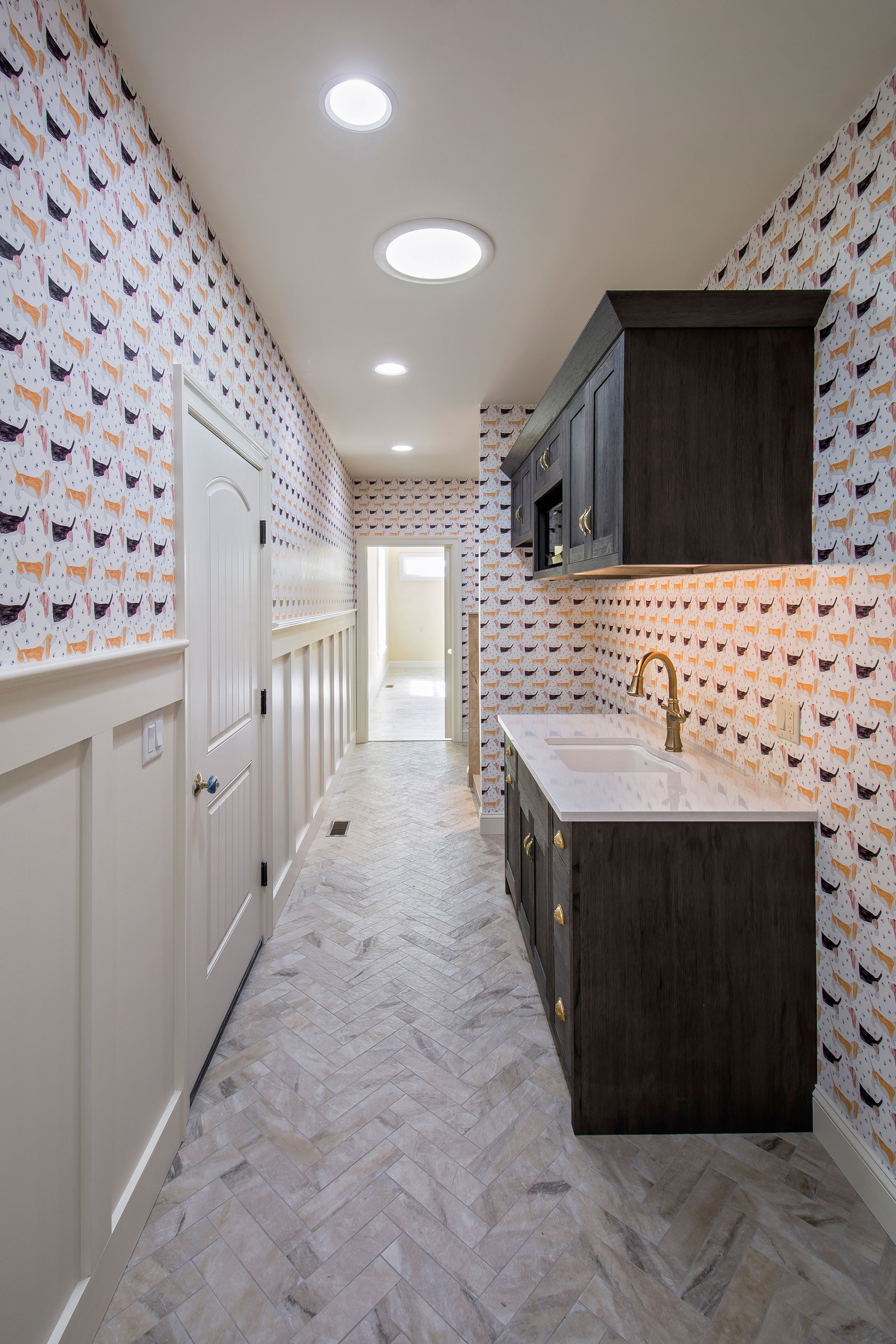 How to Soften Busy Wallpaper: There's nothing wrong with being bold and featuring "busy" wallpaper, however many get nervous at the thought. A simple way to break it up? Consider painting the woodwork surrounding the "busy" wallpaper in a color that matches the wallpaper design. Don't forget: It is best to stay away from oversized prints in rooms where windows, mirrors and pictures are frequent. Choosing smaller repeat pattern in an area where such items are breaking up the design is best.
The Perfect Way to Add Personality to Your Home Office: Re-imaging the walls of the office at your 9 to 5 job may not be on the table, but the possibilities are seemingly endless when it comes to your own home office! Busy, patterned wallpaper may be too distracting in a home office where you are likely wanting to concentrate. Opt for gentle, impressionist-style wallpaper to add interest to your space while creating a feeling of Zen.
Use the Same Print on An Accent Wall and Piece of Furniture: A simple concept that can leave a big impact! It's as easy as getting an armchair upholstered in the same print as the wallpaper you are using on an accent wall near the furniture piece. Using only an accent wall instead of every wall in the room will keep you from overdoing it with the same design and really leaves a WOW factor.
Make Various Shades Your Friend: Consider using one color across three individual pieces through different shades. Doing this adds depth while also creating harmony and cohesion through all individual elements.
Don't Forget the Ceiling: Sometimes it's as simple as looking up! There's no rules when it comes to wallpaper. Who says you can't wallpaper the ceiling?! Whether this means including the ceiling as you wallpaper the four surrounding walls or only wallpapering the ceiling to really make a dramatic pop, you've done it right.
Wallpaper Things You Normally Wouldn't: No rules apply here; think outside the box! From wallpapering your staircases to your headboard, the possibilities are endless. Such spaces are great opportunities to finally put wallpaper scraps that may be laying around to good use. Interior doors and closets are another great place to try. Coating your closet doors with the same wallpaper as the walls of the room can trick your eye into making the closet disappear and essentially opening up the room.
Experiment With Your Powder Room: Small rooms, such as your powder room, are great places to start with a bold, fun wallpaper. Why? If your taste changes down the road, it isn't the most expensive area to redecorate given the small space of a powder room. Pro Tip: Go for bold large-scale prints in these small spaces. Don't be afraid to choose something dramatic that you absolutely love but know you couldn't live with forever in a well-trafficked hub like the living room.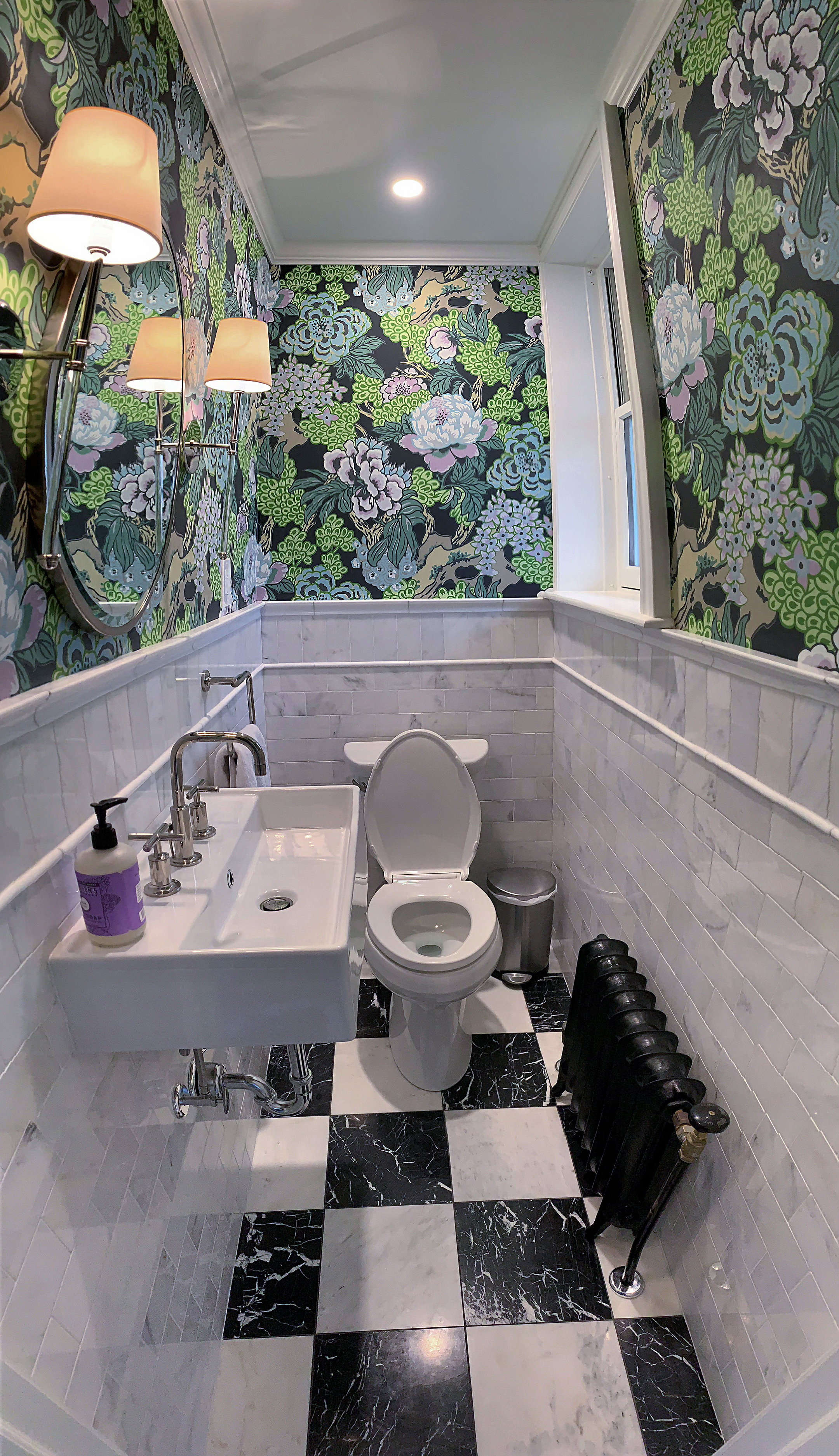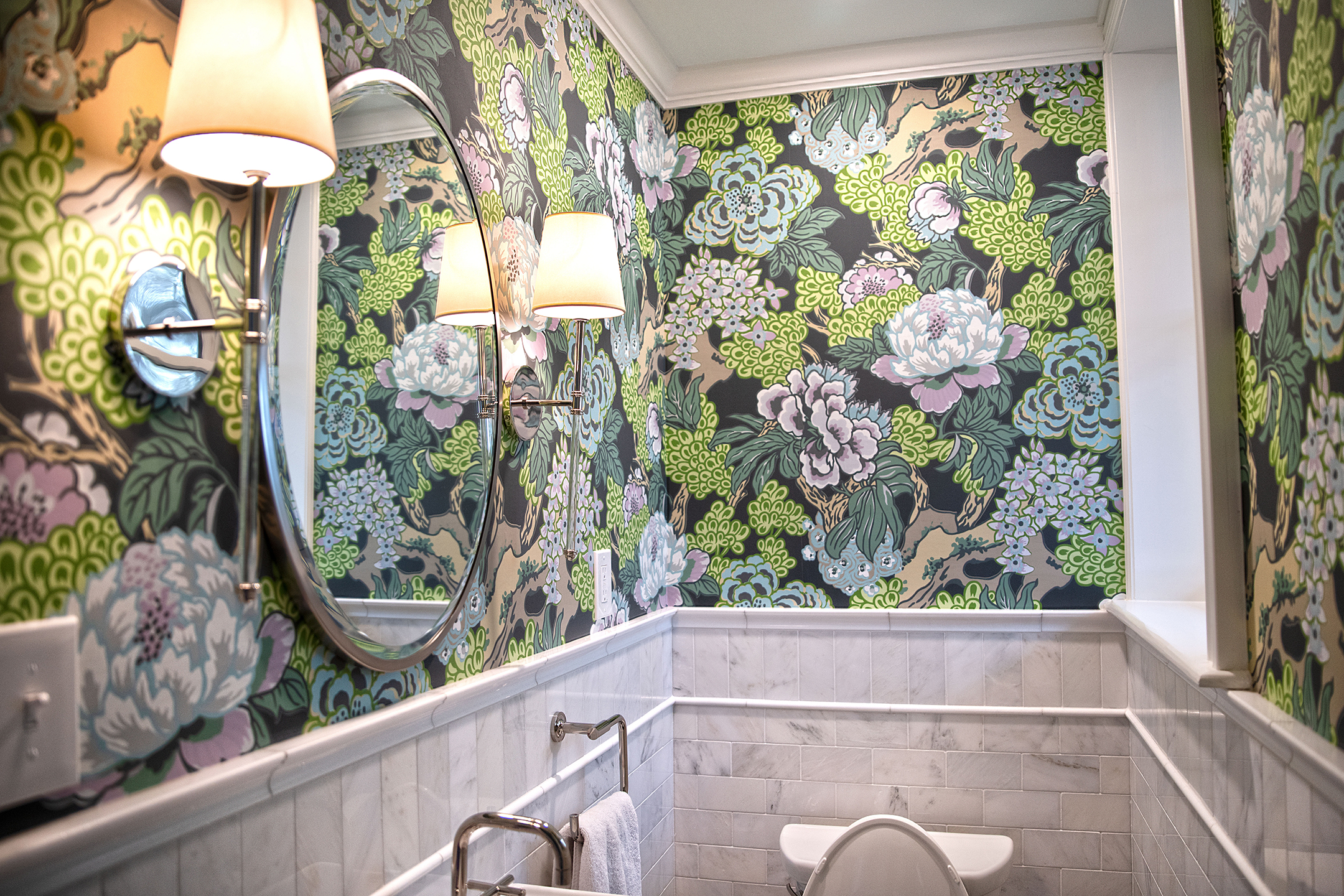 The 411 on Relaxing Wallpaper: If you are looking for the most relaxing options, try wallpaper with a fabric-look! These create a feeling of enclosed comfort. Textured wallpapers like cork, grasscloth, or paper backed silks add depth, along with a touch of luxury. You can never go wrong with pastel and neutral shades for the ultimate relaxation. Stay trendy with walls that embrace floral and foliage prints. Wallpaper with vivid colors like reds and yellows may be too stimulating to promote rest.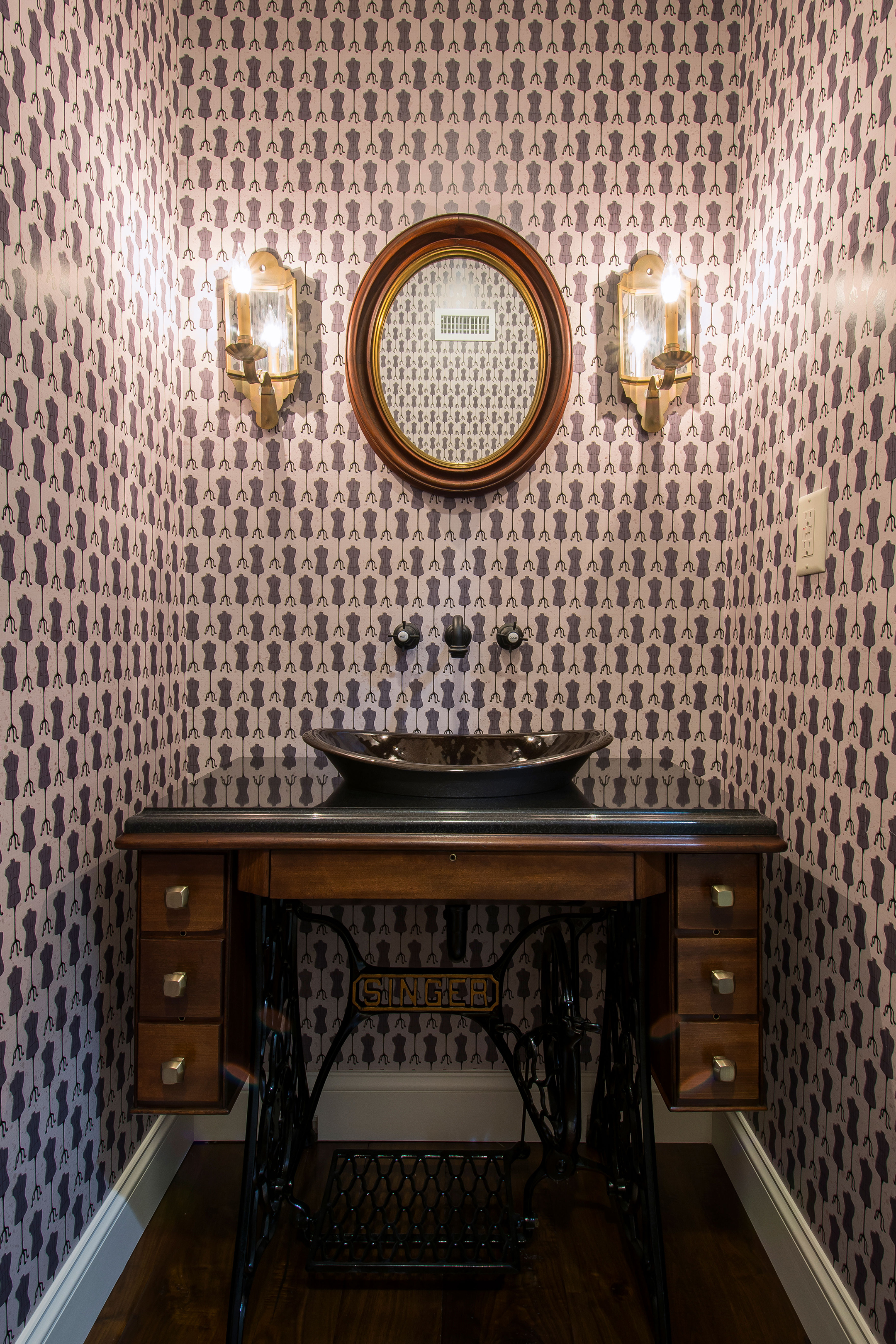 The History of Wallpaper:
Wallpaper has been elevating rooms as early as 200 B.C., where it is believed Ancient Chinese would glue rice paper onto their walls. Egyptian papyrus, the earliest known for of "paper," was first introduced around 4000 B.C. in China.
By the 10th century, Arabians were creating a finer sheet of paper through higher quality materials like bamboo and wood, and during the 12th century papermaking spread throughout Europe.
A French engraver by the name of Jean-Michael Papillon is credited with inventing wallpaper as we know it today in 1675 when he started making block designs in a matching, continuous pattern. It wasn't until 1739 that wallpaper made its way to America when Plunket Fleeson started printing wallpaper in Philadelphia, PA.
In the roaring '20s wallpaper took the spotlight with some 400 million rolls being sold during this period, which became known as "the Golden Age of Wallpaper." After World War II, plastic resins revolutionized the industry, offering stain resistance, washability, durability, and strength.
Today, advances in digital, photo and printing technologies make wallcoverings much more affordable, and it is easier for companies to replicate wallpaper styles from any period of history.
The start of the new year often inspires people to renovate and make some changes, whether in their routine and habits or their living spaces. A home renovation is a big undertaking, so it is best to not rush into. That's where the color of the year can come into play. Paint is an easier, cheaper way to spice things up in your home. A little bit of paint can go a long way in transforming a space without having to worry about the hassle of completely remodeling your space. Since it requires less commitment – both in time and money – this is a great alternative if you are not yet ready to tear down your walls or have your home fully under construction. Here are some creative DIY ways to animate your walls:
Color of the Year:
Pantone's color of the year was announced on December 9 as Pantone 17-3938 Very Peri. Described as a "symbol of the global zeitgeist of the moment and the transition we are going through," the Executive Director of the Pantone Color Institute, Leatrice Eiseman, explains how the color "brings a novel perspective and vision of the trusted and beloved blue color family" while also displaying a "spritely, joyous attitude and dynamic presence that encourages courageous creativity and imaginative expressions." Be sure to check out the four color palettes Pantone has created to help bring the color of the year into your designs here.

October Mist was reported as the 2022 color of the year by Benjamin Moore and Breezeway was announced as the color of the year by Behr. Both colors having tones of green are perfect for the new year since green represents new beginnings. October Mist brings life to a room through being an earth shade of green. Green is meant to represent health, prosperity, and wealth. This color is said to make you feel optimistic and refreshed. Breezeway induces feelings of coolness and peace and is very similar to October Mist, as it is also a silvery green shade with cool undertones.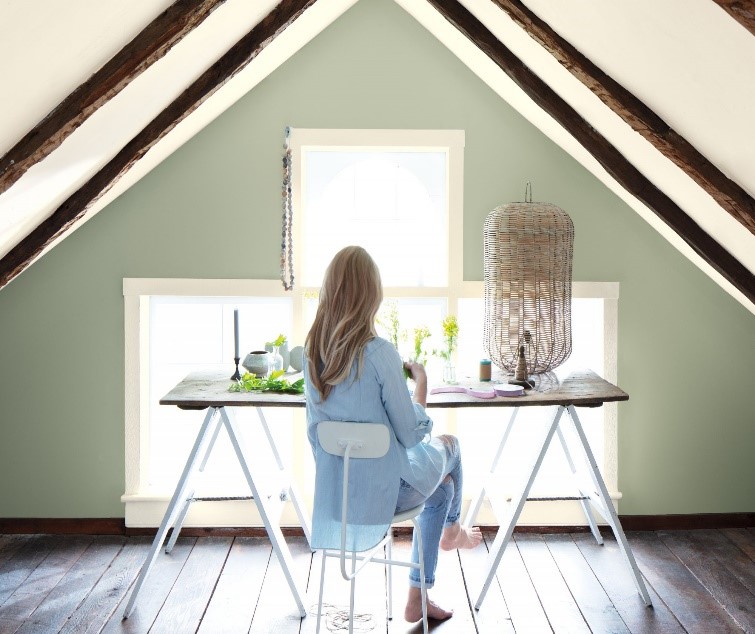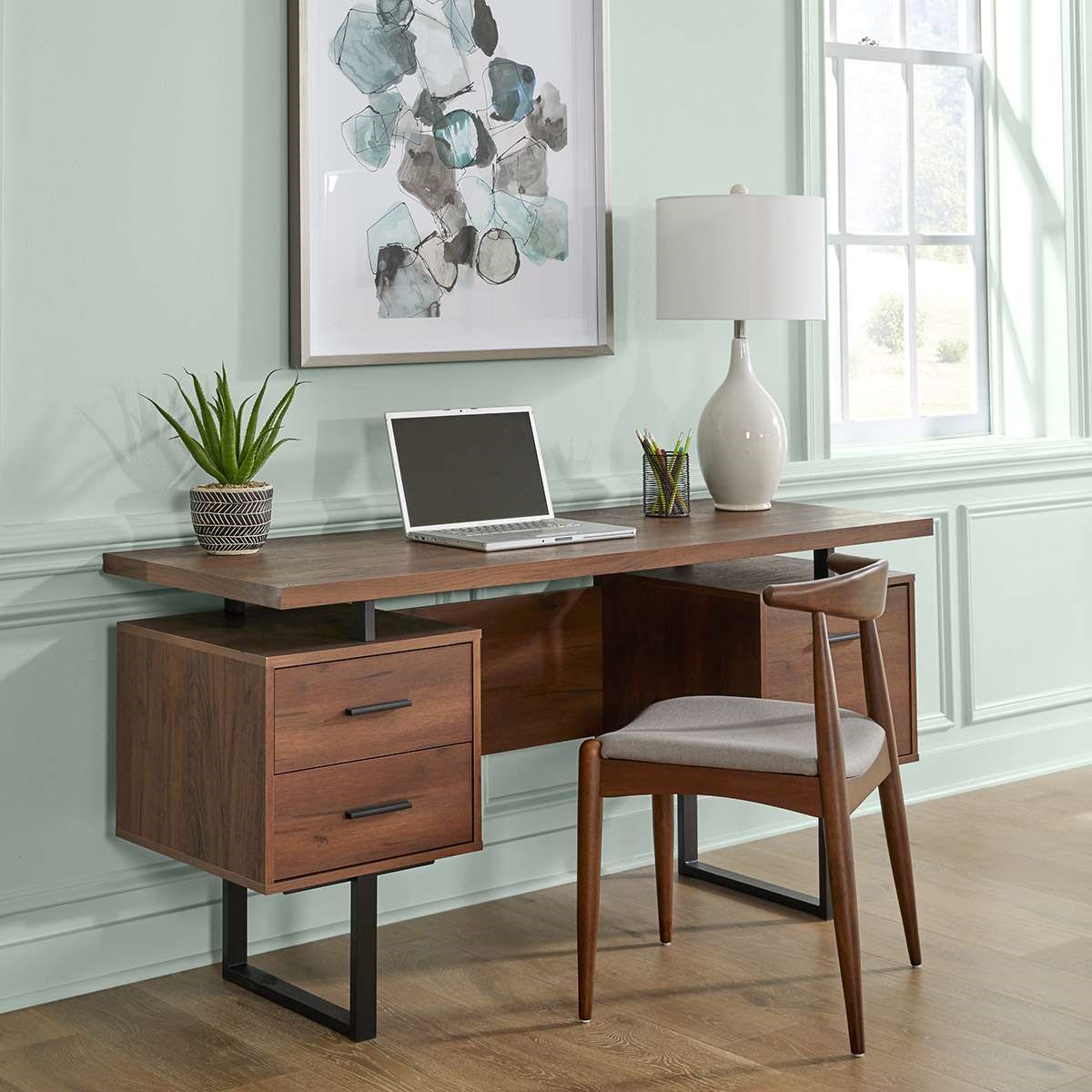 More color trends of the new year from Benjamin Moore include: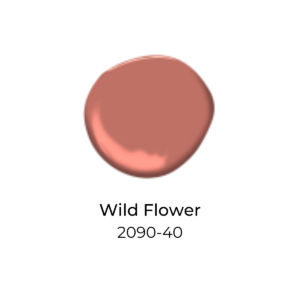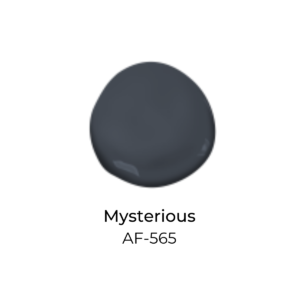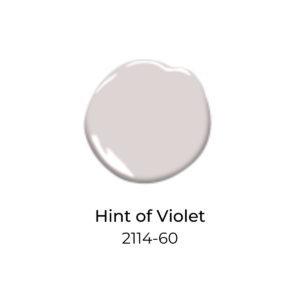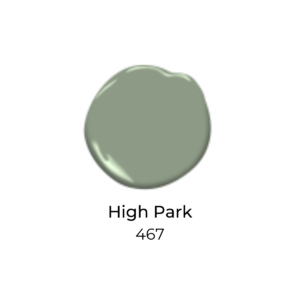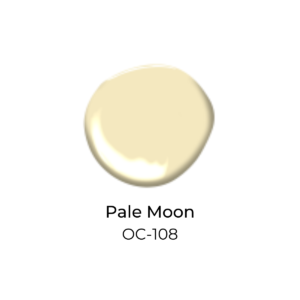 Paint Stencil Rollers:
One way to draw attention to your walls is to take a stencil roller to them with the color of your choice. These rolls come in all different designs and patterns, and you can find them on cheap sites like Etsy, Amazon, or Wish. This is great way to add a custom pattern that stands out without having to invest in wallpaper. Typically, standard wallpaper runs between $25 to $50 per roll, which covers about 30 square feet. Given this, you can expect to pay between $1 to $2.50 per square foot. If you are in the market to buy designer or custom wallpaper, these options can run as high as $5,000 per roll. In comparison, stencil rollers can cost anywhere from $5 to $30. Best of all they are reusable, making them very cost-effective.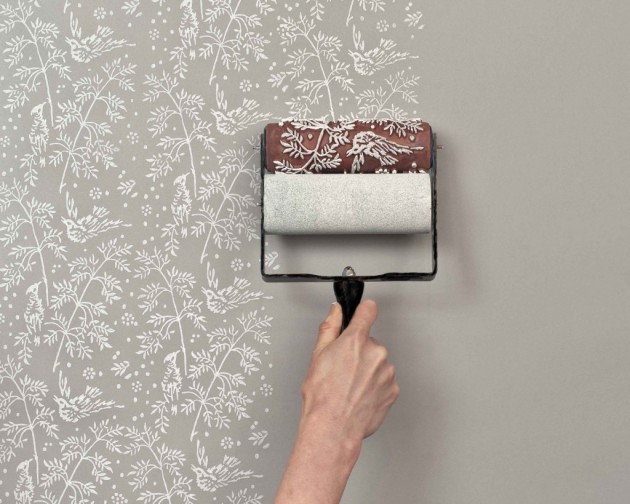 Accent Walls:
If you are in love with a certain wallpaper or paint color but don't want to commit to the cost of decorating the entire room with it, you can always opt for creating an accent wall. Accent walls have made a comeback once more. They not only give you the chance to show off the wallpaper or paint color you love, but they also function as a way to help define your living space.
For example, you can use an accent wall to indicate different zones. Designer Emily Henderson recommends making sure your "accent walls are done with a purpose." Check out her ideas for making this happen here, where she shares great tips such as recommended sticking to a light color accent wall to keep your space from feeling smaller. "Accent walls painted or wallpapered in dark colors can make walls visually advance, which can make them feel smaller," she explains.
DIY Painters Tape Designs:
Using painter's tape to create designs and bring your wall to life has become a huge trend in the past couple years. It is a low-cost, good looking, and fun way to give a room an instant lift. According to Bob Vila the best overall painter's tape to use is Scotch Blue Original Multi-Surface Painter's Tape. This also would be a fun project for the whole family to get involved in. For example, you can have the kids help choose where to put the painter's tape or paint within the lines.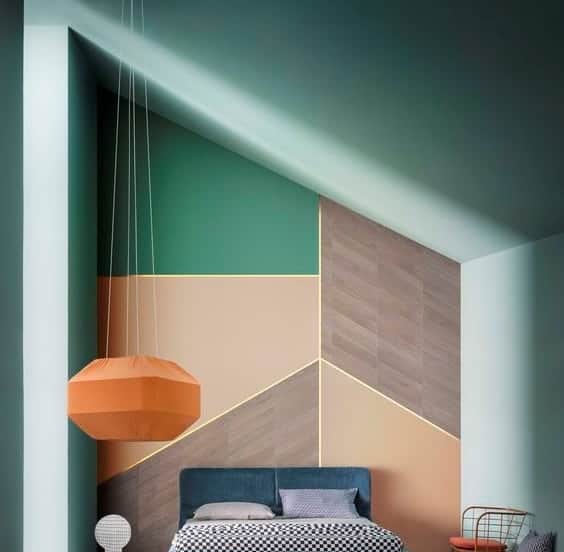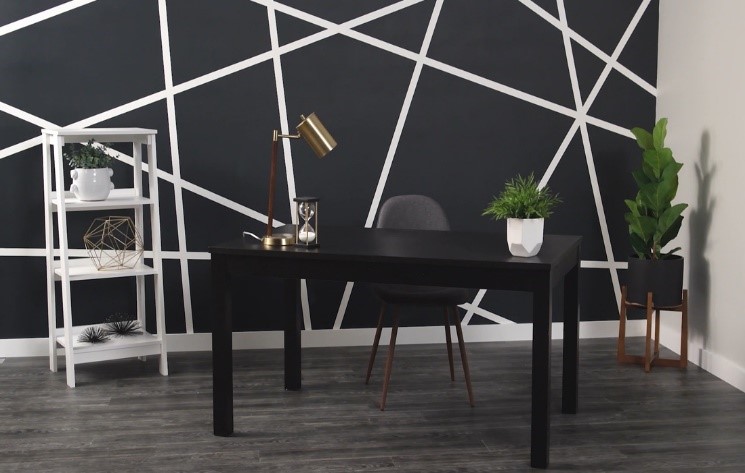 Interior Wall Paneling
Wall paneling is used to decorate walls and give the wall a bit of texture. Who knows… This could be what is missing from perfecting your wall. Finding wall paneling is easy as well. It's at almost any home improvement type store including Home Depot and Lowes. Paneling has been around since the 1950s and still popular and used today. Some trending wall paneling today includes shiplap, board and batten, bead board, raised panels, and many more.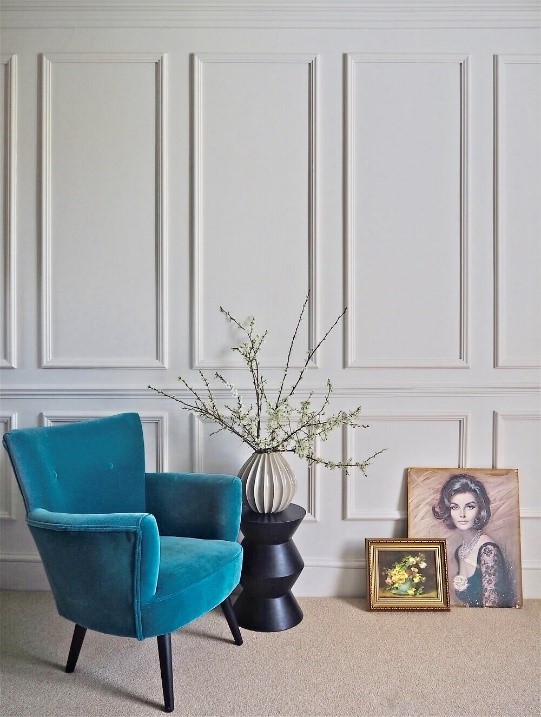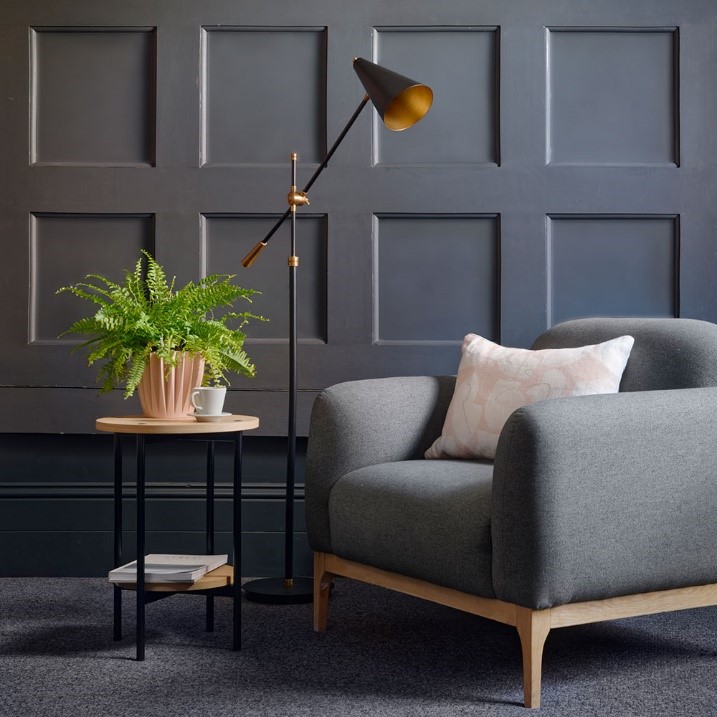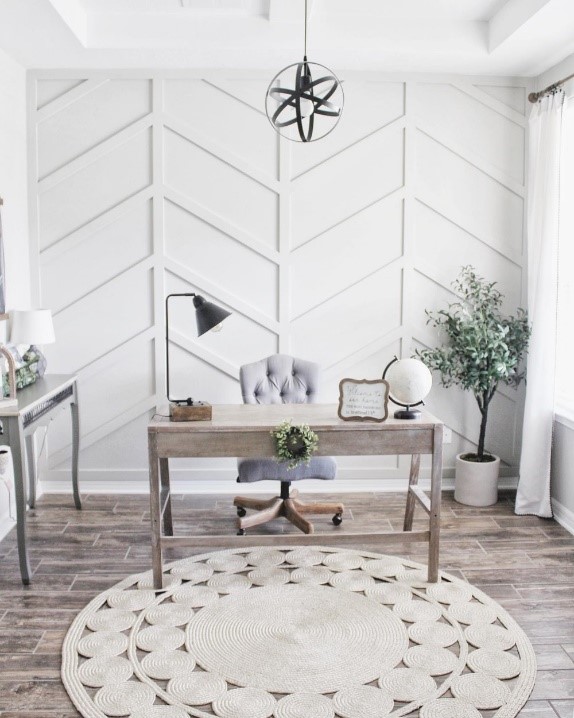 We hope these tips provided you with some ideas for your own home as we enter the new year. One of the most difficult steps to creating your dream wall is narrowing down your color options. It is important to consider what the right color can do to a room. Color Psychology, or "the study of hues as a determinant of human behavior," can play a huge roll in this. Learn more about what mood and feelings each color can invoke here. For example, if you are looking to make your at home office more relaxing to counteract those stressful Zoom calls, consider painting your office a shade of green since it is "regarded as the most restful and relaxing color for the human eye." Symbolizing harmony, tranquility, and peace, this color helps to enhance stability and endurance – great options for those looking to stay motivated during long WFH hours.
What's your DIY goal for the New Year? Do any of these trends to boost the look of your walls catch your eye? We'd love to see the visions you bring to life in your living space.
Whether you are a veteran Thanksgiving host or it's your first time entertaining, hosting over the holidays can seem intimidating. Adding in the fact that it may have been a bit since the whole crew got together for the holiday (thanks, Covid) doesn't make things any less stressful. Here's some tips that will set you up for success as you plan your Thanksgiving dinner:
Where To Start…
Make a To-Do list. Keeping everything on a schedule and together guaranties that all your tasks will get done. First things first, make your menu. This includes deciding who is bringing what and what you as the host are responsible for. Once you have the answers to these questions you can then make your grocery list. Just knowing you have obtained all the ingredients and supplies you will need ahead of time helps you breathe easier.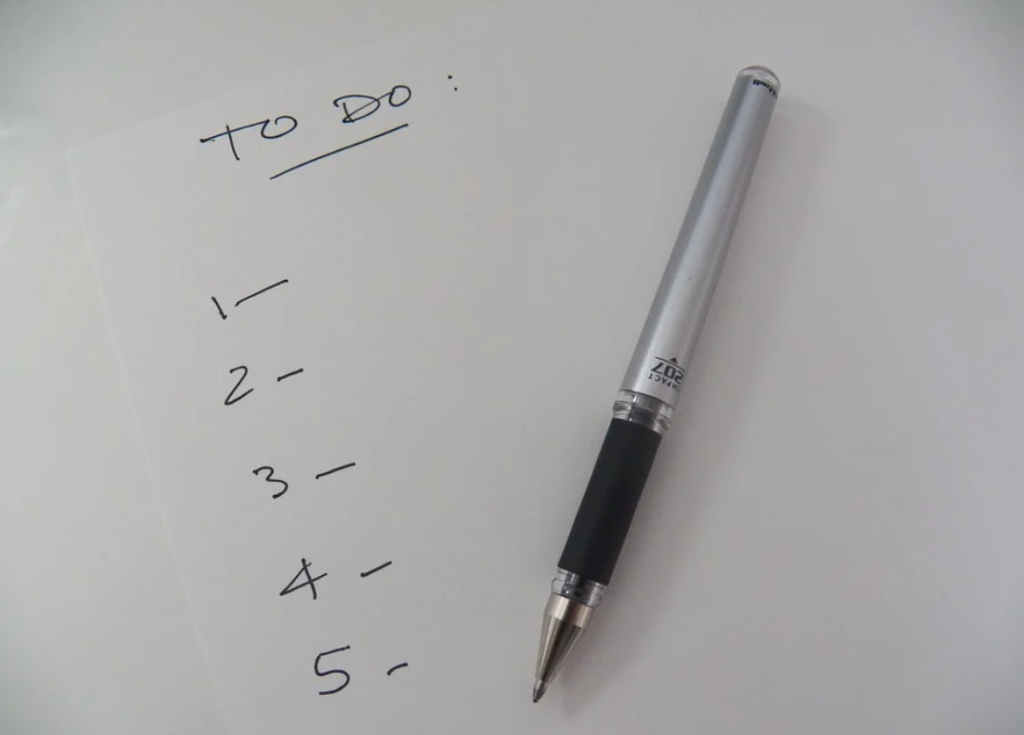 Kellie, D&B Elite Custom Estimator and Assistant Project Manager, suggests "doing as much as you can in advance." This will help keep the day from being stressful so you can enjoy the holiday and be present in the moment. Our Marketing & Communications Coordinator, Angela, has lived through such last-minute stresses. "The first time we hosted Thanksgiving for all of our friends and family, I overlooked one major detail. It wasn't until less than two hours before guests started arriving that I realized I didn't have 10+ of the same glasses, and I couldn't not have them much. The solution? A quick trip to the Dollar Store!"
Our Office Coordinator, Rachel, reminds everyone to "take it hour by hour and try not to stress. Everything will be okay."
When It Comes To Preparing The House For Guests…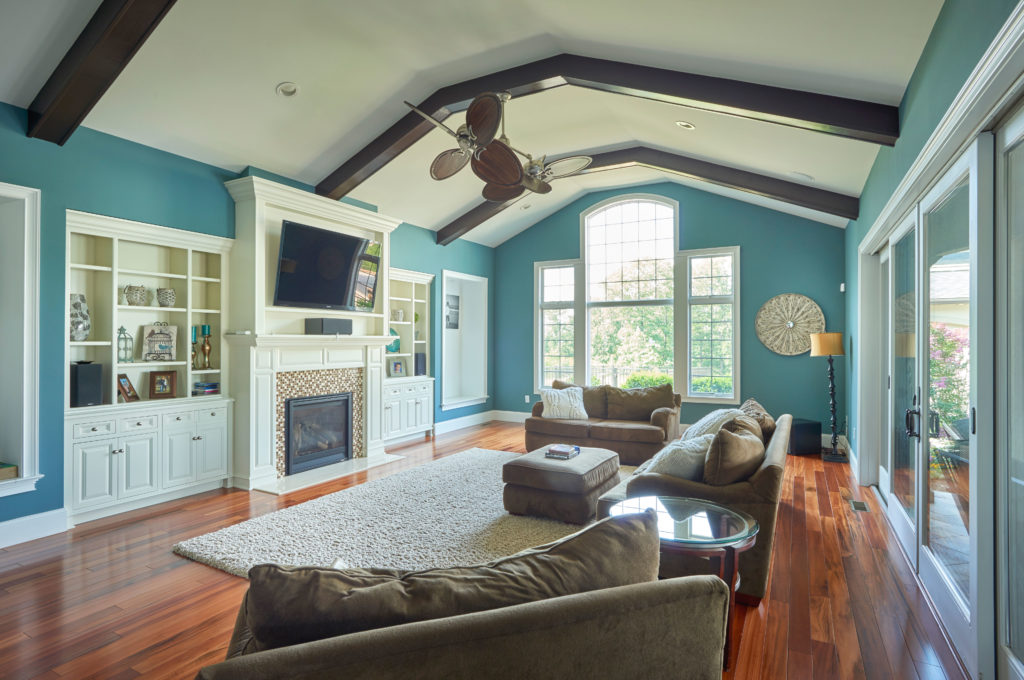 Arrange your house for the room you need. No open concept floor plan? No problem. One easy and quick way to trick your guests into making your home look and feel bigger is to place your furniture on the outer parts of the room. Doing this will make the room look larger and give more space for the items you need and want in the center (like the dinner table, perhaps). Here's some things to consider as you determine how to re-arrange your furniture and décor to make your home feel bigger:
-What's the main purpose of the room? How many people will use it? This will help you prioritize your furniture. Another good tip: It is always best to prioritize the largest pieces of furniture.
-Find the focal point of the room. This could be a large window, TV, or fireplace. Arranging your furniture around this feature will help give the room structure.
-Layout matters and determines the feel of your room! An asymmetrical arrangement will give a more casual feeling, while a symmetrical layout gives the room a formal feel – especially when it comes to dining rooms.
-Be mindful of foot traffic and how it will flow, especially in a room with two doors.
-Always maintain comfort. Examples of this include making sure that coffee tables and lamps are within reach of sitting areas and that there is enough room to pass behind pull-out chairs when in use.
-Stripes elongate a room. Making sure linens align lengthways with the room is always the way to go.
-Placing mirrors strategically around your home can do a lot to extend a room. Facing them lengthways gives you an optimal effect.
-Glass tables are something that can be taken advantage of! Their transparency helps give the room an airy feel.
-Hanging artwork lower than usual gives the impression of a taller ceiling.
-Arranging furniture diagonally leads your eyes smoothly around the room.
-Always opt for arranging lamps throughout the room instead of one light source overhead. Our eyes are drawn to different corners of a room as light fills dark spaces.
A Word on Cleaning (Everyone's Favorite Chore):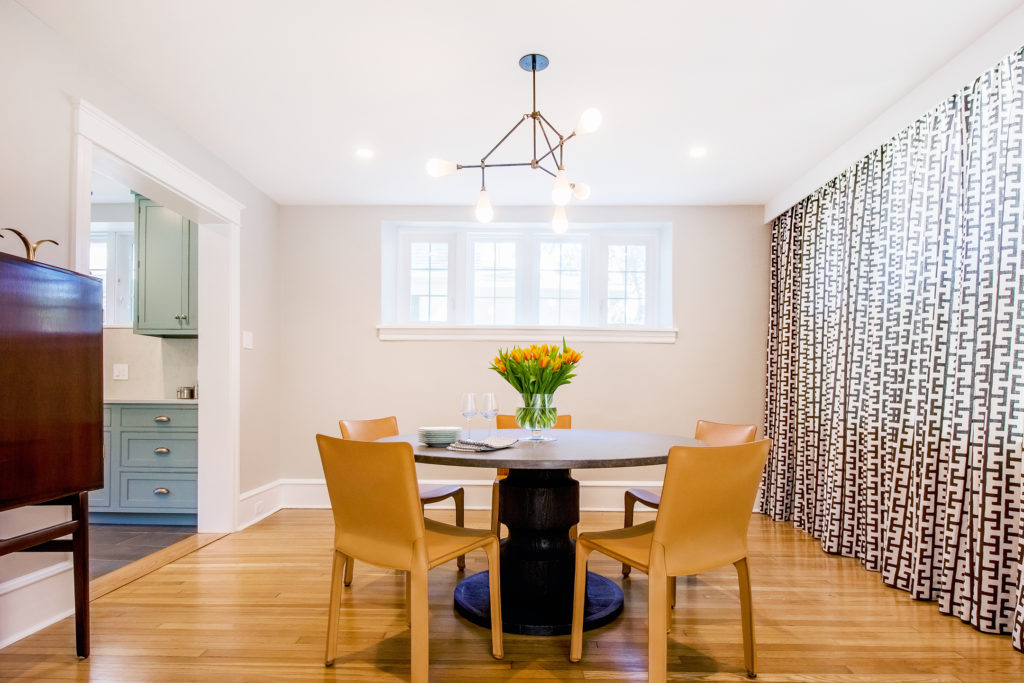 "There can't be any sign of living in this house. Get rid of the couches! We can't let people know we SIT."
Chances are you either live with someone who becomes this person when guests are coming over – or you are this person. And that's okay. We all do it! (Just check out the viral video "Company is Coming" for a few good laughs).
Remember to focus on the big picture when it comes to cleaning. Guests won't think twice about one of your kids' runaway doll clothes in the corner of the room, but they will remember the delicious food and good company you provided. Keep it simple. Clean selectively. Your guests aren't going to notice all the little things that might be catching your eye. Put emphasis into decluttering as you clean. The less clutter you have, the bigger the area looks.
When It Comes To Decorating…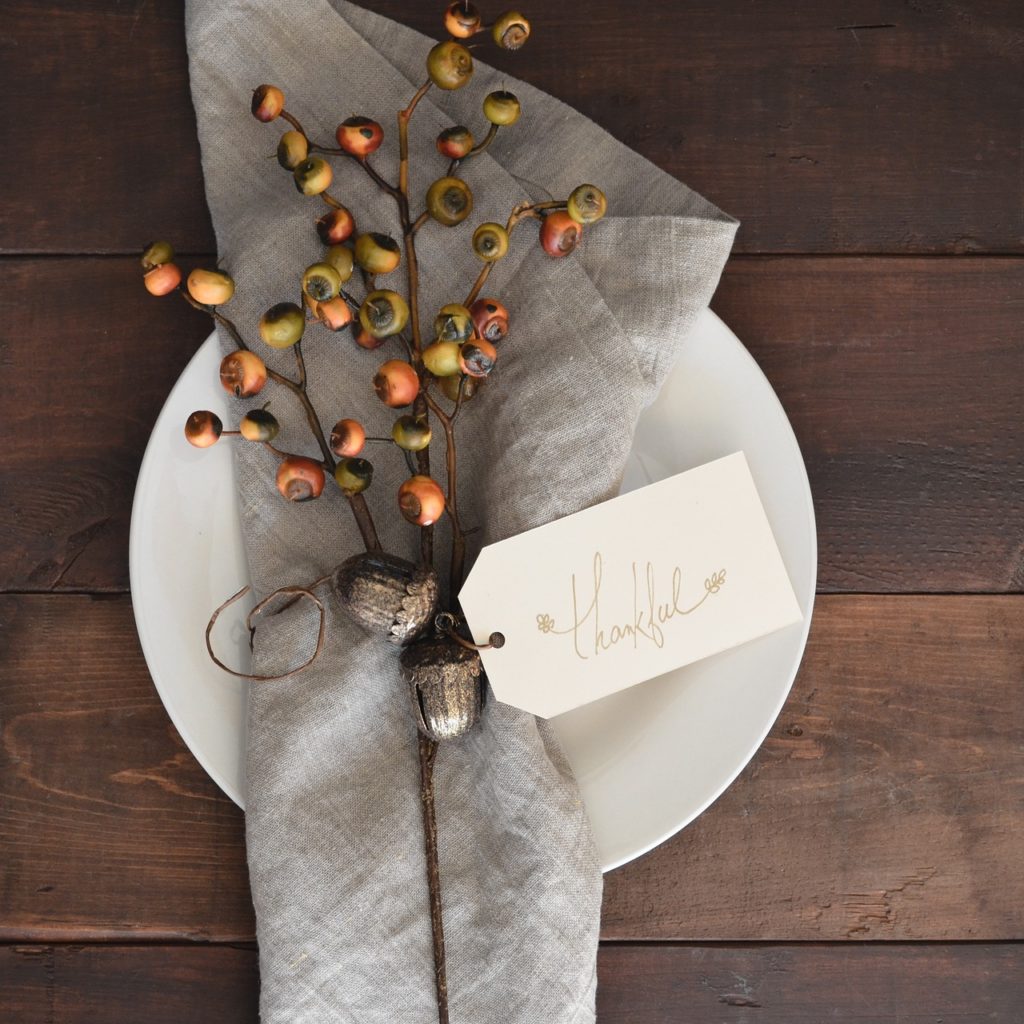 If you need some fun, inexpensive décor items, you can never go wrong with holiday-themed plates, napkins, tablecloths, and candles. If you are looking for that "wow" factor consider splurging on a statement piece for the table. Head out to local antique and home décor vendor shops, like The Primitive Barn in Sinking Spring, The Mint Leaf in Leesport, Five & Divine in Womelsdorf, or Park Road Antiques /  Ann Henry Antiques in Blandon, and find a unique antique or home décor item that will be a talking point for your guests. Make sure it's something you love and can use to decorate after Thanksgiving dinner is complete and the guests have left. (We like to call this a thank you present to yourself for hosting dinner).
If you have little kids running around your home chances are that easily breakable décor items may not be a remote possibility. We have a solution for that, too! Kellie suggests having the kids "help" with decorating. With eight grandkids of her own, Kellie lets all of the kids decorate the place with pinecones and leaves. "This keeps them occupied while you are trying took, plus it helps get the decorating done," she says with a smile.
Want bonus points as a host while simultaneously supporting local businesses? Take some of your décor budget and put it towards a favor for your gusts. Head to your favorite small shops, like some of our favorites on Penn Avenue: Muddy Creek Soap Company or Zipf's Candies by Sweet Surprises and grab some favors to give to your guests.
When It Comes To Food…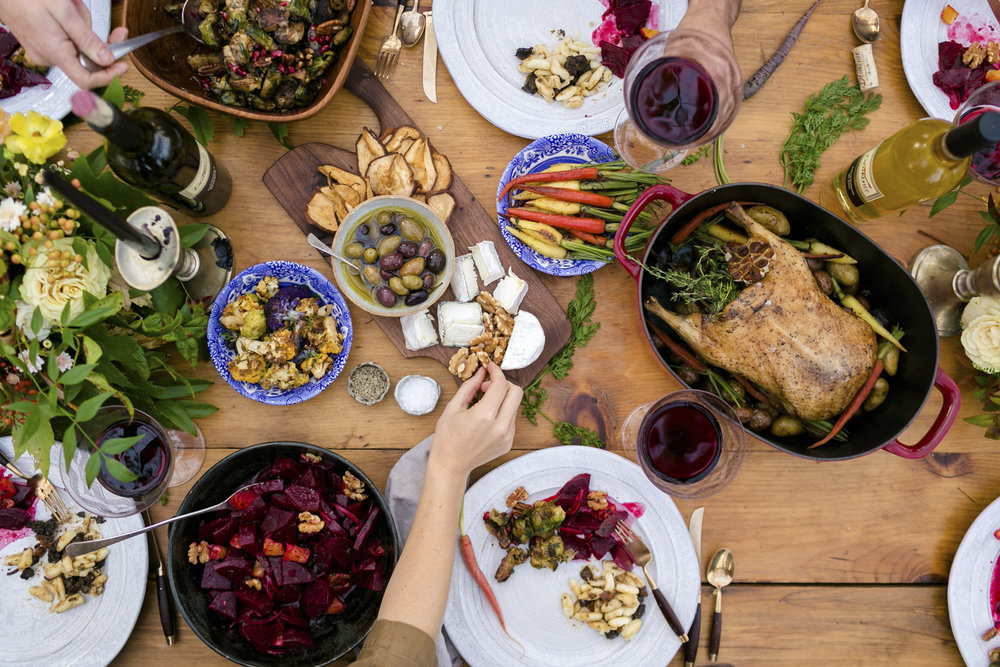 -Cook ahead of time. This gives you a leg up and helps ensure that all of the food is prepared on time. Plus, it also leaves time for mistakes if something burns or you have to make a mad dash to the grocery store because you forgot that one important ingredient (We're speaking from experience here!)
-There's no shame in buying some items – especially when it comes to dessert! This is another opportunity to shop small this holiday season. Plenty of great restaurants, like Crave Café and are taking Thanksgiving dessert orders now! And don't forget about Café Sweet Street's Thanksgiving Dessert Sale!
-Delegate who is making what. There's no reason to make all of the food yourself and no shame in asking for help. Two words: Potluck Dinner! Invite guests to bring a dish. Oftentimes, your guests will be excited at the opportunity to share their favorite recipe with you and the other guests. Plus, it makes your guests feel less guilty since they aren't just showing up empty handed to eat the meal you prepared. It's a win-win situation: Your guests get to help prepare the meal, and you don't have to stress about making all the food.
You can phrase the request asking your guests to bring a dish like this: "Do you have a dish that was always a tradition in your family growing up, and it just isn't the holiday without it? We welcome you to bring a favorite dish to share!" One of the best parts of Thanksgiving dinner (aside from the food – obviously) is the stories shared at the dinner table. Inviting people to bring their favorite dish can serve as a great conversation starter, especially if not everyone at the table knows one another.
-Still need some recipe inspo? The Internet's got you! You can always count on Pinterest. Other resources Kellie uses include "Taste of Home, The Pioneer Woman, Paula Deen recipes, and Joanna Gaines."
Most importantly, remember to not be so hard on yourself! Your guests are coming to see you, not to judge your table setup. As Kellie reminds us, "Don't stress! Cook at your own pace, and don't let people dictate what's going on. As the host, you set the time."
Have any tips for hosting throughout the holiday season? Let us know in the comments below! We'd also love to hear which of these tips you plan to try or already do.
Outdoor living spaces are a great addition to your family's home for more reasons than just aesthetics. It should come as no surprise that your mental and physical health can also benefit from spending more time outside. Sometimes what the doctor orders is a simple prescription to nature.
As Jamie Ducharme explains in an article, "Spending time outdoors, especially in green spaces, is one of the fastest ways to improve your health and happiness. It's been shown to lower stress, blood pressure and heart rate, while encouraging physical activity and buoying mood and mental health."
Speaker and Forbes contributor, Luke Fitzpatrick, explains that "Outdoor spaces are therapeutic simply because being outdoors in nature reduces stress levels, making us feel more relaxed. The time spent outside contributes to reducing depression & anxiety, improving your immune system, promoting good vision, and acts as a sanctuary to get away from everyday life and work stressors." Spending time outside can even prevent nearsightedness, improve your memory, and reduce inflammation.
Despite these many known ways that nature boosts your health, it is estimated by the Environmental Protection Agency that Americans spend an average of 90% of their time indoors. As Winter nears and the number of hours of daylight shortens but our number of hours in the office stays the same, there is only a small amount of time left to enjoy the benefits of sunshine. The cure? An outdoor living space.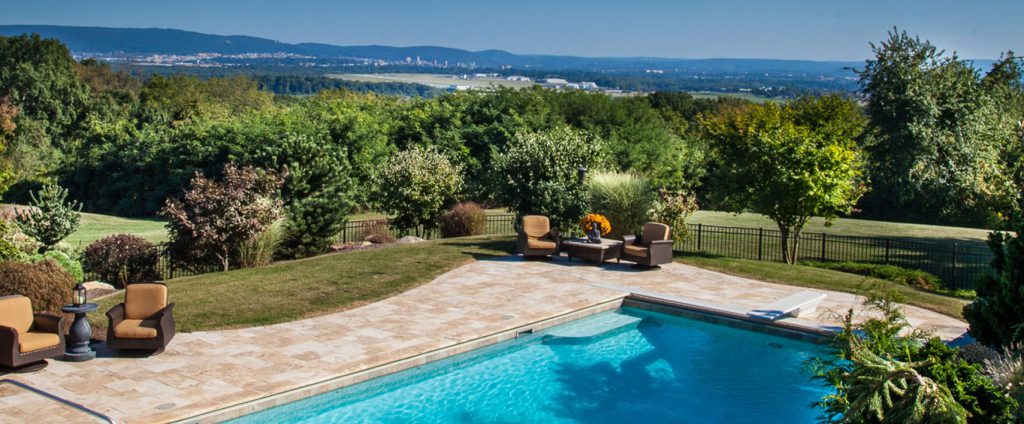 An outdoor oasis creates the ultimate addition for your home. Design a retreat in your very own home to look out for your overall wellbeing. Outdoor living spaces also supply a location to entertain guests and give your family a spot to relax outside in the comfort of their own space.
Aside from these health benefits, did you know that outdoor living also benefits your home's bottom line? Our Director of Residential Construction, Larry, explains that outdoor living is one of the biggest returns for your dollar, with about 70 to 80% return.
Penn Stone is a Trade Partner of D&B Elite Custom who has been in business since 1914 and provides our stone and flagstone. John McGrann, Owner/President of this family-owned company located in Lancaster, agrees with Larry about how much outdoor living spaces increase a home's value. He explains that "a survey of industry professionals, including realtors, interior designers, landscape architects and garden designers found the following: 90% of industry professionals agree that having a well-designed outdoor living space differentiates one home from another for resale, 60% say an outdoor living space adds a great deal/considerable value to a home, and 60% say an outdoor living space should represent approximately 10% to 30% of the value of a home."
There are many features of outdoor living that can increase a home's value. Outdoor renovations include everything from patios, outdoor kitchens, fire pits, swimming pools, outdoor sound systems and WIFI, to name a few. All of these features help magnify the up sale of your home. Here's how:
Patios and Decks
Patios are a desired amenity for most homes. John at Penn Stone explains that even a modest patio can expand the living area of your home without incurring the expense of an addition.
"If the project looks like you skimped on quality to get it done, you'll lose big time. But if you spend the time and money to make it a feature of the home, you could potentially add 8% to 12% of value to the home and an ROI of over 80% or more for you," explains Heather Skyler, a writer for supermoney. One way in particular to increase your ROI is by looking into outdoor A/V systems, WIFI, surveillance, and lighting control.
Kyle Angstadt, owner of Elements Integration System out of Leesport, PA, has worked in the industry for 21 years and is a trusted Trade Partner of D&B Elite Custom. His company offers installation of many types of home systems for both indoor and outdoor use, ranging from simple TV installs to entire home theaters and audio systems. Kyle installs "approximately four large projects per year that involve outdoor A/V and usually around 12 other installs that involve adding a TV to the porch or some speakers to a deck." Although installing outdoor speakers is a more common project for him, he notes that outdoor TVs are slowly becoming more common. "With the price of outdoor TVs dropping and the 'wow' factor of having a TV that can be next to your pool patio with no roof, it is greatly appealing to more clients," he explains. Another common project that Kyle completes is adding WIFI access points to expand WIFI to the outdoors. He most enjoys installing systems that make it easy to entertain outdoors.
"I can say from experience even with my own home that by having quality outdoor A/V you can increase the use of your deck or patio," Kyle explains. "My outdoor speakers are some of the most used speakers at my home from May to September. For many jobs I complete, having speakers outside is not just for parties, but it provides the ability to block out background noise from things like a nearby highway or city noise.  Having music playing softly can also set the mood for you to relax and enjoy your backyard."
Kyle's tips for someone thinking about getting outdoor A/V added to their outdoor living space? "The tip that is most important is to plan for wiring.  So many clients think that it can all be done with wireless equipment. Which in some cases is possible, but wired equipment can cost less and will provide for better quality of sound and picture."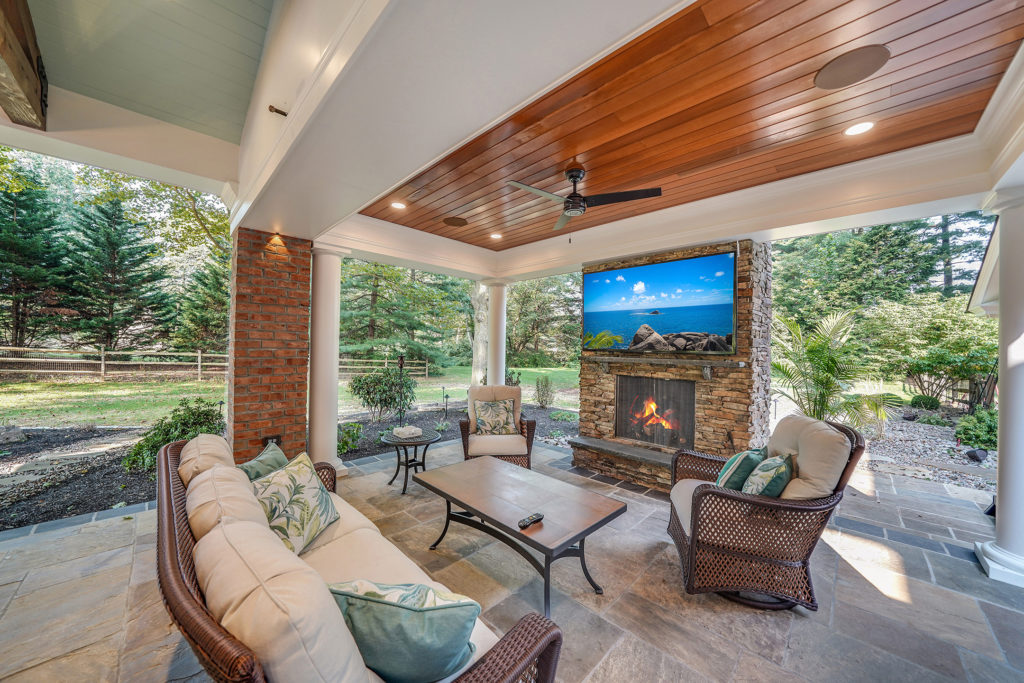 Outdoor Kitchens
President of Penn Stone, John, explains that "an expansive outdoor kitchen project can feel like an entire new wing, with designated areas for cooking, dining, and entertaining." Best of all, it is estimated that homeowners who invest in kitchens throughout their outdoor living spaces will break even on the investment when they sell their home. It is even possible to see an ROI between as much as 100% to even 200%, although keep in mind that higher return is likely to be found in homes in warmer climates where outdoor kitchens can be used more often.
Mike Burkholder, the Sales Manager for Martin Appliance's Reading location (another one of Elite's trusted Trade Partners), agrees with the above statement. "We are in a unique area of the country only because of our weather," he says. "The southern climates often get a little more return/usage from their outdoor living spaces."
Mike, who has been in the business for 18 years, explains that outdoor living spaces have become much more popular in our area over the last two seasons "due to people spending more time at home and enjoying the extended living space." He explains that having an outdoor space, such as with a kitchen, can make it possible to host a party that may be impossible otherwise. "It is a great way to gain that space without a much greater investment of actually adding to the house," Mike says.
For those thinking about adding an outdoor kitchen space, Mike offers the following advice: "I would recommend a partially covered space, first of all. I also always ask how close the space is to an interior storage area. Outdoor dry storage cabinets are an option and a great plan for paperware, utensils and spices if you are not located right off your kitchen. The other item that tends to be overlooked is an enclosed trash bin."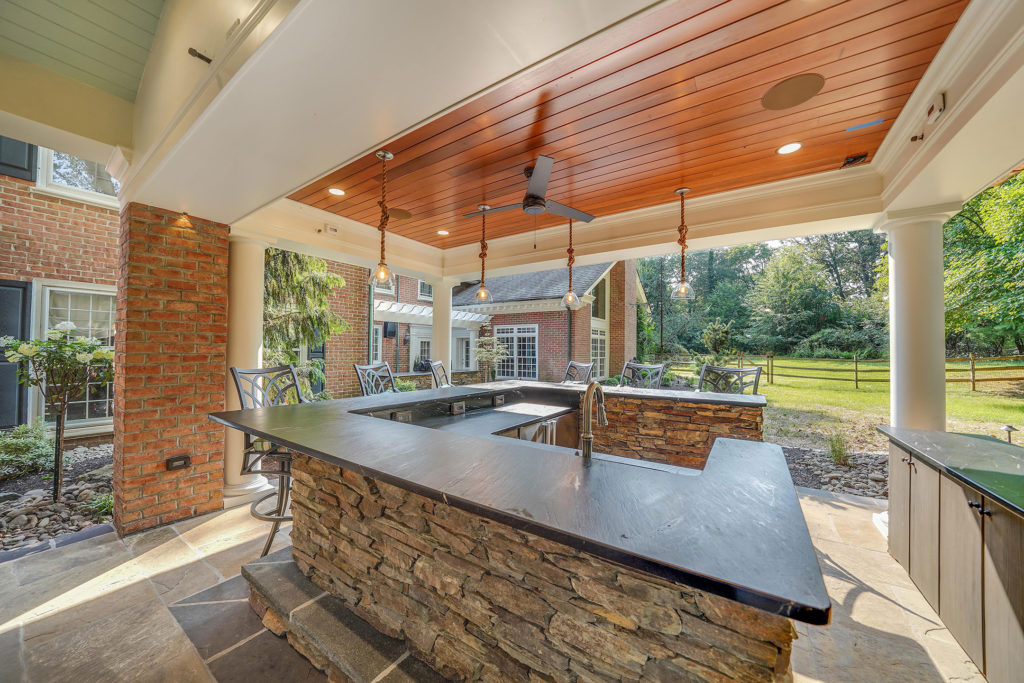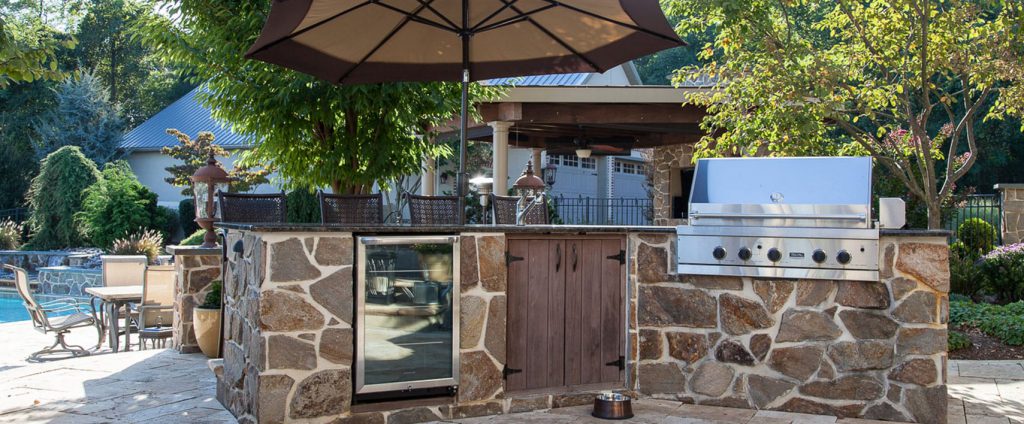 Our trusted crew at Penn Stone also recommends planning for sufficient storage and countertop space. "The more storage you can accommodate in your outdoor kitchen, the fewer trips you'll have to make indoors. And, when you're transporting food, drinks, dinnerware and other items outdoors, having ample counter space will allow you to relax while you cook and entertain without having to frequently shuffle items around." When considering what appliances to get, John recommends thinking carefully about what items you'll really use. "A grill is essential of course. Other outdoor appliances such as refrigerators, side burners, and sinks might sound enticing, but sometimes go unused. But do add a pull-out trash drawer – this is an easily overlooked amenity that you'll be glad you included in your outdoor space."
Of course, one of the big decisions when completing an outdoor kitchen is selecting what appliances to use. So are there any specific brands that are recommended more than others for outdoor kitchen projects? Mike says that Martin Appliance works a lot with Wolf and Lynx. "I also will always recommend a USA built product since many of the drills on the market use inferior stainless steel that will eventually lead to rusting. Another concern is having an item that will be able to be serviced in the future," he explains.
Penn Stone has explored many options for outdoor kitchen cabinetry, and they recommend using cabinets from Challenger Designs. "In our opinion, they offer the best combination of quality, design flexibility, functionality and price. Some other brands may offer fancier door styles, or a wider range of finish colors, or a vast library of down-to-the-inch cabinet sizes, but Challenger's product line is simple, durable, and provides enough flexibility for any project. Plus, Challenger has an excellent support team and their layouts and renderings make it very straightforward for our customers to clearly see and approve their cabinetry design."
Fire Pits and Other Stone Work 
One of the easiest ways to increase your home's resale value outdoors is by adding a fire pit. The National Association of Realtors estimates that homeowners recoup about 78% of the costs associated with building a fire pit, especially one that has natural gas running to it.
Sounds easy right? Until you get to choosing what stone to use. Penn Stone gives the following advice: "Use the best natural stone veneer that fits the budget. When selecting stone for an outdoor living project, it's important to recognize how this is different from selecting stone for a new home project. When you're selecting stone for a new home, it's important for the stone to be beautiful, distinctive, and something you're proud of, but mostly, you're viewing that stone from a distance, and often only briefly as you enter and leave your home. With outdoor living projects, there are two important differences: you will spend time in much closer proximity to the stone, and you'll spend a lot more time in the outdoor living environment. Because of this, you want to choose a stone that you really love. Furthermore, the square footage of stone required for outdoor projects is usually not significant, so upgrading to a more expensive stone may only add hundreds of dollars to the total cost of the project."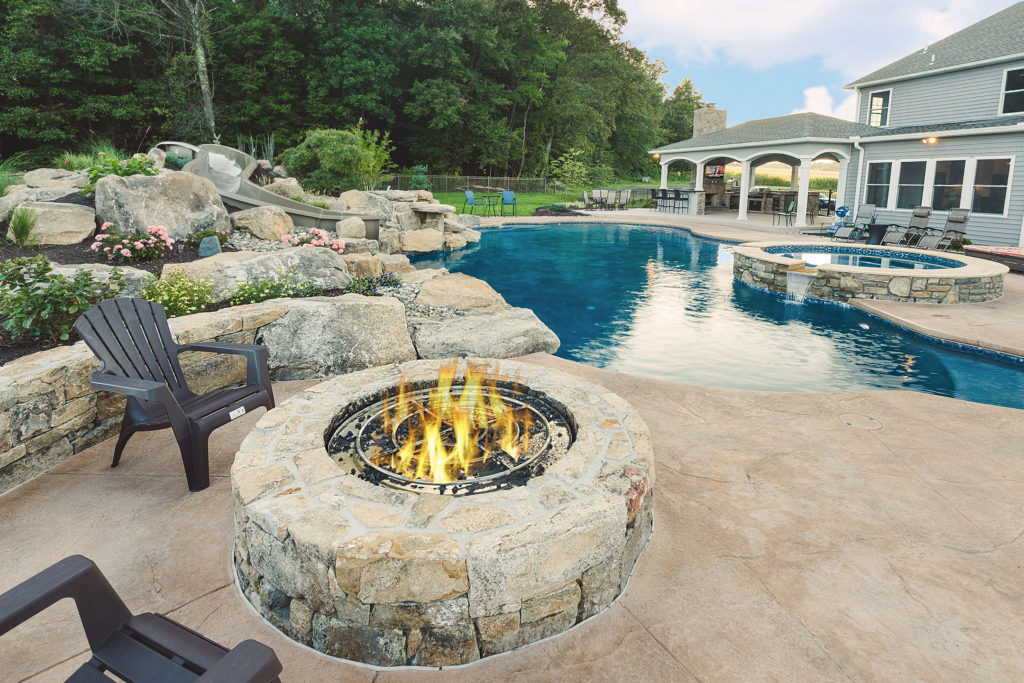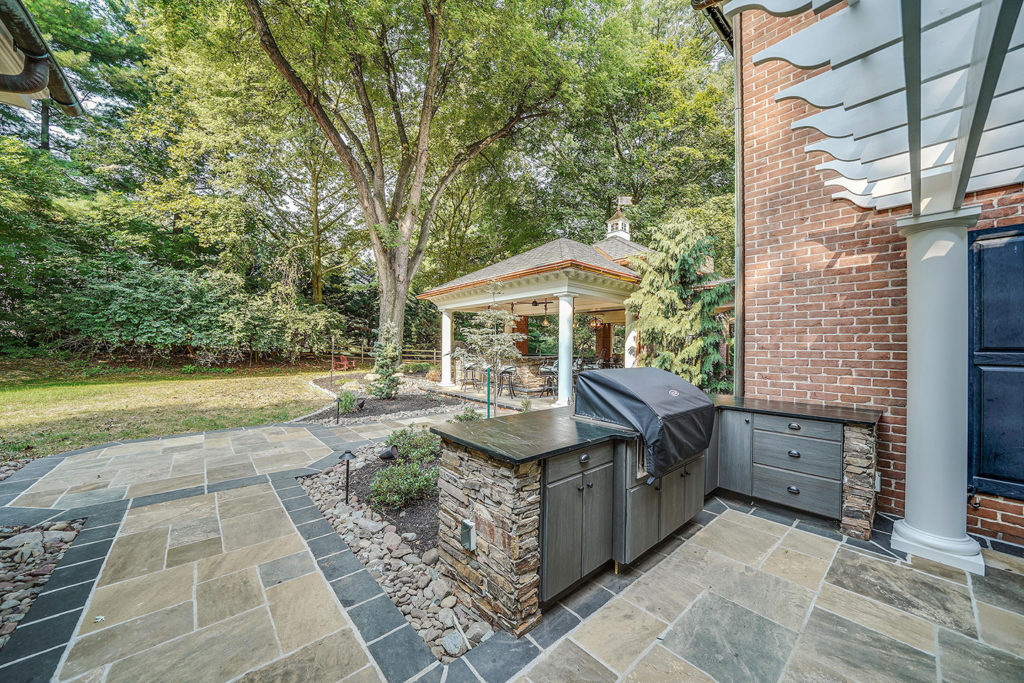 Remember: Other Factors Affect Your Project
Before you start excavating your backyard, be sure to do your research! City ordinances are a big factor that can get in the way. Depending on where you live, you may not be able to build certain structures or add specific features you want without permits and permissions. For example, a pavilion will have a different number of setbacks when connected to the house as an addition than when it is separate from the house. Our Director of Residential Construction, Larry, explains more about this here on our first blog in the series.
Amy Bitar, Penn Stone's Design Advisor, works closely with our clients in Penn Stone's outdoor and indoor showrooms. She is currently working on two outdoor kitchen projects with D&B Elite Custom's team, and she emphasizes the importance of thoroughly planning your outdoor living space at the inception of the project. "Surprisingly, this doesn't happen enough! However, D&B clients come into the selection process having already been well-informed by the team at D&B. This is evidenced by their knowledge of what materials are going to 'fit' their project in terms of budget and feasibility. It makes my job of assisting with aesthetic decisions all the more fluid and effective. Everyone at D&B is communicative and thorough, and we operate as a team to come up with the best selections and solutions."
You've seen it time and time again on your favorite HGTV renovation shows. A family obtains their dream outdoor living space in a mere hour or 30 minutes (and even less time when you don't include all of the commercials). It's shows like these that can sway our expectations when it comes time to actually endure construction in real life. That's when you see the not so glamorous side of it all, like the weather delays (we're looking at you Hurricane Ida) and even shortages on material that the industry has been facing as of late.
Our Director of Residential Construction, Larry Adam, explains that "it typically takes seven to eight weeks to complete projects that you see in 30 minutes on a show." He further explains that with outdoor living projects "it can take three to four weeks to get the structure up before starting finishes."
Despite this reality check, which may come as a shock to many, an outdoor living space adds value to your house, in addition to positively impacting your family's health (more on that in our next blog post). If you are looking for ways to improve the resale value of your home –especially right now in what is already a seller's market – outdoor living may be the way to go. "It is one of the biggest returns for your dollar, with about 70 to 80% return," explains Larry.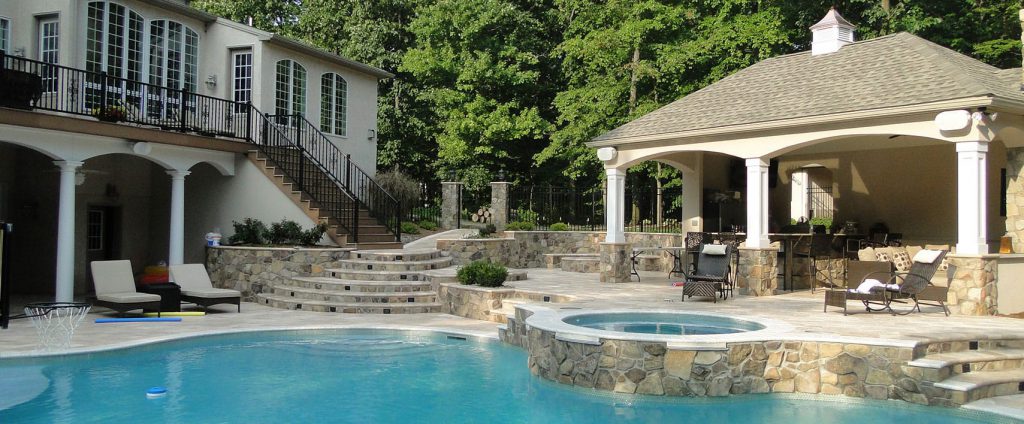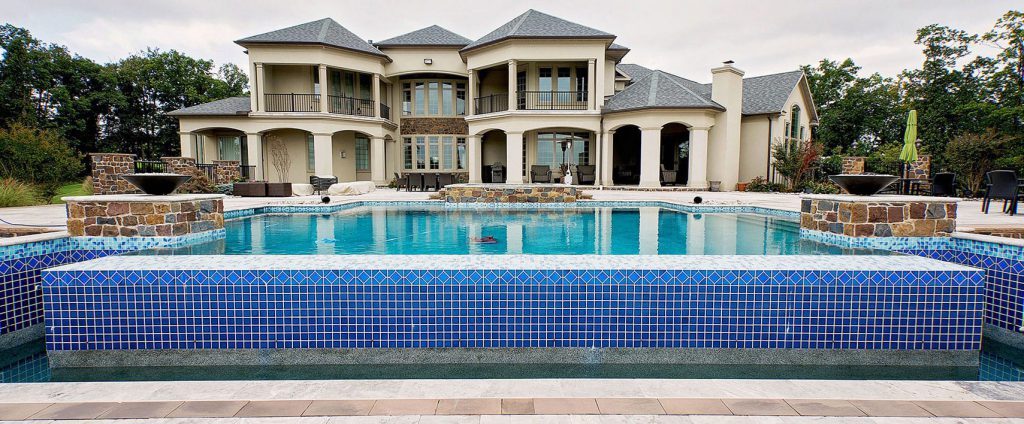 Outdoor living enhancements like patios, outdoor kitchens, fire pits, swimming pools, pergolas, and wooden decks can provide better returns for homeowners. For example, patios can add 8 to 10% to your home's value while also earning you an ROI of over 80%, and homeowners with outdoor kitchens are estimated to break even on their investment after selling their home.
If some of these stats have you thinking you should dust off your saved pins on your outdoor living idea board, keep reading for some tips and tricks! We compiled this Q&A with D&B Elite team members, Larry, and our Project Coordinator, Beth to help prepare you on what to expect when designing and constructing your dream outdoor oasis.
Q: Why is this time of year the best to reach out regarding an Outdoor Living project? Is there a reason why you recommend so far in advance?
A: If you want to be able to fully enjoy your new outdoor living space for the entire duration of Summer next year, we recommend reaching out for your free consultation around the end of Summer a year before you would want your outdoor living space. This allows plenty of time to properly plan and execute your project. Life will happen and there will be days when the weather doesn't cooperate. By getting ahead of the game, these nearly inevitable disruptions of construction won't interfere with your R&R come next Summer.
Q: If I reach out for a free consultation now, when would we actually break ground on my outdoor living construction project?
A: We would likely break ground sometime in the Spring. This way masonry work, etc. will not be held up by cold weather. Trying to do finishes in inclement weather doesn't always work, and weather conditions are by far the most difficult aspect of completing outdoor living work. We would use the colder, winter months that we tend to see in Pennsylvania to design and complete the selections process.
Typically, the selections process will take our clients around four weeks to complete. For outdoor living, you are usually looking at selecting cabinetry, countertops, appliances, and perhaps stone depending on what is being done. At D&B Elite Custom, we have around 100 reputable vendors that we work with and can recommend to our clients. We will guide you to who we think best fits your project right off the bat to save time. From there, the client would make an appointment to meet with the necessary vendors, wait to receive a quote, and then have time to think over their options and make the right decision for you. Here's a timeline illustrating the process:

Q: I'm interested in creating / enhancing my outdoor living space, but I have no idea where to start. What should I do?!
A: This is more common than you think. The best place to start is to contact us for a free consultation. A lot of people come to us because they just can't picture their completed outdoor living space. We will help guide you throughout the process to make it easier. Our team encourages you to come with ideas of what you may want your project to look like. Pinterest and Houzz are great places to start.
Q: What kind of questions will I be asked during my free consultation?
A: To get an idea of what you are looking for, we will ask you questions like "How do you want to use your backyard / outdoor living space?" and "What are you looking to do with the space?" It really starts with what you want to do. Although these seem like simple questions, getting the client thinking about all of this is a great help. Some people just want a big open space with a firepit, while others are more focused on an outdoor kitchen with a TV out there.
Once we know the answers to these questions, we will move on to "What do you want it to look like?" and start discussing form and texture. People who come to us with a vision for their outdoor living space usually have a good idea of what they want, but they need to get it functioning properly for them. These questions help resolve these potential issues.
Q: What are common misconceptions that you see when people reach out for a free consultation?
A: Overall cost. Things typically cost more than what you see on HGTV. Although The New Yorker reports that HGTV has been ranked as a top-five cable network since 2015, it is important to take what you see on this network with a grain of salt. Shows on HGTV will show discounted goods and services, price breaks, and even free labor – all while not making this clear to the viewer. The renovations you are seeing on these shows likely cost more than the show is indicating. Don't use HGTV as your main reference point for pricing out your dream home renovation project, as you may be underestimating the actual costs. Although HGTV shows use the real money of homeowners to cover renovation costs, HGTV producers have openly acknowledge that people who participate in these shows are "getting more for their buck than they should." Even the complete furnished space you fall in love with at the end of your favorite home renovation show is staged with almost nothing that belongs to the homeowners.
Q: What is a major part of construction an outdoor living space project that people may not consider?
A: What space is actually available in your backyard. A lot of people tend to forget about municipality and zoning code setbacks. You need to think if you truly have the space to build what you are looking for. Our Director of Residential Construction further explains: "Codes are strange. Here's an example: A pavilion is viewed differently as an addition. If I connect something to the house to make it an addition, it is part of the house and therefore subject to setbacks to the main structure. If that same pavilion structure is separate from the house and not at all connected it is then considered an accessory building and may have a different set of setbacks. This is big in the Wyomissing Borough especially. There is a lot of leeway there."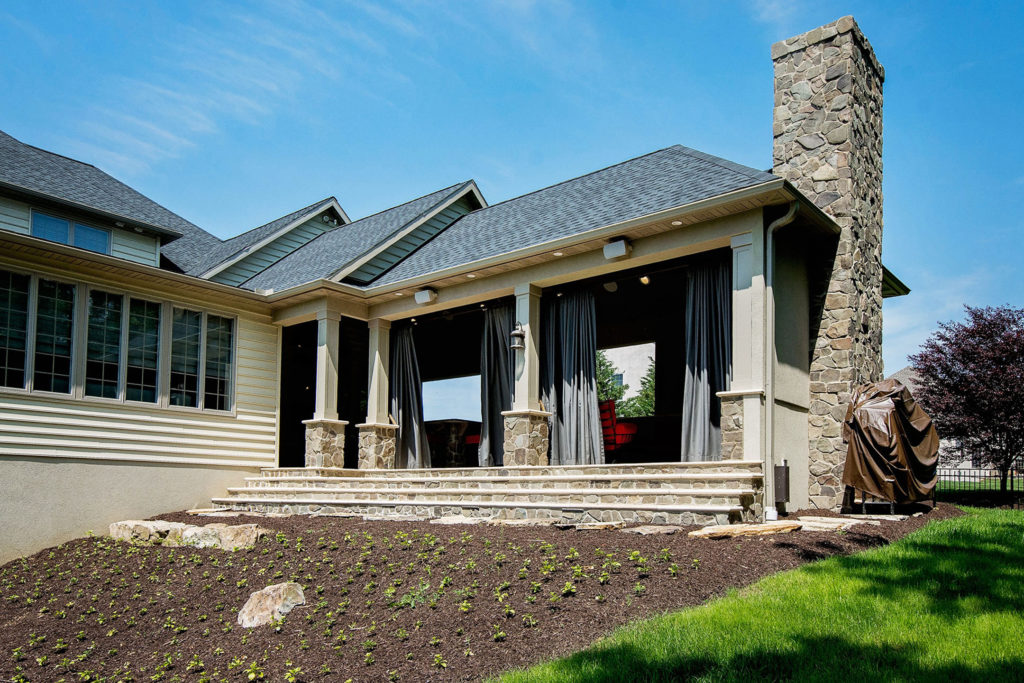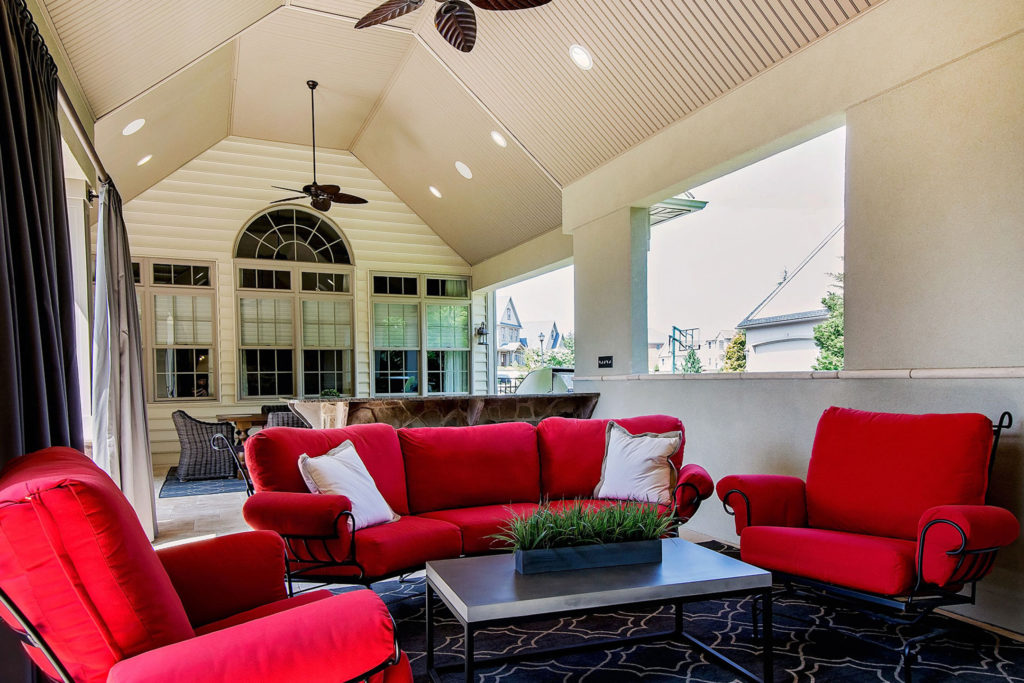 Q: How can I best prepare for construction of my outdoor living space so I can eliminate as much unnecessary stress as possible?
A: Planning. Plain and simple. Visualize how you want to use the space and live in the space. Think of proximity to existing space. An example of this may be if you plan to add a grill to your new outdoor living space. You will want to think of how close your outdoor grill is to your kitchen. What is the path you would have to travel to get from your kitchen to the grill? Is it a long, rough path that may end up being a pain for you the first time you head inside to grab burgers from the fridge to grill outside? These are all questions you may not have top of mind, but we will help you consider them all prior to starting construction. It's much better to think of all of these possible issues so they can be resolved in the planning process rather than realizing it once all is said and done.
Q: What materials do you recommend people use for their outdoor living space?
A: We typically use concrete block and stone with granite countertops for outdoor cooking spaces. This is a longevity choice. Stone is pretty much indestructible and same with granite.
Have any additional questions about creating your ideal outdoor living space? Drop them in the comments below! If you are really considering a new outdoor oasis in time for Summer 2022, don't wait and reach out today.