Natural look and feel with everyday functionality lead home designs in 2023.
Interior designers and residential builders have identified the new trends that have taken over home remodeling. We've reviewed the list of 35 home design trends on the rise from HOUZZ to give you a summary of things to expect and consider in your upcoming projects. One common theme that appears to weave throughout the house is creating a sense of warmth with natural materials and colors. Here is a breakdown of new inspirations for the different areas of your home:
The Kitchen:
Likely to no one's surprise, one of the primary focal points in home remodeling and new home construction is the kitchen. This room has always been a showcase for homeowner's personal style – coupled with sensible functional elements. Based on feedback from top designers across the country, there is a great mix of new features you may see in kitchen designs. According to HOUZZ, a modern rustic style is driving kitchen makeovers. New color palates mixed into a combination of rustic and industrial finishes and fixtures is all the rage right now.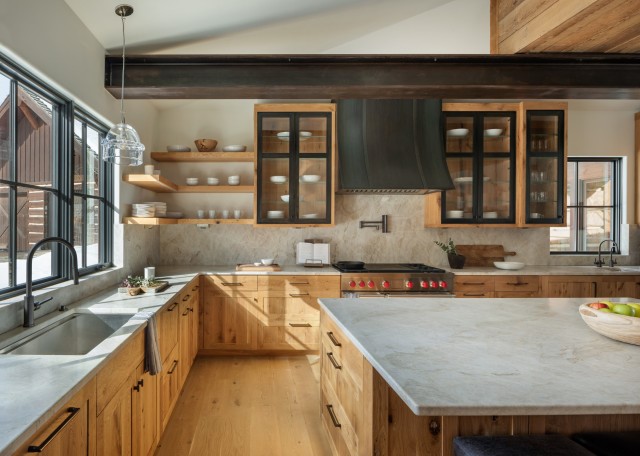 (photo by Centre Sky Architecture Ltd)
Cabinets, countertops and backsplashes are coming together with natural woods that include unique details tied in with natural stone. Natural materials are always in style, but lately they seem to have hit a high point in popularity. In particular, homeowners are installing quartzite and other natural stone countertops, as well as marble tile and wood cabinets and vanities, especially white oak.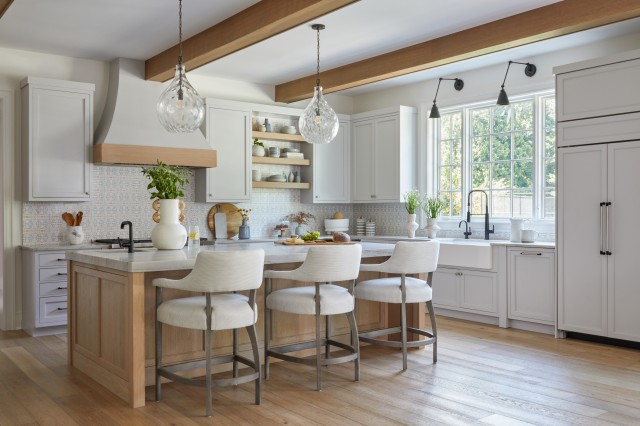 (photo: k+co LIVING – Interiors by Karen B Wolf)
This photo reminded us of a kitchen we completed in a new custom home build constructed by our Elite team in 2019. We most loved the way the wooden beams and large island with a wooden top give the space a natural, rustic look. It compliments the bold, vibrant wallpaper and sleek white cabinetry perfectly.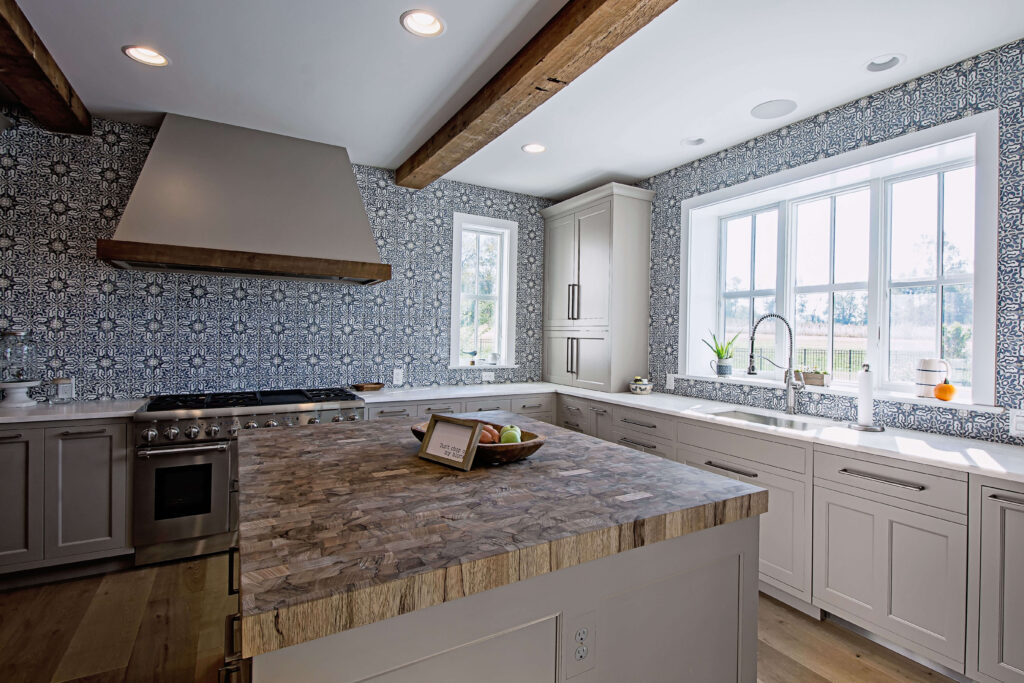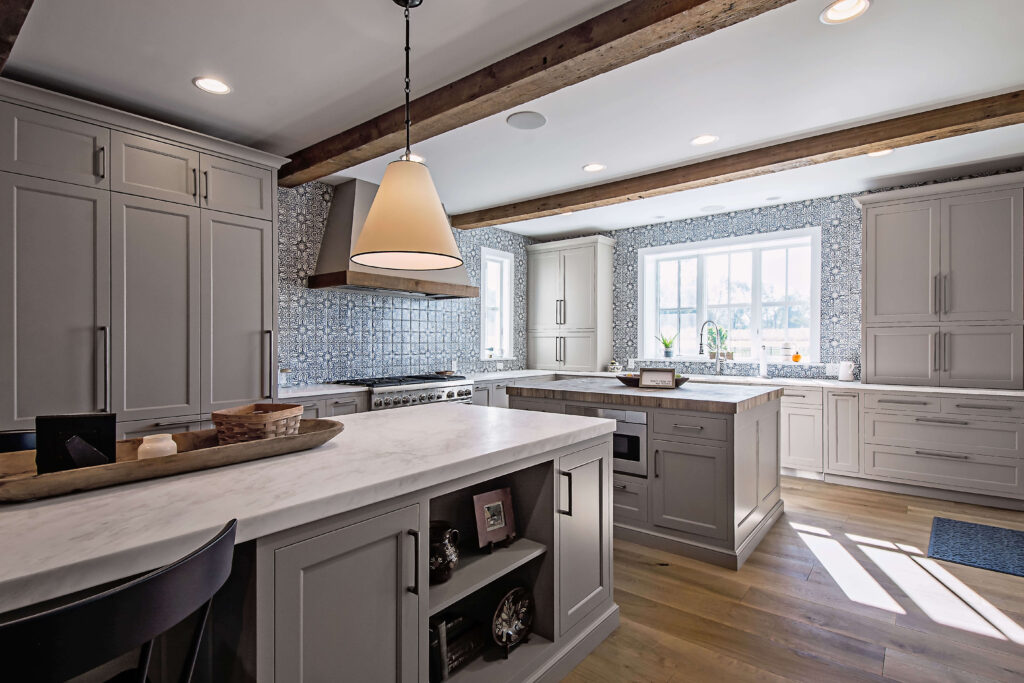 While some homeowners are desiring more bold color in their kitchens, many are looking for warm and soft styles that elicit a restful, relaxing atmosphere. To do that, designers are embracing greige or off-white cabinets, light woods, subtle patterns and warm bronze and brass finishes.
White and gray are by far the most popular colors used in kitchens. But when homeowners stray from that palette, they often choose blue. In fact, when a homeowner chooses to go with an island color that contrasts with the surrounding cabinets, more than a quarter (26%) will select blue, according to Houzz research. Green is quickly gaining favor in kitchens, especially for cabinets. Both light and dark greens work well with wood details and brass finishes, creating a warm, rich look.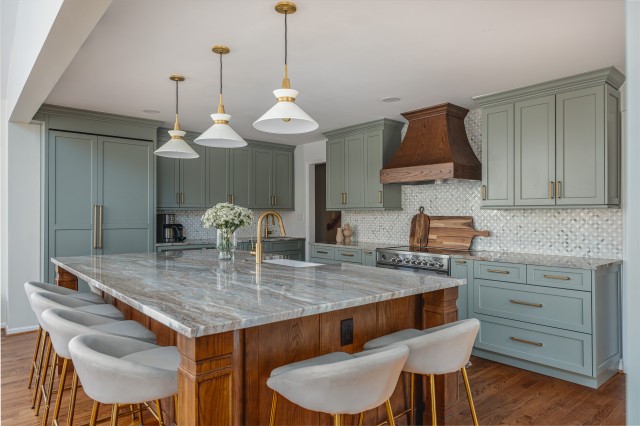 (Photo: FineLine Kitchens, Inc)
This Vienna, Virginia kitchen by FineLine Kitchens (pictured above) was one of the most-saved kitchen photos of 2022; it combines sage green perimeter cabinets, similar in color to a kitchen renovation our team completed (pictured below), with a medium-tone oak range hood and island base. Ming Green floral tiles with white Thassos marble pieces add another green detail, while brass pendant lights and Brown Fantasy natural quartzite countertops complement the warm wood tones. This kitchen also features an island with an updated seating arrangement. Traditional seating arrangements for islands are usually a row of stools on one side facing the cooking area.  Lately, alternative setups have been increasing in popularity to create more of a dining table layout allowing face to face seating.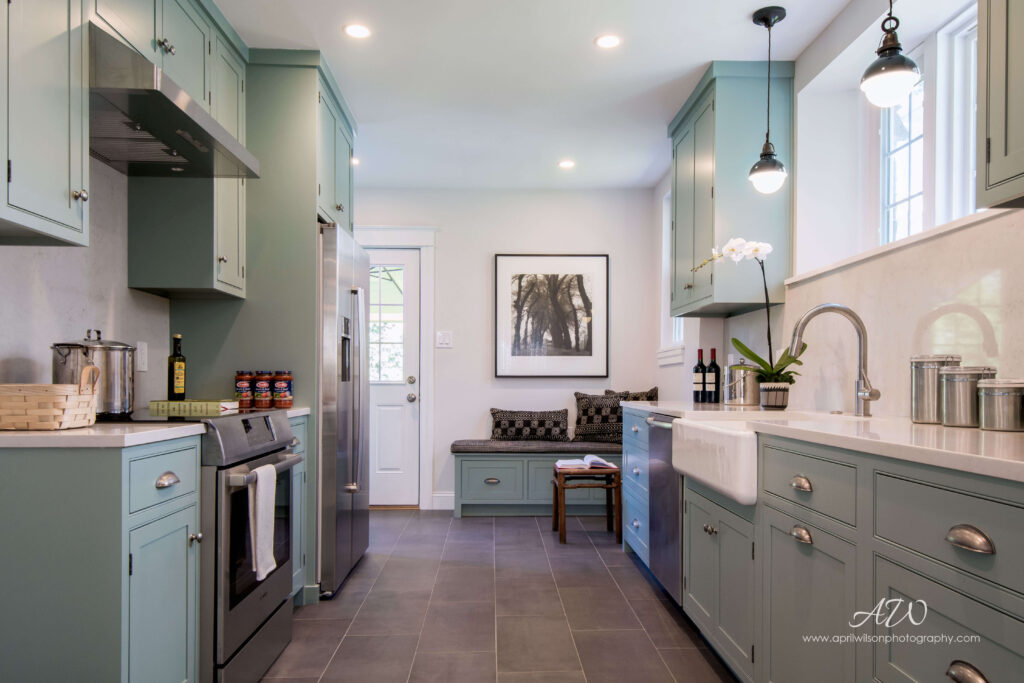 Kitchen fixtures are starting to implement industrial-looking, commercial grade features to combine design with functionality. Workstation sinks are also part of the drift toward commercial-style features. These have been around for many years now, but manufacturers have caught up to the demand and now offer all kinds of sizes, styles and accessories for things like chopping, straining, drying and other functions.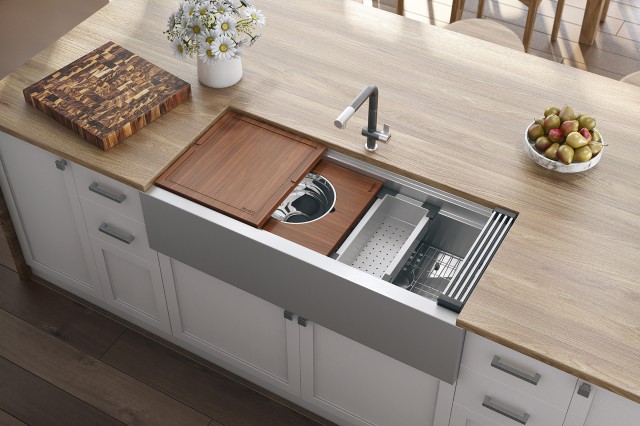 (Photo: HOUZZ)
The Bathroom: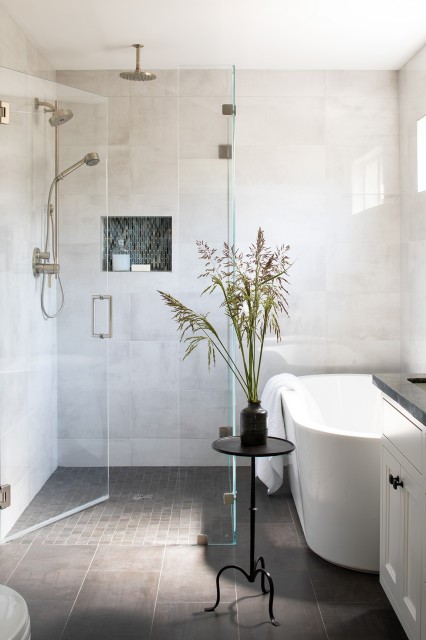 (Photo: DiVittorio Architecture & Design)
In the aftermath of COVID and the quarantines that ensued, homeowners have explored varying ways to maximize the enjoyment of their house. Many are looking to create bathrooms that function for more than just bathing. They want relaxing experiences that create a refreshing escape from the daily grind.
To create that, many are embracing pamper-me features like multiple shower heads with various spray settings, such as deep massage or warm mist.
White and blue palettes are aiding in the spa-like atmosphere for several designers.  Similar to blue accents in kitchens, this color is becoming a go-to in many bathrooms to perk up popular all-white palettes without veering too bold. Here's a look at some of our work that demonstrate this trend: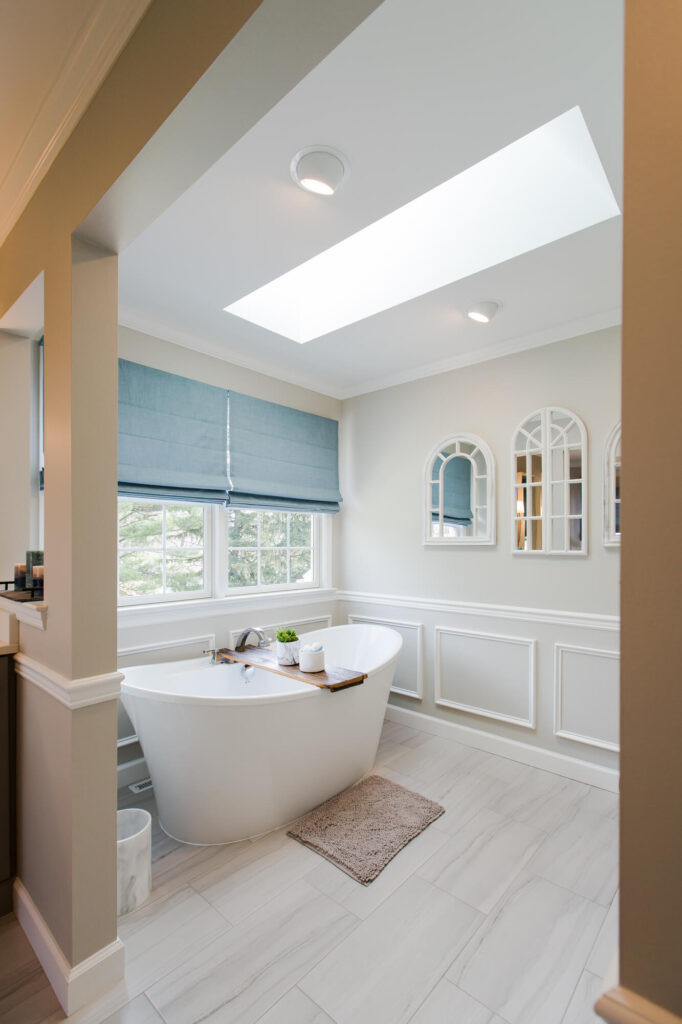 In this West Palm Beach, Florida bathroom, HW Interiors created a soothing focal wall in the shower with watery blue tiles installed in a basket weave pattern. White finishes enhance light and deliver an airy look and feel, as does the chevron-pattern white floor tile that runs the length of the bathroom into the curbless shower.
Curbless showers have been a popular bathroom feature for a while. Often, the shower flooring is tile in a smaller size or different material than the main flooring, to provide a nonslip surface in the wet area. But more recently, many designers are running this mosaic tile continuously through the entire bathroom, including the curbless shower area. This approach further enhances the sleek, streamlined effect of a curbless shower design, extends the nonslip surface and helps a smaller space appear larger than it is.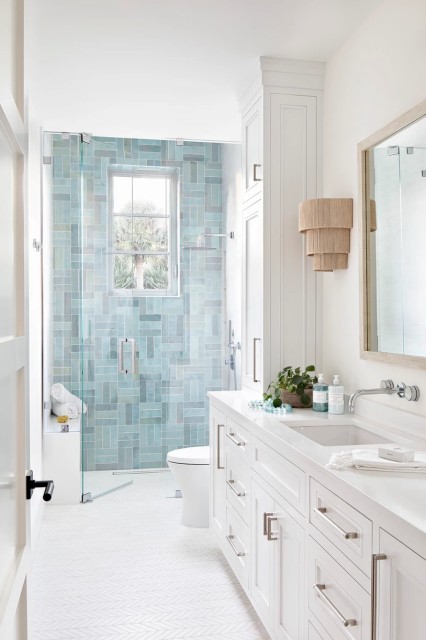 (Photo: HW Interiors)
The Living Space: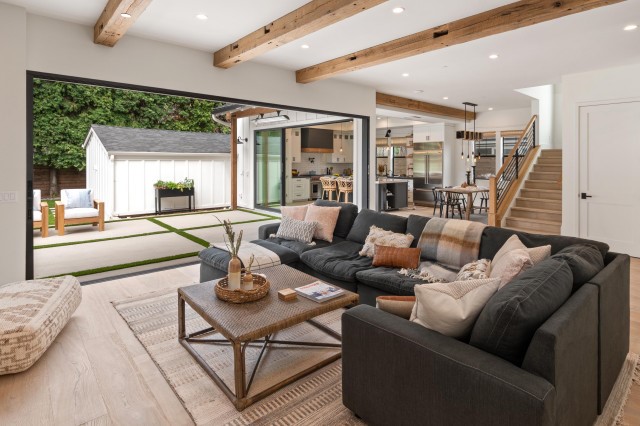 (Photo: Jackson Design & Remodeling)
Homeowners have long craved deep connections to outdoor spaces. Sliding glass doors that completely open interior spaces to the outside are at the top of the list for many dream homes. Many professionals are helping homeowners find more affordable ways to bring the outdoors inside. Adding large windows can maximize views and bring in ample natural light in a less expensive way than fully glazed walls. Meanwhile, a focus on natural materials and colors, as well as wallpaper prints that recall nature, are also helping homeowners feel connected to the outside.
One phrase that has come up again and again in conversations with design professionals is "layered texture" in decor, wallpaper, materials and accessories. We're seeing a lot of designers layering wood, rattan, stone, metal finishes, concrete and various textural fabrics in a room to create a dynamic style full of visual and tactile interest. You'll see this in the living room below, which was designed by Demi Ryan in North Carolina.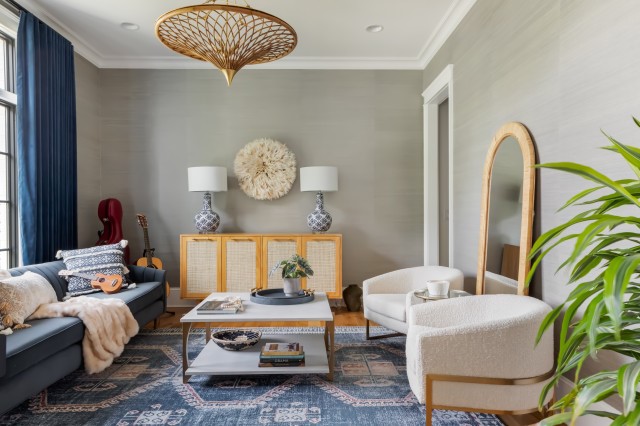 (Photo: Demi Ryan Home)
Built-in's, bringing customization coupled with display and storage functionality, remain popular throughout the house through 2023. Custom built-in cabinets also give a nice finished look, which is why they're one of the top design features professionals recommend in a living room.
Designer Stephanie Alegre added these custom built-ins flanking a fireplace surround in a Holmdel, New Jersey, living room. A bar sits to the left, with additional storage on the right.
Riding the work from home wave the pandemic caused, many homeowners have turned to converting bedrooms into home offices for remote work.  This is another area that built-ins have shined.  When storage and organization are a top priority, going the custom built-in route is what pros recommend. Similar to what we're seeing in living rooms, built-ins are showing up in many home offices to tackle storage and display space.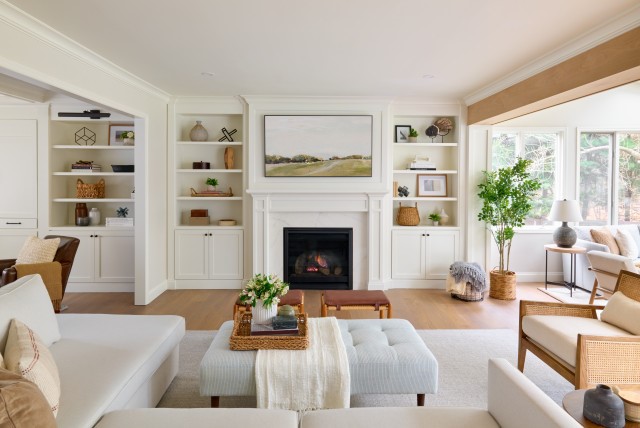 (Photo: Stephanie Alegre Interiors)
In this Houston home office by Laura U Design Collective, soft blue built-ins (Little Falls by Benjamin Moore) blend in seamlessly with the walls, adding tons of storage without overwhelming the stylish look of the room. This was the most-saved home office photo of 2022: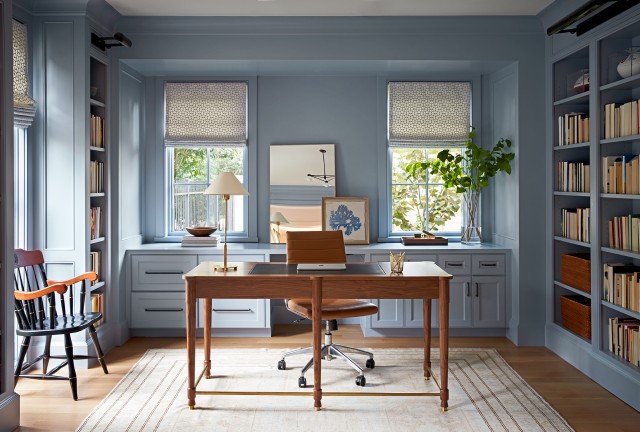 (Photo: Lara U Design Collective)
The Exterior Spaces:
When it comes to exteriors, white board-and-batten or vertical siding continues to be popular. Lately, these bright whites are being contrasted with black details such as window and trim to create graphic curb appeal, as shown on this home renovation we completed in 2021. This creates a dramatic look that is sure to up your curb appeal.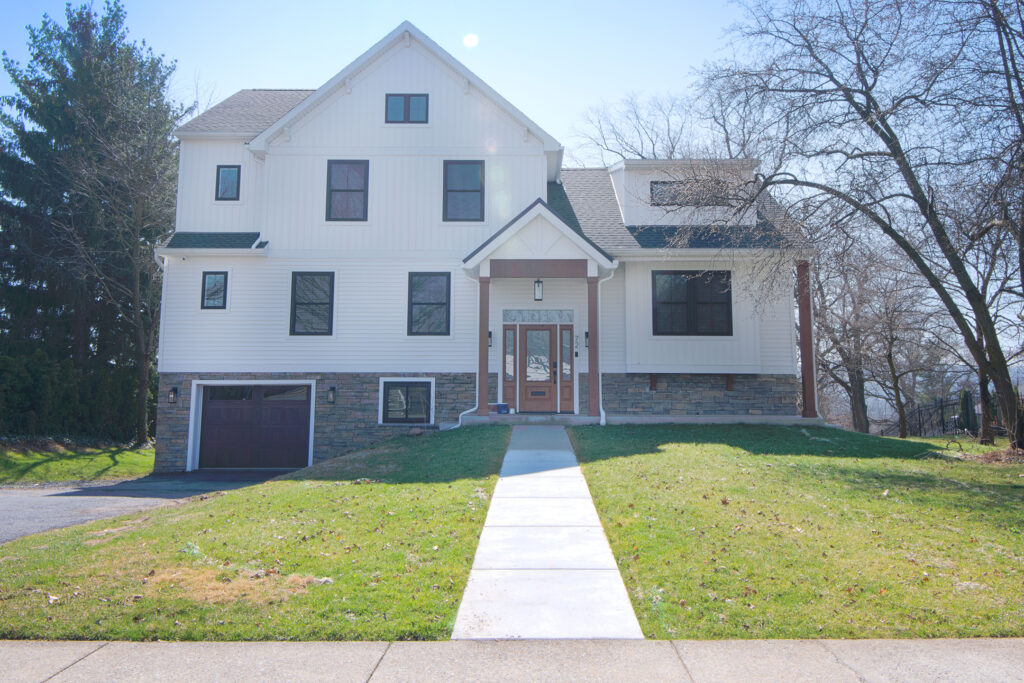 On the other hand, Ott says she's increasingly noticing a shift to less contrasting colors. "Darker siding colors in muted shades of blue, green, warm gray or tan are complemented by trim and accent colors that are just a few shades lighter or darker than the siding," she says. "And, depending on the architectural style of the home, a fun accent color for the front door remains popular." This midcentury Oakland, California, home by ODS Architecture is a fitting example: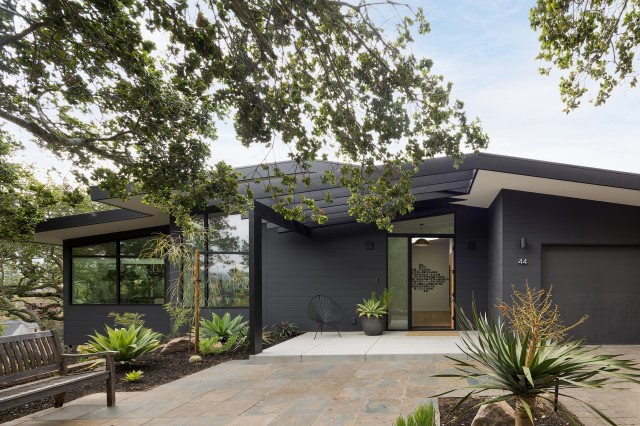 (Photo: ODS Architecture)
Home exteriors as an extension of the home's living space continues to increase in demand and popularity.  Over the last couple of years, we've seen homeowners look to their outdoor spaces to accommodate a variety of activities, including cooking, dining and exercising. However, few things trump lounging, and increasingly these areas are garnering lots of attention.
Durable, comfortable furnishings, stylish shade structures and pampering features like outdoor heaters, fire pits, chandeliers and water elements can create an enviable lounge area like this one in Chicago by Amy Kartheiser Design.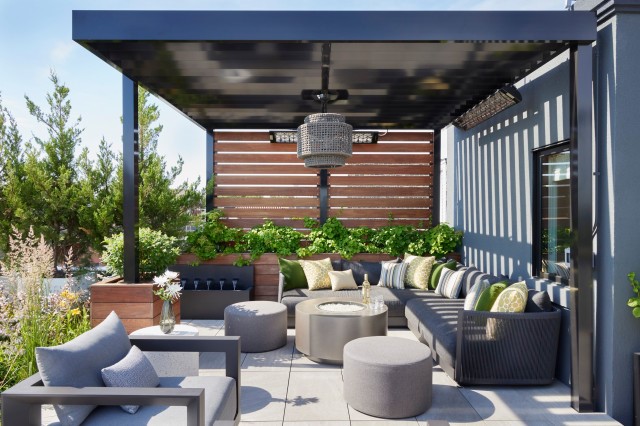 (Photo: Amy Kartheiser Design)
For more details and trends visit HOUZZ to see their top 35 list in its entirety, and you can always reach out to our team for a complimentary consultation to learn more about how you can #MakeYourHomeElite.