As we journey through life, there comes a time when our living spaces need a touch of transformation to suit our changing needs. Senior living renovations are not just about updating aesthetics; they're about creating a haven of comfort and functionality for life's next chapter. Whether you're considering modifications for yourself or a loved one, these home renovation and remodeling ideas are designed to embrace the golden years with style and practicality.
Open Concept Living


Wave goodbye to cramped spaces and embrace the open concept trend. Knock down walls to create larger, flowing spaces that are easier to navigate. This not only enhances mobility but also promotes social interaction and maximizes natural light.

Accessible Bathrooms

Bathrooms can be a source of frustration as we age, but a few thoughtful changes can make a world of difference. Install grab bars, walk-in tubs, and non-slip flooring to ensure safety without compromising on style.

Kitchen Convenience


Revamp the kitchen to be a user-friendly space. Lower countertops, pull-out shelves, soft-close drawers and cabinets, and lever-handled faucets are small adjustments that make a big impact, ensuring meal preparation remains an enjoyable activity.

Ample Lighting


A well-lit home is key for aging eyes. Consider adding task lighting, motion-sensor lights, and larger windows to brighten up the space. Smart lighting systems can be controlled effortlessly, making it easier to adapt to changing needs.

Comfortable Flooring


Replace carpets with hardwood, laminate, or vinyl flooring. These options are not only easier to clean, but they also minimize the risk of trips and falls. Adding rugs with non-slip pads can offer both comfort and safety.

Technology Integration


Stay connected effortlessly by incorporating technology. Smart home devices like voice-controlled assistants, automated thermostats, and security systems can be tailored to enhance convenience and security.

Tranquil Outdoor Spaces


Create serene outdoor retreats by designing accessible gardens, patios, or balconies. These areas provide a breath of fresh air and an opportunity to enjoy the beauty of nature from the comfort of you home.

Multifunctional Rooms


Design rooms with versatility in mind. A guest room that can double as a hobby space or a home office that can accommodate a daybed ensures that every inch of your home serves a purpose.

Thoughtful Storage Solutions


Optimize storage by integrating easy-to-reach shelves, cabinets with pull-out organizers, and spacious closets. This not only minimizes clutter but also simplifies daily routines.

Aging-in-Place Upgrades

Consider future needs with features like stairlifts, ramps, and wider doorways that allow aging homeowners to comfortably remain in their cherished space even as mobility changes.

Wellness Retreats

Transform bathrooms into personal spas with walk-in showers featuring benches, steam options, and adjustable showerheads. This luxurious touch promotes relaxation and self-care.
Senior living renovations are about creating an environment that nurtures the spirit while embracing the changes that come with age. By infusing comfort, accessibility, and style into every corner of your living space, you're crafting a home that is not only a reflection of your journey but also an empowering setting for life's next chapter.
Consider enlisting the expertise of D&B Elite Custom; with a wealth of experience in universal design and aging-in-place renovations, we are dedicated to crafting spaces that harmoniously blend aesthetics and functionality. Our guidance will turn your renovation dreams into a reality that not only welcomes the future but also enhances your present comfort.  Make your home, Elite.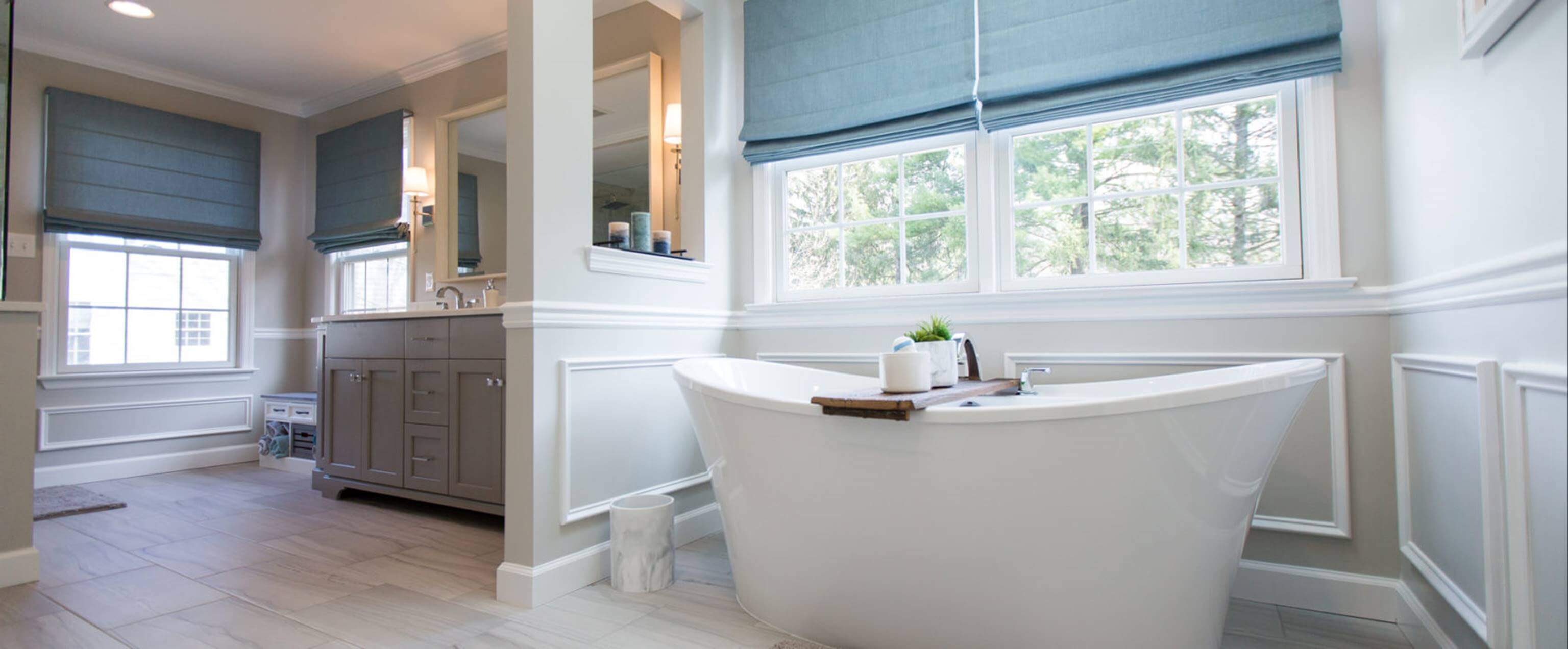 In the world of home improvement, a trend that's gaining immense popularity is the art of transforming mundane bathrooms into luxurious spa-like retreats. Gone are the days when bathrooms were mere functional spaces. Today, homeowners are embracing the concept of turning their bathrooms into havens of relaxation and rejuvenation. in this article we dive into the captivating trend of luxurious bathroom remodeling, where walk-in showers, soaking tubs, heated floors, and high-end fixtures are the stars of the show.
Spa-Inspired Serenity

Modern life's hustle and bustle often leaves us yearning for relaxation. Luxurious bathroom remodeling brings the tranquility of a spa right into your home. With carefully selected features, you can create an ambiance that soothes the senses and provides a much-needed escape.

Walk-In Showers: A Touch of Opulence

Say goodbye to cramped shower stalls and hello to spacious walk-in showers. These grand installations offer the freedom to indulge in a showering experience like no other. Rainfall showerheads, built-in benches, and seamless glass enclosures make your daily routine a luxurious ritual.

Soaking Tubs: Indulgence Redefined

Transform your bathroom into a sanctuary of relaxation with a soaking tub. These elegant tubs invite you to unwind in style, enveloping you in comfort and luxury. Choose from various designs, such as freestanding, corner, or sunken tubs, to make a statement in your remodeled bathroom.

Heated Floors: Embrace Warmth

Bid farewell to cold tiles underfoot by incorporating heated floors into your bathroom remodeling project. These radiant heating systems provide a touch of luxury while keeping you warm during colder months. Stepping onto a heated floor is the transition to start your morning off right.

High-End Fixtures: The Devil in the Details

Luxury lies in the details, and high-end fixtures are the epitome of this principle. From intricately designed faucets to gleaming hardware, these elements elevate the overall aesthetic of your bathroom. The gleam of polished metal adds an unmistakable touch of sophistication.

Lighting Matters

Proper lighting can make or break the ambiance of any space, and bathrooms are no exception. Incorporating soft, flattering lighting enhances the spa-like atmosphere. Consider pendant lights, backlit mirrors, under-lit cabinets, and dimmer switches to create a customizable and luxurious glow.

Seamless Design & Clean Lines

Minimalistic and streamlined designs are the hallmark of luxurious bathroom remodeling. Embrace clean lines, neutral color palettes, and cohesive textures to achieve an elegant, unified look that echoes high-end spa resorts.

Ample Storage Solutions

Luxurious bathrooms are clutter-free havens. Integrate innovative storage solutions like built-in shelves, hidden cabinets, vanities with soft-close doors and drawers to keep your space organized and pristine, enhancing the overall luxurious feel.

Smart Technology Integration

Stay ahead of the curve by integrating smart technology into your bathroom remodel. Programmable showers, voice-activated lighting, and temperature-controlled features contribute to an ultra-modern, luxurious experience.

Eco-Friendly Luxury

Luxury doesn't have to come at the expense of the environment. Choose sustainable materials like bamboo, recycled glass, or low-flow fixtures to create an eco-friendly yet lavish bathroom space that aligns with your values.

Personalized Touches

Infuse your personality into your bathroom oasis with personalized touches. Artwork, plants, scented candles, and plush textiles can all contribute to the cozy, spa-like atmosphere you're striving to achieve.

Return on Investment

Lastly, consider the substantial return on investment that luxurious bathroom remodeling can bring. Not only does it enhance your daily life, but it also adds significant value to your home. Potential buyers will be captivated by the allure of a spa-like retreat within the confines of their future home.
Luxurious bathroom remodeling is more than just a trend—it's a lifestyle upgrade. With walk-in showers, soaking tubs, heated floors, and high-end fixtures, you have the power to transform your bathroom into a sanctuary of relaxation and indulgence. Embrace the possibilities and let your imagination run wild as you embark on this journey to create your very own spa-like retreat. Your bathroom will no longer be just a functional space; it will be a haven of opulence and tranquility.
Discover the possibilities of transforming your bathroom into a spa-like retreat with a complimentary consultation from one of our remodeling experts.  At D&B Elite Custom, we don't just renovate spaces – we create timeless sanctuaries.
Make your home, Elite.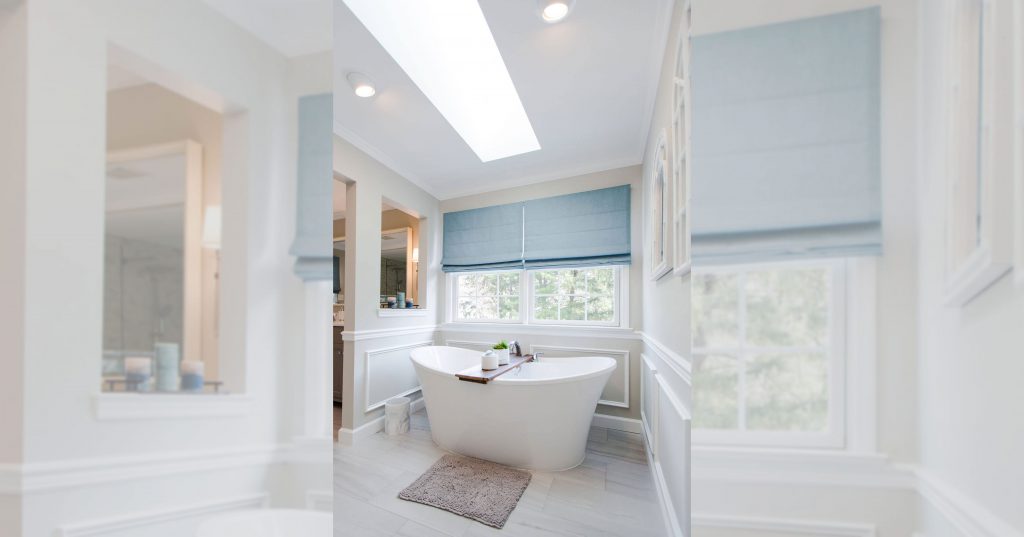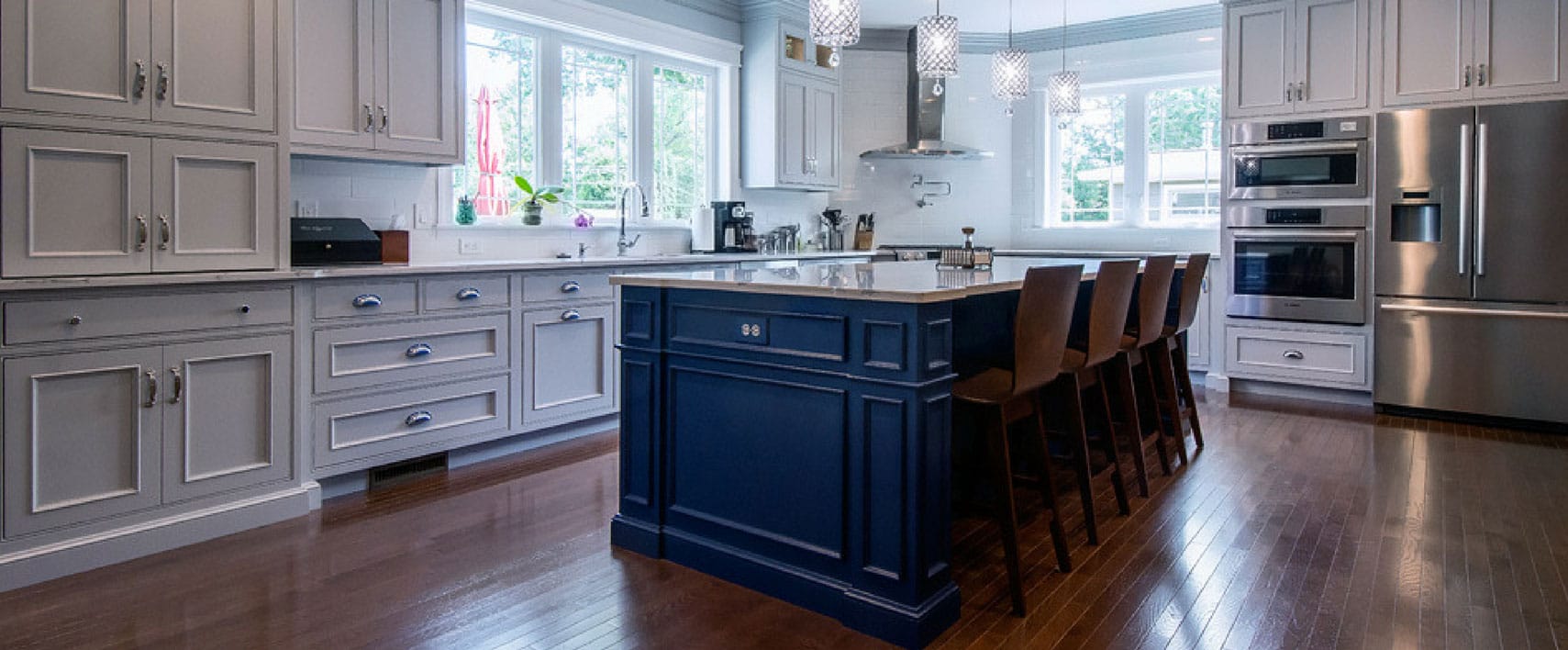 As the heart of the home, the kitchen deserves special attention when it comes to remodeling. In recent years, several captivating styles have gained popularity, transforming kitchens into stunning spaces that combine functionality with aesthetic appeal. In this article, we will explore four of the most trending styles in kitchen remodeling: Modern Rustic, Elegant Farmhouse, Warm & Soft Color Palettes, and Natural Materials. Get ready to be inspired by these contemporary design choices that can elevate your kitchen to a whole new level.
Modern Rustic:

Modern Rustic is a style that blends the warmth and charm of rustic elements with the clean lines and sleek finishes of modern design. Exposed wooden beams, reclaimed materials, and earthy color palettes define this style. Incorporating vintage-inspired fixtures and industrial accents can add character to your kitchen while maintaining a contemporary feel.

Elegant Farmhouse:

Elegant Farmhouse style infuses classic farmhouse elements with refined touches, creating a sophisticated and inviting ambiance. Combining natural textures like shiplap walls and reclaimed wood with elegant details such as crystal chandeliers or marble countertops can strike a perfect balance between rustic charm and timeless elegance.

Warm & Soft Color Palettes:

Gone are the days of stark white kitchens; warm and soft color palettes are taking center stage in the realm of kitchen design. Shades of creamy whites, pale greys, and muted pastels create a calming and welcoming atmosphere. These colors can be incorporated into cabinetry, backsplashes, and walls, allowing for versatility in personalizing your kitchen's aesthetic.

Natural Materials:

The use of natural materials in kitchen remodeling has gained significant momentum. From countertops made of granite or marble to wooden cabinetry, natural materials bring a touch of authenticity and warmth to any kitchen. Additionally, integrating natural light through large windows or skylights can further enhance the natural aesthetic and create an airy ambiance.

Open Shelving & Statement Range Hoods:

Modern kitchen remodels often feature open shelving as a design choice, allowing for both functionality and a chance to display decorative items and cherished kitchenware. Pairing open shelving with statement range hoods, such as copper or brushed brass, adds a touch of luxury and focal point to the kitchen space.

Minimalist & Streamlined Design:

In the age of simplicity, minimalist and streamlined design approaches are gaining traction. Clean lines, handle-less cabinetry, and concealed appliances contribute to a sleek and clutter-free kitchen. This style not only exudes a contemporary look but also maximizes space efficiency, making it ideal for smaller kitchens.

Bold Backsplashes:

One way to inject personality and visual interest into your kitchen is through bold backsplashes. Vibrant tiles, geometric patterns, or even textured materials like brick or stone can transform a simple kitchen into a statement-making space. Experimenting with contrasting colors and unique materials allows you to add an element of surprise to your kitchen design.

Smart Technology Integration:

In the digital age, incorporating smart technology into kitchen remodeling is a growing trend. From touchless faucets to voice-controlled appliances, the possibilities are endless. Smart technology not only enhances convenience but also contributes to an overall modern and futuristic ambiance.

Mixed Metal Accents:

Gone are the days of matching all the metals in your kitchen. Mixing metals such as copper, brass, and matte black adds visual interest and creates a unique and dynamic look. Whether it's through faucets, hardware, or lighting fixtures, experimenting with mixed metal accents can elevate your kitchen's style quotient.

Statement Lighting:

Lighting serves as both a functional and decorative element in the kitchen. Incorporating statement lighting fixtures, such as oversized pendant lights or dramatic chandeliers, can become a focal point while adding an element of luxury and glamour. Moreover, carefully placed task lighting enhances functionality in work areas.

Sustainable & Eco-Friendly Materials:

In an era of increased environmental consciousness, incorporating sustainable and eco-friendly materials in kitchen remodeling has become essential. Opt for renewable materials like bamboo or cork flooring, recycled glass countertops, and low-VOC paints to create a greener kitchen that contributes positively to the planet.

Personalized Touches:

No matter which trending style you choose for your kitchen remodel, adding personalized touches is the key to making it truly yours. Display cherished artwork, incorporate family heirlooms, or create a dedicated space for showcasing your culinary adventures. Infusing your kitchen with personal elements will make it a space that truly reflects your style and taste.
With the Modern Rustic, Elegant Farmhouse, Warm & Soft Color Palettes, and Natural Materials styles leading the way, kitchen remodeling is experiencing a renaissance. From the fusion of rustic and modern elements to the embrace of eco-friendly materials, these trends offer an array of options to transform your kitchen into a visually stunning and functional space. Embrace these styles, unleash your creativity, and enjoy a kitchen that perfectly aligns with your taste and lifestyle.
D&B Elite Custom is here to bring your dream kitchen to life. Don't wait any longer; contact us today for all your kitchen renovation, remodel, or any other home renovation needs. Let our team of experts guide you through the process and create a space that exceeds your expectations.  Make your home, Elite.